Power Ranking College Football's Hotbed Recruiting States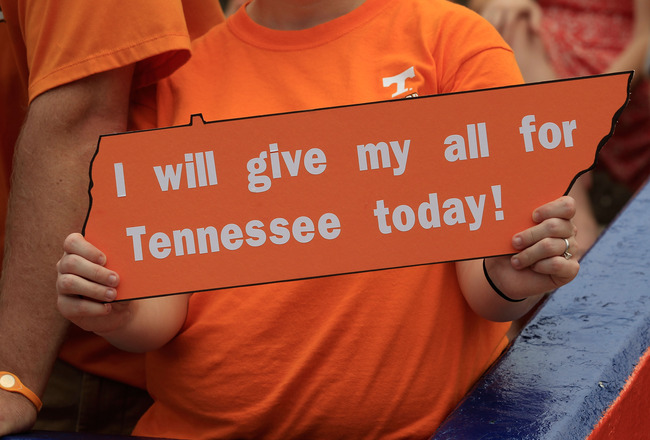 Sam Greenwood/Getty Images
From time to time, you've heard me mention the term "hotbed" in regards to recruiting in a state. The term really means that state is a gold mine or fertile "hot" grounds in producing serious college football talent.
We all have state pride, but we also know that some states are football states and some aren't. College coaches and evaluators know this is as well.
So today, for this very read, I'm power ranking college football's best hotbed recruiting states, from 50-1. Cue the National Anthem, get your state flag out and let's fire this up!
The 'Cold States'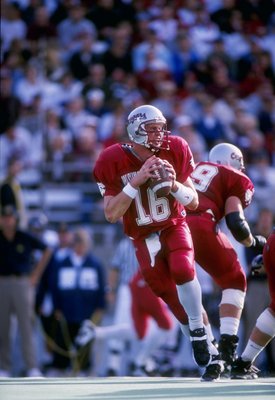 Otto Greule Jr/Getty Images
50. Rhode Island
49. Massachusetts
48. South Dakota
47. Vermont
46. North Dakota
45. Alaska
44. New Hampshire
43. Maine
42. Idaho
41. Montana
40. Delaware
39. Connecticut
38. Wyoming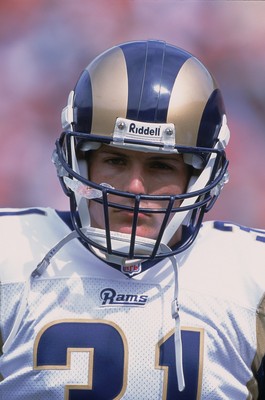 Tom Hauck/Getty Images
Wyoming really isn't a hotbed state and is one of the colder regions to get a player from. However, former NFL safety Adam Archuleta is a Wyoming native.
37. Kansas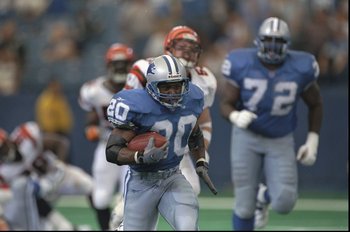 Vincent Laforet/Getty Images
Kansas produced two solid prospects a few years back in the Brown brothers, which is evidence you can find some talent here. Arthur Brown transferred back home to Kansas State from Miami and has become a solid LB for Bill Snyder.
But the best players from Kansas are Barry Sanders and Gale Sayers.
36. New Mexico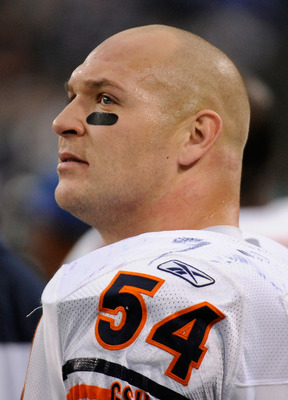 Hannah Foslien/Getty Images
You wouldn't think of this state as much of a football one, but New Mexico has produced both Brian Urlacher and Colt McCoy. The top program is Urlacher's high school, the Lovington Wildcats.
35. Nebraska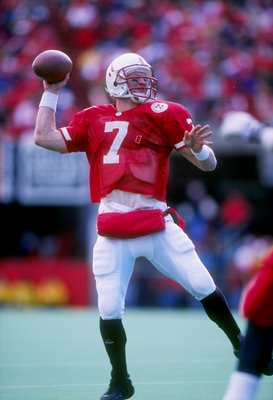 Brian Bahr/Getty Images
As a college coach, you can find a guy in Nebraska. Only thing is, it's going to be tough prying him from Big Red. Players like Adam Carriker, Barrett Ruud, Scott Shanle and Scott Frost are from here.
You'll find toughness and grit from Nebraska players.
34. Iowa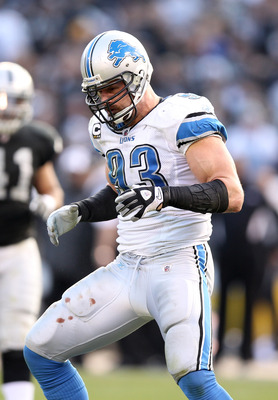 Ezra Shaw/Getty Images
You're not going to find much speed or dazzle in Iowa, but players like Trev Alberts, Darren Sproles, Kyle Orton, Billy Cundiff, Sage Rosenfels and Kyle Vanden Bosch all hail form here.
33. New York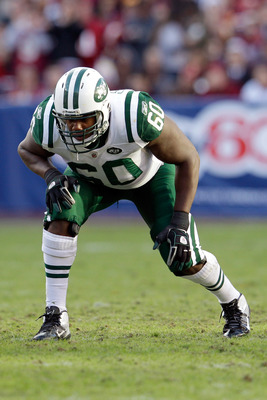 Rob Carr/Getty Images
Two cycles ago, Ishaaq Williams was a 5-star recruit from Brooklyn. He's now at Notre Dame and is an up-and-comer in South Bend.
Leon Williams, D'Brickashaw Ferguson, Shane Conlan, Anthony Hargrove, Ron Jaworski, Jimmy Kennedy and Adam Podlesh are New Yorkers.
32. Hawaii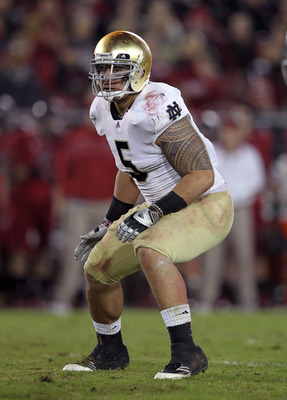 Ezra Shaw/Getty Images
You wouldn't imagine this place as a football talent producer, would you? Well, it is, as high-school football in Hawaii is a pretty big deal.
The best player to come from the state is Notre Dame LB Manti Te'o, while Samson Satele, the Raiola brothers and Vince Manuwai are also natives.
Seems like you can get good size, strength and toughness out of this state.
31. Oregon
The Ducks and Beavers usually venture into California for players, but the state does have some solid names to brag about producing.
Players like Derek Anderson, Kellen Clemens, Thomas Tyner, Kevin Boss and Bill Swancutt are Oregon natives.
30. Colorado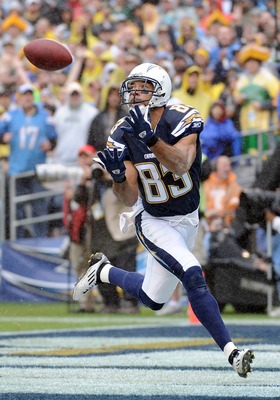 Harry How/Getty Images
Colorado produced Jeff Byers, a top OC prospect, in the mid-2000s. This year, Christopher Fox is a top OL prospect headed to Michigan.
Other players like Andre Carter, Joe Germaine, Vincent Jackson and LenDale White have been found here.
29. West Virginia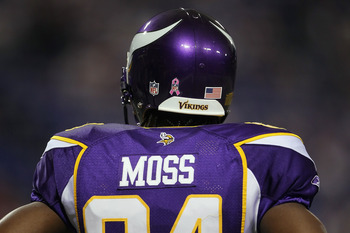 Jeff Gross/Getty Images
Many coaches come from West Virginia, such as Nick Saban, Jimbo Fisher, Tommy Bowden, Terry Bowden, Fielding Yost and even Mike D'Antoni.
Top players include obviously Randy Moss, but Curt Warner, Jeff Hostetler and James Jett are also from the Mountain State.
28. Tennessee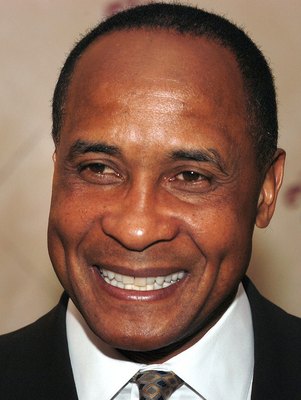 William Thomas Cain/Getty Images
Tennessee is home to Rocky Top, but the Vols usually have to go out of state to get most of their recruiting class. Not as much in-state talent comes out routinely, but the cupboard is not bare.
Tyson Clabo, Kevin Dockery, Aubrayo Franklin, Gerald Sensabaugh and Lynn Swann are from Tennessee.
27. Minnesota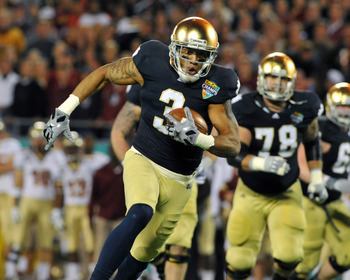 Al Messerschmidt/Getty Images
I remember when Mark LeVoir was a great TE in Eden Prairie before becoming a good OT for Notre Dame. I also remember when I thought Michael Floyd may not have enough deep speed, but he proved me wrong at Notre Dame.
Other notables include Ryan Harris, Matt Birk and Chris Weinke. Even Joe Mauer was a five-star QB in high school on his way to Florida State.
26. Utah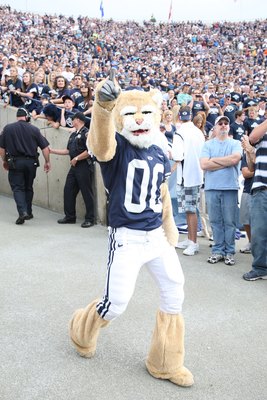 Melissa Majchrzak/Getty Images
I'll say this: they play good ball in Utah. A notable program is Lone Peak, Highland, Utah. Harvey Langi was a stand out from the state two years ago, as you can always find a good OL or good size in Utah.
John Martinez of USC is from the state, as many prospects head to either Utah or BYU.
25. Wisconsin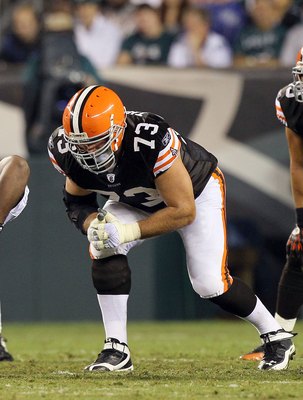 Jim McIsaac/Getty Images
Last year, Wisconsin produced players like Vince Jackson and Dan Voltz, who both signed with the Badgers. Joe Thomas is from the state, as are Doug Free, Jay Schroeder and Matt Turk.
It's a place where you surely find a solid, hard-working trench player who will add some depth to your roster.
24. Indiana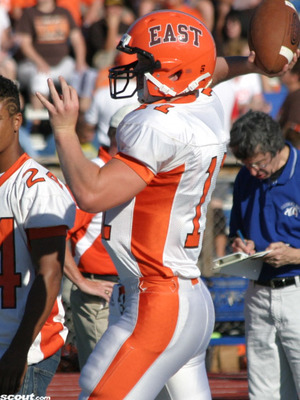 Last year, Gunner Kiel was the state's top player, and Indiana has produced solid talent over the years.
Mark Clayton, Roosevelt Colvin, Jay Cutler, Kris Dielman, Trai Essex, Rex Grossman, Mathias Kiwanuka, Anthony Spencer and Troy Walters are some notables.
23. Nevada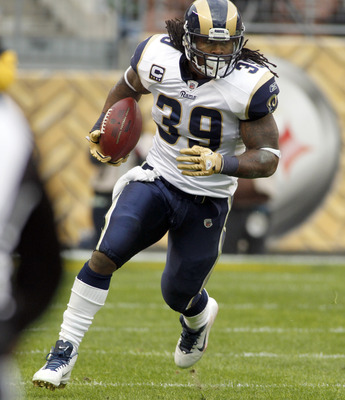 Justin K. Aller/Getty Images
Trust me, Nevada is a growing state as far as a hotbed goes. The programs here are improving, as Las Vegas is the main source of talent. Bishop Gorman is the premier program in the state right now.
Talent like Steven Jackson, DeMarco Murray, Xavier Grimble, Ronnie Stanley, Jeremiah Poutasi, Chris Carr, Harvey Dahl are from here.
22. Missouri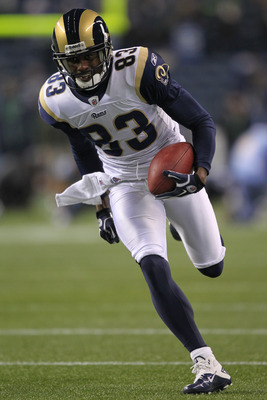 Otto Greule Jr/Getty Images
Missouri just produced the nation's top prospect in 2012 in WR Dorial Green-Beckham.
Other standouts include Napoleon Kaufman, Montee Ball, Corey Ivy, Brandon Lloyd, Laurence Maroney, Martin Nance and Kellen Winslow Sr.
21. Maryland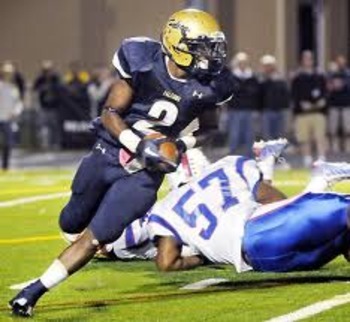 Maryland produced 5-star WR Stefon Diggs and Wes Brown last year. You have to go into schools like Good Counsel and DeMatha to really get the good talent from the state.
Cyrus Kouandjio also is a Maryland alum, as are Victor Abiamiri, John Dorsey, Jered Gaither, Derrick Harvey and Vishante Shiancoe.
20. Kentucky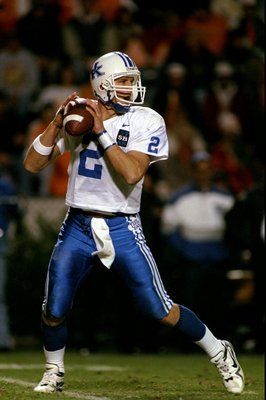 Scott Halleran/Getty Images
Kentucky is not just a basketball state, as football is a big deal around the Bluegrass State. Of course, Kentucky and Louisville are the two main programs, and many great prospects have come out of here.
This year alone, James Quick, Jason Hatcher and Ryan White are the top players in the state from Trinity High School. Hunter Bivin and Kyle Bolin are also standouts.
All-time greats include Michael Bush, Brian Brohm, Jared Lorenzen, Craig Yeast and, of course, Tim Couch. Fort Thomas is also a solid program in Kentucky.
19. Arizona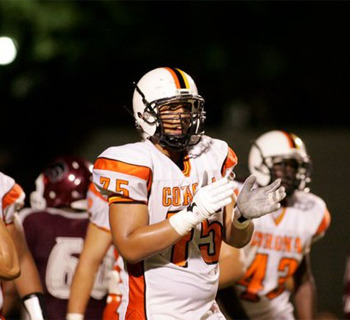 Last year, Arizona was a good hotbed for talent, with names like Andrus Peat, Connor Brewer, Davonte Neal, DJ Foster and Reggie Daniels all being from the desert.
Kris O'Dowd and Everson Griffen are two other standouts to name from the state, among many more. This is another growing hotbed for college coaches to recruit from.
18. Michigan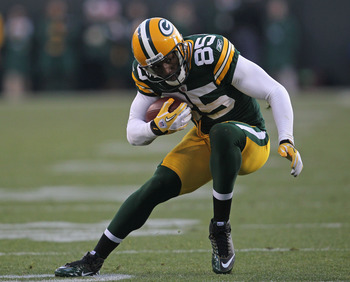 Jonathan Daniel/Getty Images
The top player in Michigan this year is QB Shane Morris, as this state has produced some top talent.
Charles Rogers, Ron Bartell, Bart Scott, Jason Babin, Jeff Backus, Jerome Harrison and Greg Jennings are from Michigan.
There are a ton more players from the state, as this is a prime hotbed in the Midwest for Big Ten schools.
17. Illinois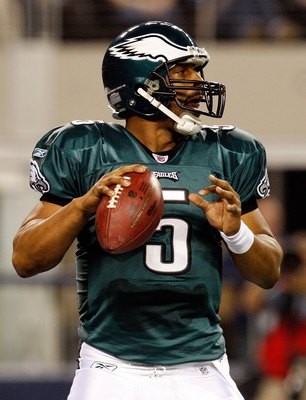 Ronald Martinez/Getty Images
Obviously the hotbed inside Illinois is Chicago. You can find good football players in the greater area, as Donovan McNabb and Flozell Adams are just two notables from the area.
Damien Anderson, Victor Adeyanju, Steve Atwater, Brett Basanez, Maurice Carthon, Kyle Prater and 2013 prospect Ty Isaac are Illinois natives.
Bolingbrook and Joilet are two solid programs to name in prep ranks.
16. Arkansas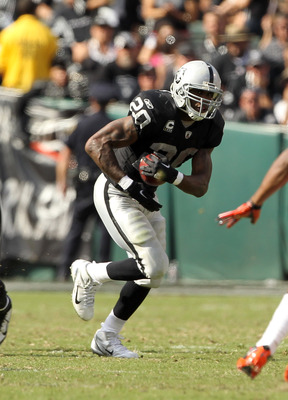 Ezra Shaw/Getty Images
Arkansas is a quiet state of producing talent to me. It always gets overlooked, but when you check the names, you realize this is a true hotbed state.
Lawrence Phillips, Damian Williams, Willie Roaf, Darren McFadden, Mitch Mustain, Altee Tenpenny, Jalen Cobb, Frank Okam and DeAngelo Williams are from Arkansas.
15. Oklahoma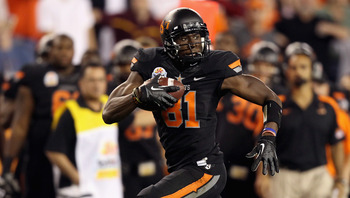 Christian Petersen/Getty Images
Oklahoma and Oklahoma State understand how to recruit their home lands.
Both schools know that they have to go to Texas for more of the top-tier talented players in their region, but they work their phones and high school connections to get players from their state, which are usually from Broken Arrow, Jenks or Union high schools.
Felix Jones, Justin Blackmon, Sam Bradford and Barry Sanders Jr. are just a few to name.
14. Washington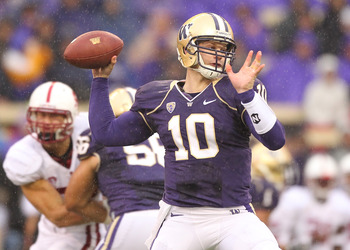 Otto Greule Jr/Getty Images
Washington is a big-time state for hotbed talent, this year alone producing the nation's best QB in Max Browne.
Last year, players like Jeff Lindquist, Josh Garnett and Zach Banner came from the top left corner of the mainland.
Tyler Brayton, Reggie Williams, Marcus Trufant and, of course, Jake Locker are all from Washington.
13. South Carolina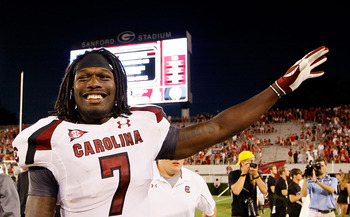 Kevin C. Cox/Getty Images
South Carolina is a great state to recruit from. The past recent years have produced names like Jadeveon Clowney, Marcus Lattimore, Shaq Roland and Alshon Jeffery.
The talent will give you options of speed, athleticism and size, and you can always find a player in the Palmetto State.
Just be ready to go to races with Clemson and South Carolina, and probably some other SEC schools when recruiting out of there.
12. Virginia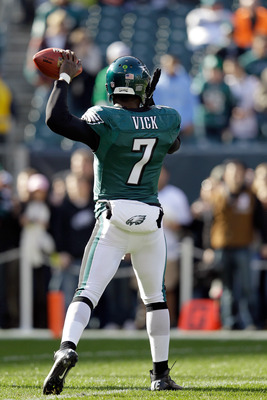 Rob Carr/Getty Images
The Lover State has produced some of the best players over recent memory in Michael Vick, Plaxico Burress, Ahmad Brooks, Darryl Blackstock, Heath Miller, Herman Moore, Jerome Mathis and Anthony Poindexter.
Tajh Boyd is also from the state and heck, even Allen Iverson was a high-school football star in Virginia.
11. Pennsylvania
Andy Lyons/Getty Images
If you some ruggedness, toughness, grit and just a player who will love playing the game of football, go to the Keystone State. Pennsylvania will give you what you're looking for.
Players like Dan Marino, Joe Montana, Darrelle Revis, LaVar Arrington, Fred Biletnikoff and Rich Gannon are from Pennsylvania. There's a ton of more players from here and this 2013 class features Adam Breneman and Robert Foster.
10. Alabama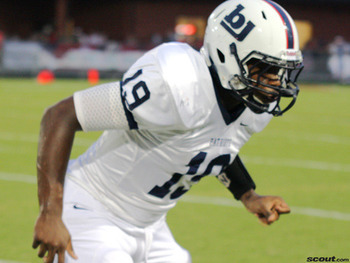 Alabama is a state that has produced good talent through the years. The Crimson Tide and Auburn work hard to lock down their state, and if you want to recruit here, you'll need to deal with both schools.
It's more than a legit hotbed, as the high school programs are thorough, serious and competitive. There are some big-time rivalries through the state that have the players play in some big-time games.
Alabama is one of the best states to get a prospect from.
9. New Jersey
Jamie Squire/Getty Images
New Jersey plays good ball and the top school in the state easily is Don Bosco Prep. Rutgers tries like the dickens to keep talent home, but they do have to battle national programs.
Players like Elijah Shumate, Yuri Wright, Leonte Carroo and Darius Hamilton played on the same Don Bosco squad last year alone.
Brian Cushing, Jay Alford, Miles Austin, Luis Castillo, Kenny Britt, Victor Cruz, Savon Huggins, Anthony Davis, Ron Dayne and Bill Parcells are all from Jersey, folks.
8. North Carolina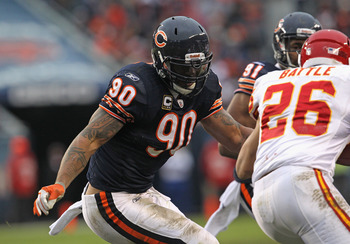 Jonathan Daniel/Getty Images
The Carolina region is rich with talent, as you surely find good football players in the Tar Heel State.
With talent like Julius Peppers, DJ Humphries, Keith Marshall, Na Brown, JJ Arrington, Najeh Davenport, DeShaun Foster and Torry Holt being from here, you see how simple and easy it could be to merely stumble onto a good player.
7. Mississippi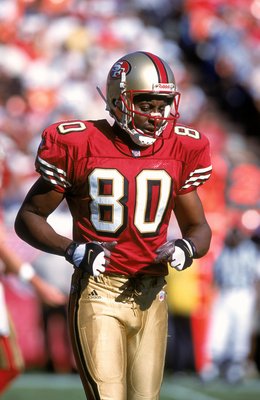 Tom Hauck/Getty Images
In this state, you can just go park your car outside a school like, say, South Panola, and by osmosis, a prospect will end up signing with you.
Mississippi is a good state for talent, with names like Brett Favre, Marcus Dupree, Nick James, Nick Brassell, Quay Evans, Josh Booty, Correll Buckhalter, Antonio Conner and Leslie Frazier, you see why this is a must stop and a big-time hotbed for the SEC.
Oh, some guy named Jerry Rice is from here, too.
6. Ohio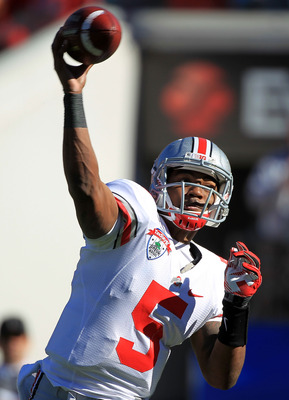 Scott Halleran/Getty Images
You'll find a pure, good, coachable football player in the Buckeye State. Only thing is, Ohio State will be a daunting foe if you're an opposing school coming into Ohio.
Players here grow up as Buckeye fans, and it's also a great hotbed state to produce a football coach.
Anyway you slice it, this is one of the best football states in America, and a ton of players who are all-time greats, stars of today and future stars of tomorrow are from Ohio.
5. Georgia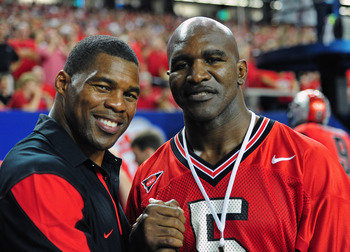 Scott Cunningham/Getty Images
This year alone, Georgia has the best two players in the entire country in Robert Nkemdiche and Reuben Foster. You can and will always find elite talent in the Peach State.
Always.
That's just a fact. Whatever position you need, speed, size, frame, anything you need, you can always go to Georgia and find it.
4. Louisiana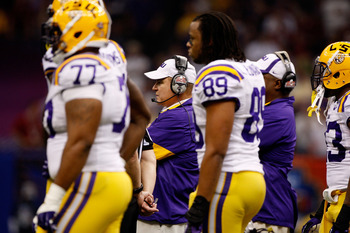 Chris Graythen/Getty Images
Here is a state that really has a chance to join the three "super hotbeds" soon enough. Louisiana is a must-stop for any program in the country.
The state produces speed and size, and its prospects are always super athletic. I won't attempt to name notable players because I'm that scared to leave someone's name off this list, as that's how good Louisiana is.
The Super Hot Beds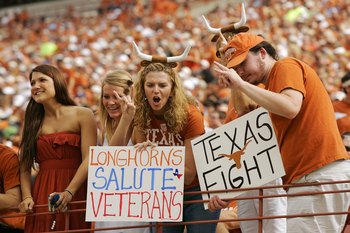 Brian Bahr/Getty Images
The following three states are what we call the "Super Hotbeds."
California, Texas and Florida are the cornerstone states for producing football talent, year in and year out.
It's almost a crime that all three have to be ranked, as any of these three states can make an easy case as to why and how they are the No. 1 premier hotbed talent state for college football recruiting.
3. Florida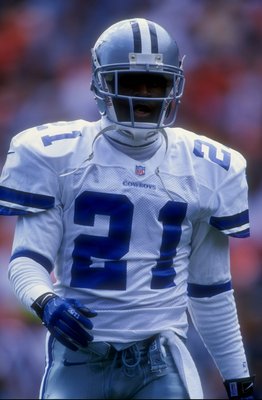 Brian Bahr/Getty Images
If you want speed and athleticism, I urge you go straight to the Sunshine State and thank me later. Some of the greatest players ever have come from this state, and it's not going to stop anytime soon.
Whether it's Lincoln Tallahassee or St. Thomas Aquinas or Miami Central or Pahokee or Booker T. or Seffner Armwood or Plant or any other high school in Florida, you will find not one but a wealth of players who will start for your program.
Florida is surely a super hotbed.
2. California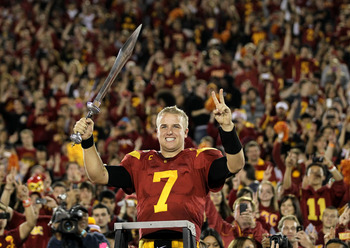 Stephen Dunn/Getty Images
California is known as a state that pretty much each college in the country recruits out of every year. Any type of prospect you want, you can find in Cali.
The skill positions, especially QB, are the state's specialty. The weather allows the players to train year round, and speed is all around the state.
Whether you want to head to Los Angeles for a player or head north to the Bay Area, California is a premier state to recruit out of in college football.
1. Texas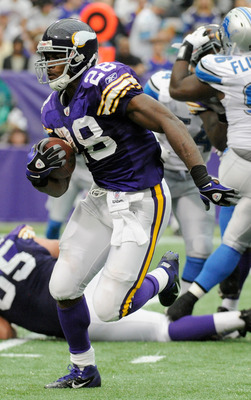 Hannah Foslien/Getty Images
Boy, how serious is football in this state?
This is the epitome of a football state in my opinion, as every time I see an NBA or MLB player that is from Texas, I always scratch my head and ask why aren't they in the NFL.
Texas, well, it speaks for itself. It really does, as we all know how big football is in the Lone Star State and the stories, legends, games, teams, coaches and more that hail from here.
Keep Reading