Buffalo Bills: Demetress Bell Changes Name and Changes Teams
April 4, 2012

The draft needs of the Buffalo Bills were drastically changed Wednesday morning when unrestricted free agent Demetress Bell agreed to a five-year contract with the Philadelphia Eagles for a reported $35 million.  
If Bell's first name looks different to you, it's because it is different. Upon announcing his signing, the Eagles informed the media that "Demetrius" was spelled wrong all along and that Demetress is actually correct.
"It wasn't a big deal, it was spelled Deme'tress' on my birth certificate and I never paid any attention to it," said Bell, in a Thursday morning press conference with the Philadelphia media.  "I spelled it 'trius' and I wanted to correct it and get it right," 
Bell's move is big news because he was one of the few left tackles remaining in free agency. But the story behind his signing, and the player he will initially replace in Philly, makes the announcement even more intriguing.
It is the second time in three years that the Eagles have gained a starting left tackle from Buffalo. On April 17, 2009, the Bills traded Jason Peters to Philly, after enduring a long contract dispute with the two-time Pro Bowler.  
Over the next three years, Peters appeared in three more Pro Bowls and was considered one of the NFL's best left tackles entering 2012. But a demoralizing injury is the reason why the Eagles were forced to scour the free agent market.
Just last week, Peters sent shock waves through Philadelphia, when he contacted the team to say that he had ruptured his Achilles tendon during a workout in his hometown of Queen City, Texas.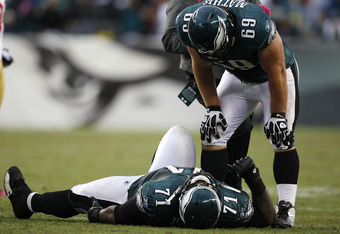 Rich Schultz/Getty Images
The Eagles immediately re-signed tackle King Dunlap to a one-year deal, but scurried to the phones to contact Bell's agent, in hopes of meeting with the former seventh-round draft choice.
Bell obliged and the Eagles breathed a sigh of relief.
This year will actually be the second time Bell steps in for Peters.  The first time occurred in Buffalo, just after Peters was traded to the Eagles.
"Jason was one of the reasons I came here. He told me whatever I need, I just talk to him. I don't think I'm trying to fill [Peters] shoes, I'm just trying to do my own thing. Jason was kind of like a big brother to me [in Buffalo]. As soon as I got there, he took me in. He didn't take me when I first got there, and I worked and worked, Jason saw me working and he showed me the dos and don'ts. We have a great relationship because of that."
Bell has had his own share of injuries in Buffalo. In 2009, he started just eight games before sustaining a season-ending knee injury that required microfracture surgery. He stayed relatively healthy in 2010, but fractured his collarbone and re-injured his knee in 2011.
Those mishaps forced Bell to miss eight of the nine games that he was considered inactive, including the team's season finale.
Bell also visited Arizona, Washington and Pittsburgh, but left each city without a contract. There had been speculation that the teams were either unwilling to sign him to more than a one-year deal or planned on starting him at right tackle in their offenses.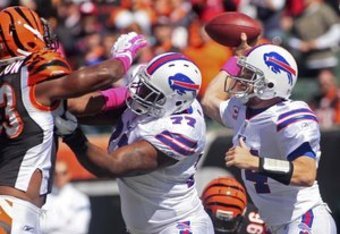 Green Bay also invited Bell in for a visit this week, but he did not agree to attend.
According to CBSSports.com and Pro Football Focus, Peters was ranked No. 1 among all left tackles in 2011, while Bell, who turns 28 in May, rose from No. 51 in 2010 to No. 17 last year.  
Eagles head coach Andy Reid had kind words to say about Bell, who is the son of former NBA great Karl Malone. In a statement provided by the organization, Reid said:
"We are happy to be able to add (Bell) to our squad. We had a chance to meet him over the weekend and study him extensively on tape and we came away quite impressed with what we saw and heard. He's a great athlete."
Philadelphia general manager Howie Roseman also sounded excited: 
"Demetress is a guy we've followed since he joined the league. He's a big, athletic left tackle and he has quite a few games of experience under his belt with Buffalo. He'll excel with our style of play on the offensive line."
The talk is nice, but Bell may not be in the Eagles plans past 2012. According to Philly.com, only the first year is guaranteed. By then, Peters should be set to return to action and Bell will either be released or forced to play elsewhere on the line.
As for Buffalo, it's back to the drawing board for general manager Buddy Nix, whose final offer to Demetress went unanswered.  At the very least, Bell's signing will allow Nix to narrow his focus in the draft, which he didn't have the luxury of doing the past few weeks.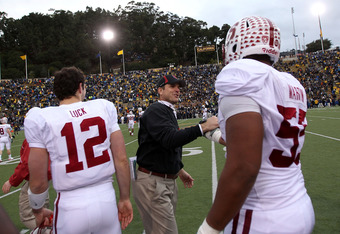 Ezra Shaw/Getty Images
Before the signing, Nix had to envision the possibility of Bell's return.  If that occurred, Buffalo's need at left tackle would have disappeared and wide receiver would have taken precedence in Round 1.  But that was before Peters went down and Philly went code red at left tackle.  
Now, with Bell out of the picture, Buffalo may target the best left tackle on the board with pick No. 10.
USC's Matt Kalil will almost certainly be gone by then, so the Bills will likely have a choice between Iowa's Riley Reiff and Stanford's Jonathan Martin.  Although Reiff is considered by most experts to be higher on most team's draft boards, that may not necessarily be the case with the Bills.  
Here's how FootballFuture.com compares the two:
Martin: "Jonathan has a great blend of natural, physical gifts. He has excellent size, and is actually a little bigger than Matt Kalil, but combines that size with very good athleticism. The extra bulk and strength may make him a better run blocker than Kalil at this point, but he is a bit inconsistent as a pass blocker.

The natural athleticism is there, but Martin can stand tall and stop his feet at times. More experience will definitely take care of that. He did a terrific job keeping Andrew Luck healthy at Stanford and shouldn't have to wait much longer after Luck and Kalil to hear his name called on draft day, potentially landing in the top ten."

Reiff: "Riley is just a tick below Martin, but could rate higher on some boards depending on scheme. His frame resembles Kalil, in that he will need to add some more bulk to hold up at the next level.

But Reiff too is a solid athlete, and should have no problem staying on the left side at the next level. He isn't going to overpower anyone at the point of attack, and but is a quality run blocker. Iowa has a reputation of producing quality lineman, and Reiff could be as good as any of them in recent memory. 
So, there you have it.  Martin or Reiff can make Buffalo's run game even more dominant in 2012, while Reiff looks like the safer bet to protect quarterback Ryan Fitzpatrick's blind side.  With either one, the Bills should be able to replace Bell.  But at No. 10, Nix has a number of options.  
If Kalil slides, the Bills could conceivably move up a couple of spots to snag him, but it would be a costly maneuver.  The other options would be to choose the best receiver on the board and hope for a solid tackle in Round 2.  Or trade the 10th pick (move down in the first round) and accumulate extra picks, in hopes of drafting talent that's above average, but not elite, at both positions.  
If the Bills trade down, Chris Hairston could find himself starting at left tackle in just his second season.  Incidentally, Hairston compares quite favorably to Reiff.
Other Bills' needs include: linebacker, cornerback and perhaps a quarterback of the future.