Real Madrid vs. Valencia: Preview, Live Stream, Start Time and More
April 4, 2012

Denis Doyle/Getty Images
With less than nine weeks remaining in La Liga's season, Real Madrid's chances of winning their first league title since 2007-08 are becoming more and more realistic.
Valencia comes into Sunday's matchup and looks to give Madrid a headache in the standings. Real Madrid (78) sits just six points atop the leaderboards over Barcelona (72), so Messi and company would be within striking distance if Madrid drops one against Valencia.
Valencia is in third place (48) in the top-heavy league standings, and have a chance to slip out of the top four despite not having a real shot to win the league. 
Barcelona seems to be turning up their game in the Champion's League, and they could run away with their fourth straight title in La Liga if Madrid were to falter down the stretch. A big win by Cristiano Ronaldo's crew would be one step closer to putting pesky Barcelona away.
Let's look at everything you need to know for this matchup. 
Where: Santiago Bernabeu, Spain
When: Sunday, April 8, 3:30 p.m. ET
Watch: ESPN Deportes
Live Stream: ESPN3.com
Player to Watch: Cristiano Ronaldo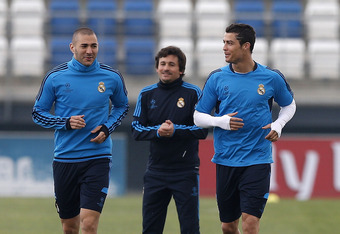 Angel Martinez/Getty Images
Ronaldo is now leading La Liga with 37 goals, just passing Messi's 36. He's on pace to blow his career high of 40 goals in a season out of the water.
He dominated the pitch in a 5-1 win over Osasuna last Saturday, where he notched two goals and two assists. His brilliant strike from about 40 yards in the game was one of his most impressive goals in his star-studded career. 
He should have little trouble dominating the pitch yet again in Real Madrid's home showcase against Valencia.
Key Matchup: Valencia Containing Real Madrid's Forwards in the Box
Many, including myself, expected Real Madrid to struggle against Osasuna and not score with relative ease. Well, they put five goals on the scoreboard and many of them were in spectacular fashion. 
Madrid's forwards are just too much to handle, especially when Karim Benzema is playing in top-form.
Valencia will have to drop midfielders back in the box to ensure that Mesut Ozil, Benzema, Ronaldo or Angel di Maria don't get their feet on the ball in the box.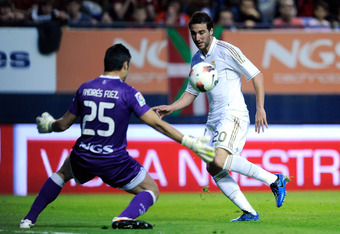 Denis Doyle/Getty Images
What They're Saying
Rumors like to swirl in international soccer, and that's just what happened when reports of Sergio Aguero to Real Madrid to replace Gonzalo Higuain came about. Although, Jose Mourinho was quick to shoot those down.
"You (the press) want to destabilise the squad," Mourinho said. "Rumours seem to be inevitable. But we are delighted with Higuain. He's scored 24 goals in 20 league games and just remember he was the league's top scorer with 19."
It looks like Madrid is happy with their current squad, and why wouldn't they be?
Prediction: Real Madrid win 4-1
Valencia is the best La Liga team behind Real Madrid and Barcelona, but the gap between these two teams is just too far for Valencia to make this one interesting. Ronaldo will roll closer to glory in this career-best year for him and get the three points.