MLB Opening Day 2012: Why Marlins-Cardinals Could Be NLDS Preview
April 4, 2012

J. Meric/Getty Images
The MLB regular season—at least the stateside version of it—kicks off tonight with the defending champion St. Louis Cardinals taking on an entirely new-look Miami Marlins team.
For the Cardinals, it is the start of life after Albert Pujols as the team begins what will be an uphill climb to defend their title. While Adam Wainwright returns from injury and Carlos Beltran was brought in to help replace some of Pujols' production, the team must now also deal with the loss of starter Chris Carpenter who is sidelined indefinitely with a bulging disk in his neck.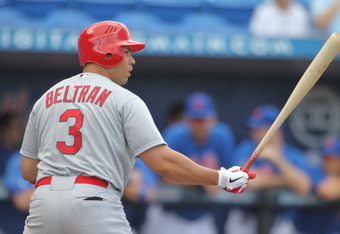 Marc Serota/Getty Images
As it stands the Cardinals Opening Day lineup will look like this:
SS Rafael Furcal
RF Carlos Beltran
LF Matt Holliday 
1B Lance Berkman
3B David Freese
C Yadier Molina
CF John Jay
2B Daniel Descalso
SP Kyle Lohse
Following Lohse in the rotation will be Jaime Garcia, Wainwright, Lance Lynn who is replacing Carpenter in the rotation and Jake Westbrook. The bullpen, which thrived in the postseason, will rely on largely unproven Jason Motte to slam the door in the ninth with Fernando Salas handling setup duties. 
On the other side of things, the Marlins were as active as any team in baseball this offseason as they looked to put not just a competitive, but a contending team on the field in their new stadium's inaugural season.
Things started at the top, with the team trading for White Sox manager Ozzie Guillen to lead a group made up of a number of new faces, as the team signed SS Jose Reyes, SP Mark Buehrle and RP Heath Bell this offseason, while also acquiring volatile Cubs SP Carlos Zambrano.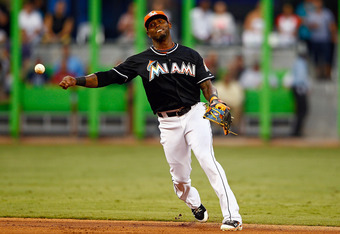 Mike Ehrmann/Getty Images
Their Opening Day lineup will look like this:
SS Jose Reyes
CF Emilio Bonifacio
3B Hanley Ramirez
RF Giancarlo Stanton
LF Logan Morrison
1B Gaby Sanchez
2B Omar Infante
C John Buck
SP Josh Johnson
Buehrle will get the nod in the rotation after Johnson, followed by Ricky Nolasco, Zambrano and Anibal Sanchez and All-Star closer Bell will handle ninth inning duties. From the stadium to the manager to the lineup and even on to their young slugger's first name, it was an offseason of change in Miami.
So for two teams that underwent such drastic changes this offseason, what should we expect from them come season's end in what will be the first season that the MLB implements a two Wild Card format?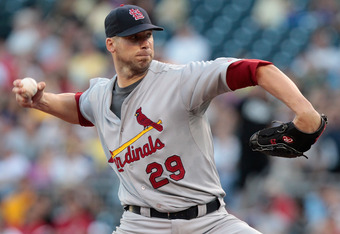 Jared Wickerham/Getty Images
In St. Louis, despite the loss of Pujols and the injury to Carpenter, expectations have to still be relatively high that the team can return to the postseason. Playing in a wide-open NL Central that saw last year's division champion Milwaukee Brewers suffer a similar blow as the Cardinals when Prince Fielder left in free agency, the division looks as though it will be a three-horse race between the Cardinals, Brewers and Cincinnati Reds.
Assuming Carpenter gets healthy, the Cardinals have a solid rotation top-to-bottom and when Allen Craig returns from injury they will be able to add his potent bat to what is still a solid lineup even without Pujols. So while it seems as though the odds are stacked against them, there is no reason not to think the Cardinals can't come away with the NL Central crown in 2012.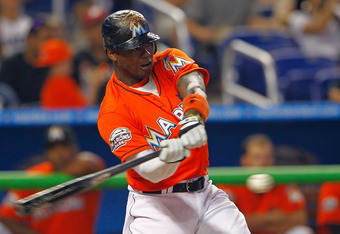 Mike Ehrmann/Getty Images
In Miami, the NL East has suddenly become as deep a division as any in baseball, as the always-solid Phillies and Braves will have some legitimate competition from both the improved Marlins and a Nationals team that added Gio Gonzalez and Edwin Jackson to a team that was already on the upswing.
While the NL West and NL Central will both be highly competitive divisions as far as who takes the division crown, there is a good chance that both NL Wild Cards will come out of the NL East this season, and if the newly-assembled group in Miami can come together quickly as a team they could very well be one of the two that walk away with the wild card.
So consider this possible NL postseason breakdown:
NL Wild Card Atlanta Braves vs. NL Wild Card Miami Marlins - Marlins Win
NL Central Champ St. Louis Cardinals vs. NL Wild Card Miami Marlins
NL East Champ Philadelphia Phillies vs. NL West Champ Arizona Diamondbacks.
Should the Phillies hold the NL's best record—as I'm sure many predict they will—and the Cardinals have a better record than whoever win the NL West, then the Marlins and Cardinals will see each other again in the NLDS.
Granted a lot has to fall into place as planned here for such a match-up to occur, but none of the above seems by any means out of the realm of possibility. So while it is only Opening Day for these two teams tonight, it could be a preview of a far more meaningful match-up come October.