Preseason College Football Rankings 2012: Where Last Year's BCS Teams Will Land
April 4, 2012

Chris Graythen/Getty Images
Repeating a trip to a BCS bowl is no easy task in college football, but just about every team from a year ago has a shot to get back to the big stage in 2012. 
Accomplishing such a feat will be difficult, especially for those teams replacing big-time stars and key contributors all over their roster. 
However, these teams recruit very well and have great coaches, so success is a definite option in 2012. 
With that said, here's how I have last year's BCS bowl teams ranked in the early pre-season top 25. 
Alabama: No. 3 
The defending national champs will find it hard to replace the many stars that left for the NFL, but it's something the Crimson Tide aren't too worried about. 
Nick Saban has stockpiled Alabama with superb talent, and since he and his staff are all phenomenal coaches, the Crimson Tide will be back in contention in 2012. 
Led by A.J. McCarron, Alabama will still be in solid shape moving forward.
LSU: No. 1 
The Tigers were embarrassed in the national spotlight, but they're still loaded with talent on both sides of the ball. 
LSU's defense takes a small hit with Morris Claiborne and Michael Brockers gone, but Les Miles has a ton of skilled studs ready to get the job done. 
The offense will be improved from a year ago, as the backfield is stacked and Zach Mettenberger will thrive at QB. 
West Virginia: No. 9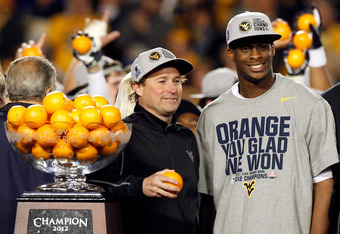 J. Meric/Getty Images
Moving to the Big 12 was a good decision for the Mountaineers, but the first year there will be a challenge. 
West Virginia has to be a more consistent team if they want to win the conference this year. After struggling against Syracuse, Louisville and Pittsburgh last year, the Mountaineers better hope they improve like expected or the first season in the Big 12 will be rough. 
With Geno Smith and his talented group of receivers all retuning, though, this West Virginia team will be very dangerous on offense. 
Clemson: No. 19 
Tajh Boyd and Sammy Watkins burst onto the scene this past year, showcasing their skills in big moments for the Tigers. 
Of course, Clemson collapsed as a whole to end the year, and losing some stars on defense leads to a drop in the rankings. 
Still, the Tigers have a great deal of talent, and they're going to be strong contenders in the ACC once again. 
Michigan: No. 10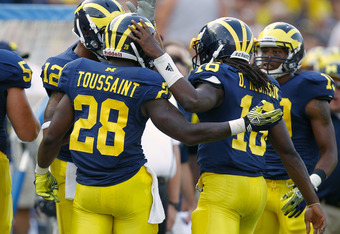 Gregory Shamus/Getty Images
Defensive coordinator Greg Mattison will have his squad ready once again, even after replacing key starters. 
The offense is what puts the Wolverines near the top, though, as Denard Robinson and Fitzgerald Toussaint will be running wild all season long. 
Michigan is the favorite in the Big Ten, and if the Wolverines don't choke, they should easily be back in the BCS. 
Virginia Tech: No. 18 
David Wilson is off the NFL, which is a big blow to the Hokies.
However, all it means is that Logan Thomas is taking over on offense, which is bad news for the rest of the ACC. 
Thomas will be counted on much more this year, so look for him to rise up and be the one man show for Virginia Tech. He's a beast at QB that can beat you with his legs as well as his arm.
Stanford: No. 16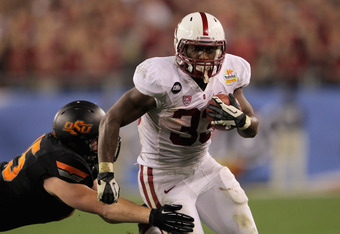 Doug Pensinger/Getty Images
The Cardinal may have lost Andrew Luck, but they're still going to be strong players in 2012.
Quarterback is up in the air right now, but the run game will be in great hands with Stepfan Taylor. Also watch out for freshman Barry Sanders, Jr.
The offensive line picked up some stellar recruits who will contribute right away, and the defense brings back seven starters ready to win big again.
Oklahoma State: No. 20 
Replacing the production of Brandon Weeden and Justin Blackmon is going to be a struggle for the Cowboys, but they're not completely out of the BCS picture for 2012. 
Mike Gundy will have his hands full, trying to make Oklahoma State elite again. 
With Joseph Randle in the backfield, though, the Cowboys will be hard to stop on offense, and returning eight starters on defense really helps. 
Wisconsin: No. 13 
The Badgers would be further down in the rankings, but landing transfer QB Danny O'Brien was a huge splash for them. 
Montee Ball as an experience QB to work with once again, and together, the two will help Wisconsin take storm in the Big Ten. 
It will be tough relying on some new players in key positions to start the year, but as the season progresses, the Badgers will be a force in the college football world once again. 
Oregon: No. 5 
The Ducks lost their starting running back and their starting quarterback, but yet still crack the top five.
That goes to show how well Chip Kelly has recruited. Of course, had those players returned, Oregon would be in the hunt for No. 1 in the country. 
Look for De'Anthony Thomas to dominate and avoid a sophomore slump, and for incoming freshman Arik Armstead to make a major impact. 
2012 College Football Preseason Top 25 
1. LSU 
2. USC 
3. Alabama 
4. Georgia 
5. Oregon
6. Arkansas
7. Florida State 
8. South Carolina 
9. West Virginia 
10. Michigan 
11. Oklahoma 
12. Kansas State 
13. Wisconsin 
14. Michigan State
15. Ohio State 
16. Stanford  
17. Nebraska 
18. Virginia Tech 
19. Clemson
20. Oklahoma State 
21. Texas 
22. TCU 
23. Boise State 
24. Notre Dame