2012 NFL Draft: Kansas City Chiefs Must Draft Luke Kuechly
April 4, 2012

Joe Robbins/Getty Images
The Kansas City Chiefs have multiple positions to address heading into the 2012 NFL draft, but one player stands out amongst the crowd: Luke Kuechly.
When browsing through Kansas City's roster, there are three glaring weaknesses: Defensive end, nose tackle and inside linebacker.
Defensive end 
Glenn Dorsey and Tyson Jackson anchor the outside of the defensive line. Both were highly-touted first-round picks that were expected to make their presence known immediately. Hailing from LSU, the duo continued the love affair between the Chiefs and the SEC, where defense is the name of the game.
However, the tandem of Dorsey and Jackson also evolved into another trend: The Chiefs wasting coveted draft picks with defensive linemen that proved to be busts (see Ryan Sims).
Dorsey was snagged with the fifth overall pick in 2008, while Tyson Jackson was the third name called by Roger Goodell the following year. Kansas City appeared to have a young, vastly talented nucleus on the defensive line to build around.
However, looks can be deceiving.
The former LSU Tigers accounted for a total of one sack in 2011. Kansas City as a whole only accumulated 29 throughout the entire season, with 12 belonging to All-Pro outside linebacker Tamba Hali.
The Chiefs line up in a 3-4 defense, which typically benefits the linebacking corps while challenging the three linemen. But one sack is egregious.
Nose tackle
Kelly Gregg signed with Kansas City last offseason. While he did a serviceable job in the center of the line, he's also 35 years old.
For years, Arrowhead patrons have witnessed the home team getting dissected by opponents' rushing attacks with nearly surgical precision. It was a vulnerability last season as well—the opposition averaged 132 yards per game against Kansas City's defense.
Completing two passes throughout an entire NFL game and leaving with a win used to be a myth, but Tim Tebow dispelled it during the division rivals' clash at Arrowhead last season. Denver demoralized Romeo Crennel's defense, rushing for 244 total yards on 55 attempts.
The name Dontari Poe has been echoed during draft debates around Kansas City. The Memphis Tiger dominated headlines at the NFL Combine after recording a 4.87 40 time.
Considering Poe is a small mammoth at 350 pounds, a 4.87 is nothing short of astonishing. His draft stock climbed the charts at a furious pace, and he looked like a steal for Kansas City if they could land him with the 11th pick.
Then scouts watched tape on him, and his value has dropped like an anvil.
Poe didn't even earn first team All-Conference playing in Conference USA—a historically weak league—which left many football insiders scratching their heads.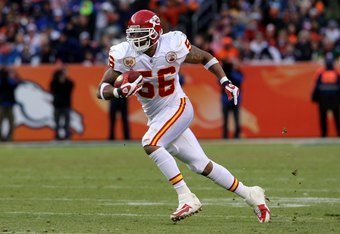 Doug Pensinger/Getty Images
It would be surprising if GM Scott Pioli risked another first-round pick on Poe given his track record with selecting defensive linemen that have never realized their potential.
Inside linebacker
Kansas City boasts one of the most intimidating linebacking corps in the NFL.
Fans can expect Tamba Hali to be a perennial Pro Bowler for years to come. Last season, the outside linebacker accounted for 12 sacks and four forced fumbles. He is the guy that opposing offensive coordinators circle on game tape and craft their strategy around.
Derrick Johnson achieved his first All-Pro selection last season, garnering 131 total tackles (104 solo) and two interceptions. Johnson is a freakishly athletic and disruptive inside linebacker who finally appears to be reacting on instinct rather than hesitating due to analysis.
Kansas City drafted Justin Houston in the third round of last season's draft. The outside linebacker would eventually infiltrate the starting rotation and finish second on the team in sacks with 5.5.
In order to solidify the group, Kansas City needs to draft a player to line up opposite Derrick Johnson on the inside.
Luke Kuechly
The recipient of the Dick Butkus Award, given to the nation's top collegiate linebacker, Boston College's Luke Kuechly is the ideal inside linebacker.
Kuechly averaged 14 tackles per game, amassing 532 during his three-year career with the Eagles. He is an aggressive run-stuffer that doesn't allow tailbacks to escape his grasp.
While he isn't as quick as the three aforementioned Kansas City linebackers, he silenced many of his critics who were pessimistic of his speed when he clocked in at 4.58 after running the 40-yard dash. Kuechly has impeccable football instincts that also atone for any lack of speed.
If Kansas City spends the No. 11 pick on him, Romeo Crennel will finally plug the hole in his defense that so many teams exploited and bulldozed through in 2011.