2012 NFL Mock Draft: Latest Round One Landing Spots for Top Prospects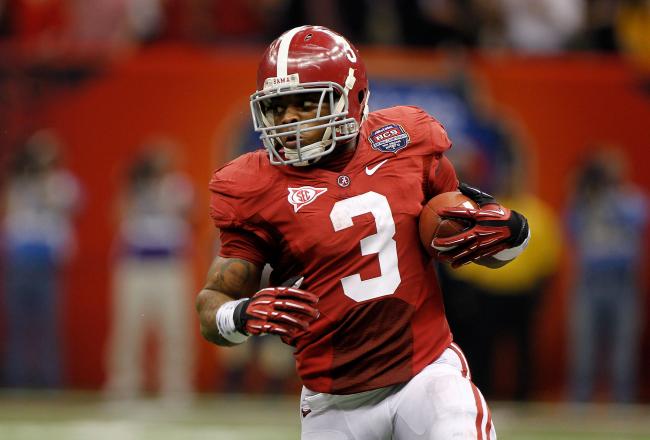 Chris Graythen/Getty Images
As the 2012 NFL Draft nears, landing spots for the entire first round seemingly change on a daily basis. With that in mind, here are the latest new homes for the top college prospects.
1. Indianapolis Colts: Andrew Luck, QB (Stanford)
Indianapolis is opening the next chapter with a promising franchise quarterback in Andrew Luck. A quick transition into the pros will get him out of Peyton Manning's shadow early on.
2. Washington Redskins (From STL): Robert Griffin III, QB (Baylor)
Robert Griffin III threw just 17 interceptions for his career at Baylor. Rex Grossman connected with the defense 20 times in just 13 games played last season.
3. Minnesota Vikings: Matt Kalil, OT (USC)
The key to any long-term success on offense is a reliable offensive line. Minnesota has Adrian Peterson and potential in Christian Ponder, but nothing happens without a guy like Matt Kalil.
4. Cleveland Browns: Trent Richardson, RB (Alabama)
Previously had Justin Blackmon here which is still possible, but Cleveland does need a legit running back. Trent Richardson is not only a beast, but he isn't as banged up as most top-tier Brahma bulls coming into the NFL.
5. Tampa Bay Buccaneers: Morris Claiborne, CB (LSU)
Last season Tampa Bay finished with the No. 21 ranked pass and No. 32 ranked rush defense. There's no better way to help the upgraded offense than with the best available defensive player.
6. St. Louis Rams (From WAS): Justin Blackmon, WR (Oklahoma State)
The Rams still need lots of help, more so on offense than defense. With Justin Blackmon out wide, this takes pressure off Steven Jackson and the running game, which then makes it easier to set up play-action.
Against NFC West defenses, St. Louis needs that receiver who can stock-block downfield and stretch the linebackers out.
Blackmon has the strength to consistently beat single coverage and go over the middle, deriving attention from other receivers like Austin Pettis and Steve Smith.
7. Jacksonville Jaguars: Riley Reiff, OT (Iowa)
If the Jaguars go defense here it's not a bad idea, but with already having top five potential, the offense needs help. Riley Reiff is the perfect athletic tackle to seal off the blindside and make blocks upfield for Maurice Jones-Drew.
8. Miami Dolphins: Ryan Tannehill, QB (Texas A&M)
Wouldn't be surprised if Miami traded down from here to try to get Ryan Tannehill later in Round 1. However, with his former head coach in Mike Sherman—the Dolphins' new offensive coordinator—it's hard to imagine Miami not grabbing him here.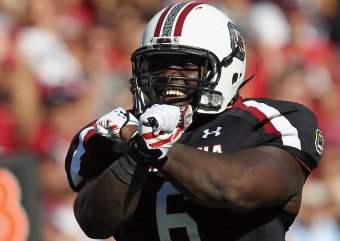 Streeter Lecka/Getty Images
9. Carolina Panthers: Melvin Ingram, LB/DE (South Carolina)
Carolina simply needs defense. Whether it's a defensive end, tackle, linebacker or corner, the Panthers must upgrade their dark side. Melvin Ingram suits best as he has a knack for being around the rock and being a consistent playmaker.
10. Buffalo Bills: Dre Kirkpatrick, CB (Alabama)
This might be a stretch to snag Michael Floyd at No. 10 to pair with Steve Johnson at receiver, but not a bad decision by any means. Still, the Bills' secondary needs some help to back the greatly improved front seven.
11. Kansas City Chiefs: Michael Brockers, DT (LSU)
Lining up in front of linebackers like Derrick Johnson, Justin Houston and Tamba Hali, Michael Brockers is just what the Chiefs need to complete Romeo Crennel's defense. Stop the run, draw double-teams and free up the 'backers who can make more plays at the line.
12. Seattle Seahawks: Luke Kuechly, LB (Boston College)
Needing a consistently reliable run-stuffer in the middle, Luke Kuechly can dissect plays pre-snap and is a sure-tackler. His addition will increase Seattle's odds of competing against San Francisco in 2012.
13. Arizona Cardinals: David DeCastro, OG (Stanford)
Beanie Wells compiled over 1,000 rushing yards in 2011 despite being quite inconsistent. With an offensive lineman like David DeCastro paving the way, Wells will not only be more consistent, but the play-action pass becomes more relevant.
14. Dallas Cowboys: Quinton Coples, DE (North Carolina)
Arguably the best true pass-rusher in the draft, Quinton Coples still has a lot to learn. However, pairing him opposite of DeMarcus Ware only helps the Cowboys' improved secondary and odds at winning the division.
15. Philadelphia Eagles: Jonathan Martin, OT (Stanford)
The NFC East is the best division for pass rushing. Every team has one stud, and some have a solid No. 2 rusher to get additional pressure. Well, the Eagles need to keep Mike Vick off the ground, and LeSean McCoy must maintain his consistency.
Jonathan Martin is the next best available tackle and was part of a line that allowed just 11 sacks of Andrew Luck in 2011. Plus, the Cardinal averaged 210.6 rushing yards per game (ranked No. 18 out of 120 schools).
Martin plays with confidence, can wall off the blindside and get to the second level. In a division where limiting the quarterback pressure is key, Martin's addition keeps Philly's offense in the top 10.
16. New York Jets: Michael Floyd, WR (Notre Dame)
Michael Floyd is a tough, strong and reliable receiver everywhere on the field. He's an unselfish run-blocker and can make consistent plays in the end zone. The Jets need this type of tenacity on offense to contend for the division.
17. Cincinnati Bengals (From OAK): Stephon Gilmore, CB (South Carolina)
A lock-down zone defender, Stephon Gilmore has arguably the best field awareness of any defensive back in the draft. He's a great for Cincinnati, as Gilmore is a reliable perimeter run defender and plays physical in press coverage.
18. San Diego Chargers: Fletcher Cox, DT/DE (Mississippi State)
A dynamic defender who can play defensive tackle or end, Fletcher Cox provides a reliable pass rush and can split double-teams to make plays in the backfield. San Diego needs a solid run defender, otherwise the Bolts will have another disappointing campaign in a run-oriented division.
19. Chicago Bears: Nick Perry, DE (USC)
With a spruced-up offense, the Bears need to address the defense. Not only does Chicago need to get younger but also become consistent against the run and pass.
Last season, the Bears ranked No. 5 against the run but No. 28 against the pass. So, in order to help out veterans Julius Peppers, Israel Idonije, Brian Urlacher and Lance Briggs in the front seven, USC's Nick Perry will certainly suffice.
A consistent performer for the Trojans, Perry reads the run well and reacts fast to defend the quick passes. Green Bay and Detroit use the intermediate game quite a bit, so limiting that hot-read will assist those in coverage.
20. Tennessee Titans: Dontari Poe, DT (Memphis)
Other than rushing offense, the Tennessee Titans need to improve at their rush defense. A powerful gap controller in the trenches, Dontari Poe will stifle lanes against run-oriented teams like Houston and Jacksonville in the AFC South.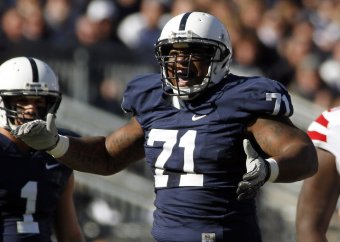 Justin K. Aller/Getty Images
21. Cincinnati Bengals: Devon Still, DT (Penn State)
Right now Cincinnati is a top-10 defense. However, the run defense cost them in big games last season, so taking a proven run defender in Devon Still will harden the front wall. With Gilmore earlier in Round 1, the Bengals emerge as a top five defense.
22. Cleveland Browns (From ATL): Courtney Upshaw, LB (Alabama)
Cleveland can't go wrong with two Alabama Crimson Tide players in Round 1. Here, Courtney Upshaw brings an edge pass rush and dominance at defending the run. In turn, middle 'backer D'Qwell Jackson cleans house in 2012.
23. Detroit Lions: Zach Brown, LB (North Carolina)
A fast reactor on the outside, Zach Brown recorded six picks the past two seasons and returned them for 137 yards. The Lions defense needs a playmaker like this behind the front four, because the inability to defend the intermediate passing game cost them last season.
24. Pittsburgh Steelers: Dont'a Hightower, LB (Alabama)
A reliable tackler and all-around aware defender, Dont'a Hightower will easily control the Steel Curtain's interior front seven with James Harrison and LaMarr Woodley on the outside.
25. Denver Broncos: Jerel Worthy, DT (Michigan State)
With Von Miller, Elvis Dumervil, Wesley Woodyard and D.J. Williams in the front seven, Denver needs an interior lineman to draw/split double-teams and make plays in the backfield. Jerel Worthy was arguably the biggest reason for Michigan State's No. 12 rush defense ranking.
26. Houston Texans: Kendall Wright, WR (Baylor)
In 2011 the Texans ranked No. 18 in passing offense which ultimately cost them in the postseason. Kendall Wright will derive attention from Andre Johnson and Owen Daniels, which will increase the Texans' odds of making a run for the AFC title.
27. New England Patriots (From NO): Whitney Mercilus, DE (Illinois)
A defensive end capable of quickly developing and making an immediate impact is wanted in New England. After a stellar 2011 campaign, Whitney Mercilus will learn fast under Bill Belichick to complement Vince Wilfork and Rob Ninkovich.
28. Green Bay Packers: Vinny Curry, DE (Marshall)
For the Packers defense in 2011, it was a year to forget. Fielding the league's worst pass and total defense, Green Bay also recorded just 29 sacks and allowed an average of 4.7 yards per carry.
Had the cheese even been minimally average, the offense could have led the way to a second consecutive Super Bowl. Enter Marshall's Vinny Curry and his sack mastery skills as well as reliability at shutting down the run.
Curry is extremely explosive off the edge and also has a knack for forcing fumbles. He's the ideal complement opposite of Clay Matthews and will force quarterbacks to throw sooner against Green Bay's opportunistic defense (31 picks in 2011).
29. Baltimore Ravens: Cordy Glenn, OG (Georgia)
Ray Rice is arguably the best and most complete all-around back in the game. Therefore, running the rock to set up play-action is the ideal plan for Baltimore. Cody Glenn is a run-blocking beast and has the lateral agility to roll out with Joe Flacco on play-action bootlegs.
30. San Francisco 49ers: Stephen Hill, WR (Georgia Tech)
Under the tutelage of Randy Moss, Stephen Hill will get quickly acclimated to being a legit deep threat in pro football. And, because Hill specialized as a run-blocker for the Yellow Jackets, that attribute will transition best for San Francisco's run-balanced offense.
31. New England Patriots: Mark Barron, SS (Alabama)
Despite improving toward the end of last season, the Patriots must regroup defensively to repeat as AFC champs. Mark Barron will complete Belichick's secondary, and albeit his having durability concerns, New England can now blitz more while staying in man coverage.
32. New York Giants: Doug Martin, RB (Boise State)
An impressive ball-carrier between the tackles and on the outside, Doug Martin keeps a low center of gravity to make would-be tackles miss in narrow spaces. His addition retains the two-back philosophy for Big Blue and will help with pass blocking as well.
John Rozum on Twitter.
This article is
What is the duplicate article?
Why is this article offensive?
Where is this article plagiarized from?
Why is this article poorly edited?