Manchester United Transfers: Squad Size Is Key for Sir Alex This Summer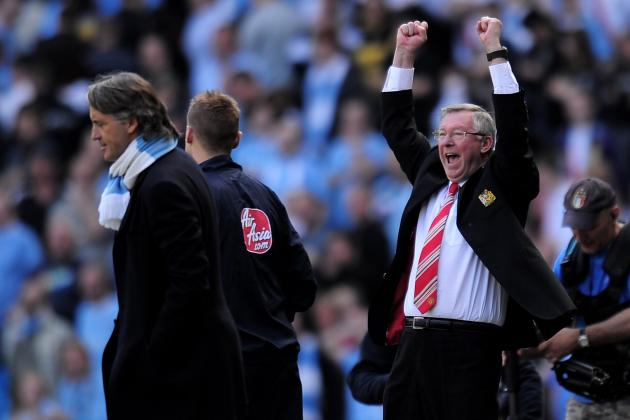 Shaun Botterill/Getty Images

Everybody has their own wishes for who Manchester United should sign this summer. Midfield would be the favourite choice, but full-backs have come into more prominence recently.
In this article, we consider why squad size may give Sir Alex Ferguson far more flexibility going into next season than any of his major rivals.
Begin Slideshow

»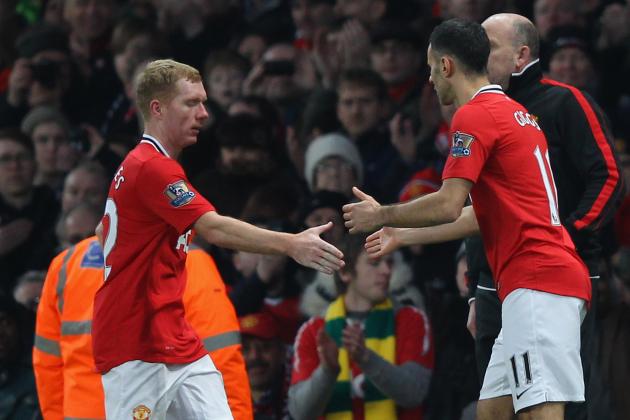 Alex Livesey/Getty Images

There may never have been a time when so many of England's top clubs were in transition at the same time.
This may be one of the reasons why Manchester United and City have been so successful this season.
For all the people who have said this is the worst United team for a long time, the Red Devils could finish with the highest number of Premier League points ever.
Yes, they've gone out of Europe and the Cups, but so far they have won 12 away League games, against a total of only five for the whole of last season.
Chelsea are clearly aging, with their top players getting old together. If Abramovich orders a clear-out at the end of the season, it will cost him a lot in transfer fees to replace them, even if the wage bill is halved.
Arsenal still haven't found a winning formula—already, with the season not yet ended, they have gone an eighth season without a trophy. Their defence is not settled; they haven't replaced Fabregas, Nasri or Henry, and it is only Robin van Persie's fitness that has kept them from a Liverpool-style collapse.
The Scousers seem to have been in transition since before Rafa Benitez left. He brought in many of his own players and after he went, Roy Hodgson was left with a "poison chalice." Dalglish has not managed to stem the free-fall, despite spending £113 million on even more players.
While Tottenham have been fairly settled, continuing to build a European side, they still have Emanuel Adebayor on loan to resolve and, if Harry stays, no doubt there are more signings and departures on the horizon.
Newcastle have been fundamentally reinvented under Alan Pardew. He has actually made a profit on transfers while building a blend of English and French players that has surprised many.
Meanwhile, City have probably been the most settled squad at the top.
The Priceless Experience of Sir Alex
I've lost count of how many times Sir Alex has rebuilt his team and squad. It seems like four or even five times.
In fact, since the departure of David Beckham started the end of the "kids who won't win anything" era, United seem to have been permanently in transition in one way or another.
This time, however, he is probably building his last squad, with a quality, flexibility and adaptability good enough to outlast his own tenure. This will affect the selection of his successor, because it will do United no good for a new manager to completely demolish the squad and rebuild it.
A number of characteristics have increasingly been the hallmark of Sir Alex's United teams. Now, there seems to be a settled pattern:
blend youth and experience;
have a caucus of players who can play in more than one position;
as far as possible, everyone should have pace;
ball skill is paramount, with the ability to pass and receive at pace;
a core of British players running through the spine;
a fundamental team ethic.
A major reason for the success of Brian Clough's teams, who far exceeded expectations, was their willingness to play for each other. Yes, Clough had unquestionable disciplinary authority, as Sir Alex does, but even more than the Scot, he got apparently ordinary players to transcend their apparent potential in a team that played for each other.
So when we're looking for reasons why United are still heading the Premier League with "one of the worst teams for years," apart from the rest getting worse, the main reason is that as much as at any time since Sir Matt was manager, United play as a team.
They may be in transition, but the value of having Scholes, Giggs and Ferdinand around is that they can share the wisdom, counsel and guidance of players who've won every honour in the game, over and over, and know how to get through "squeaky bum time."
It is no surprise that players like Welbeck, Hernandez, Jones, Smalling, Cleverley and Pogba can come so quickly to the fore. The squad is big enough for them to have time to develop and learn "the United way," but also if you have the talent you are given your chance.
This will also be true of new signings, as De Gea and Ashley Young have shown. You may be 20, but if you're good enough, you will be given your chance.
Sir Alex will allow you two years to get up to speed and fit into the United way of playing. So relax and enjoy the ride.
Michael Regan/Getty Images

While the Matt Busby and Alex Ferguson method is centred on giving youth a chance, the smart thing with any modern squad is for it to be in constant renewal.
When you seek to do business with Japanese companies, they like to meet the company every year.
But they like to see some familiar faces and some new faces every time.
The same should be done with football. One of the problems of the Scholes, Giggs, Beckham, Neville, Butt era was that they all aged at the same time.
And Roy Keane was more or less contemporaneous with them.
In an attempt to replace these, Sir Alex made errors, like Djemba Djemba and Kleberson. He's never found a replacement for Scholes or Keane but, being a pragmatist, he has built a different type of team.
For the last few years, he has also been prepared to sign new players steadily—though not in January—to blend in with the best of the young talent coming through the Academy.
United aren't in crisis because Scholes, Giggs and Ferdinand are at the wrong end of their careers. Indeed they are lucky not only to have them around to blend in, but also because now that Scholes has returned on Sir Alex's terms, they can be played on a selective, needs-must basis.
So it will be no surprise if we see most of the "old guard" for the remainder of the season, because they know how to get the job done.
But it was also significant to see the role that Wayne Rooney has been playing—particularly evident against Blackburn. He has become a far more responsible player, with no cards at all this season, prepared to graft for the team at both ends of the pitch.
Yes, it's a time for renewal, and the older players will be faded out gradually over the next few years, but in Rooney they have the pivot of the next generation. Still only 26, next season will be his eighth at United, and he already has 357 appearances.
Some teams are trying to replace aging players with youth, e.g. Blackburn, primarily because they cannot afford the mature, finished product.
In United's case, they already have mature and maturing players, to which they have added youngsters such as Ashley Young and Hernandez, who are proven internationals but have the style and personality to fit in with the United way.
Some may say it is luck when players like Phil Jones and Chris Smalling fit in straight away, but Sir Alex's scouting network is comprehensive and he takes a personal interest in the players he signs. They must be United through and through (like Antonio Valencia, thumping the badge after scoring on Monday).
Sir Alex has been progressively renewing for a few years, and although he has an impressive conveyor belt of ready-made talent coming through the Academy and Reserves, that hasn't stopped him signing other younger players or even older players if they fit an explicit need.
Whereas at Chelsea the renewal process has to start on 1st June, it's part of the United way of life. Players like Owen and Berbatov come to the end of their useful life, and their replacements are either already in the squad, coming up through the youth or signed from elsewhere.
The trick is to blend them all together in the United way.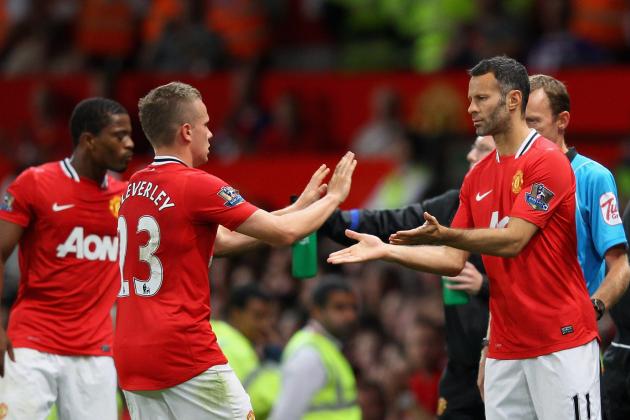 Alex Livesey/Getty Images

The team sheet for the FA Cup match against Arsenal at Old Trafford in March 2011 was the most astonishing Sir Alex has ever produced.
With United still having a chance of the treble, he picked eight defenders, plus Darron Gibson, Wayne Rooney and Hernandez—and won the game comfortably.
Only four players were automatic first choices. Five were 21 or under, and John O'Shea and Wes Brown were sold only months later, but the core of the team was Van der Sar, Vidic, Evra and Rooney.
A less extravagant but similar experiment against Blackburn at home this season backfired badly, but Sir Alex has always been prepared to take a risk, and he wants young players to prove themselves as early as practicable.
For example, from one cameo appearance in that otherwise disastrous match, he already knows that Will Keane has what it takes to step up. I expect him to make more appearances next season.
Sir Alex is never afraid to blend youth with experience—most evidently when he gave the chance to "Fergie's Kids," who proved Alan Hansen and many other pundits completely wrong.
He is unlikely to depart from his transfer policy of signing players under 27, with the occasional exception. Henrik Larsson was an inspired signing—Dimitar Berbatov was a luxury. Sir Alex loves outrageously talented players.
He will have Scholes and Giggs for at least one more season, and Vidic, Carrick, Evra, Park, Fletcher and Ferdinand for two to three if he wants them. Some of the latter will see out their careers and join the United staff—others will be sold or given free transfers to see out their twilight years somewhere warm.
But all the while, Sir Alex will have ready-made replacements coming through or, occasionally, being signed.
I expect this summer's signings to be dominated by younger players, but Gaitan, Martinez or Subotic at 23/24 or even Modric at 26 would fill the middle of the conveyor belt very nicely, thank you.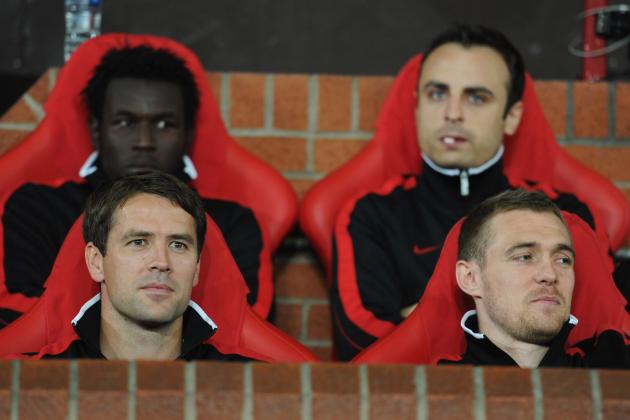 Michael Regan/Getty Images

It is possible that all of the above will be gone by August.
I confidently expect the biggest clear-out at Old Trafford in years.
Sir Alex may have kept his cards close to his chest, and he may be in the process of building another dynasty, but he can use the excuse of this season's European failure to us, the media and the Glazers to justify the need for a raft of new faces next season.
Some, of course, will come from the reserves, and we'll return to those.
Many people may think that Sir Alex decides he has to replace a certain player and then searches for the new model. It seems more likely that he covets players of great talent who have pace, skill, guile and maturity beyond their years. If he sees one and can get him, he'll sign him—nowhere more certainly than in midfield.
Yes, he wants Pogba to stay, but this season has shown him more than any before the value of a big squad that is rotated to stay fresh and get experience, let alone cover for up to 11 injuries.
Next season, the squad may be even bigger. Although there are rules on squad size, you'll see the main reason why Sir Alex will be able to carry a bigger squad than anyone else—even to the extent of having specific squads for Europe, the Premier League and the Cups, with an overlap between them all.
Right now, ironically because of all the injuries but also thanks to his squad size and the chances he's given to young players, Sir Alex has probably the fittest squad in the Premier League, while City are looking distinctly leggy.
So Who Will Go?
To make room for the players he wants to sign, Sir Alex will ship some out, but he will already know who he would be prepared to let go. Some will raise cash, some cannot be relied on for the future and some could be bargaining chips.
In this latter respect, his prize asset is Dimitar Berbatov, with Anderson not far behind.
Berbatov must be one of the unluckiest players to play at Old Trafford.
Yes, some of the fans think he's lazy, but his languid style and long stride cover the pitch, and nobody in the squad receives, holds or distributes the ball better. Last season, he was joint top scorer in the Premier League.
To win the title with Berbatov and Michael Owen languishing on the bench is a luxury indeed, and Sir Alex will want to be sure he can replace both in kind with players who can come off the bench and win a match. I don't think Macheda fits that bill any longer.
Sadly, like Hargreaves, Anderson seems to be injury-prone, but at least United will get a fee for him. As well as those above, sadly Darren Fletcher may retire to the coaching staff due to his chronic bowel syndrome. Ji Sung Park could go if a Shinji Kagawa-style replacement could be found.
In addition, Ritchie De Laet and Thomas Kuszczak's days are numbered, and Bebe is unlikely to return. It is not impossible that Nemanja Vidic could go, depending on his recovery prognosis.
Collectively, the above could fetch £40 million and release £600,000 a week in wages. With United's transfer pot thrown in, that could attract a whole lot of talent.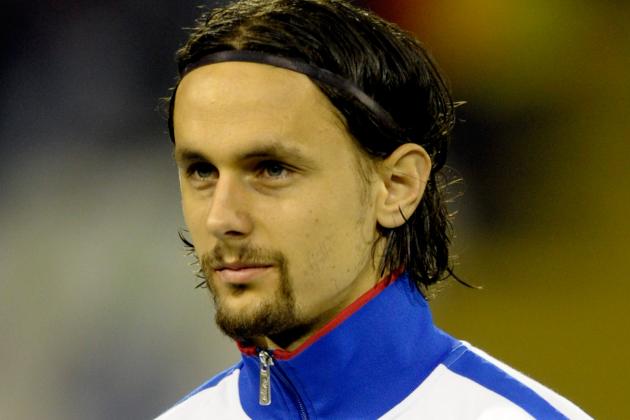 Claudio Villa/Getty Images

It seems likely that Jose Mourinho has coveted both Nemanja Vidic and Patrice Evra in the past.
Both are the wrong side of 30, so it is no wonder that names like Jordi Alba, Aly Cissokho and Neven Subotic have been bandied around.
Of the three, Cissokho looks the most raw, but all could step straight into the first team.
Nevertheless, I expect Sir Alex's signings to include a modicum of youth as well as experience.
Luka Modric would be a ready-made midfield general, while Eden Hazard offers additional flexibility. Christian Ericksson would be an acceptable though younger alternative to Modric.
As well as Alba or Cissokho, Nathaniel Clyne is worth a gamble, because he is out of contract. Sir Alex already has the luxury of the Da Silva brothers, who will get better as they mature—and although he has played both Smalling and Jones at right back, their future lies in the centre of defence.
Javi Martinez is the type of player Sir Alex likes—tall, gifted, flexible and adaptable, with the ability to play in defence or a holding midfield role.
Will Keane fills one of the striker seats, but if Macheda goes, Sir Alex might be tempted by the finished product. Fernando Torres seems to have found his form, so Fernando Llorente would be perfect, even though he's 27. Ferguson must have admired his all-round performance for Bilbao.
Otherwise, Karim Benzema or Gonzalo Higuain at 24 or Edinson Cavani at 25 would be perfect. Ricky van Wolfswinkel gets rave reviews but needs another couple of years under his belt. Klass Jan Huntelaar may be too old at 28.
What will matter at the end of the day with all these players is whether they are prepared to be rotated as Sir Alex sees fit. Jose Mourinho seems able to do this at Real Madrid.
The right type of player will see the sense in this, also in terms of maintaining fitness. Strikers are hardest to please.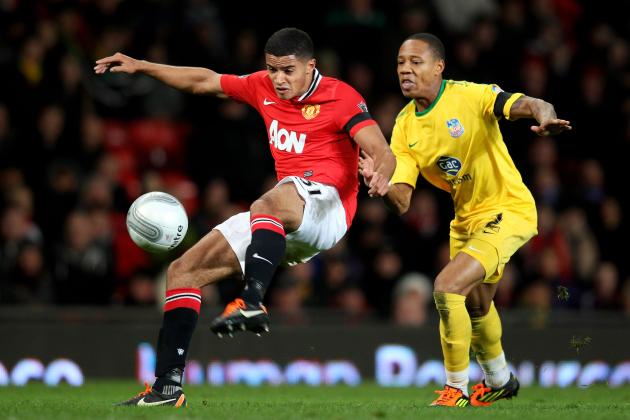 Alex Livesey/Getty Images

Zeki Fryers looked like a ready-made first-team squad player when he appeared earlier this season.
Unlike Ravel Morrison, he wants to sign a new contract.
There are probably more young prospective squad players at United now than at any time in their history.
When he came in, like Sir Matt, Sir Alex had a master plan that would work right through from youth to the first-team—the style played, the type and character of player, flexibility and adaptability, capacity to defend and attack.
There is a truckload of talent coming through. Some, in my opinion, (like Oliver Norwood and Joshua King) won't quite make it. Others could be late developers. Many could make an immediate impact, like Cleverley and Pogba.
The main reason why Sir Alex will have more transfer chances than his rivals is the huge number of home-produced young players.
Let me explain.
Premier League and UEFA Rules on Squad Size
The Premier League regulations are well summarized in the attached.
In summary, the maximum size of a squad is 25 players, of which at least eight must be "home-grown," but in addition, a club can register unlimited numbers of under-21 players.
Currently, the United first team squad has 38 players, of whom five are on loan. But in addition, they could play Jesse Lingard, Larnell Cole, Michael Keane and a whole host of under-21 players who have featured for the reserves this season.
That's the power of the United Academy.
For next season, their Premier League 25 could have up to five spare places, depending on who leaves the club. In addition, they could sign Hazard, Ericksson and Clyne if they wanted, meaning potentially eight new players could come in, depending on who leaves.
The UEFA rules are pretty identical, but a club can register a different squad for the Champions League. This opens up further possibilities.
So if, say Scholes, Giggs and Ferdinand were only registered for the Premier League, United could sign a further three players. Unlikely, though.
In summary, therefore, and with a year's more experience for his young players, Sir Alex could have a first-team squad of 40 or more to call on for his assault on next season's trophies.
Let's hope he manages the rotation in Europe better than this year!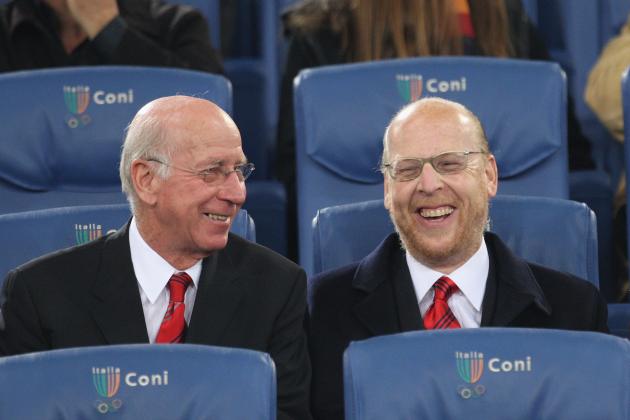 Laurence Griffiths/Getty Images

Everybody has an opinion about the Glazers.
Many choose to overlook the almost unprecedented success their ownership has presided over.
Of course, people hate the debt that has been burdened on the parent company, but no one seems particularly worried about their own mortgage by comparison.
When the Far Eastern float goes ahead, they will be able to repay all the debt and provide a transfer pot that will be swelled every year by profits.
United will be the only top club in the Premier League and possibly in Europe to be in such a strong position.
Sir Alex has made it abundantly clear (substantiated by David Gill) that funds are available for new players. He just doesn't want to buy in January and especially where he doesn't see value in the market. This summer, there may be more value than for a long time.
Yes, of course, Chelsea's and City's owners and one or two European clubs like Paris St Germain may also have "unlimited funds" available, but unlike United, FFP rules may trip them up.
Rest assured, with the clear-out I expect, Sir Alex could have over £100 million to spend this summer. His only self-imposed constraint will be the wages he's prepared to pay, and that's where younger, or out-of-contract players come in again.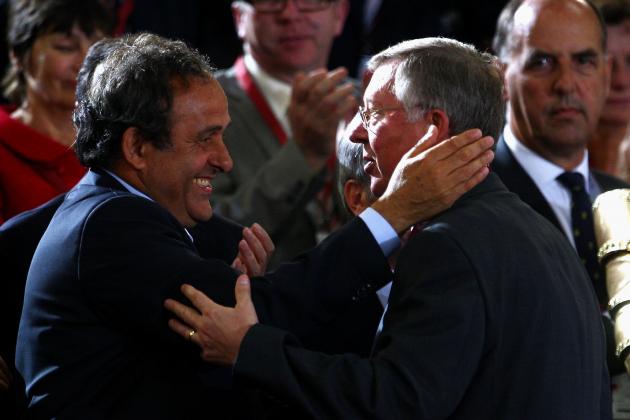 Laurence Griffiths/Getty Images

I've already explained elsewhere the significance of the FFP rules that can give United an advantage this summer and probably moderate the transfer fees of top players.
Manchester United don't pay the same wages as Chelsea or City (although they do pay better than Arsenal, Spurs or Liverpool, hence their ability to attract Nasri and Modric).
This was the stumbling block on signing Wesley Sneijder.
Because United are more profitable than anyone else and have a much lower amortisation charge than their main rivals, they have more flexibility under FFP to buy new players.
It is clear beyond doubt that Chelsea and City are under instructions to sell before they buy. Hence the refusal to let Tevez go on loan.
They still have players they must unload, like Adebayor, but Tottenham won't pay his high wages.
Equally, it will be interesting to see what happens with Dzeko and Balotelli. One may not go because of the fee required and the wages—the other for those reasons and because he is a liability. Tevez is also still for sale.
Chelsea need to have a clear-out. Because their squad is so old, they are paid much more than average. Abramovich wants to clear the decks of the likes of Lampard, Drogba, Terry and their wages and start again.
FFP is also why so many younger players are now at a premium. Who would have thought someone would pay £20 million for Jordan Henderson?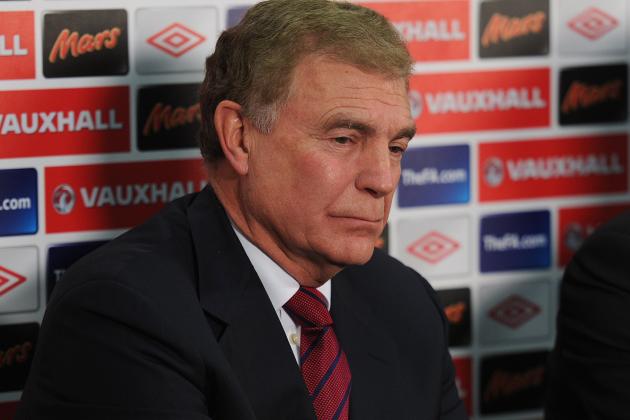 Michael Regan/Getty Images

Sir Trevor Brooking wants a conveyor belt of talent for England, just like United's.
Accordingly, the catchment area rules are to be relaxed, because of, for example, so many clubs concentrated within an hour's drive of Greater Manchester.
He wants young English coaches as well as players being produced.
United have arguably one of the best Academies in the UK.
While other clubs like West Ham and Crewe have produced young talent out of all proportion to their size or resources, United are now in a position to augment the first team every year for the foreseeable future with budding young talent.
With the age-related and home-grown allowances in the squad regulations, this potentially gives United a significant edge.
For example, it is believed that Andre Villas-Boas was bemoaning the lack of young talent coming through to augment the first team at Chelsea. Even Arsene Wenger has had to get his chequebook out more frequently recently.
City, meanwhile, had to build a ready-made Champions League squad in a couple of years. The squad listed on their website may have 35 names, but they include 10 players on loan, Owen Hargreaves and very few home-grown or under-21 players.
That is a challenge that may take years to resolve.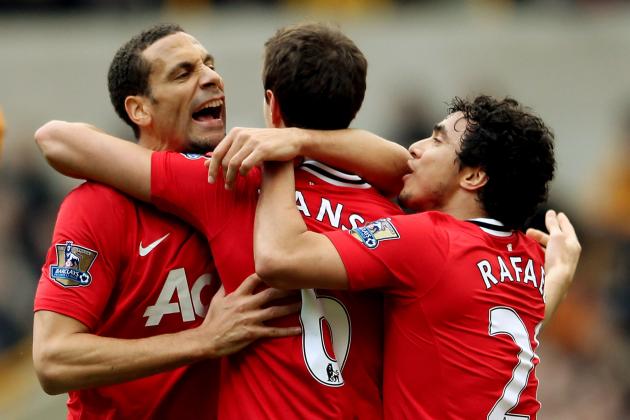 Scott Heavey/Getty Images

This photo sums up so much about United's future.
In the absence of Nemanja Vidic, Rio Ferdinand has guided Jonny Evans to maturity as a top central defender in the last six months.
He will also be on hand over the next couple of years, to bring wisdom and counsel to younger players like Rafael and Fabio.
He is already counseling Paul Pogba to stay at United.
The picture also is representative of the future squad—a few old heads, some mature professionals moving to the peak of their powers and young talent coming through.
Wisdom, enthusiasm and energy, with a wealth of top level experience, even from a young age. Rafael already has 84 first-team appearances under his belt at 21. Evans has 120 at 24. Ferdinand has 390 for United and 631 in all club football.
Manchester United are—and will remain—a club in transition. Change will happen every year. The young will be given their chance, but they will have to grab it with both hands. There will be no shortage of competition.
As for the other clubs in transition, Liverpool are in trouble, Chelsea face an enormous challenge—if neither makes the Champions League next season, they may also find it hard to attract the talent they covet.
If Harry Redknapp goes, Spurs may also experience upheaval. The failures of previous managers have been forgotten while he's been in charge. Arsene Wenger is still trying to find the right formula.
And even City could find that their transfer spending is limited by FFP rules and their ability to unload players like Adebayor, Tevez and Bridge. With few Academy players coming through, their squad size could limit their success next season as well.
There are already signs of mental fatigue this season for a smaller squad than United's that has played more games. David da Silva is a case in point.
In summary, therefore, Sir Alex may have more flexibility than anyone else in the Premier League this summer to complete the next United dynasty—and a bigger, deeper, more experienced squad than most for next season also.