NFL Draft 2012: Melvin Ingram and Top SEC Players Rising Up Draft Boards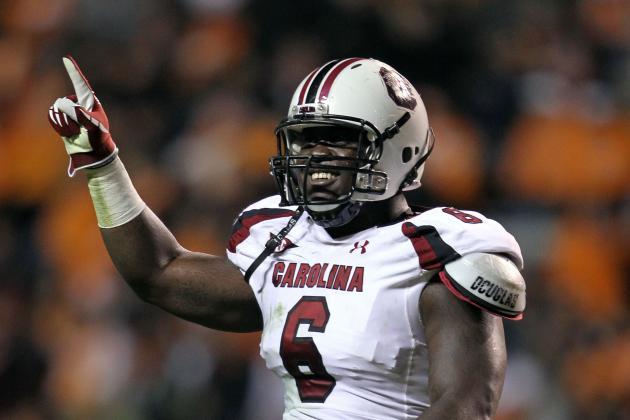 Andy Lyons/Getty Images

The SEC has been dominant in recent drafts. Players like Marcel Dareus and Ronaldo McClain have stormed up boards and have been competitive for the top player in most positions.
This year seems to be no different as SEC player are finding their way up boards the more scouts get to watch their film. While some faces have only moved up a few spots, moving into the top five to top 10 range is a huge leap talent-wise from picks 13-20.
Players in that five to 10 range are considered either elite, but not at a position of need or close to being elite at positions of need.
We will get into that more later, with that said let's start with...
Begin Slideshow

»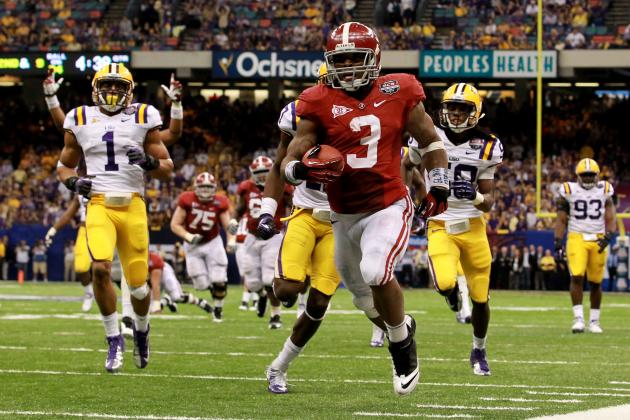 Ronald Martinez/Getty Images

Richardson is an elite running back no question about it. If you have ever seen him play, you know that he is a bruiser between the tackles and can cut outside and make a defender miss with a combination of speed and strength.
Not only can he impose his will on a defense, but he understands how to pick up blitzes and how to carry out play actions. Those things won't get you on sportscenter, but they will get you noticed by scouts.
After the season ended most scouts mocked him around 12-16 because they looked at him and saw a great inside runner who could occasionally bounce outside. After further review though, they saw that he is an every down back who can hurt a defense in ever facet of the game.
His stock has shot up to top 6, and most think that he would be a great fit in Cleveland at No. 4. Some Cleveland fans complain about wanting Ryan Tannehill, the raw prospect from Texas A&M, but even Colt McCoy could look solid handing off to Richardson 25 times each game.
He is the Andrew Luck of RBs in this draft, he is NFL ready and has all the tools to start adding wins to your team's record. The only question is why would fan bases be mad about signing the next Ladanian Tomlinson?
Streeter Lecka/Getty Images

Whether as a DE or a "slash" DE/OLB, Ingram is quickly surpassing Quinton Coples as the most effective pass rusher in this draft. He is quick and athletic, and he has an inside spin move that makes Dwight Freeney do a double-take.
His versatility is key in his vertical movement up draft boards, because he has the frame and skill set to thrive in either a 3-4 or 4-3 system. If that wasn't enough, in college he occasionally shifted inside to DT on clear passing downs and consistently beat interior linemen.
As we know from the past, people imitate winners and the Champion New York Giants feature a package called NASCAR which demands to defensive ends that can play inside.
From what I read he is almost a lock to go top 16, and the only way he falls is in an extreme circumstance where some teams rank him below Coples and teams needing a pass rusher address other needs instead.
The problem with drafting him in the top ten is his short arms. While the NFL Combine measure his arms at over 31 inches, at his pro day they were only listed as a little over 29 inches. Without a consensus I think it is safe to assume that each team will measure his arms at their private workouts.
Barring that, he is good against the run and exceptional against the pass it is hard for me to think that he makes it past the New York Jets.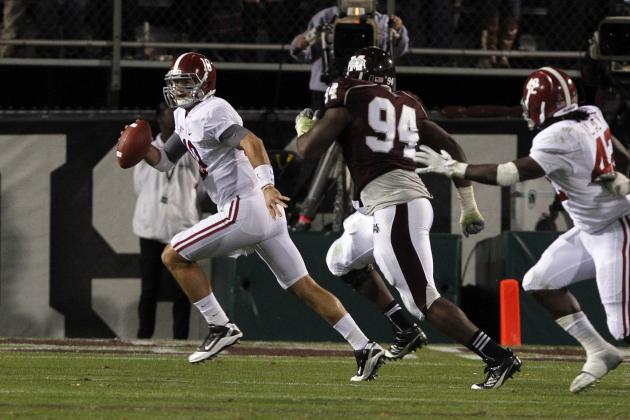 Butch Dill/Getty Images

Mississippi State fans know his name well, but for those who haven't heard let me introduce you to Fletcher Cox. The former Bulldog is shooting up draft boards and has quickly put himself in contention for the top rated defensive tackle.
Like Ingram, Cox is a versatile defensive lineman who has lined up at both defensive end and tackle.
I think he fits best a disruptive 3 technique in a 4-3 defense. An idea that is gaining steam among draft fans, is that he may be an ideal fit in St. Louis because of Fisher's love for dominating defensive tackles with mobility.
He has decent strength and speed, but where he really stands out is his motor. He is always fighting with blockers and trying to find the ball. There are a lot of things you can coach a guy to do, but the one thing that seems to be something your born with is motor. His drive to be great and impact every play he is in on is what teams covet.
In the end, that quality will probably get him half of his career sacks.
Cox can fit almost anywhere on any defensive line so he is really a wild card. Like I said earlier he could be the Rams first-round pick at No. 6. Another possible destination is the Eagles, who need a commanding presence on the inside of their line.
Or the Broncos (if he falls that far). He would be an excellent fit next to Dumervil and in front of Miller. There are many other fits and teams will do there homework on him.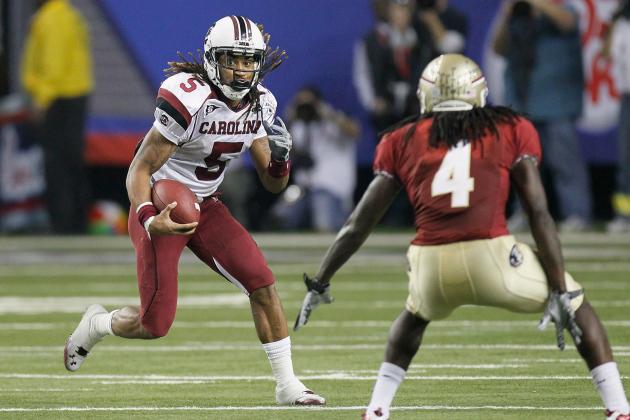 Kevin C. Cox/Getty Images

Another Gamecock makes it on this list and he won't be the last. Gilmore has earned the reputation of being one of the toughest run defending corners in this years draft. While he is a run plugger, he also has the speed to keep up with any most receivers.
However, his most impressive feature may be his frame. At 6' 190 lbs he may be the most solid corner in this draft. In addition to his other tools, his arms are 31 inches long, the perfect length for deflecting passes.
In this cornerback-heavy draft Gilmore is making a late push to move ahead of Janoris Jenkins and Dre Kirkpatrick. While another SEC prospect (Claiborne) is firmly at the top of the corner list, fans will be ecstatic to get Gilmore once they see his versatility and skills first hand.
With 40 games under his belt in the SEC, he is NFL ready and will likely be the No. 1 corner for the team who lands him.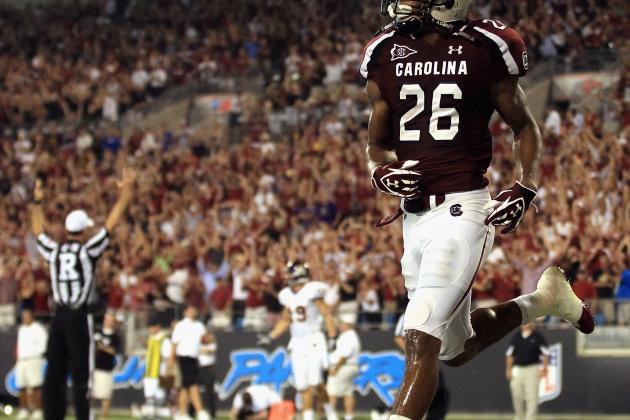 Streeter Lecka/Getty Images

You read that correctly, Antonio Allen can play safety or linebacker. Standing half an inch under 6'2" 200 lbs., Allen has a compact frame and is very athletic. When you put on his tape you can see him playing all over the field, much like Troy Polamalu does for the Steelers.
While Allen might not be timing snaps any time soon. He could be an excellent safety with the versatility to come down and defend against the run when called upon.
Teams in the second round that need a safety (I'm looking at you Tennessee, Denver and Baltimore) should all seriously consider Allen. He has range, speed, and strength three of the most attractive traits a defensive back can have in this era.
Not only is he everything that I have said so far, but he also could be the answer to tight ends like Gronk, Jimmy Graham, and Gresham. He is one of the few players that could stick in man coverage vs one of those guys and beat their blocks, while still being able to run with them on passing routes.
For more on my thoughts of Antonio Allen, click here.