Max Browne: Ranking Top QB Recruit's Options Before He Announces Tonight
April 4, 2012

Max Browne has decided he will make his college choice on Wednesday, and with his list of options, it's obvious the nation's top QB recruit doesn't have an easy choice.
Still, some schools are a better landing spots than others, which is why ranking them out before he announces is the logical move. 
Rivals has Browne as the No. 1 QB of the class of 2013 and the No. 8 overall recruit. The 6'5", 202-lb QB is being compared to the likes of Peyton Manning, which is pretty impressive.  
According to Bob Przybylo of ESPN's Sooner Nation, Browne will tell the world where he plans to play college football at 10 p.m. CT on Wednesday night. He'll be choosing from Alabama, Oklahoma, USC and Washington. 
While he may claim this is his final decision, every college football fan knows not to get too excited over it because he can easily change his mind. Trust nobody until he signs on the dotted line. 
With that said, here's how I rank Browne's potential college destinations. 
4. Washington 
Browne is from Washington, so the hometown Huskies definitely have a strong shot at getting the prized QB. 
However, after signing two QBs in 2012, Washington is deep at that position. It would be best for Browne to steer clear of the Huskies. 
Keith Price will still be there when Browne would be set to arrive, plus Jeff Lindquist and Cyler Miles would have a year's advantage over Browne. 
Sure, Browne can compete with all of them, but he'd better off looking elsewhere since Washington is stacked at QB and won't have the type of talent around him like the other schools. 
3. Oklahoma 
Przyblo writes that the Sooners have been heavily pursuing Browne in the last year. The young QB is their No. 1 target right now, but that doesn't mean Oklahoma is the best place for Browne. 
Landry Jones will be gone, but right behind him the Sooners have Drew Allen and Blake Bell, both underclassmen whom Oklahoma is really high on. 
Bell is the favorite to take over after Jones, and while Browne could step in and compete for the job, he would most likely be redshirted.
Since Bell would still have a couple years as a starter, Browne would just be sitting and waiting in the wings for far too long, which is why he'd be smart to pick a different school.   
2. USC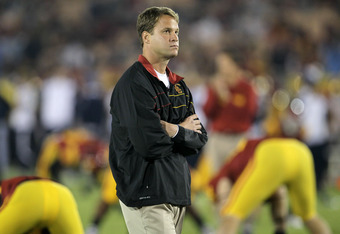 Stephen Dunn/Getty Images
The Trojans aren't entirely too far from home. Plus, Browne has a brother living in the Southern California area, so family is around, which is always nice for a young college kid out on his own. 
Cody Kessler and Max Wittek are just redshirt freshmen right now, and signs would point to them being the favorites to start once Matt Barkley heads to the NFL. 
However, since none of them have game experience and aren't likely to get much in 2012, they don't have a huge advantage over Browne. He can easily step in as a true freshman and win the job. 
Of course, Kessler and Wittek know the system much better, but Lane Kiffin is going to choose the guy he thinks will help him win the most, and Browne has the skills to do just that. USC may also be loaded at QB, but Browne has a better chance at winning the job, plus he would be surrounded by better talent. 
1. Alabama 
The biggest con for Alabama is the distance. It would be quite a cultural shock to go from the Northwest all the way to the Deep South. 
Even still, the Crimson Tide are the best team for him. They play in the best conference in the country, which would help make him a better overall player going up against the top talent in the nation week after week. 
Playing for Alabama would give Browne the best chance to get ready for the NFL, and that's why he needs to choose to play for Nick Saban and the Crimson Tide. In addition to that, being at Alabama gives Browne the best chance to win a national title.
With a strong defense and run game for added support, Browne would certainly thrive the second he gets to Tuscaloosa, helping the Crimson Tide to remain as a championship contender. 
Browne would be very far from his home in Washington, but being able to play in SEC would greatly benefit his future. Plus, the Crimson Tide are going to need someone to step in after A.J. McCarron, and when that time comes, Browne will easily be the favorite should he be enrolled at Alabama.