Fantasy Baseball Position Tiers: Shortstop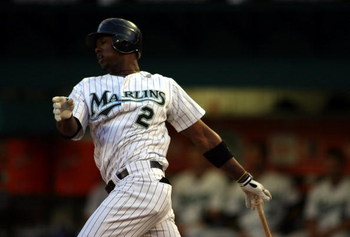 This is the first in a series of articles that will aid you in preparing for your 2009 fantasy baseball draft. With so many draft strategies out there, how is one to decide their plan for bringing home the glory in September?
I am here to convince you that there is great discrepancy from one position to another when it comes to fantasy production.
Let's look at one distinct example so you can see exactly what I'm talking about. Here are the 2008 stat lines for two players in an average 12-team 5x5 rotisserie league:
Player A- 102 R, 12 HR, 82 RBI, .284 AVG, 10 SB
Player B- 103 R, 21 HR, 87 RBI, .285 AVG, 6 SB
At first glance, you would expect these two players to be picked maybe two rounds apart at the most. Player B hit for more power and drove in a few more runs, but that is offset a little by the fact that Player A stole a few more bases.
The crazy thing is that Player A was picked in the seventh round of a competitive 12-team mock draft at MockDraftCental.com and Player B was chosen by me in the 18th round of the same draft.
Player A is Rangers SS Michael Young
Player B is Indians 2B, 3B, OF Mark DeRosa
You might think the draft I participated in was a fluke, and that Young was picked early and the DeRosa overlooked, but in the first Mock Draft Central Expert
Draft of the year Young was picked with the last pick in round seven while DeRosa, with all his power and position eligibility at 2B, 3B and OF, went near the end of round 13.
The only way to explain away this discrepancy is understanding that some positions are loaded with productive players and others are nearly empty. This is precisely why fantasy baseball managers need to know which positions they can wait on, and which they need to pick in the early rounds! Then within those positions, it is for each manager to determine how to place players in tiers within those positions.
With one quick look across Major League Baseball it's easy to see that the shortstop position is the black hole of fantasy production. Past the big three it is hard to find any solid, predictable, five-category production, which is exactly why Michael Young gets picked in round seven even though he won't go in the first 15 rounds after his move to 3B when he loses his SS eligibility.
Case and point: Hanley Ramirez must be taken with the first pick in your draft and he is in a league of his own! In my book Hanley Ramirez is tier number one for shortstops.
Gotta Get One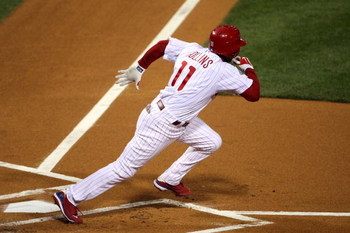 So...I may have put Hanley Ramirez in a tier of his own, but only one person in your league will get him. (Luckily, I got him last year in my keeper league!) The rest of you should be hoping you have one of the top 10 picks because Jimmy Rollins average draft position on MockDraftCentral.com right now is 9.6 and Jose Reyes goes even higher.
I could put together some numbers to convince you of the drastic difference between getting one of these guys up the middle on your fantasy roster, but all I need to tell you is that Rafael Furcal will probably be the fourth SS selected, and he only played in 36 games last season because of back problems.
The big three are your only hope for a coveted five-tool player at the shortstop position, and this is exactly why I consider shortstop to be the highest priority of all the positions on a fantasy baseball roster.
Shortstop Tier One
Hanley Ramirez, Jose Reyes, Jimmy Rollins
Just Like I Drew It Up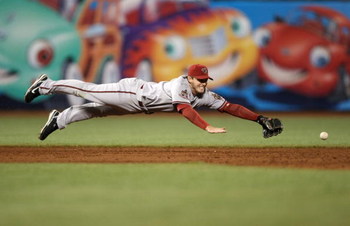 Did you know Stephen Drew hit 44 doubles and 11 triples to go with his 21 HRs? Although he may not be a five-tool player, Drew could soon lead all shortstops in extra base hits by 2010. His bat should be one of the few things keeping you from sweating if you miss out on a SS in round one.
The SS with the highest upside left at this point is Alexei "The Cuban Missile" Ramirez. In his 2008 audition Ramirez showed enough talent for the White Sox to let Orlando Cabrera walk and he came in third place in the AL ROY voting. As long as you can wait for him to get position eligibility you'll love his record setting grand slams and the speed and power that could one day make him part of "The Big Four."
The only thing keeping Furcal on this tier is the fact that many teams were willing to offer him multiple year contracts. The confidence of GM's around the league should give you confidence that he is healthy and will hopefully be back to form this year. In limited games for the Dodgers last year he made a great showing with his bat.
Shortstop Tier Two
Stephen Drew, Rafael Furcal, Alexei Ramirez
Tulo-what-ski? Could Troy Bounce Back to Rocky Mountain High?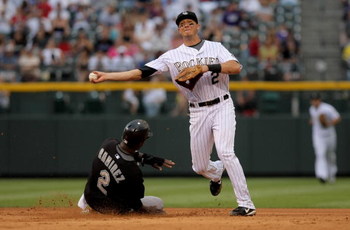 Talk about a bust last year! Troy Tulowitzki was getting pulled off the shelves as early as round four in some drafts I took part in last year, and then was discarded in nearly all of those leagues to make room for someone else instead of clogging up the disabled list. This year could be the year he leads all shortstops in HRs and RBIs. Playing in Coors Field can't hurt, but losing Matt Holliday will give him next to no protection in the Rockies lineup.
Jhonny Peralta led all shortstops last season in RBI, but I am not convinced those runs will be left for him to drive in with Victor Martinez healthy and the possibility of a Pronk alert in the Indians lineup.
Tejada, Young, and Jeter are all dancing to the same tune these days. Their best days are behind them, and if you draft them you have to hope this isn't the year they just can't keep up. If they weren't team leaders and this wasn't such a thin position, they might not even be starters. Young already lost his job up the middle, and I'm hoping Derek Jeter is next in line!
Shortstop Tier Three
Tulowitzki, Peralta, Tejada, Young, Jeter
What if?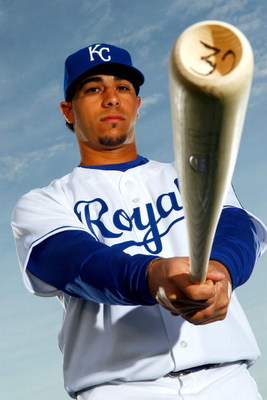 What if Orlando Cabrera gets signed by the A's to hit in front of Matt Holliday? What if J.J. Hardy wasn't at the bottom of the Brewer's lineup? What if Ryan Theriot could hit leadoff instead of Soriano? What if Mike Aviles didn't play for the Royals? Each of these players brings something to the table in his own right.
Theriot and Aviles hit for great average last year with a little pop and some speed.
Hardy hit more home runs than every shortstop in the league except Hanley Ramirez. (Watch out for hot prospect Alcides Escobar breathing down his neck!)
Even in an elderly White Sox lineup OCab got it done on the basepaths and came close to scoring 100 runs.
You can count on these guys to fill in the gaps on a team that has a few needs, but they won't even attempt to carry your team. Not even for a week!
Shortstop Tier Four
Orlando Cabrera, J.J. Hardy, Ryan Theriot, Mike Aviles
Struggling to Break Out of Mediocrity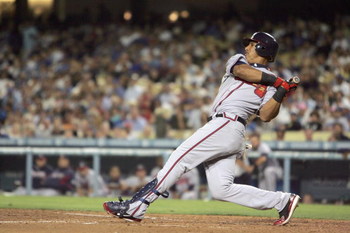 This group of shortstops will give you average production at best, but shouldn't hurt your teams.
Yunel Escobar could improve some on his numbers from last season, but other than a slightly increased batting average I see more mediocrity. On the up side, the Braves were confident enough to trade Lillibridge to the White Sox. On the downside, they made a hard run at Rafael Furcal.
Khalil Greene has a new home in St. Louis and should be happier than ever to get out of PETCO. We may see a few more long balls from Greene, but if you're hoping for a resurgence you better hope he spends all his free time with Albert Pujols. (And I don't mean just for baseball reasons.)
Lastly, Christian Guzman was a bright spot on a dreary Washington Nationals team. He may have had his hopes up when they were bidding for Mark Texeira, but most likely he knew better. Last year was as good as it gets for this guy.
Shortstop Tier Five
Yunel Escobar, Khalil Greene, Christian Guzman
Middle Infielders...Maybe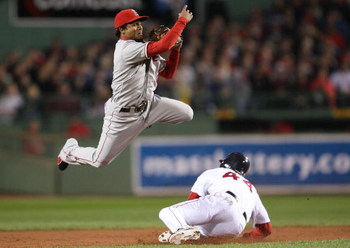 These guys will be available late. Don't hold your breath to see if they all get drafted, especially if there are less than 10 teams in your league. In AL and NL Only leagues you'll need to know whom these men are, but in Mixed Leagues try for a second baseman. I could see any of these players losing their starting jobs, and that is not good news when you're talking shortstops.
Shortstop Tier Six
Erick Aybar, Julio Lugo, Jason Bartlett, Edgar Renteria
Sleepers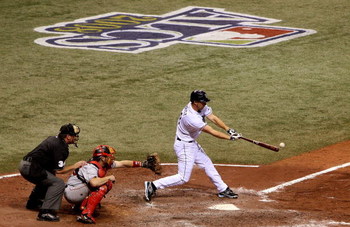 These are the real kind of sleepers. Not the likes of Matt Wieters or Cameron Maybin. Take a shot at these guys in the late rounds in keeper leagues or off waivers after the season has started and you may get a productive patch out of them.
I personally think Jed Lowrie and Ben Zobrist could both be starting shortstops in the AL East by season's end. Did you know Ben Zobrist had the second highest slugging percentage of any shortstop in the majors with at least 60 games played last season?
Elvis Andrus brings us full circle from the example at the beginning of this article. The Rangers want more production (and defense) from the shortstop position. If they're willing to take a shot on him, maybe you should too? As long as it's for a bench spot in a deep league.
Sleepers
Elvis Andrus, Ben Zobrist, Jed Lowrie
Keep Reading