Fantasy Baseball Sleepers 2012: Dual-Position Players Who Are Late-Round Steals
April 4, 2012

J. Meric/Getty Images
As folks prepare themselves for the 2012 MLB season by playing fantasy baseball, getting those hidden gems in the draft is certainly no easy task, especially the ones that can play multiple positions. 
However, should an owner land one of them, his team is going to be much better off in the end. Finding those multiple-position players is crucial for every team because it strengthens your roster depth. 
With that said, here are three sleeper dual-position players that you'll want on your team. 
Ryan Doumit, C/OF, Minnesota Twins 
Doumit will mostly be a catcher, but he's got the ability to be plugged into the outfield, which makes him a good pick for later rounds. 
He's a solid hitter who should average close to .300. I don't think he'll surpass that on the year, but coming close is all you really need from him. 
Doumit will serve as a good bench player you can use when necessary, and you can count him for some good games. He's got the power, and being able to use him in two positions makes him even more enticing in the late rounds or even on the waiver wires right now. 
Lucas Duda, RF/1B, New York Mets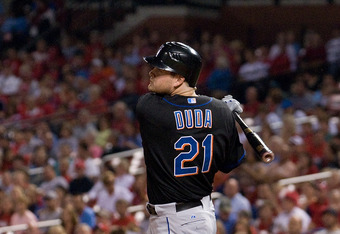 Jeff Curry/Getty Images
The Mets are going to be shaky this year as a whole, but individually they'll have some good hitters. 
Duda is one of those players. He'll easily knock in a good number of RBI, as well as blast some home runs here and there during the season. 
First base is a position that typically most teams end up thin at, so having a guy like Duda as a safety net would be a huge plus. 
Mike Aviles, 2B/3B/SS, Boston Red Sox
Aviles is a versatile infielder who has good speed and hits for solid contact, which makes him very intriguing for your roster.
He's being selected near the 20th round in most drafts, and sometimes he goes undrafted. Hit the waiver wires to see if he's available, because this is a guy you want on your team.
His value is high because he can play multiple positions, plus he's a good hitter.
Aviles can also be used as trade bait, especially early in the year when some players are more vulnerable and more willing to deal big-name guys. Packing Aviles' versatility with another player would be enticing to a fellow opponent.