Chelsea vs. Benfica: 6 Things We Learned in Champions League Quarterfinal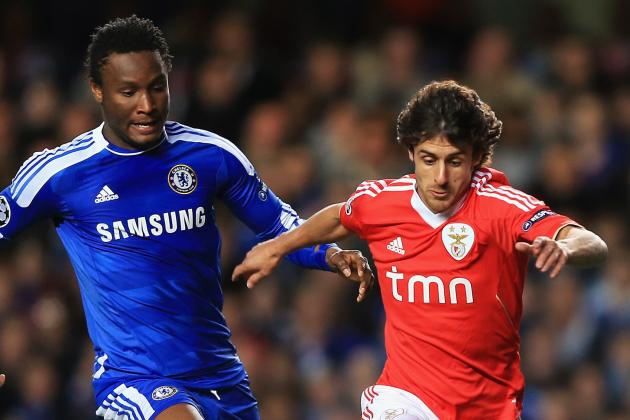 Clive Rose/Getty Images

Chelsea dispatched of their Portuguese opposition at Stamford Bridge on Wednesday evening in rather anticlimatic fashion.
Frank Lampard's 20th-minute penalty was enough to put the tie beyond doubt, with the Blues content to play direct against Jorge Jesus' side.
The Roberto Di Matteo revival continues at Stamford Bridge. Chelsea might not be a shoo-in for next year's edition of the Champions League, but their win over Benfica gives them a somewhat surprising berth in the semifinal this season.
Next up, Barcelona. The only thing the Blaugrana have in common with Benfica is an Iberian origin and the first letter of the their names.
Here are the six things we learned from Chelsea's quarterfinal win over Benfica.
Begin Slideshow

»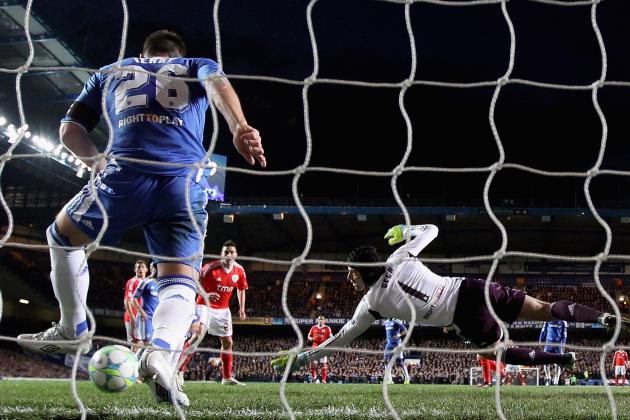 Clive Rose/Getty Images

I'm not sure Chelsea was anyone's choice to be flying the Premier League flag into the semifinal just a month or so ago, but here they are.
Much has been made of England's failures in this year's tournament, but a reasonable draw and the overall quality of an experienced Chelsea side was enough to get them into the last four.
It remains to be seen if England's Champions League participants are better in 2012-13, thereby taking some sting out of the "England is down" argument, but for the time being, Chelsea stands alone as the league's representative.
Though they appear to be a long shot to advance to the final in Munich, they did manage to keep the Prem in the conversation for at least one more round.
That's something, right?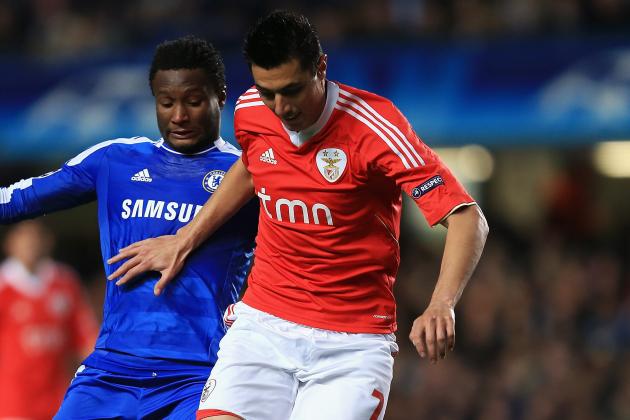 Clive Rose/Getty Images

Benfica's Paraguayan forward failed to put away any of his chances in the tie—something he desperately needed to do for the Portuguese club to advance.
The tone was set in the first leg when Chelsea kept him off the board and continued over to the away leg at Stamford Bridge.
Cardozo had a chance that John Terry cleared off the line in the first half, and Petr Cech denied him in the second.
If one or both of those shots went in, it might have been Benfica headed to a showdown with Barcelona in the semifinal.
Cardozo was subbed out in the 58th minute, which was either a testament to his ineffectiveness or Jesus pulling back his starter for the benefit of the league campaign.
Either way, he didn't hold up his end of the offensive bargain for the Lisbon club.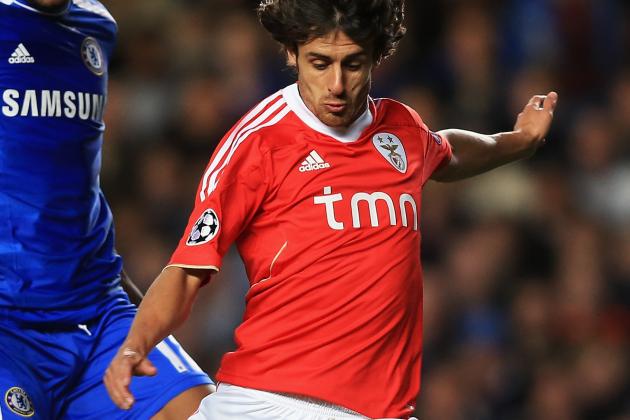 Clive Rose/Getty Images

It's no shock that Benfica had more of the ball and managed some nice passing interplay in both matches (when playing 11-on-11). The attacking prowess of the Eagles was never really in doubt, though their lack of bite in the final third eventually doomed them against Chelsea.
Aimar, Gaitan and company weren't able to broach the Chelsea back line for many legitimate opportunities, but their technical ability at least gave them a puncher's chance.
Benfica had enough shots to win and Garcia's 84th-minute goal from the corner made it interesting, but Kalou's goal in Lisbon and a conceded penalty in London was enough to beat them in the end.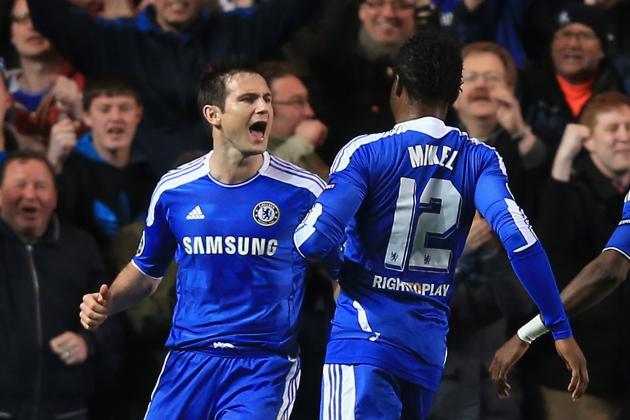 Clive Rose/Getty Images

It's difficult to get a grasp on just how Chelsea managed to turn around their flagging form so quickly under Roberto Di Matteo.
Was it addition by subtraction, with Andre Villas-Boas no longer around to pull the team down?
Did Di Matteo actually effect real change in the dressing room, bringing a fractured squad together?
Perhaps it's both. AVB's team choices alienated many of Chelsea's old guard, the very players who proved so crucial to the Blues' away win over Benfica in Lisbon. It was that performance that set Chelsea up to finish the job at home with a 2-1 victory.
The players speak of improved spirit, an intangible impossible to measure. We'll just have to take their word for it.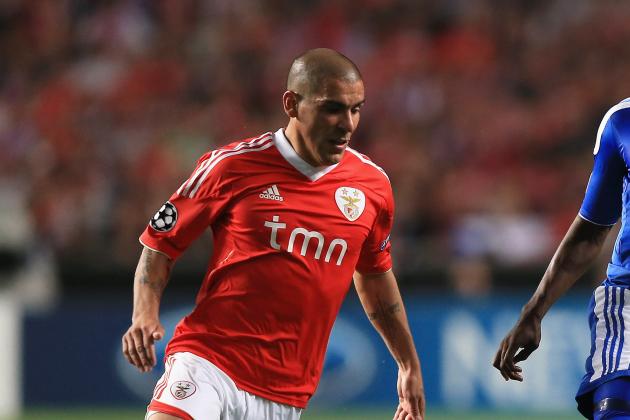 Clive Rose/Getty Images

Maxi Pereira's second yellow—just 18 minutes after his first—effectively ruined any chance Benfica had of making a comeback in the second leg.
Though Benfica put pressure on the Chelsea defense and goalkeeper Petr Cech for portions of the match, Pereira's studs-up tackle doomed his team to chasing Chelsea.
A late goal gave Benfica life, but wasn't enough.
Playing with a man advantage allowed Chelsea to roll into attack much easier than it would have been on level terms.
Able to control the match and create chances against an outnumbered opponent, the English side was able to hold on despite a lapse in set-piece defending in the closing stages.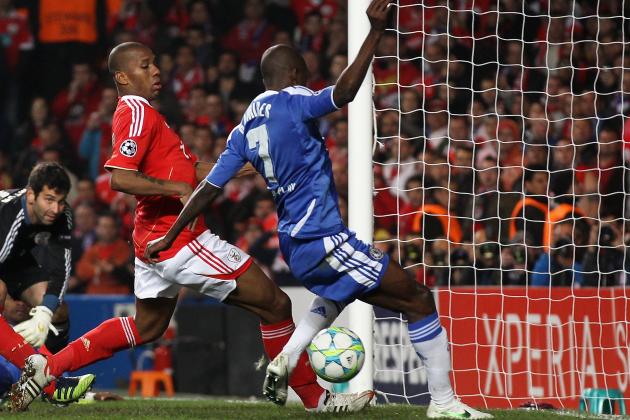 Clive Rose/Getty Images

Chelsea got past Benfica despite poor overall finishing—something they'll rue if it continues in the semifinal.
Chelsea players missed a slew of several excellent chances in the home leg at Stamford Bridge. With Barcelona looming, it will take pinpoint accuracy for the Blues to make a shock final appearance.
Benfica's fluid attack might be "Barca-like," but it's hardly the type of supreme possession and razor-sharpness Chelsea will see against the reigning champions.
After the Blues managed to hold Benfica scoreless in the first leg—despite a large number of shots conceded—holding on at home (aided by Pereira's red card) wasn't much of a challenge.

Of course, Chelsea and Barcelona have history, having met in the semifinal three years ago. Barca's controversial win in that tie came thanks to just one goal, scored away at Stamford Bridge, which should give Chelsea some belief they can hold Messi and company down.