2012 NBA Playoffs: Predicting Miami Heat's Playoff Rotations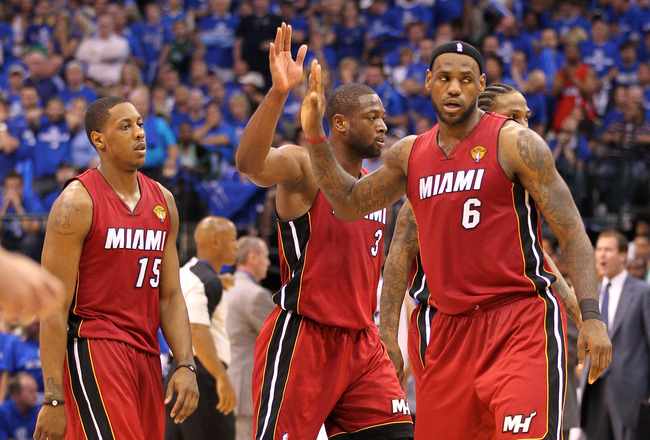 Mike Ehrmann/Getty Images
Until recently, the only sure things about the Miami Heat were LeBron James, Chris Bosh and Dwyane Wade.
Everyone else was touch-and-go with the franchise, and that did not really matter—its "Big Three" was properly aligned, and everything would be on the up and up in the postseason.
The rotations would come later, but with LeBron battling through a dislocated ring finger and Wade getting the proper rest just several weeks before the playoffs, their comeback will be poetic.
Not as if they are not predicted to be great, but they have inadvertently dropped the ball in the past couple of weeks against championship contenders, and it's left a bitter taste in everyone's mouths.
However, the rest of the Heat players are appearing to fall in line almost perfectly as the playoffs approach. There have been roster adjustments to the starting lineup that will allow coach Erik Spoelstra to figure out the playoff rotations before tipoff.
No surprises here. Miami always picks it up when necessary.
Starting Point Guard: Mario Chalmers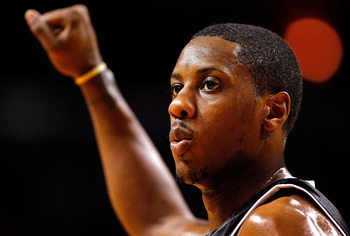 Mike Ehrmann/Getty Images
Mario Chalmers has earned his way into Miami's starting five, but not because he is head and shoulders above everyone else.
Chalmers is just a better option than Norris Cole as a starting point guard because he has been there and done that.
This decision is purely based on experience and cohesiveness, because it definitely does not have the smell of athleticism wrapped around it. Chalmers plays beautifully off of LeBron James and Dwyane Wade, which also makes him a shoo-in for the starting position.
Yet, there is still a concern that lurks around Chalmers' presence that must be addressed: Can he be consistently on point, and if not, what's next?
Chalmers needs to create a defensive stance for himself instead of rarely being on the court without LeBron, because James affords him the best option for help defense.
Chalmers has become a more reliable three-point shooter, but he is going to need more than that when matched up with guards like Derrick Rose or rookie Iman Shumpert, who are athletically superior to the ever-so-budding Miami young gun.
Second Unit PG: Norris Cole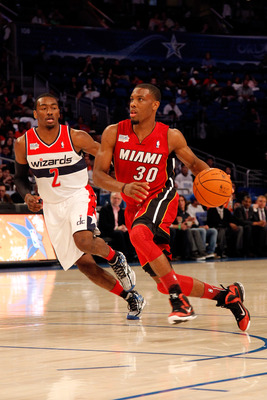 Mike Ehrmann/Getty Images
Norris Cole deserves a chance in the playoffs simply because of his heart and the aggressive defense he plays as Miami's first guard off the bench.
There are no question marks concerning his future with Miami.
The Heat are going to make his return solid, because he shows the promise and the drive to make it among the stars of the Hollywood-like franchise. Cole is far from the high-top senior he was in Cleveland.
Cole has a solid mid-range stroke that helps him become more of a threat when lanes cave around the rim. His pull-up floater has also improved his game.
Cole's speed also makes him an inch better defensively than Mario Chalmers, which does nothing but boost his stock in the eyes of the Miami front office and coach Erik Spoelstra.
The rookie can change the pace of the game off of the bench.
Starting Shooting Guard: Dwyane Wade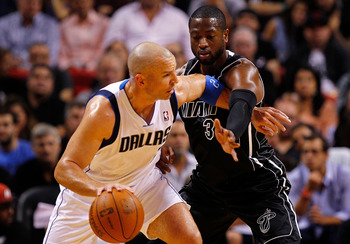 Mike Ehrmann/Getty Images
This is the time when Dwyane Wade thrives.
Let's just ignore the fact that he has occasionally been a non-factor for Miami throughout the regular season. As much as the media focuses on the failures of LeBron James, they surely have ignored the fact that Wade's extended leaves have put a damper on his contributions to Miami's successes, no matter how under or overrated.
Still, Wade is this team's captain if you ask anyone on the squad, except for Wade, of course.
He and LeBron go back and forth with a lovefest that often results in one blaming the other for the emergence of Miami's elite standing in the league.
Regardless, Wade is the anchor for the team and on any given night will be expected to have a blowout fourth-quarter performance, even if the rest of the game has been a choke.
The only worry for Wade is that he is declining in health, though not as rapidly as some Eastern Conference contenders may pray for. Wade is moving up in age, and it shows in his game.
Miami's fatigue is being showcased, as the back-to-backs seem to be having a weighted effect on Wade, especially.
No worries. Wade is a guy that forces the issue, even when his body screams and shouts that he doesn't have it in him.
Second Unit SG: James Jones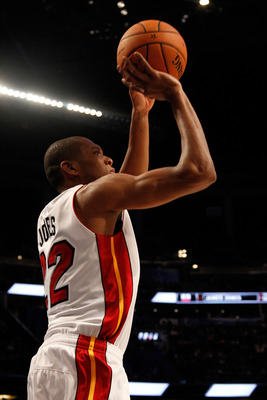 Mike Ehrmann/Getty Images
This is where there's a problem. If Mike Miller were at 100 percent health, then he would be a shoo-in for this position.
However, Miller has rarely been at 100 percent this season, and that trend seems to be continuing as we near the playoffs.
Miami may just have to face the fact that Miller will only be a 10- or 12-minute bench player at the most. That fact may also lead to him becoming expendable and out of South Beach's lineup indefinitely. There still needs to be a decision made.
A dire issue to be addressed is how much James Jones is on the floor.
Being Miami's most fluid shooter, Jones is consistently overlooked for the likes of Shane Battier, who isn't nearly as much of an asset from beyond the arc as Jones is.
Jones is shooting five percent better than Battier, and last season proved how deadly he was as a perimeter shooter, finishing the regular season at 42.9 percent and 45.9 percent in the postseason.
Coach Erik Spoelstra may have ignored his contributions thus far, but in the playoffs, when defenses will be locking down on both LeBron James' and Dwyane Wade's drives to the basket, the Heat will exasperate him as a scoring option off the bench.
Starting Center: Ronny Turiaf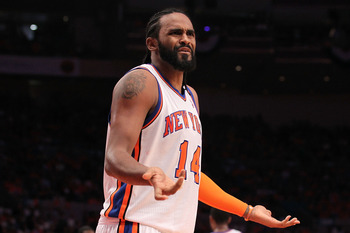 Nick Laham/Getty Images
After the Heat's game against the Philadelphia 76ers, a team Miami met in the first round of last year's playoffs, it is obvious what direction coach Erik Spoelstra wants to take the starting center position.
Ronny Turiaf started in place of the walking question mark that is Joel Anthony, and it looks to be a long-term switch. It should come as no surprise to Heat fans.
Miami's scramble for a center spoke volumes about how the team felt about the men filling the position in the franchise. The Heat made no bones about needing and wanting another man to fill that big-body void, and they may have found a temporary solution in Turiaf.
He has not always been the most offensively productive center in the league, but he is definitely more athletic and has a wider range than Anthony.
Second Unit C: Joel Anthony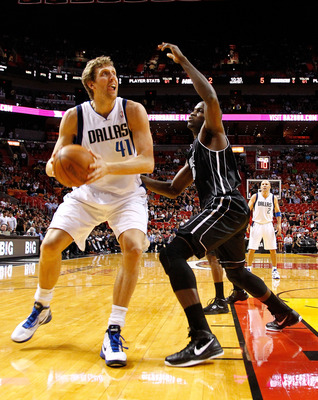 Mike Ehrmann/Getty Images
Joel Anthony's starting position has been swapped out, and Ronny Turiaf will likely remain in that lineup.
Anthony's performance this season has been nothing like it was in last year's playoffs when he started.
Until a sprained ankle that kept him out of the lineup against the Phoenix Suns a couple of weeks ago, he was the only Heat starter to start all 44 games Miami had played.
Anthony's contributions will likely be more appreciated off of the bench, since his starting position came from a lack of depth and not standout performances on a consistent basis.
Anthony is still a resource on defense for Miami, and they will give him solid minutes in the playoffs.
Starting Small Forward: LeBron James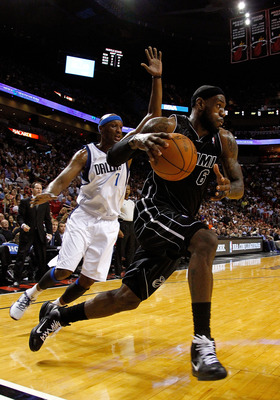 Mike Ehrmann/Getty Images
Do we really need to address why LeBron James is going to be Miami's starting small forward and occasionally most effective point?
There is not an explanation for the decision that hasn't been explored throughout the regular season.
James is Miami's most potent offensive option and strongest anchor in its defense.
James has refined his skills around the rim as one of the most powerful finishers in the league and has alleviated his high volume of shots beyond the arc and replaced them with better options away from the basket.
James is Miami's best player, so he will undoubtedly be on the court showing exactly why.
Need anything else?
LeBron James vs. Philadelphia 76ers: 41 PTS, 6 REB, 4 AST, 60% FG, 10-of-13 FT (No Wade)
Second Unit SF: Shane Battier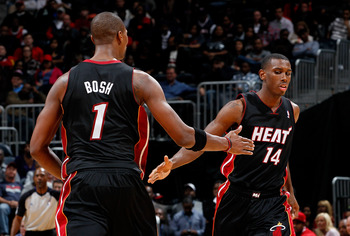 Kevin C. Cox/Getty Images
Shane Battier has been a brief breath of fresh air for the Miami Heat because of his semi-high efficiency beyond the arc and his basketball IQ.
However, Battier will be put to the test during this season's playoffs, as he will be LeBron James' relief off of the bench.
He may be no LeBron, but Battier can contribute offense to a Miami team that will be tested under the rim.
Battier has the energy and speed to keep up for about 10 minutes a contest, which is all that we can expect to see Battier play in the postseason.
That's not a shot at the veteran, though. He could be extremely instrumental down the stretch.
Starting Power Forward: Chris Bosh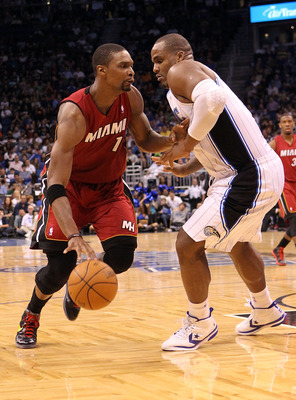 Sam Greenwood/Getty Images
Chris Bosh is going to go into the playoffs with something to prove.
Miami's third wheel, the overrated big man, has some redeeming to do as he has found himself part of Miami's latest slump.
Bosh's 30-point game against the Toronto Raptors looked to put him back on the map, but Miami's big man needs to stop finding himself on the wrong side of the box score.
Bosh's offensive shell-outs have to become more fluid and consistent next to LeBron James and Dwyane Wade if he expects to get the respect he deserves from the NBA's fanbase.
A solid 15-point performance is not going to be enough in the playoffs. Bosh needs to be at level 10 aggression every contest, the same as players like Joakim Noah and Josh Smith.
These are men in playoff contention, and they are the heart and soul of the low post of their squads. Bosh needs to develop as a stronger force against the big-bodied men he will face in this year's playoffs, especially if Miami finds itself in a matchup against the Oklahoma City Thunder for the NBA championship.
He doesn't show the constant fire that it takes to stand out, and it will take that in addition to LeBron and Wade's A-game to propel Miami to success.
Second Unit PF: Udonis Haslem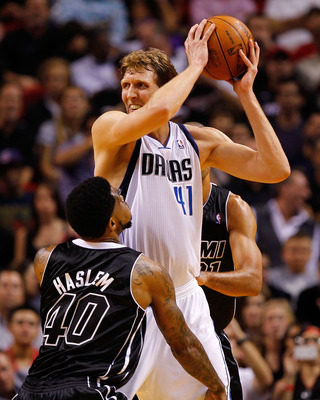 Mike Ehrmann/Getty Images
Miami's cleanup guy, Udonis Haslem, has taken a while to get back in his offensive rhythm, but it seems like his mid-range stroke is coming back to him.
Haslem was one of the most influential players in Miami's playoffs series last season against the Sixers, Bulls and Celtics.
Haslem's style of play is rugged, but his hard work and hustle are everything. Miami needs this year to push past a defensively focused Chicago Bulls team that seems like its toughest competition out of the Eastern Conference.
Haslem's scowl is only a steadfast reminder of his intensity, an intensity that rarely, if ever, wears off. He is inspirational to a Heat team that has trouble starting with the same type of ferocity it attempts to close with.
Haslem is not a fan of playing catch-up, and that is the type of man Miami needs right now.
Keep Reading

Miami Heat: Like this team?