John Calipari: Kentucky Wildcats Coach Adds Title and Credibility to Resume
April 4, 2012

Ronald Martinez/Getty Images
Now that John Calipari has won a title, he can take his place among the controversial and successful modern legends of college sports—guys like Jimmy Johnson and Jerry Tarkanian who changed their sport while gaining few friends at the time.
Jimmy Johnson (with a start from Howard Schnellenberger) revolutionized college football in the 1980s with Miami by fully embracing a mostly black, inner-city roster that won big, won often and talked trash while doing it.
Jerry Tarkanian took Las Vegas' rebellious, wild image and translated it onto the court with high-flying teams, culminating with his classic 1989-1991 squads that won 45 in a row, including the 1990 NCAA championship with the biggest margin of victory in title-game history.
Both attracted their fair share of controversy during their prime runs. But history has been far kinder in retrospect because they influenced future generations and have honestly yet to be replicated. John Calipari is the same way.
I really didn't want to like Calipari after 2008. He had the best team of the season in Memphis and arrogantly let free-throw woes doom one of the best teams I've seen in the last five years.
The same thing happened with his first Kentucky class as John Wall, DeMarcus Cousins and Co. lost to an inferior West Virginia team in the 2010 Elite Eight. His freewheeling style only bothered me because his guys lacked the mental toughness in close games.
I didn't care that he openly recruited one-and-dones. It was more like they'd be great but never championship-caliber. Well, he just turned that idea upside down. 
He built a young team that worked for a common goal. They dominated all comers and lost only twice—once on a late three, another in a game they probably lost to get focused for the NCAA tournament.
He maximized a system that has become the norm over the last five years—one-and-done kids. Instead of recruiting the best talent alone and hoping that mentally they'll pan out, Calipari coached them up to be team-first and showcase their talents while helping each other.
Anthony Davis, Michael Kidd-Gilchrist, Doron Lamb, Marquis Teague and Terrence Jones probably made a lot more money because of their performances this season. They showed they can gel with teammates and play different roles, which could prepare them for not starring right away in the NBA. That's all Calipari's genius.
Most coaches put up with one-and-dones as a necessary evil. Calipari courts them and maximizes his time while knowing it is limited. He embraces the new era and it's led to success. It's a lot of foresight and risk, and while it might not always be clean—I still don't trust World Wide Wes and all those connections—now I have to respect it.
Even better that they focus on the little things—free throws, hustle plays, defense as well as wild offense.
It's maturity in not just his players, but himself. He cares about the kids. He cares about them the same way Tark and Jimmy Johnson once did, and he'll go to bat for them in the press.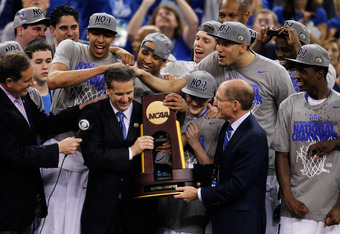 Chris Graythen/Getty Images
Not a lot of coaches have that because they care about letting people know who's in control without letting the kids be solo. There's a way to balance control with letting players be themselves, and the best coaches do that.
Tarkanian and Jimmy Johnson had great teams fall short, but they reloaded and refocused their teams while never changing their style. It was free rein with the right amount of discipline to have their guys focused on the main goal. They took national criticism and just kept winning. 
It's the same with Calipari. Gone is the old arrogance of letting talent win big and leave without a ring. If he continues to convince high talent to buy into his system—which produced some of the most promising young NBA talent over the last five years—he'll be remembered as one of the finest and most influential coaches of his era. 
He's the perfect coach for a new era that builds off 20 years of younger players making an impact. 
Kenny Anderson, Chris Jackson and the Fab Five showed the future of freshmen/sophomores taking over.
Stephon Marbury, Carmelo Anthony, Kevin Durant and Greg Oden gave glimpses of it.
John Calipari has taken that mantle and made it even more of a revolution.
In 10 years, we may see Calipari differently. Despite his controversy with 1996 UMass and 2008 Memphis, he may finally be on a roll that could enhance his legacy and impact college basketball in the long term.