LA Dodgers 2012 Preview: Bullpen Looking Slightly Shaky as Opening Day Looms
April 4, 2012

Jeff Gross/Getty Images
The Los Angeles Dodgers and their fans are eagerly anticipating Opening Day, Thursday afternoon in San Diego against the Padres. First pitch is at 4:10 PT, but it is the last pitch that Dodgers want to see go their way.
The Dodgers have had a very strong bullpen for the last number of years, with poor hitting and inconsistent starting pitching plaguing the team the most. However, this spring many of the Dodger relievers have struggled mightily.
Let's take a look at some of the concerns that the Dodgers have in their bullpen.
Javy Guerra came out of nowhere last season to become the Dodgers' dominant closer.
Promoted from Double-A midseason, Guerra recorded 21 of 23 saves while posting an excellent 2.31 ERA. The hard-throwing righty had a menial .218 batting average against—amongst the best in the league—and solidified the closer's role.
Guerra is still young—only 26 years old right now—and might end up splitting closing duties with the other Dodgers' young, hard-throwing righty, Kenley Jansen.
Guerra only allowed two runs in eight spring training innings. Jansen comes out of spring in a minor slump, giving up five runs in nine innings.
Many baseball pundits have speculated that Jansen is better suited to close, because of his ability to be completely stifling to opposing hitters. Jansen, however, still had a higher ERA than Guerra last season, posting a 2.85 mark.
His batting average against was an unreal .153, and his 96 strikeouts in 53 innings made Dodger fans drool. In terms of consistency though, Guerra was and is still the more reliable option. Therefore, as the season opens, Guerra is the go-to guy.
Both Guerra and Jansen are the up-and-coming studs of the bullpen. Both will be really good as the eighth- and ninth-inning relievers, but the Dodgers must find reliable arms to get to the two flamethrowers.
Matt Guerrier figures to be the seventh-inning guy, and he posted a stellar 2.25 spring ERA. Guerrier was good, not great, last season after coming over from the Minnesota Twins.
Now in the second year of his three-year, $12 million deal, Guerrier's ability to throw everyday and put up zeros was the reason GM Ned Colletti threw big money to a middle reliever.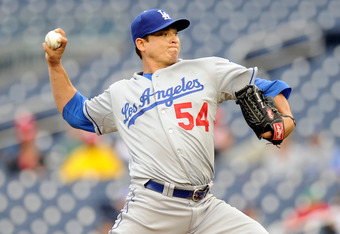 Greg Fiume/Getty Images
Guerrier was second on the team in holds last season only to Mike MacDougal, who returns for his second season with the Dodgers as well. Guerrier excelled this spring and does not make Dodger fans worry because of his consistent track record, but MacDougal has had some terrible seasons in his career.
MacDougal struggled mightily this spring, posting a 7.88 ERA in a mere eight practice innings. This is nothing to base a full judgment on, but his control was not to be found as he walked a batter an inning.
If MacDougal can straighten his stuff out, the Dodgers suddenly have a solid bullpen. If he struggles, it is going to take one of the other arms to step up and fill the void. 
Expect MacDougal to have some serious troubles this April as he tries to figure out his release point and how to find his groove again. However, MacDougal seems to really pitch well in Los Angeles, so I am confident that he will be a reliable arm come the middle of the season.
With only a one-year, $1 million contract, it is not like the Dodgers have invested a ton in the inconsistent arm of MacDougal. 
The two bullpen arms who came into camp with no previous Dodger experience that end up on the Opening Day roster are Todd Coffey and Jamey Wright.
Coffey is a 31-year-old right-handed reliever best known for his sprint to the mound from the bullpen. Coffey played for the Cincinnati Reds and the Milwaukee Brewers before pitching for the Nationals in 2011.
This winter he signed a one-year, $1 million deal with the Dodgers. Coffey has a career 4.08 ERA as a seventh-inning reliever. He throws pretty hard and avoids walks. 
Coffey has struggled mightily this spring, posting an abysmal 10.57 ERA in eight appearances. He has lost two spring games, and given up 15 hits in under eight innings. He walked six while only striking out eight, watching batters knock him around at a .395 clip.
He is going to have to straighten himself out, potentially get himself into better shape and get outs or else he will be cut before the All-Star break. The new ownership is willing to eat his small salary if he doesn't cut it.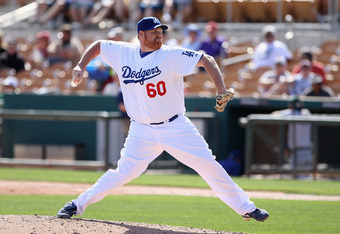 Christian Petersen/Getty Images
Jamey Wright has been just the opposite this spring, providing hope for another diamond-in-the-rough find, a la Jeff Weaver.
Not perfect, Wright posted a 4.38 ERA this spring after pitching for the Seattle Mariners in 2011. Last year, Wright threw almost 70 innings and had a 3.18 ERA while throwing some quality innings in a very tough AL West.
He has 16 years of experience and a good live arm which will bring stability and depth to the team. However, the Dodgers have no experience with him so we can not actually expect anything. He might flame out, a la Russ or Ramon Ortiz. 
The most important thing is that the Dodgers do not become too dependent on these scrapheap finds. Wright, Coffey and MacDougal are all good relief pitchers, but they need to be consistently effective in order to bridge the gap between starters and the back end of Guerra and Jansen on a nightly basis. 
Left-hander Scott Elbert has ended up as the only lefty in the bullpen now that Josh Lindblom has won the final bullpen spot. This is something that manager Don Mattingly probably did not want, but no other left-hander was serviceable except for Scott Rice who lost out to Lindblom.
Elbert has dealt with a lot since being touted as the top prospect in the organization just a few seasons ago. He was deemed a failure, but managed to return and find his niche as a situational reliever. Elbert, 26, is no spring chicken but has yet to have a full season with the big-league club.
Last year, Elbert excelled, posting a 2.43 ERA in 47 innings out of the bullpen. His walks were down to reasonable levels, his strikeouts remained high and his issues off the field disappeared.
Now, Elbert will have to be the go-to guy to face the big left-handed sluggers, such as just being called in to face the Giants' Aubrey Huff or the Rockies' Todd Helton. 
Scott Elbert this spring showed promise, putting up a 4.15 ERA in nine innings. However, opposing hitters did bat around .300 off of him, so he needs to find a way to get hitters out and serve as instant damage control.
He is quite unproven, so it is worrisome that the Dodgers have no depth at left-handed reliever when there are many All-Star left-handed batters in their division and the National League.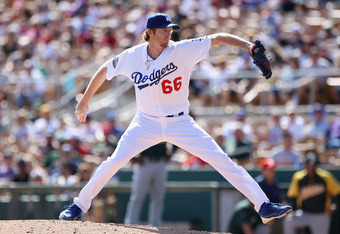 Christian Petersen/Getty Images
Josh Lindblom finds himself coming off his successful rookie season with a newly-earned roster spot, just beating out Scott Rice for the last spot. Lindblom was the Minor League Pitcher of the Year in 2010 as a dominant closer, although his potential rests in being a good seventh-inning guy similar to Matt Guerrier. 
Lindblom rounds out the bullpen with youth and a voracious appetite to compete at the highest level. He threw in 11 games this spring, posting a 3.86 ERA and a sub-1.00 WHIP, which impressed Colletti and Mattingly. Lindblom has consistent, refined pitches that get outs even if they fail to blow past hitters. 
The Dodgers just need some of the role players—Lindblom, Wright, Elbert—to step up and provide support for the guys that most fans are beginning the season relying upon.
Guerra and Jansen, with help from Guerrier, will have to have ice in their veins starting tomorrow and stay healthy and productive for the next six months.
Oh what a beautiful summer it is going to be, worrying about Don Mattingly's management of the bullpen in the late innings. That sounds like Dodger baseball to me.