2012 Steelers Mock Draft: Recap and Analysis of B/R Community Draft Selections
April 4, 2012

Chris Trotman/Getty Images
I am the man behind the curtain, in this case the Steel Curtain, in the recent Bleacher Report Community Mock Draft.
For those who didn't already know, I was the Pittsburgh Steelers Featured Columnist who impersonated Kevin Colbert and acted as the Steelers general manager.
I'll go over my selections in this article and provide the answer for each pick to the inevitable question, "What was I thinking?"
Then, you can grade my draft in a poll near the end of the article.
I went into this draft with one big (and I do mean "big") prize in mind. However, reeling in that big fish required a trade from the Steelers' No. 24 spot into the top half of the first round. When I consulted the NFL draft pick trade value chart on Scott Wright's NFL Draft Countdown, it seemed like a daunting task.
Until I saw what the Arizona Cardinals were offering for the No. 13 pick.
I traded the Steelers' first-round (No. 24), second-round (No. 56) and fifth-round (No. 159) picks to Arizona for the No. 13 pick and the Cardinals' third-rounder (No. 80).
The Steelers probably wouldn't get a deal like this in real life. They more likely would have to give up their first- and second-round picks this year and their third- and fifth-rounders next year. And they probably would get only the No. 13 pick. No third-round throw-in.
The deal with the Cardinals was too good to pass up. So I made the trade and had the No. 13 pick in hand. The guy I wanted all along was there for me to pick, but there was another player still on the board who also would fill a need for the Steelers.
Joe Robbins/Getty Images
I felt like I was about to buy a shiny new sports car but couldn't decide between red or black. I couldn't have both. It was one or the other.
Here are my picks. If you look closely, you'll see who I almost picked in the first round.
Round 1, No. 13 (from Arizona): Dontari Poe, NT, Memphis
There's a bit of a risk here that Poe could be a workout warrior because of his standout combine performance. However, Casey Hampton will be 35 next season and is coming off ACL surgery. It's hard to find a mountain of a nose tackle to put in the middle of a 3-4 defense, and the 346-pound Poe is just that.
Round 3, No. 80 (from Arizona): James-Michael Johnson, ILB, Nevada
The Steelers traded up to No. 13 in the first round to take Dontari Poe, but briefly considered Luke Kuechly before sticking to the original plan. Inside linebacker might seem like a major need for the Steelers after the emotional release of James Farrior, but Larry Foote can keep the seat warm next to Lawrence Timmons for the time being. Johnson is a solid tackler who can contribute on special teams while he develops. The Steelers hope one day he'll be known just as "JMJ."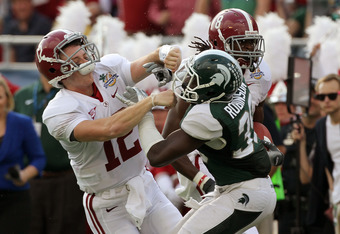 Mike Ehrmann/Getty Images
Round 3, No. 86: Lucas Nix, OG, Pittsburgh
Ben Roethlisberger is 30, so protecting him becomes more important. The Steelers got center Maurkice Pouncey in the 2010 draft and Marcus Gilbert, who's moving to left tackle, in the 2011 draft. It's time to address the guard position, so why not take a guy who is used to the vagaries of the Heinz Field turf and only has to move his locker belongings across the hallway.
Round 4, No. 119: Trenton Robinson, FS, Michigan State
Free safety is another area on defense where the Steelers are getting old. Ryan Clark will turn 33 next season, and now that the Broncos have Peyton Manning, there's a realistic chance Clark will have to sit out another playoff game in Denver.
Round 6, No. 193: Rishard Matthews, WR, Nevada
Even if the Steelers keep Mike Wallace in 2012, he could be an unrestricted free agent next season. Antonio Brown also will be a free agent in 2013, and Emmanuel Sanders has been prone to injuries. Wide receiver isn't an immediate need for the Steelers, but it could be a need next season. With three compensatory picks in the seventh round, the Steelers can afford to look ahead a little bit in the sixth round. Matthews ran in the 4.4s in the 40-yard dash at his pro day, so he has deep-threat potential.
Round 7, No. 231: Kevin Koger, TE, Michigan
David Johnson has been OK as a blocking tight end, but Koger has the potential to be just as good a blocker and a better pass-catcher.
Round 7 (compensatory), No. 240: Jacquies Smith, DE, Missouri
Brett Keisel will turn 34 next season. So defensive end is yet another area on defense where the Steelers need to get younger. Keisel also was a seventh-round pick, by the way.
Round 7 (compensatory), No. 246: Akiem Hicks, DT, Regina
Normally, if an athlete comes from Canada to Pittsburgh, it's to play for the Penguins, but with three compensatory picks, the Steelers can afford to look outside the country for talent. Hicks played college ball at the University of Regina in Saskatchewan. It might be a bit of a risk picking someone whose only collegiate playing experience on American soil is at the junior college level. But Hicks (6'5", 318 pounds) is intriguing because of his versatility on the defensive line.
Round 7 (compensatory), No. 248: Landon Walker, OT, Clemson
Willie Colon, who has played just one game in the past two seasons because of injuries, is the Steelers' presumptive starting right tackle next season. There needs to be competition there.
Follow me @Steel_Tweets