NBA Draft 2012: Comparing Every First-Round Pick to an NBA Legend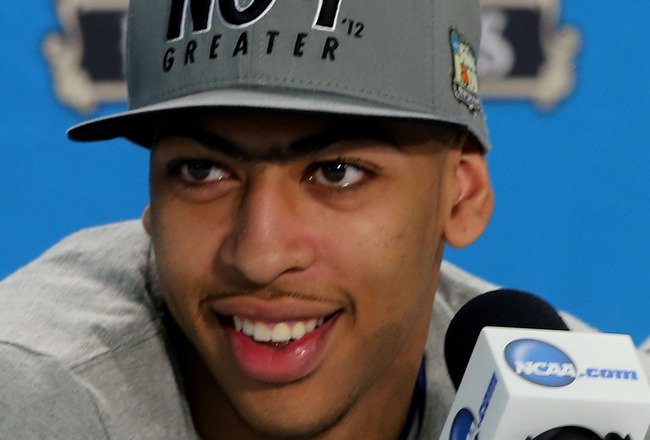 Jeff Gross/Getty Images
Will NCAA champion Anthony Davis be the next Hakeem Olajuwon, or the next Michael Olowokandi?

With the NCAA championship trophy back in Lexington, Ky., players and fans alike turn their eyes to the 2012 NBA Draft. With so much talent across the board, NBA executives should be excited about the potential stars they will be adding to their franchises.
But who will these players resemble?
With the NBA season still winding (or grinding, depending on who you are cheering for) down, and the unpredictable lottery selection process still ahead, the placement of each player is not the focal point of this list.
Rather, the focus is on the NBA legends that these projected first-round selections resemble—with some luck and a lot of hard work. Some are going to be busts, or perhaps marginal role players, but who is interested in talking about those comparisons?
Let's shoot for the All-Stars. Let the debate begin!
(NBA purists, forgive me.)
Anthony Davis, Kentucky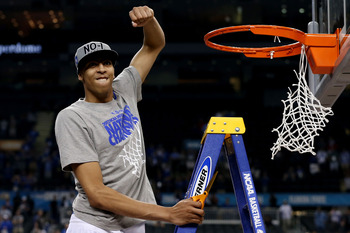 Jeff Gross/Getty Images
Coming off a 16-rebound, six-block night that helped the Kentucky Wildcats win their eighth NCAA Championship, Anthony Davis is arguably a lock to be the No. 1 pick in the draft.
His length, defensive mindset and quick feet automatically make me think of "The Dream," Hakeem Olajuwon. Davis can only hope to have a career that is half what Olajuwon stitched together over his 17 seasons.
Legend Comparison: Hakeem Olajuwon
Michael Kidd-Gilchrist, Kentucky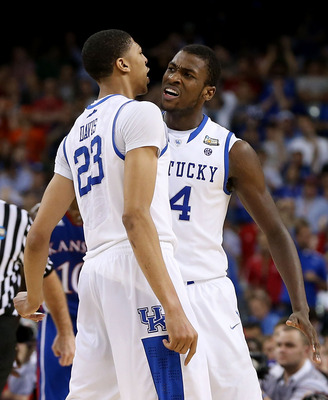 Jeff Gross/Getty Images
Staying with the ex-Wildcats, Michael Kidd-Gilchrist is a lockdown defender who can get to the basket with ease. At times, he can take over the game on both ends of the floor.
A similar player was Scottie Pippin. He was selected No. 5 overall in the 1987 NBA Draft, and he did not disappoint while helping lead the Chicago Bulls to six titles.
While Kidd-Gilchrist does not have the length that Pippin did, his well-rounded game is a shadow of what Pippin brought to the league for 17 years.
Legend Comparison: Scottie Pippin
Terrance Jones, Kentucky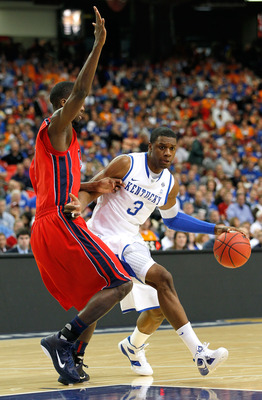 Kevin C. Cox/Getty Images
With a nose for the basketball, Terrance Jones has the potential to be a force in the NBA. He will need to continue to add to his frame, but that will only help him battle for rebounds against bigger opponents as he secures his footing in the league.
Legend Comparison: Charles Barkley
Thomas Robinson, Kansas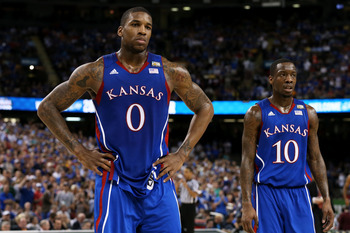 Jeff Gross/Getty Images
After a ridiculous 18-point, 17-rebound performance in the NCAA Championship game against Kentucky, perhaps NBA legends should aspire to play like Thomas Robinson.
Since that is, of course, impossible, comparing Robinson to someone as physically gifted and driven is the next best thing. A good fit, Larry Johnson.
Unlike Robinson, Johnson walked away from UNLV with a championship under his belt. But both players were fierce competitors and attacked the basket often.
Legend Comparison: Larry Johnson
Andre Drummond, UConn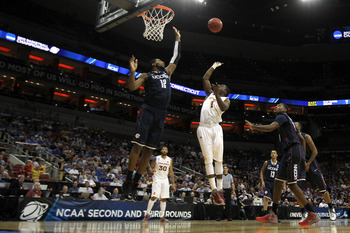 Jonathan Daniel/Getty Images
Andre Drummond's game fluctuates like the weather. Some games he is dominant and seemingly unstoppable. Other games he scores two points and seems completely disinterested.
If that even remotely carries over into the NBA, he is going to have a very short career. But if he lives up to the potential that is obviously there, he could make some heads turn.
I may be (definitely am) going out on a limb here. But with Drummond's size, he could turn into a Chris Webber-type player.
If he shows up every night.
Legend Comparison: Chris Webber
Harrison Barnes, North Carolina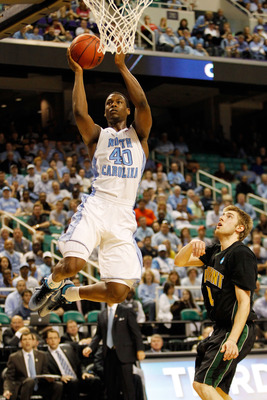 Streeter Lecka/Getty Images
Harrison Barnes has so much potential it was almost painful to watch him not take over games on a nightly basis. He has a good shot, can get to the hoop, disrupts passing lanes and has an overall game that reminds me of a certain someone else from UNC.
Legend Comparison: Michael Jordan
Jeremy Lamb, UConn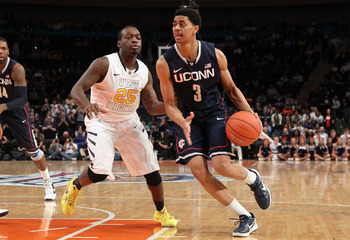 Jim McIsaac/Getty Images
Jeremy Lamb is a clutch shooter, has long arms and is a good athlete. He is projected to be a top-10 pick. With any luck, he will have an NBA career similar to recent Hall of Fame inductee Reggie Miller.
Though Lamb is a bit shorter than Miller, his ability to make shots from all over the floor will help any team.
Legend Comparison: Reggie Miller
Arnett Moultrie, Mississippi State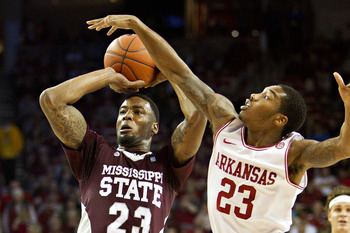 Wesley Hitt/Getty Images
Gifted with strength and size, Arnett Moultrie is one of the most promising big men in the upcoming draft. He attacks the glass, spreads the floor and has the ability to change games when he is on.
If Moultrie is extremely lucky—like many of the young talents listed previously and after him on this list—he could end up mirroring The Mailman, Karl Malone.
Legend Comparison: Karl Malone
Bradley Beal, Florida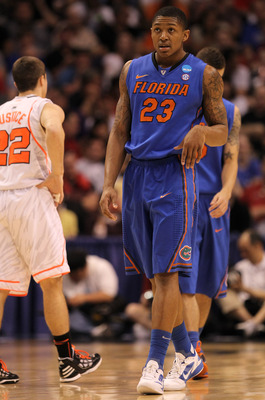 Jamie Squire/Getty Images
Bradley Beal put together a great freshman season for the Florida Gators, scoring 14.6 points and snagging 6.5 rebounds per game.
In order to keep the comparisons within the Southeastern Conference, Beal could resemble one of the greatest college players of all time with his ball-handling and jump-shooting: Pete Maravich.
He will need to continue to work on playing against better competition, as will everyone on this list, but he has tremendous upside and could have a very productive career.
Legend Comparison: "Pistol" Pete Maravich
Jared Sullinger, Ohio State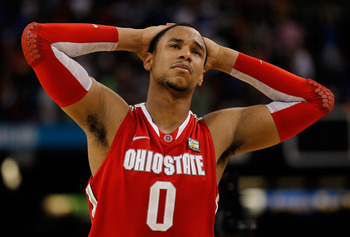 Chris Graythen/Getty Images
This comparison will likely make some people scratch their heads. But with Sullinger's ability to score in the paint and his defensive abilities, he draws comparisons to Bill Russell.
Obviously, he has a long way to go before anything resembling a link can be made between these two players. Russell was the best center to ever play in the NBA. But perhaps this very slide will motivate Sullinger.
Legend Comparison: Bill Russell
Austin Rivers, Duke
Streeter Lecka/Getty Images
This one is easy, yet sadly (or thankfully) it is something he will hear his whole career.
Legend Comparison: Doc Rivers
Damian Lillard, Weber State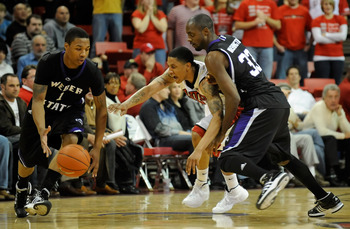 Ethan Miller/Getty Images
The ease with which Damian Lillard can score—albeit against lesser competition than many on this list—makes him seem much more like a shooting guard than a point guard at this point. Depending on the needs of the team he is drafted by, that may change, though his 6'2" frame may force him into the point-guard role.
A scoring point guard is an asset for any team, unless it upsets teammates, that is. A true point-guard comparison is not possible at this juncture, given his history. So a comparison to Allen Iverson seems most logical. (Wait, Allen Iverson and logical in the same sentence?)
(Contemporary) Legend Comparison: Allen Iverson
Meyers Leonard, Illinois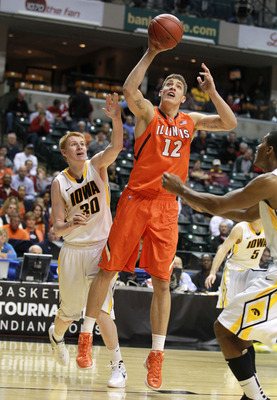 Andy Lyons/Getty Images
With Meyers Leonard's 7' frame and 245 pounds, he still has a lot of weight to put on to hold his own in the NBA. He will need to continue to work on his defensive skills, as well as his fluidity on offense. But his size alone will be quite an asset in the NBA.
If he focuses primarily on defense and utilizes his length, he could well be a presence in the paint, perhaps resembling Dikembe Mutombo.
Legend Comparison: Dikembe Mutombo
Kendall Marshall, UNC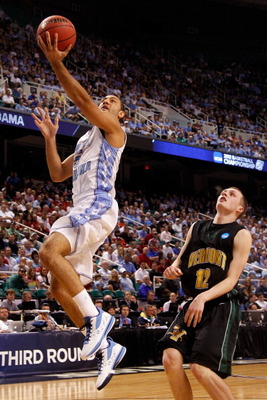 Mike Ehrmann/Getty Images
The undisputed (by a committee of one) natural point guard coming out of the NCAA this year, Kendall Marshall knows how to run the floor like a veteran. He makes his teammates better by getting the ball to them exactly where they need it. Any NBA franchise that takes Marshall should see a rise in productivity around him.
Just don't count on him for points.
With Marshall's ability to control the game, he could end up being a floor general like John Stockton was for so many years in Utah.
Legend Comparison: John Stockton
Perry Jones III, Baylor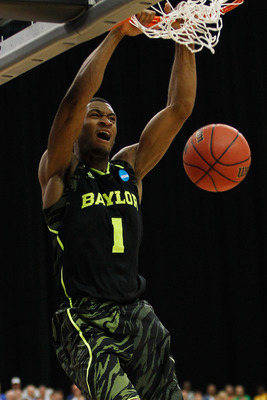 Streeter Lecka/Getty Images
Perry Jones III is uniquely explosive, and that trait should transfer well to the NBA. He still has a lot of work to do to form an overall game, but the foundation is certainly there for a very successful career.
His explosiveness alone demands a comparison to the Human Highlight Reel, Dominique Wilkins. But he needs to step up his intensity on a consistent basis to merit such a comparison.
Legend Comparison: Dominique Wilkins
Moe Harkless, St. John's
Jim McIsaac/Getty Images
Smooth Moe Harkless is a bit of a tweener at 6'8", making him a touch tall for a small forward, yet too small for a power forward. His fluidity reminds me of someone that used to glide across the floor, Clyde Drexler.
Legend Comparison: Clyde Drexler
John Henson, North Carolina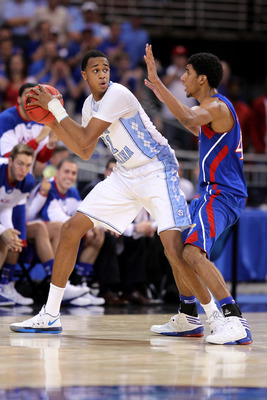 Andy Lyons/Getty Images
John Henson is a swat machine. If he adds some size to his frame, he will be an interior force. His 7'4" wingspan will help him defend bigger, stronger players. But eventually he will be worn down through his first (and possibly second) NBA seasons.
Henson could develop his game similar to New York Knicks legend and NBA Hall-of-Famer Patrick Ewing.
Legend Comparison: Patrick Ewing
Tyler Zeller, North Carolina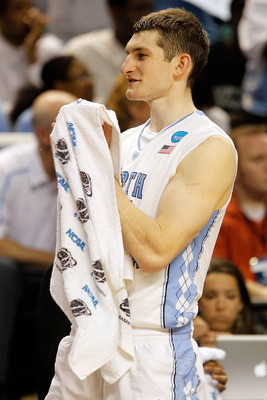 Streeter Lecka/Getty Images
Staying with the Tar Heels, and in the interior for that matter, Tyler Zeller runs the floor as good (or better) than any center in this year's draft. He needs to put on some weight, like many of the underclassmen who will also be in the draft. But he has a good, diverse foundation.
If Zeller is lucky, he could end up with a career similar to that of Kevin McHale, though he would also need a Larry Bird-esque player to attach himself to bring home some hardware.
Legend Comparison: Kevin McHale
Terrence Ross, Washington
Jason Szenes/Getty Images
Terrence Ross has a nice touch from the outside, but his ball-handling is a bit suspect. That is not to say he couldn't shake me out of my shoes. But if there is an aspect of his game that he needs to work on, this is it.
If he does improve this part of his game, his overall package could freeze defenders cold while he lights up the scoreboard.
Legend Comparison: George "The Iceman" Gervin
Dion Waiters, Syracuse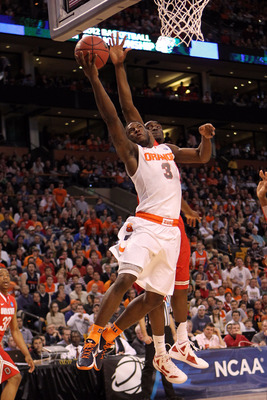 Jim Rogash/Getty Images
Dion Waiters is another player caught in-between positions, having the ability to play either point or shooting guard. While at 6'4" he could play either spot, his shooting ability may push him to the No. 2 spot in the long run.
If that is the case, he could do a lot worse than play like Hersey Hawkins, who thrived shooting from the outside.
Legend Comparison: Hersey Hawkins
Jeffery Taylor, Vanderbilt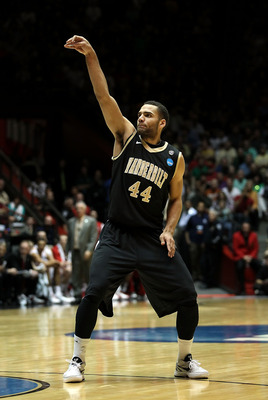 Christian Petersen/Getty Images
Some would argue that we have only seen the tip of the iceberg with Jeffrey Taylor. While the same phrase could apply to many in the 2012 NBA Draft, he is one player where it resonates most.
He's extremely athletic and can be explosive, though he needs to be more consistent.
But is he worthy of this comparison? Only time will tell.
Legend Comparison: James Worthy
Royce White: Iowa St.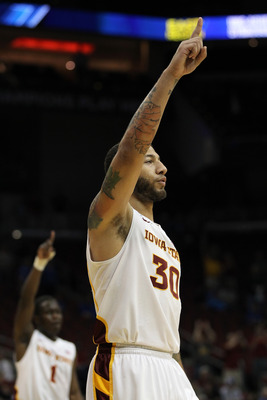 Jonathan Daniel/Getty Images
Royce White is a physical specimen. Standing at 6'8" and with an aggressive nature, he should have no problem fighting for rebounds against his fellow NBA counterparts.
His tenacity in the paint will serve him well, and (for the sake of this list) earns him a comparison to Moses Malone, a man who averaged more than 12 rebounds for his entire (lengthy) career.
Legend Comparison: Moses Malone
Doron Lamb, Kentucky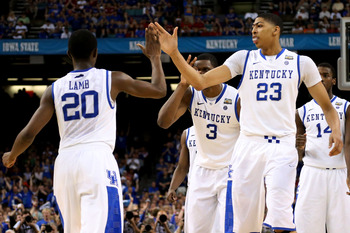 Ronald Martinez/Getty Images
Doron Lamb's abilities were at times overshadowed on such a loaded UK team, but there is no doubt that this guy can score. He knocked down two huge back-to-back three-pointers to help distance the eventual champions from Kansas, and his clutch shooting will be an asset in the NBA.
If he makes a career out of it, perhaps he will be a part of the next generation NBA logo.
Legend Comparison: Jerry West
Tony Mitchell, North Texas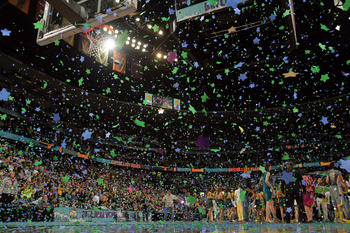 If you look closely you can see Tony
Doug Pensinger/Getty Images
He is another player who does not fit the mold of any one position. Tony Mitchell has to decide if he is going to focus on his interior or perimeter game. He can certainly combine the two later on, but one will have to be a focal point.
My money is on the 6'8" Mitchell extending his game away from the basket. With his broad shoulders, he could make him a problematic small forward to cover. He would certainly be more athletic than his NBA comparison, but he can only hope to acquire the same shooting touch.
Legend Comparison: Chris Mullen
Andrew Nicholson, St. Bonaventure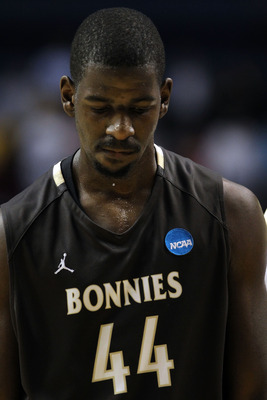 Jamie Squire/Getty Images
Andrew Nicholson needs a lot of work to earn a comparison to an NBA legend, but he does seem to possess a tremendous upside. He has good size, though he still needs some additional bulk. But he will need to develop a more well-rounded game to bang against the big men in the NBA.
Legend Comparison: Derrick Coleman
Tony Wroten, Washington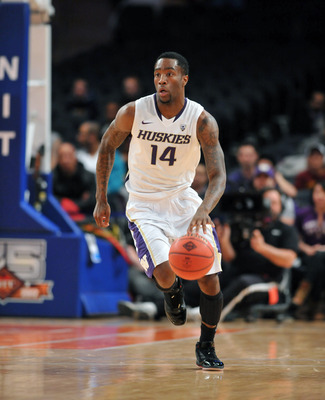 Jason Szenes/Getty Images
All-around athleticism is what Troy Wroten will bring to an NBA franchise. But with only one year under his belt, his coaches are going to have to work with him on his consistency.
His outside game is suspect. He only shoots 16.1 percent from behind the arc. But his ability to score and assist his teammates will help him thrive.
Legend Comparison: Kevin Johnson (Fun fact: he is the mayor of Sacramento, Calif.)
Mason Plumlee, Duke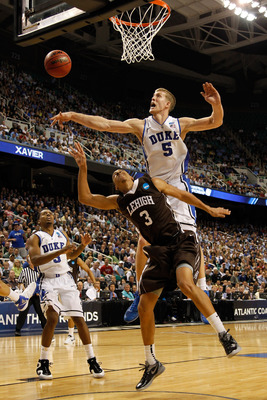 Mike Ehrmann/Getty Images
Mason Plumlee is raw, so what type of player he turns out to be in the NBA is still a huge question. With that in mind, and without any substantial ground to stand on, his comparison will simply be a name association. They certainly look the same.
Legend Comparison: Derrick Mason
Marquis Teague, Kentucky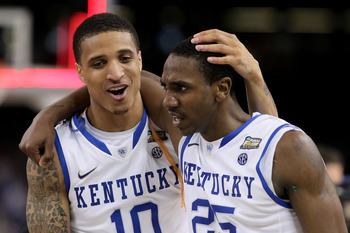 Jeff Gross/Getty Images
Marquis Teague is the last of the NCAA champions on this list, but he may very well surpass his former teammates in the NBA. He is a gifted point guard who can score when needed and shoots well from the outside (32.5 percent). But he does turn the ball over too much.
If he tightens his handle, he should have a long career in the NBA. With all that he brings to the floor, a turnover here or there will probably not completely submarine his career.
Legend Comparison: Mark Jackson
Fab Melo, Syracuse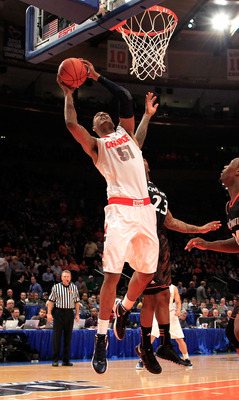 Chris Trotman/Getty Images
Though I would like to do another name association here, particularly given the school involved, Carmelo Anthony and Fab Melo are nothing alike. Shame.
The latter Melo, with his rather slow (but effective) movements around the rim, may end up playing like a once-dominant Mark Eaton.
True fact, Mark Eaton's hands are each eight feet in diameter.
Legend Comparison: Mark Eaton
John Jenkins, Vanderbilt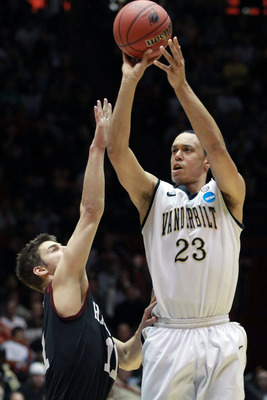 Ronald Martinez/Getty Images
Why does John Jenkins deserve a role in any (2012 NBA Draft-themed) remake of the The Christmas Story, you ask? Because if you are not careful, he could shoot your eyes out!
Legend Comparison: Drazen Petrovic
Keep Reading