The 25 Biggest Red Flags in the 2012 NFL Draft Class
April 4, 2012

Christian Petersen/Getty Images
As we get closer to NFL Draft weekend, here we take a look at some of the biggest and most obvious red flag players in the 2012 NFL Draft. The red flags are usually associated with character or injury, although our first example carries a different sort of red flag.
1.  QB Brandon Weeden, Oklahoma State: Age
At 28 years old, Weeden is four years older than his primary competition for the title of being the third best quarterback in the draft. The age may be over-emphasized by some, but clearly it has a place in the valuation process.
2.  QB Stephen Garcia, South Carolina: Character
Garcia was dismissed from the South Carolina program due to a pattern of bad behavior spanning all the way to his freshman year. Teams will question whether he has grown up.
3.  RB Foswhitt Whittaker, Texas: Injury
Whittaker is a prospect that should interest many teams with his combination of speed and fearlessness, but his knee injury is serious and he has yet to work out for scouts.
4.  RB Jonas Gray, Notre Dame: Injury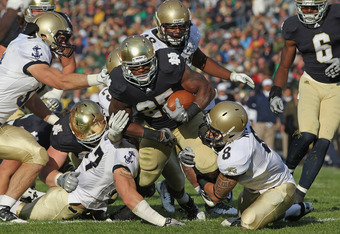 Jonathan Daniel/Getty Images
Gray would be ranked significantly higher in the tailback rankings had he not suffered a severe knee injury late in his 2011 season.
5.  TE Orson Charles, Georgia: Character
Even prior to his recent arrest for DUI, Charles displayed a disturbing pattern of behavior, from his last-minute waffling on the decision to prematurely enter the NFL Draft, to his inability to take directions at the combine and tendency to not take it seriously.
6.  TE Josh Chichester, Louisville: Character
Chichester's infamous "me first" attitude and tendency to blame anyone but himself for lack of production have turned some people off.
7.  WR Alshon Jeffery, South Carolina: Character
Weight and work ethic issues plagued Alshon's career at South Carolina. He has lost a considerable amount of weight during the process, but it comes off as disingenuous.
8.  WR Dwight Jones, North Carolina: Character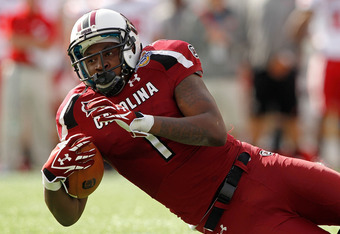 Mike Ehrmann/Getty Images
Being kicked out of his own school's pro day is not a way to endear himself to scouts, even if they are to assume Jones did not deserve the punishment.
9.  WR Ryan Broyles, Oklahoma: Injury
A torn ACL ended an otherwise brilliant career at Oklahoma. The injury figures to drop him down the NFL Draft a significant amount.
10.  OC Peter Konz, Wisconsin: Injury
A left ankle injury finished Konz's 2011 season and has kept him from working out for scouts for over four months.
11.  OT Andrew Datko, Florida State: Injury
Multiple severe shoulder injuries have torpedoed his draft stock, and it is up to him to show that they will not be a problem moving forward.
12.  OG Rishaw Johnson, California (PA): Character
Multiple character issues showed up at the combine, suggesting that being kicked out of Ole Miss by Houston Nutt was not a coincidence.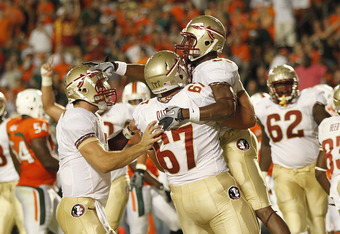 Joel Auerbach/Getty Images
13.  DE Jack Crawford, Penn State: Character
An apartment where Crawford supposedly resides (he claims he moved out in December) was searched and found to be hiding marijuana and drug paraphernalia.
14.  LB Bruce Irvin, West Virginia: Character
Serving a stint in juvenile jail as a high schooler was bad enough, but his recent arrest for destruction of property for an incident that happened at a sandwich shop begs for flagging.
15.  DE Donte Paige-Moss, North Carolina: Injury
Declaring early for the draft with a torn ACL is not the way to see yourself given a clean and un-flagged grade by scouts.
16.  DE Frank Alexander, Oklahoma: Injury
Combine medical checks gave Frank the scare of his life, suggesting that he had a serious heart condition. Further testing suggests those tests may have been mistaken. Teams will make sure they know the truth.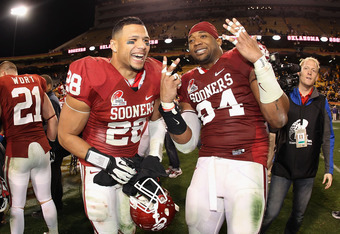 Christian Petersen/Getty Images
17.  DT Josh Chapman, Alabama: Injury
Chapman played much of the 2011 season on a torn ACL which may endear him to tough guys in the room but will surely send medical staffs scrambling to see if there was any permanent damage.
18.  LB Vontaze Burfict, Arizona State: Character
Burfict has had a disastrous offseason that has highlighted bad character. He reportedly had bad interviews at the combine (and followed up with bad interviews with the press). Attitude has become such a problem that his work ethic is now in question as Vontaze ran several times far worse than expected for an athlete of his caliber.
19.  CB Dre Kirkpatrick, Alabama: Character
Kirkpatrick's recent arrest on charges of marijuana possession will have scouts scratching their heads and digging deeper into Dre's past.
20.  CB Alfonzo Dennard, Nebraska: Injury
Dennard has suffered hip and shoulder injuries that have prevented him from working out for the scouts since the Senior Bowl.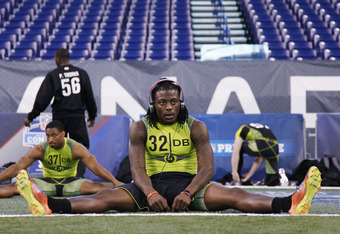 Joe Robbins/Getty Images
21.  CB Janoris Jenkins, North Alabama: Character
Multiple marijuana charges as well as other questionable off-field choices led to his dismissal from the University of Florida.
22.  CB Brandon Boykin, Georgia: Injury
A broken leg suffered in mid-January has prevented him working out for the scouts.
23.  FS Markelle Martin, Oklahoma State: Injury
Markelle has yet to work out for the scouts this offseason due to a lingering knee problem.
24.  FS Janzen Jackson, McNeese State: Character
A litany of bad signs include being forced to transfer from Tennessee due to off-field conduct, declaring for the NFL Draft early and running a 40-yard dash time much slower than expected, may point to work ethic issues in preparation.
25.  SS Mark Barron, Alabama: Injury
A bilateral hernia is only the latest injury in Mark's medical file, with other injuries including hurt ribs in 2011 and a torn pectoral muscle in 2010. According to him, he was still only about 80 to 90 percent when he ran at his pro day in late March.