New Jersey Nets: Why 2012-13 Will Be a Brutal Failure
April 4, 2012
Chris Chambers/Getty Images
After failing to acquire Dwight Howard at the trade deadline, the New Jersey Nets are setting themselves up for a monumental failure in 2012-2013.
Moving to a new home, and state, next season, the Nets were hoping to show off a tandem of their newly acquired center in Howard and All-Star point guard in Deron Williams.
The only problems are that Howard is still in Orlando, the Nets aren't winning basketball games and Williams has made it clear that he is only concerned with one thing at this stage of his career—winning.
"I just want to win. I want to be able to win," Williams stated in an interview with the YES Network back in December.
"I'm 27. I'll be 28 when I sign a new deal. That will take me into my mid-30s. That's a big part of my career, so I just want to make sure I'm making the right decision and I'll look at all options just to be safe."
Unless the Nets acquire a big name free agent like Howard, or secure a top prospect like Anthony Davis in the 2012 draft, New Jersey is going to fail miserably in their new home.
Without Howard, Williams is likely to move on from New Jersey via free agency, and his latest comments don't help the Nets' situation:
People get traded all the time. They don't get backlash as an organization. If [players] leave, we are not loyal, we are ungrateful. People say stuff to me on Twitter. They already think I'm gone. They are out there bashing me, saying to me I'm a traitor. I didn't ask to be here. I got traded. I didn't come here being a free agent. This is the first time that I'm a free agent in my career.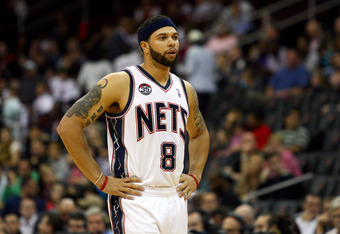 Chris Chambers/Getty Images
Those surely don't sound like the comments of a man who wants to remain with the Nets organization.
Without an All-Star like Williams, New Jersey doesn't have anyone of the same stature to put fannies in the seats.
And who will run the point when D-Will buys a one-way ticket out of Jersey? Sundiata Gaines and Jordan Farmar definitely aren't the answer; the Nets would most likely have to use a draft pick on a point guard, when they should be using it on a small forward or a big man.
Gerald Wallace isn't going to stick around when Williams runs out of New Jersey at the end of the season, leaving the Nets to fill two voids heading into 2012-2013.
Don't forget that the Nets surrendered their first-round pick to acquire Wallace, but still have the Houston Rockets' 2012 protected first-round pick.
Potentially losing Williams also makes next season a disaster because they won't have a face to market the team in a new setting.
As much as we'd all love to see Kris Humphries' gleaming smile on New York City billboards, I don't think that's going to help the Nets' cause.
They have a solid shooting guard in MarShon Brooks and a double-double machine in Humphries, but other than that, the lights aren't shining too bright in Brooklyn on the Barclays Center for next season.
Center Brook Lopez is battling injury problems and has forgotten how to rebound the basketball. Again, Williams and Wallace will probably opt out and leave New Jersey for greener pastures. The Nets will have a big, new shiny arena, but no one to sit in it.
The future of the Nets organization currently lies in the hands of Deron Williams, and he doesn't seem to want to take a hold.
Follow Pete Schauer on Twitter @Pete_Schauer