2012 NFL Mock Draft: Cleveland Browns 7-Round Mock
April 5, 2012

Ronald Martinez/Getty Images
With players starting to complete individual workouts, the draft feels closer than ever.  After losing out in the RGIII sweepstakes, the Browns need to have a very good draft to prevent uproar from their fanbase.  They have a stockpile of picks and this is how they should use them.
Round 1, Pick 4 (4th Overall)
Trent Richardson, RB, Alabama
5'11 225 lbs
It is no secret Cleveland struggled making plays on offense last season, and Trent Richardson can help change that.  Richardson is physical enough to run between the tackles and shifty enough to make people miss on the outside as he has proven in his career at Alabama. 
Rarely do you see someone as strong as Richardson have breakaway speed on the outside, but as Trent famously said, he has never been caught from behind at any level.  With question marks all over the offense, taking a running back who can play every down and has been called the top running back prospect since Adrian Peterson will answer one of those questions.
Other options at this pick: Justin Blackmon, Morris Claiborne
Round 1, Pick 22 (22nd Overall)
Coby Fleener, TE, Standford
6'6 244 lbs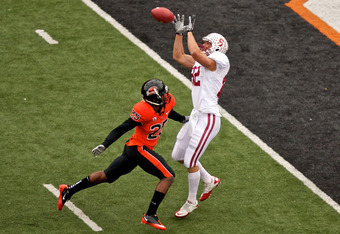 Craig Mitchelldyer/Getty Images
With tight ends becoming extremely productive in the passing game over the last year, it would be good for the Browns to jump on this bandwagon.  At Stanford's pro day Fleener ran a 4.51 into a slight breeze.  For his size that is a blazing time that will create mismatches which is something Cleveland couldn't do last year. 
While tight end isn't a position of need, it could be hard to pass up the big play ability Fleener could add to the Browns.  I know the Browns currently have three players under contract at the position, but Alex Smith isn't a pass catching threat, and Evan Moore can't block, and for some reason Shurmur refuses to use him.  Benjamin Watson won't be with the team after this year and will leave the Browns in need of a starting caliber tight end next year. 
I do not expect this pick to happen but wanted to throw in something that isn't expected.  I would say Kendall Wright is a much more likely pick.
Other options as this pick: Kendall Wright, Mike Adams
Round 2, Pick 5, (37th Overall)
Alshon Jeffery, WR, South Carolina
6'4 213 lbs
I will be the first to admit that this pick will be a big risk.  The gamecock is your typical bust candidate.  He showed up to the combine, but refused to run the 40-yard dash and scouts starting saying that he was out of shape and feared he was slow.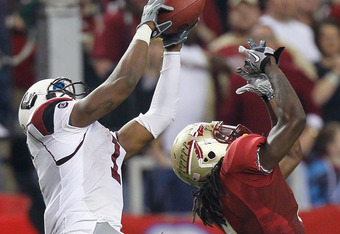 Kevin C. Cox/Getty Images
At his recent pro day Jeffery dispelled these rumors running a time scouts attending clocked between 4.4 and 4.5.  He also showed up looking in better shape than he did at the combine. 
While at South Carolina, Alshon made many SportsCenter-worthy catches that the Browns could have used last year.  He will be able to use his big frame to shield defenders on short routes and the leaping ability to make plays on deep balls.  I think Alshon Jeffery has the potential to be the best WR in this draft, and it is time for the Browns to take a risk on a playmaker.
Other Options at this pick: Janoris Jenkins, Brandon Weeden, Stephen Hill
Round 3, Pick 4, (67th Overall)
Trumaine Johnson, CB, Montana
6'2 204
This pick could be another risk, but as a disclaimer I am counting on the combination of Joe Haden and Shelden Brown mentoring this young kid into being a very solid cover corner.  He has good size and strength to cover the bigger receivers in the NFL and his very long arms help his get his hands on the ball as well as receivers in bump and run coverage. Johnson also has good ball skills that could lead to big plays at the next level. 
His 40 time of 4.61 could mean he will struggle covering the faster receivers in the NFL, and scouts say he struggles wrapping up when tackling.  Speed can't be taught but proper tackling can and with a full offseason, hopefully he will develop some better technique.  Drafting a corner will also allow Sheldon Brown to transition to safety.
Christian Petersen/Getty Images
Other Options at this pick: Greg Childs, Bobby Massie, Lavonte David
Round 4, Pick 5, (100th Overall)
Matt McCants, OT, UAB
6'6 308 lbs
Matt was a three-year starting left tackle at UAB and has the proper frame to be an offensive tackle in the NFL.  He pairs that size with solid footwork and good enough range to get out on the edge to be a lead blocker in running plays. 
Matt needs to add strength as he only put up 17 reps at 225 at the combine.  This number could be a little misleading because of his very long arms.  With that 6'6 frame, I do not see him having any problem packing on a couple more pounds of muscle.  Until he does that, some NFL defensive ends may be able to overpower him. 
Other options at this pick: Nate Potter, Isaiah Pead
Round 4, Pick 23, (118th Overall)
Damario Davis, OLB, Arkansas State
6'2 235 lbs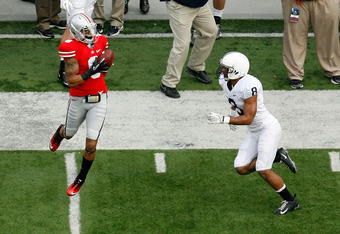 Kirk Irwin/Getty Images
This Arkansas State product has a rare combination of strength, 32 reps at 225, and speed, 4.53 in the 40, that the Browns have been missing with their outside linebackers.  That combination will allow him to get pressure on the quarterback coming off the edge.  It will also help when he is forced into coverage. 
I can't count how many times I saw Cleveland linebackers last year get beat by quicker tight ends.  Davis will need to work on his coverage technique and develop a set of pass rushing moves but late in the fourth round he has a lot of upside.
Other options at this pick: Malik Jackson, Lucas Nix
Round 5, Pick 4, (139th Overall)
Nick Foles, QB, Arizona
6'5 243 lbs
I am sure by now most are wondering when I would bring a quarterback into the equation.  I was not sold on Tannehill at four and prefer using the second-round pick on one of the wide receivers from this deep class. 
One thing I like about Foles that we haven't heard about other Browns quarterback prospects is that he has the arm strength to make all of the throws needed and looks like an NFL quarterback.  As with any quarterback this late, his accuracy could use a little work and his decision making proved suspect towards the end of the year leading to some interceptions. 
Some of those turnovers could have come because of the pressure on him to keep scoring due to Arizona's 107th ranked defense.  I first saw him play at a game in Toledo, where he torched my alma mater, and thought he could be a good pro someday.  I still think that.   
Other options at this pick: David Paulson, Levy Adcock

Round 5, Pick 25, (160th Overall)
Desmond Wynn, OG, Rutgers
6'6 303 lbs
A potential sleeper in the draft as an undersized guard.  With 28 reps at 225 Wynn plays stronger than his size might depict.  Scouts say he is a solid run blocker who needs to work on his pass blocking.  With Richardson as our top pick, having a solid run blocker line Wynn help pave the way would be a good thing.
Other options at this pick: Trenton Robinson, Jack Crawford
Round 6, Pick 35, (204th Overall)
Eric Page, WR, Toledo
5'9 186 lbs
I will admit this pick is biased as I am a Toledo alum, but watching Eric Page play over the last couple years was very enjoyable.  He is the best wide receiver to come through Toledo since Lance Moore and is great after the catch.  He has very solid hands and could translate into a Wes Welker type at the next level.  He ran much slower than expected at the combine, and his lack of size could also be worrisome.  This late in the draft, Cleveland could do a lot worse than Eric Page. 
Other options at this pick: Mike Daniels, Dan Herron

Round 6, Pick 36, (205th Overall)
Bryan Anger, P, California
6'4 207 lbs
Anger is the consensus best punter in the draft, averaging almost 45 yards per punt last year.  With Hodges coming off a serious Achilles injury, shoring up this position with a late pick would be a good idea.  The Browns also attended his pro day which shows they are interested.
Other options at this pick: Chris Rainey, Derek Moye
Round 7, Pick 4, (211th Overall)
DeVier Posey, WR, Ohio State
6'2 211 lbs
Posey's stock has been dropping since he sold his gold sweatpants.  Character concerns and questionable hands have dropped him all the way to a late-round pick.  He did show the ability to separate from defensive backs at the senior bowl, but then his hands let him down. Posey made Ohio State's offense more dangerous and could do the same for the Browns provided he learns how to catch. 
Other options at this pick: Kaniela Tuipulotu, Greg McCoy
Round 7, Pick 38, (245th Overall)
Cody Johnson, FB, Texas
5'11 250 lbs
I miss the strong blocking ability that Vickers brought to the table.  Owen Marecic didn't do many of the things he was drafted to do, and I don't know if he ever will. Coby could be a solid blocking back but doesn't have much experience catching the ball out of the backfield. 
Other options at this pick: Lonnie Edwards, Kellen Moore

Round 7, Pick 40, (247th Overall)
Olivier Vernon, DE, Miami (FL)

6'2 261 lbs
Vernon is an early entry into the draft and it is puzzling why he would leave early to get drafted so late.  He tested well at the combine with 31 reps and a 4.68 40, but didn't have great production at Miami last year after coming back from a six-game suspension.  Vernon has character concerns, but picking him this late it would make it easy to cut him if he becomes a problem.
Other options at this pick: Travis Benjamin, Dan Persa
*Information for this article was obtained through multiple sources including www.walterfootball.com, www.nfldraftscout.com, www.fftoolbox.com and www.espn.com