Where Does Kentucky Rank Among the Last 10 National Champions?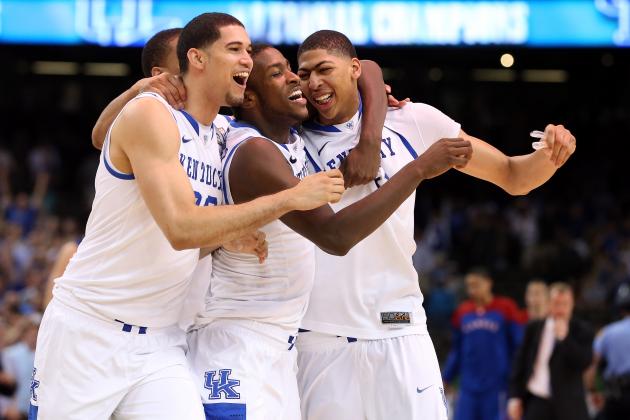 Jeff Gross/Getty Images

The 2012 Kentucky Wildcats are one of the most dominant teams in recent memory. John Calipari's team of "one and done" players proved that a national title can be won with talented, but yet inexperienced players.
Anthony Davis and Michael Kidd-Gilchrist were a dominant duo throughout Kentucky's 38-2 season, and they could go first and second overall in the upcoming NBA draft.
Now that the nets have been cut in New Orleans, the question is where does this team rank among the last ten Final Four winners. How does the duo of Davis and Kidd-Gilchrist compare to that of Joakim Noah and Al Horford when they helped Florida repeat as national champions?
How does this team of mainly underclassmen compare to Roy William's upperclassmen-dominated North Carolina teams that won national titles?
Begin Slideshow

»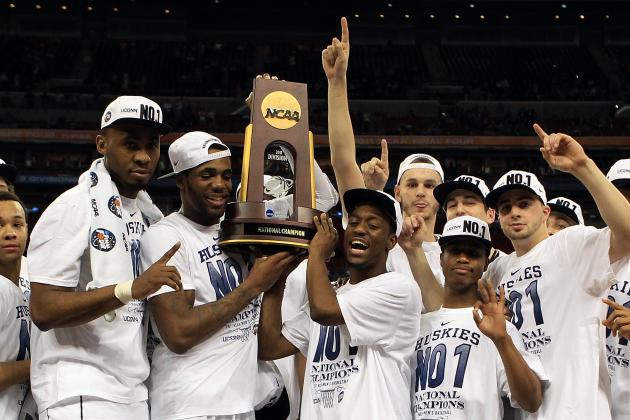 Streeter Lecka/Getty Images

This group of players was the most unheralded Final Four winner of the last decade. The Huskies finished ninth in the Big East regular season standings before winning five conference tournament games in as many days. UConn entered the Big Dance as a No. 3 seed and faced little difficulty until the Elite Eight.
They got past Derrick Willams, led Arizona (65-63) and Kentucky (56-55), setting up a title match with reigning national runner-up Butler.
The national championship game was far from being the most memorable of all-time, but UConn completed their surprising championship season after limiting Butler to 12-for-64 shooting.
Kemba Walker also set a tournament record by scoring 130 points during the Huskies run to the title.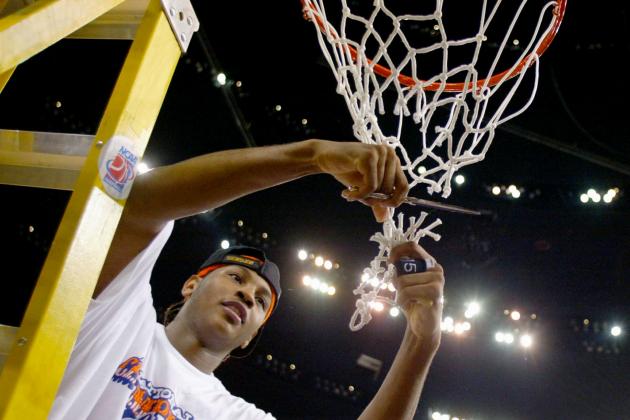 Craig Jones/Getty Images

Jim Boeheim and Syracuse finally cut down the nets after Final Four shortcomings in 1987 and 1996.
His championship team had only two seniors on the roster and a lineup that featured four underclassmen.
The star of the team was Carmelo Anthony who might have been the original "one and done" player after leading the Orange to a national title during his lone season in Western New York. Syracuse's only scare before the Final Four was their 79-78 win over Auburn in the Sweet Sixteen.
The Orange beat a veteran Kansas team in the final game of the season (81-78) after Hakim Warrick's blocked Michael Lee's potential game tying shot.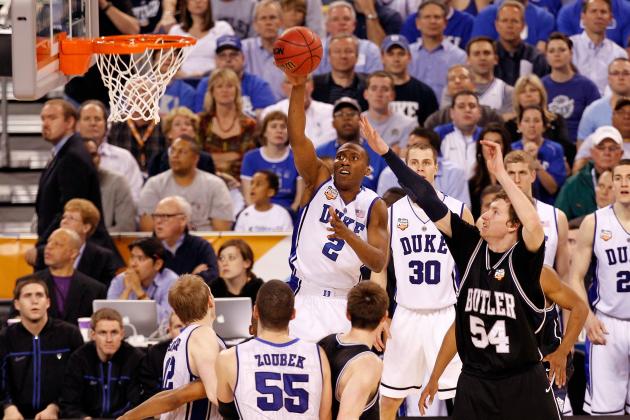 Kevin C. Cox/Getty Images

Gordon Heyward's failed attempt at the greatest play that never was, ended a nine year title drought for the Blue Devils. Mike Krzyzewski won his fourth championship as a head coach with a team that may not have even ranked among his ten most talented during his tenure at Duke.
This experienced group that included Jon Scheyer, Kyle Singler and Nolan Smith helped the Blue Devils win four of their first five postseason games by more than 13 points before their hard fought win over Butler in Indianapolis.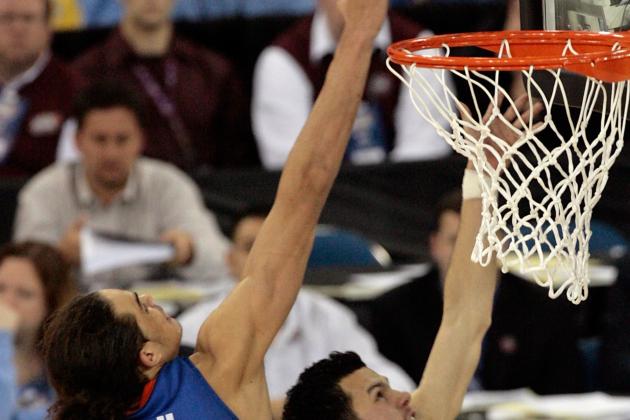 Win McNamee/Getty Images

The Gators weren't even ranked in the preseason polls before taking college basketball by storm over the next two seasons.
Their 2004 recruiting class that included Joakim Noah, Al Horford, Corey Brewer and Taurean Green was far from the most hyped when they got to Gainesville, but this group eventually became one of the most successful in the history of college basketball.
During a year in which the big dance redefined the concept and a No. 1 seed was absent from the Final Four, Florida dominated the field and won all but one of their games by at least 15 points.
They would achieve even more success the following year.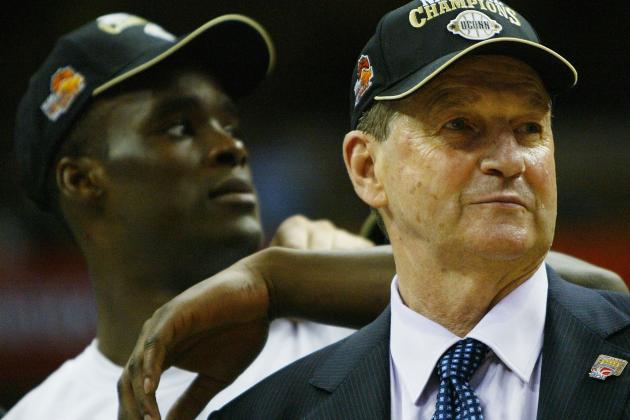 Doug Pensinger/Getty Images

Emeka Okafor and UConn were the consensus No. 1 team in the preseason rankings and looked prime to bring a second men's national title to Storrs.
However, the Huskies were far from the most dominant team during the regular season which included a 16-point loss to Georgia Tech in only their fourth game of the year.
The Huskies got a No. 2 seed in the big dance after winning the Big East Tournament and had little trouble advancing to the Final Four.
UConn beat Duke 79-78 in a memorable semifinal game that might have been the de facto national championship game that season.
The Huskies avenged their loss against Georgia Tech by beating the Yellow Jackets, 82-73 in the final game of the tournament.
Six of the players on this team were future first round NBA draft picks, including Okafor and Ben Gordon who went second and third overall in the 2004 NBA draft.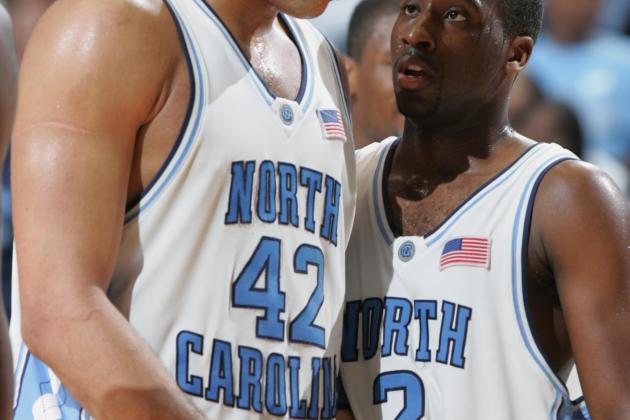 Streeter Lecka/Getty Images

After a second round tournament loss, the fourth ranked Tar Heels entered the season as national contenders in a very competitive ACC. Six of the top 19 preseason teams were from the conference, including the teams ranked second through fourth.
The trio of of Sean May, Rashad McCants and Raymond Felton helped North Carolina earn a No. 1 seed in the tournament and win their first Final Four in 12 years.
However, their run to the title was not as easy as some other teams on this list. The Tar Heels squeaked out a 67-66 over an upstart Villanova team in the Sweet Sixteen and only beat Wisconsin by six points in the Elite Eight.
Their championship year was complete after a 75-70 win over an Illinois squad led by Dee Brown and Deron Williams that won 37 games that season. That Illinois team was one of the best teams that failed to win the national title in recent memory.
Four Tar Heels were lottery picks in the 2005 NBA draft.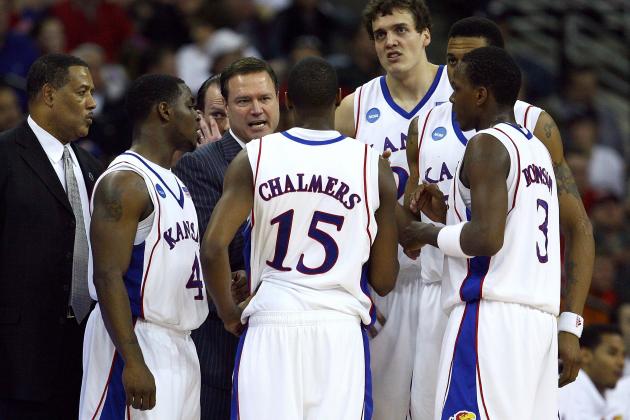 Jamie Squire/Getty Images

Prior to this season, Kansas always had great teams during the Roy Williams and Bill Self eras, but none of them had been able to bring a national title to Lawrence.
Kansas was once again a title contender with a deep and talented group. The frontcourt included Russian-born center Sasha Kaun, forwards Darrel Arthur and Darnell Jackson, as well as a freshman Cole Aldrich.
Mario Chalmers and Brandon Rush were the starters in the backcourt while Sherron Collins and Russel Robinson came off the bench.
The Jayhawks began the year on a 20-0 run until they lost three of their seven games towards the final month of the season.
Kansas entered the tournament with a seven game winning streak and won their first three postseason games by 15 or more points. The Jayhawks made it to San Antonio for the Final Four after a nail-biting 59-57 win over Stephen Curry and 10th seeded Davidson.
After routing North Carolina, Kansas advanced to the national title game against Memphis were they came back to send the game to overtime after trailing by nine points in the closing minutes of the game.
Calipari's team couldn't hit their free throws, and the Jayhawks prevailed 75-68 in overtime for their first national title since 1988.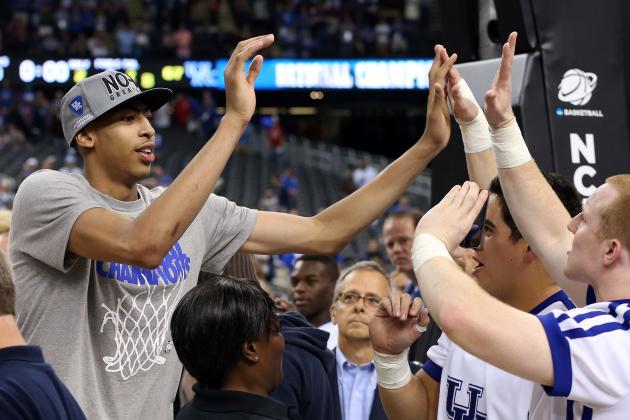 Jeff Gross/Getty Images

After a disappointing finish with John Wall and DeMarcus Cousins in 2010 and a surprising Final Four trip a year later with an entirely new group of players, Kentucky once again was in the discussion for the national championship.
The return of Darius Miller, Terrence Jones and Doron Lamb, in addition to a third consecutive No. 1 recruiting class led by Anthony Davis put the Wildcats near the top of many preseason rankings.
Their record of 38-2 tied a record for the most wins in a season for a men's team.
Kentucky lived up to the hype throughout the season with their only blemishes coming on the road against Indiana and in the SEC Championship Game against Vanderbilt.
The Wildcats were heavy favorites to win the Final Four and were never seriously challenged late in a tournament game until the final rounds of play. While Louisville and Kansas made good comeback attempts against Kentucky, both teams lost those games by eight points.
Their championship triumph proved that "one and done" recruiting can build a winner.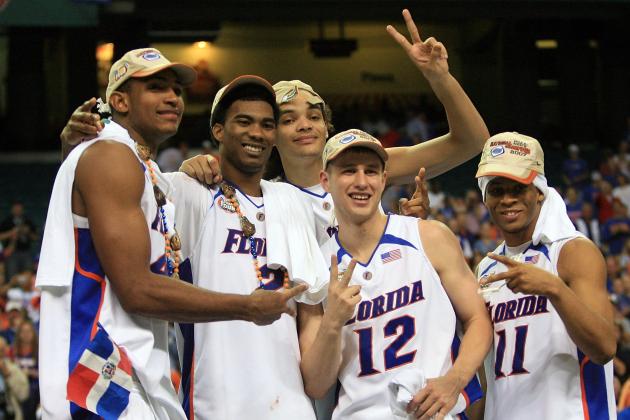 Streeter Lecka/Getty Images

After an unexpected national title as sophomores, the 04's weren't going to take anybody by surprise as juniors.
The Gators were the consensus No. 1 team in the preseason and were trying to become the first repeat national champions since Duke in the early 1990's.
Florida seemed well on their way to a second straight title until losing three of their final five regular season games.
Billy Donovan's team got things turned around by March, and the Gators breezed through the SEC and NCAA Tournament.
Joakim Noah, Al Horford and Corey Brewer declared for the NBA draft after bringing another championship to Gainesville.
There's no reason to think they wouldn't have been favored to three-peat had they stayed for their senior years.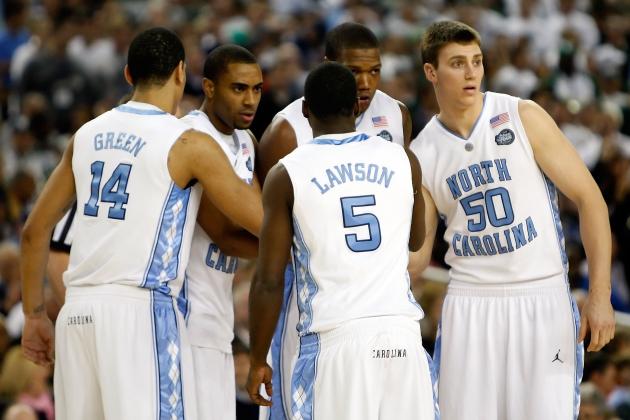 Streeter Lecka/Getty Images

After getting so close in the previous two tournaments to a Final Four title, all eyes were on Tyler Hansbrough in his senior year.
He had established himself as the best player in college basketball during his time in Chapel Hill, but his legacy wouldn't be complete without leading North Carolina to a national championship.
Hansbrough rounded out a lineup of upperclassmen that included forwards Deon Thompson and Danny Green, as well as a backcourt of Ty Lawson and Wayne Ellington. Their depth was much improved from the year before with incoming freshman Ed Davis, Tyler Zeller and Larry Drew II joining the Tar Heels.
North Carolina only lost four games that season, with three of those losses coming by only three points.
The Tar Heels dominated the NCAA tournament by winning all of their games by double digit margins, including a 17-point win over Michigan State in a championship game that was played in Detroit.