Bayern Munich vs. Marseille: 6 Things Learned From Champions League Quarterfinal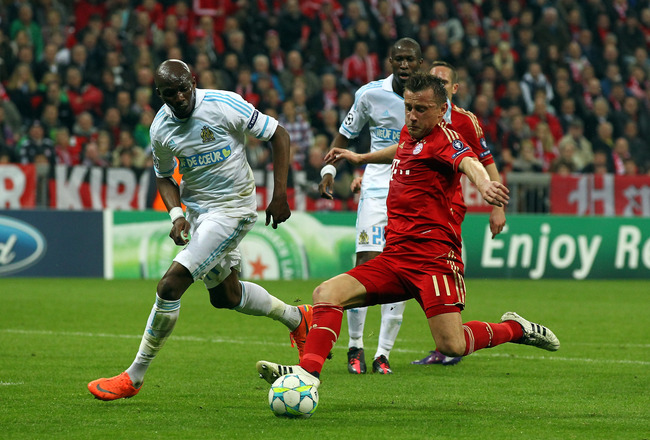 Martin Rose/Getty Images
Barcelona vs. AC Milan may have been the game most watched by football fans this Tuesday, but at the same time that Barcelona was breaking records against a rather pedestrian Milan side, Bayern Munich was strolling to a 4-0 aggregate victory over Ligue 1 side Marseille.
After winning 2-0 in France at the Stade Velodrome, Bayern Munich was able to win again by the same scoreline at home at the Allianz Arena.
With the win, Bayern Munich were able to progress to the semi-finals, where they'll face a much harder test in the form of Real Madrid.
Before we start to analyze that mouth-watering fixture though, let's stop and break down the lessons about both Marseille and Bayern Munich from their Champions League quarterfinal second leg performance.
Marseille Are in a Rut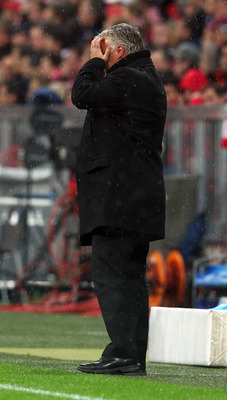 Martin Rose/Getty Images
Forget Bayern Munich, Marseille couldn't beat a second-division French team right now if their life depended on it.
Okay, maybe that's a bit of an exaggeration, but the fact is that Marseille have been awful as of late.
Their last league win came at the end of January, and since then the team has lost five league games and drawn three. That's three points out of 24, for a team expected to always be challenging for the league title.
Playing in other competitions has not helped Marseille escape their funk either.
They were eliminated from the Coupe de France by a team that only last year was playing fourth division French football, and have now last their last three Champions League matches as well.
Marseille started their season poorly, but a mid-season revival looked to have put the team back on track. Now, the team's in crisis once again, and look likely to end the season in mid-table mediocrity.
If Marseille's players hope to at least retain the manager that has brought the team much success during his reign, they need to step it up, and fast.
European football is probably out of reach, but a strong end-of-the-season run should restore the board's faith in Deschamps and restore player and supporter morale at the club.
Bayern Munich Are Hitting Top-Form at the Right Time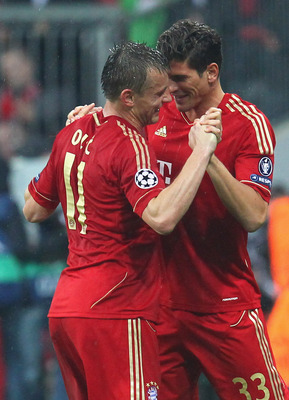 Martin Rose/Getty Images
Bayern Munich have stolen a page out of Manchester United's playbook with their performances this season.
It's known fact in football that if you're going to under-perform, make sure you under-perform during the middle stretch of the season. Because when you approach your final stretch of games, your team has to be ready to consistently win and pull away from the competition.
Even Sir Alex Ferguson has surely never told his players at United that losing is okay, he's indoctrined this mentality inside of them. When March comes around, and the title race is entering its final stretch, the time for mistakes is over.
Bayern Munich have undergone a United-esque transformation. After finding themselves unable to win consecutive league matches from mid-January to the beginning of March, they finally turned the corner with back-to-back blowouts against Hoffenheim and Hertha Berlin, and haven't looked back since.
Not all of their victories have been pretty either. They've had their impressive blowout wins, like the 7-0 win over FC Basel, but they've also grinded out tough, important victories over Hanover, Nuremburg and Borussia Monchengladbach.
More importantly, Bayern's players are looking fit and in-form at the right time. Robbery (Arjen Robben and Ribery) have been taking turns tearing apart defenses, and Mario Gomez has returned to being the goal-scoring machine he was at the beginning of the season.
The question now is: Can they keep it up against Real Madrid, another team in good form? We'll save that discussion for next time, but they've certainly helped themselves by going into the matchup in good form.
Ivica Olic Isn't Done Quite Yet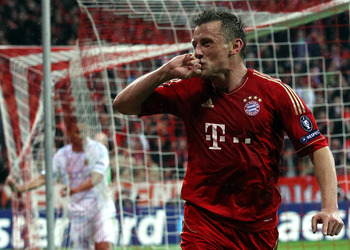 Martin Rose/Getty Images
It's been a tough couple of years for Olic.
The Croatian striker was first-choice and in the form of his life at the end of the 2009-10 season, but a long-term injury early in the 2010-11 season forced him to miss the more than three-fourths of the season.
When he made his long-awaited return in 2011-12, Olic was no longer the first-choice striker, or even second-choice striker, at the club.
Mario Gomez had taken his spot in the starting lineup, and he now had to compete with Nils Petersen for playing time on the rare occasion that Gomez was injured or rested.
Despite all these obstacles, Olic waited patiently for his chance, and today he was able to take it emphatically, scoring both of Bayern Munich's goals.
To be honest, there was nothing special about the goals; both of them were tap-ins that came at the end of good team play by Bayern. But Olic's trademark work ethic and fitness was on display for everyone to see.
Most importantly, this was Olic's chance to tell the world that, even at the age of 32, he's far from done with the game of football.
Olic proved that he's still got plenty of gas left in his tank, and whether he decides to leave Bayern this summer or stay to fight for playing time, he deserves respect for his strong will and determination.
David Alaba Is a World-Class Player in the Making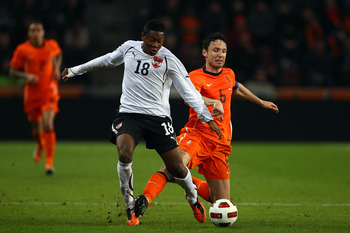 Richard Heathcote/Getty Images
Most 19-year-olds find themselves stuck in their club's reserves, hoping to break into their club's first team squad in two or three years time.
Especially at a club like Bayern Munich, only the best youngsters in the world earn any playing time with the first team. Just ask Takashi Usami, one of Japan's brightest U-21 stars.
Despite having been a regular and productive member of Gamba Osaka's squad for a year-and-a-half, Usami has found himself stuck in Bayern Munich's reserves throughout his loan spell with Bayern.
To date, he's seen only 49 minutes of first team action, and was substituted out in the league game which he was introduced in as a substitute.
But for Alaba, the story has been very different.
At the age of only 19, Alaba has already made 30 league appearances and 48 total appearances for Bayern Munich, and that isn't including the playing time he picked up while on loan with Hoffenheim.
Furthermore, at only 19, Alaba has already made 15 appearances for the Austrian national team, and looks set to easily break the 100-cap mark by the end of his career.
Against Marseille, Alaba didn't do anything too impressive from the left back position, but he outperformed his captain Philipp Lahm on the opposite flank, and picked up an assist when Olic converted his cross for Bayern Munich's second goal.
His ability to play as a left back, winger, or central midfielder is remarkable, and Alaba is sure to blossom from a useful squad player to a world-beater in the near future.
Marseille Need a New Formation or New Strikers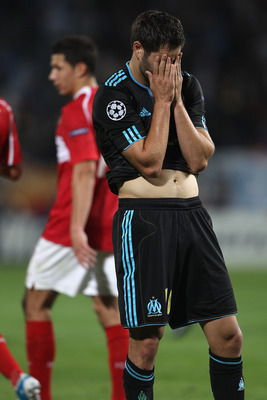 Michael Steele/Getty Images
This season, Marseille has scored only 36 goals in Ligue 1 play. Compare that with the likes of Lille, PSG and Montpelllier, who've all scored over 50 goals this season, and its clear that Marseille have a problem scoring goals.
It's really unfortunate, because their goals conceded tally shows that their defense is definitely as solid as it needs to be. Offensively is where the team isn't getting the job done.
There are multiple factors which play into this. For one, Andre-Pierre Gignac, the man who led the goal-scoring charts for Toulouse back in 2008-09, has been poor in his time with Marseille.
He had a decent first season, scoring 12 goals in 37 games, but this season he's scored only once in 19 games and clearly needs a change of scenery.
The club's other scoring options have struggled too. Even though he occasionally rises to the occasion, it is a mystery why Brandao is still regularly selected to start for Marseille, when he has proven too inconsistent for Marseille in the past.
Loic Remy and Andre Ayew have had good seasons, and so has Mathieu Valbuena, but without a focal point to center their offense around, Marseille's efforts have been in vain.
A good idea for Marseille to consider is moving Loic Remy up front to partner Gignac, or to consider bringing in a new center forward into the squad.
Against Bayern Munich, Marseille's defensive midfielder, Stephane Mbia had the most shots of any Marseille player with three. With the level of quality in Marseille's squad, that just isn't acceptable, and points to a flaw in either the system or the club's center forward.
Ribery Is Unstoppable When Playing Well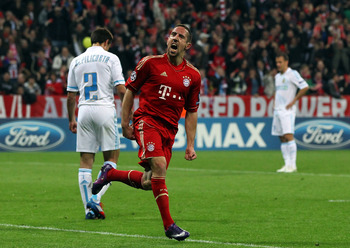 Martin Rose/Getty Images
Ribery absolutely terrorized Marseille's defense this past Tuesday, threatening Marseille's goal with nearly every attack.
In the end, despite Olic's brace, Ribery was easily the team's man of the match.
Ribery assisted Olic's first goal with a pinpoint cross, but it was his key pass to David Alaba which allowed Olic to convert a second goal as well.
He had by far the most touches of any player in the game, with 105, and contributed on the defensive end with six tackles (as a winger!) and three interceptions. His passing was top-notch too, as he made 68 passes with 88% accuracy.
It only gets harder from here for Ribery, but Real Madrid will be very afraid of Ribery if he maintains this kind of form in the team's Bundesliga fixture this weekend.
Keep Reading

FC Bayern Munich: Like this team?