Boston Red Sox: Loss of Andrew Bailey Creates Question Mark at Closer
April 7, 2012

Jim Rogash/Getty Images
Once the news of Boston Red Sox closer Andrew Bailey's thumb injury came out, I fought off the urge to throw my remote against a wall.  My first two questions were: What was Ben Cherington thinking? Why would he trade for a guy that looks like damaged goods? 
Initially, I wanted to rip Cherington for what I thought was his poor judgment on Bailey, but I realized that wouldn't be fair or just. After all, he has to work with the hand he's dealt by ownership.  This offseason felt like a five-card poker game.  John Henry dealt Cherington a pair of twos and told him to outwork everyone and win the big pot, aka the World Series.
Not exactly an easy task, right?
As a fan you strive to be fair but also demanding.  In that light, what were Cherington's realistic options?
Ideally, the Red Sox would have kept Jonathan Papelbon, but that wasn't going to happen. He clearly didn't want to stay, and the team didn't want him either. The only way they would've taken him back was on a one-year deal.  The Sox have spent the last decade spending large amounts of money, but this offseason the cash dried up.  It looks like John Henry exploited the luxury tax as an excuse to not spend any additional money.
According to ESPN, the Red Sox paid $18.77 million in luxury taxes from 2003 to 2011.  Plenty of proven pitchers like Mark Buehrle were on the market, but Cherington had no money to work with.  Henry watched Theo Epstein throw hundreds of millions of dollars down the toilet in free agency.  It's sad that Cherington has to pay the price for Theo's stupidity, but it is what it is.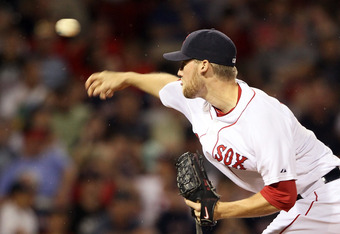 Elsa/Getty Images
What do you do if you're in Cherington's shoes? His hands were tied.
Roy Oswalt has had a nice career, but he's 34 years old and comes with injury concerns. His only realistic option is to try and convert Daniel Bard to the starting rotation.  He gives you cost certainty and he's under the team's contractual control for a few more years.
This year I think it's fair to expect No. 5 starter production out of him, and by that I mean 30 starts, 150-160 IP, 10-12 wins, a 1.30 WHIP and a sub-4.00 ERA.  The team is going to need him and Alfredo Aceves, because neither Josh Beckett or Clay Buchholz are a safe bet to start 30 games each. 
Although Bailey is off the grid for a few months, I still believe that signing him was a good move considering the circumstances.  On the bright side, his injury was very fluky, and he's proven to be an effective closer against AL lineups.  If Bailey's injury were an elbow or shoulder, Red Sox fans should be really worried, but it wasn't.
Cherington has said a few times "sometimes closers pop up out of nowhere" and he's absolutely right.  Papelbon was a former starter suited to end games.  In the '90s, Tom Gordon was an up-and-down starter who became a lights-out closer. 
Luckily, Bobby V has 161 more games to figure out who is going to close this year.