EPL Preview: Will Arsenal's Rivals Rise This Weekend While the Gunners Fall?
April 3, 2012

Clive Brunskill/Getty Images
Arsenal could slip to fourth place behind Tottenham Hotspur, their North London rivals, after this weekend's fixtures.
A defeat to the Gunners on Sunday against Manchester City and victories to Chelsea and Newcastle United, both of whom currently trail Arsenal by five points, could have the two clubs breathing heavily down Arsenal's neck.
The same scenario will have Spurs regaining the upper hand and the season's boasting right. So after this weekend's fixtures, which club is the likeliest to emerge unscathed?
Chelsea
Chelsea have relegation-threatened Wigan Athletic to deal with on Saturday. This duel should pose little problems to the resurgent West London club, who seem to have found their feet since the dismissal of their combative manager, Andre Villas-Boas, and the installation of caretaker Roberto Di Matteo.
Only two hitches could derail Chelsea this weekend, the fact that they play Champions League football midweek, the result of which could have an impact on the weekend fixture.
Victory for Chelsea in the midweek encounter could enhance their momentum, and this could be the extra lift that enables them overcome whatever challenge Wigan pose in this match.
On the other hand, a defeat in the midweek fixture could have the same impact, only negatively. Having been poised as favorite to advance in this particular competition, a defeat could have adverse effect on them.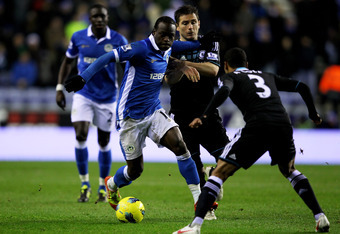 Alex Livesey/Getty Images
Meanwhile, fatigue will surely be a factor in the match. However, since Chelsea play at home and since they could rotate the team, they should be able to weather whatever assault Wigan muster during the match.
I see Chelsea winning this one. The worst result for them will be  a draw. Pencil in three points for them.
Newcastle United
Newcastle play on Friday against tricky Swansea City. This should have Chelsea smiling since there's a likelihood that Newcastle will fall to Swansea, who haven't been an easy team to play at their own ground. Their recent victim has been the almighty Manchester City.
There's one thing in Newcastle's favor, though: They are in form. Their two strikers, Papiss Cissé and Demba Ba, could be the difference in this match, considering, of course, that the entire team doesn't succumb to Swansea's dark art of incessant passing.
One thing is sure, Swansea won't fall easily, if they fall at all; neither will Newcastle. So the likely result could be a draw. But again, victory could swing either way.
I will pencil in a draw for Newcastle. 
This will take their tally to 54 points to Chelsea's 56.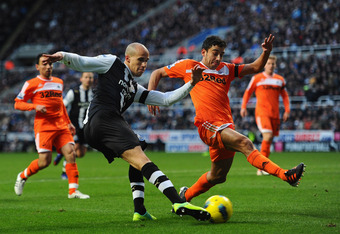 Stu Forster/Getty Images
Tottenham Hotspur
Spurs are on the road, and their destination is stubborn Sunderland, one of the most disciplined and organized sides of the second half of the season.
Spurs are a good side and will likely come away with a victory, but Sunderland won't fall easily. Plus, it will depend on how events arrange themselves on the day at the Stadium of Light.
When the two sides met in December, Spurs prevailed by a lone goal, scoring in the 61st minute. Spurs dominated the match, even though Gareth Bale was out injured.
Home advantage will favor Sunderland this time, but Spurs have the mettle to win here. Their rivalry with Arsenal should be an extra impetus for them.
The likely result will be a draw, but Spurs could easily win this one. I'd pencil in three points for them to take their tally to 61.
Arsenal
Arsenal have the trickiest of the four fixtures. They host Manchester City. Last year, City were scared stiff of Arsenal, hardly venturing out of their own half.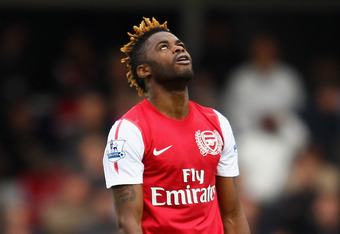 Richard Heathcote/Getty Images
Things are different this year, and although Arsenal gave a good account of themselves at the Etihad Stadium back in December, City have one of the strongest squads of the Premier League and will not lie down to be beaten at the Emirates Stadium.
Arsenal fans could argue that the last time City visited the Emirates, they huffed and puffed and barely beat their second string.
True, but they might also want to remember the December fixture where their team lost by a lone goal. 
Plus, the current Arsenal squad is unpredictable. On their day, they can beat any team on the blue planet, and just when everyone is cheering, they'd then decide to sleep in the next match, convinced that sleepwalking might earn them more accolades.
It never does; instead, the media retunes its familiar "fragility" tune.
If the Arsenal against Spurs and AC Milan shows up, then afterward, Gooners could grill the inevitable three points to their favorite "one-nil-to-Arsenal" ditty.
If not, they could have a solitary point to drink to, else, they might find themselves bawling over no points at all, at which event the white half of London would be watching amused and really pleased.
If I pencil in a draw, then Spurs will overtake Arsenal this weekend.
Arsenal have to win this match, but whether this will be so is another story.
Conclusion
Chelsea and Spurs seem the likeliest to come out of the weekend fixtures unscathed. Arsenal squandered the chance to solidify their hold on third place on the table when they lost to QPR last weekend.
To maintain this position this week, they'll have to win against Manchester City—not an easy task—or Spurs have to have a less-than-pleasing result at Sunderland.
Our blindness to the future means we must wait and see.