Chaos Theory: 25 Upsets That Would Wreck the 2012 College Football Season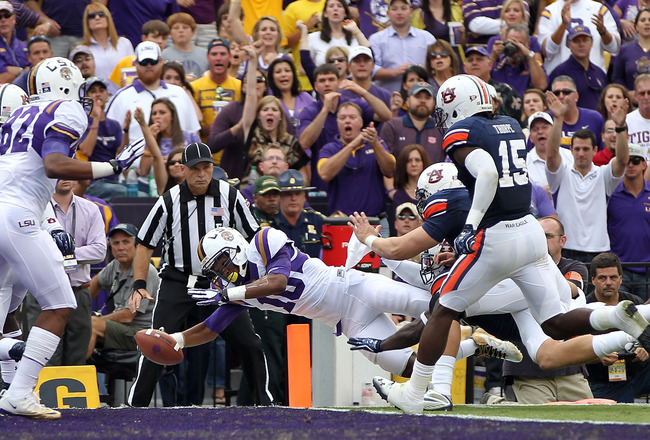 Jamie Squire/Getty Images
College football has a plethora of upsets every year, but we do not always see them coming.
The perfect example from last season was Iowa State ruining Oklahoma State's BCS National Championship dreams.
Which game should we all look out for this upcoming season?
The teams that I listed are the ones that will likely be ranked in the top 10 and more than likely in the top five.
Listed in chronological order of the regular season, here are 25 potentially thrilling upsets that you will not want to miss!
Note: The Chaos Meter indicates how much of an impact there would be in the polls if the upset occurs. The Upset Meter from 1-10 means the chances of the obvious underdog winning the game or at least taking it down to the wire. The higher the number, the more likely the underdog can pull it off.
Aug. 30: South Carolina at Vanderbilt (Thursday)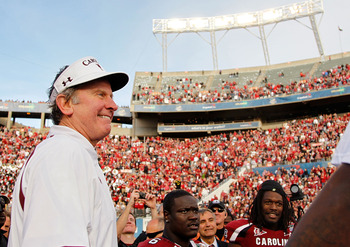 Mike Ehrmann/Getty Images
College football would never be the same unless it kicks off on a Thursday night.
The Gamecocks will be starting seemingly another season ('08, '09, '10) on a Thursday night. Although they have won all three of those contests, they weren't exactly against the top competition (NC State twice, Southern Miss).
Vanderbilt has a few explosive playmakers and respectable enough of a defense returning to give the Gamecocks all they can handle.
Looking as a touchdown road favorite, don't be shocked if Steve Spurrier and the boys come out flat out of the gates. This upset would not only wreck the SEC East standings right away, but it would shake up the landscape of college football as well.
Chaos Meter: 7 of 10
Upset Meter: 6 of 10
Aug. 31: Boise State at Michigan State (Friday)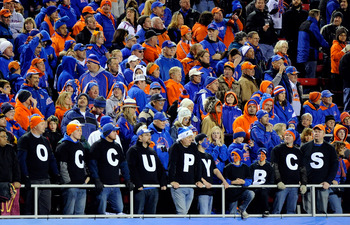 Ethan Miller/Getty Images
Kellen Moore, Doug Martin, Jerel Worthy, Kirk Cousins. B.J. Cunningham and the front four of the Broncos are all gone.
Michigan State is tough to beat in East Lansing, and they should be about a touchdown favorite or so. Everybody outside of Boise will be picking the Spartans to start their season on the right foot.
Can Chris Petersen knock off yet another BCS team, or will he finally have a disappointing start to the season?
Chaos Meter: 7.5 of 10
Upset Meter: 9 of 10
Sept. 1: Michigan vs. Alabama (Dallas Cowboys Stadium, Arlington TX)
Matthew Stockman/Getty Images
Denard Robinson against Nick Saban's defense?
Yes, please.
When the best of the SEC takes on one of the best from the Big Ten, you'd better watch.
Plus, when it happens to be two of the most storied programs in the history of the sport, you'd better get your popcorn and beverages ready as well.
The Crimson Tide are a near-lock for a top-three or five ranking, and the Maize and Blue should be in the top 10 when they kick off this season-opening matchup.
The main question remains: Can the SEC be dethroned, or will the domination continue?
Chaos Meter: 10 of 10
Upset Meter: 8 of 10
Sept. 8: Georgia at Missouri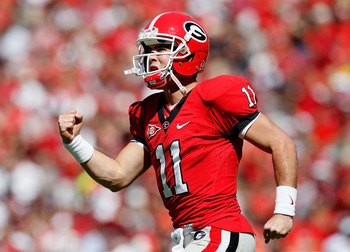 Kevin C. Cox/Getty Images
This game is starting to heat up a bit, even though we are five months away from kickoff.
James Franklin and Henry Josey are resting up from injuries at the moment, but they will be licking their chops not their wounds when they get a piece of the Bulldogs.
Georgia did not have many tough games after the early stages of the 2011 season, so can they make the nation eat some crow in 2012?
Bacarri Rambo will be out along with a few others, so Georgia will be tested in Columbia.
The true matchup to watch in the game will be Jarvis Jones and Alec Ogletree against Franklin and the Missouri backfield.
If Missouri can control the line of scrimmage, then Aaron Murray and his cast and crew will need to outscore the Tigers.
Chaos Meter: 9.5 of 10
Upset Meter: 7 of 10
Sept. 8: Washington at LSU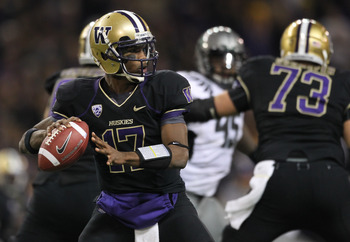 Otto Greule Jr/Getty Images
Quarterback Keith Price may not miss star runner Chris Polk as much as everybody is anticipating, due to the bevy of talent around him.
Loaded with receivers and arguably the best pass-catching tight end in the nation, Washington has a legit chance of pulling off this enormous upset.
The only problem is that the game is in Death Valley, and regardless of whether it is a night game, LSU's defense is one of the few on Washington's schedule where they tee off a bit.
Chaos Meter: 9 of 10
Upset Meter: 4 of 10
Sept. 15: Texas at Ole Miss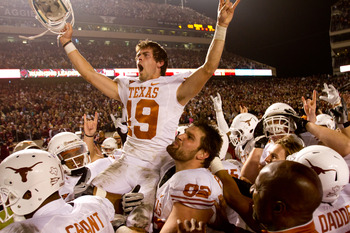 Darren Carroll/Getty Images
The Longhorns' first road test of the season will be in gorgeous Oxford, and the hope is they do not get caught looking ahead.
After their contest, they will get an extra week of rest before they travel to Stillwater and, ultimately, Dallas for their annual battle with the Sooners.
Not many are buying into the hype of a young and impressive defense, since many do not like the way the offense is producing.
If Texas can avoid a letdown against the Rebels, it might just have what it takes to surprise in the Big 12.
Chaos Meter: 8 of 10
Upset Meter: 2 of 10
Sept. 22: LSU at Auburn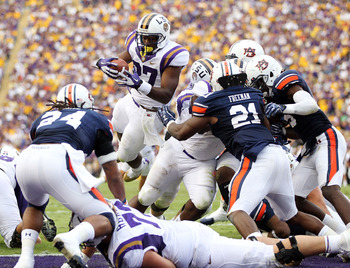 Jamie Squire/Getty Images
The Bayou Bengals do not start the season off with easy games, and it seems as if they never do under Les Miles. Every year, he prefers a major tilt against a respectable and ranked team.
The SEC has its fair share of juggernauts and a young Auburn squad will wreak havoc on LSU if there is no improvement in its passing game. Last season did not go so well for Auburn, as they were torched 45-10.
This very well could be a low-scoring game that comes down to the battle of field position and ultimately a vital special teams play or two which decides the outcome.
Chaos Meter: 8.5 of 10
Upset Meter: 5.5 of 10
Sept. 22: Rutgers at Arkansas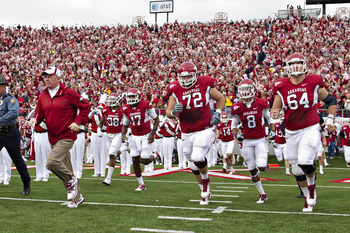 Wesley Hitt/Getty Images
The Scarlet Knights are starting to reel in the recruits, but the Razorbacks have the BCS on their minds. Bobby Petrino's offense is expected to be even better in 2012 despite losing a few star receivers.
Knile Davis is back at running back, and there is no stopping this offense when they are clicking on all cylinders.
Chaos Meter: 7 of 10
Upset Meter: 2 of 10
Sept. 29: Florida State at South Florida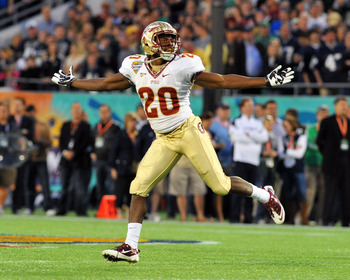 Al Messerschmidt/Getty Images
The Seminoles' biggest non-conference game was expected to come against West Virginia, but they have since moved on.
The Bulls of South Florida upset the Seminoles three seasons ago in Tallahassee, and you know that is on the mind of Jimbo Fisher and the boys (Bobby Bowden was in his final season for the USF loss).
Tallahassee native B.J. Daniels got the victory against the Seminoles as a freshman in 2009. However, let it be known that Florida State will either be coming off a dramatic victory over Clemson or perhaps another depressing loss when its defense attempts to put the clamps down.
Chaos Meter: 4 of 10
Upset Meter: 8.5 of 10
Sept. 29: Oregon at Washington State (CenturyLink Field: Seattle, WA)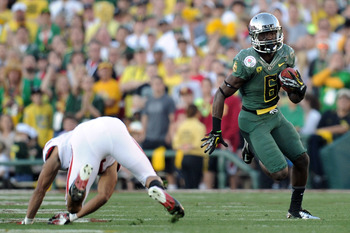 Harry How/Getty Images
The high-flying Ducks offense should not miss much of a beat without LaMichael James or Darron Thomas.
De'Anthony Thomas and Kenjon Barner rank among the best duos in the nation, due to their versatile ability to catch a ball out of the backfield as well take a handoff for 80 yards to the house (not to mention their special teams ability).
Mike Leach's passing attack system may come into play with All-American caliber wide receiver Marquess Wilson, but Washington State's defense may allow 40-plus points in this one.
Chaos Meter: 6.5 of 10
Upset Meter: 8 of 10
Oct. 4: USC at Utah (Thursday)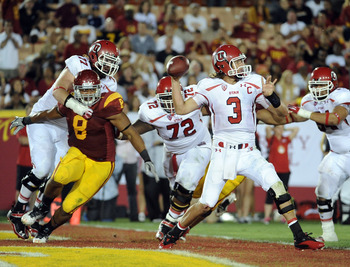 Harry How/Getty Images
The Trojans' first true road game will be in Salt Lake City, and the Utes have the talent to pull this game off.
USC could be looking ahead to Washington, but as the possible top-ranked team in the country (on Oct. 4), they cannot possibly take the Utes too lightly.
The depth up front will be a challenge against Utah's sensational "Wolfman" of a runner in John White IV. The last time the Trojans faced a hostile environment on a Thursday was when they lost to Oregon State (ranked fourth on Oct. 24, 2009; lost 42-36).
Chaos Meter: 8 of 10
Upset Meter: 5.5 of 10
Oct. 6: LSU at Florida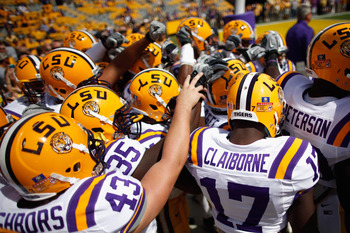 Chris Graythen/Getty Images
The Gators are expected to be a much-improved team overall, but they will need an offense that is a factor in the SEC.
LSU, of course, has arguably the best defense in the nation, and they have proven that they can win ugly. A night game at the "Swamp" would be a joy to witness, but the Gators might not have enough firepower to shock potentially the top-ranked team in America.
Chaos Meter: 9.5 of 10
Upset Meter: 5 of 10
Oct. 13: Illinois at Michigan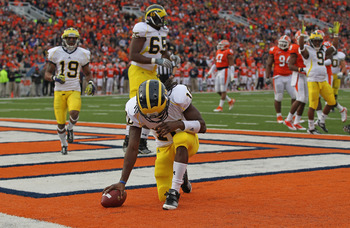 Jonathan Daniel/Getty Images
The Michigan-Illinois basketball game this past season had fewer points than the 2010 football matchup, in which Michigan won in triple-overtime, 67-65.
Denard Robinson, when healthy, is the most dangerous signal-caller on the planet, and he should have less of the onus. Illinois should be similar to the 2011 version we saw with a new coaching staff, but its two-quarterback system may not improve much.
Chaos Meter: 7 of 10
Upset Meter: 3 of 10
Oct. 13: Alabama at Missouri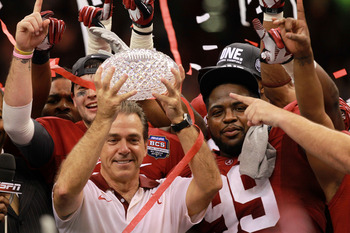 Ronald Martinez/Getty Images
Nick Saban and his defense will be ready by October for a Missouri squad that will likely be looking for a signature SEC victory.
Alabama's ability to control the line of scrimmage will be critical, and James Franklin will need to have a Robert Griffin III-type of performance if he expects his team to pull off the upset.
Throw in the fact that the BCS standings will be coming out the next day, and the Tide will be getting every team's best shot.
Chaos Meter: 9 of 10
Upset Meter: 3 of 10
Oct. 20: LSU at Texas A&M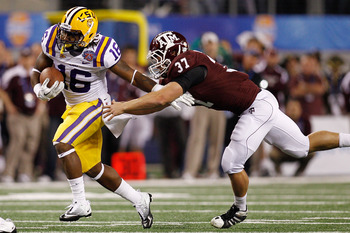 Chris Graythen/Getty Images
If the Aggies believe they have what it takes to win the SEC, let alone compete for the SEC West crown, they need to be able to pull off these type of games.
The "12th Man" is electrifying, but A&M needs its players to step it up a notch or two since the team has failed miserably against the SEC in recent memory.
However, just because the Aggies could not finish the deal in the Big 12 does not mean they will completely fall on their faces in the SEC. I would just hope they get more production from their defense, since they bring it and then some in the SEC.
Look for the Aggies to get knocked around in this game, but they will battle and attempt to prove a point to the nation.
Chaos Meter: 9 of 10
Upset Meter: 3 of 10
Oct. 20: Alabama at Tennessee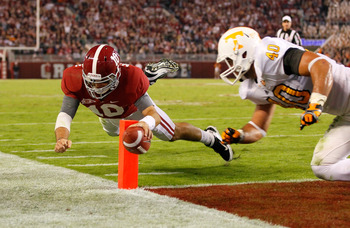 Kevin C. Cox/Getty Images
Alabama obliterated the Volunteers 41-10 in Neyland Stadium two seasons ago, so payback should be on the minds of Tennessee. However, Alabama may once again have bigger goals in mind than just pummeling Tennessee.
Everybody is expecting the Tide to be a factor in the SEC, but not everybody has them winning the conference. Plus, with all of their losses on defense to go along with Trent Richardson, Tennessee may actually have a puncher's chance.
Chaos Meter: 10 of 10
Upset Meter: 3 of 10
Oct. 20: Nebraska at Northwestern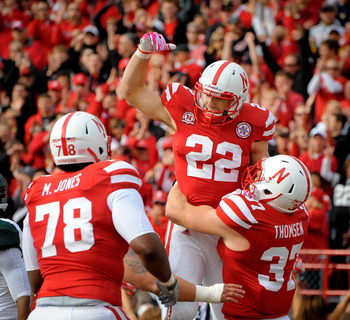 Eric Francis/Getty Images
After last season's home debacle to the Cats, Nebraska will try to punish an undersized defense.
Nebraska has a ton to replace with its own defense, but it should be improved up front and the Cornhuskers have enough athletes to surprise some folks in the Big Ten.
Running back Rex Burkhead will be playing at an All-American level, and if the passing game is improved under Taylor Martinez, Big Red may start to smell roses.
Chaos Meter: 5 of 10
Upset Meter: 3.5 of 10
Oct. 27: Notre Dame at Oklahoma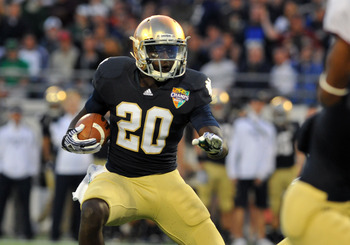 Al Messerschmidt/Getty Images
The Sooners had better be on their "A" game or else they might just lose another home game.
Notre Dame has been known as that classic punchline, thanks to their inability to slam the door when their offense comes knocking for a touchdown.
The defense will be stellar up front, but who is at quarterback and can Cierre Wood and Tyler Eifert get enough help to take the pressure off the signal-caller?
Regardless of whether the Irish are in the top 10 or even ranked, this will be one of your most anticipated games to watch in the 2012 season. Can the Irish play the underdog role and earn Brian Kelly his first signature win as a Domer?
Chaos Meter: 10 of 10
Upset Meter: 6 of 10
Nov. 3: Oklahoma at Iowa State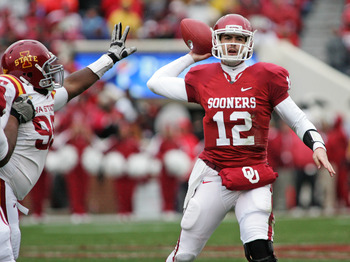 Brett Deering/Getty Images
It will be just under a season since the Cyclones upset the Cowboys of Oklahoma State when Iowa State hosts the Sooners.
Landry Jones has put together a ton of virtuoso performances, but he has a few clunkers. Legendary receiver Ryan Broyles isn't coming back for his 10th year (so it would seem), so guys like Jaz Reynolds and Kenny Stills must be able to show the new youngsters how it is done in hostile environments.
Chaos Meter: 8 of 10
Upset Meter: 3 of 10
Nov. 24: Michigan State at Minnesota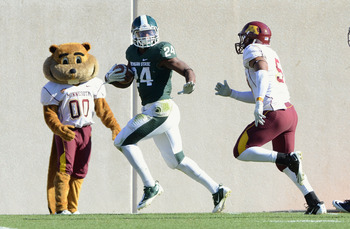 Mark A. Cunningham/Getty Images
The Spartans have already been labeled as serious contenders in the Big Ten, thanks to a fierce defense that features a few underrated future stars.
Minnesota, of course, has been labeled as one of the teams in the Big Ten alongside Indiana to be that pushover team nobody respects.
If the Gophers could put the winning touches and stun a possible top-10 Spartan squad, look for this game to be similar to last season's.
Chaos Meter: 8 of 10
Upset Meter: 4 of 10
Nov. 10: Georgia at Auburn
Kevin C. Cox/Getty Images
Does Auburn remember what exactly happened last season?
Getting slashed 45-7 was memorable for die-hards of both teams, but Auburn has the talent to compete with any team in the SEC next season. Georgia may be favored in arguably every game, but this game will be one of the toughest ones.
Corey Lemonier could come off the edge and become a nightmare for Mike Bobo, Aaron Murray and Georgia nation. If the Dawgs do survive, they will be counting their blessings.
Chaos Meter: 8.5 of 10
Upset Meter: 7 of 10
Nov. 10: Baylor at Oklahoma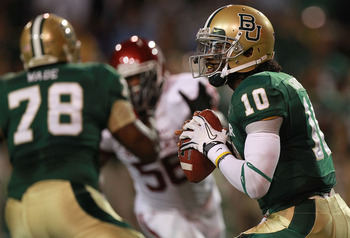 Ronald Martinez/Getty Images
If Robert Griffin III and his entire crew were back, then this game would be a thrill to watch. Instead, it could turn into a bloodbath after what happened last season.
Oklahoma's defense under Mike Stoops should be improved despite some crucial losses. Plus, we know that Baylor didn't play much defense last season, so points will not be a problem for Landry and the boys.
Chaos Meter: 8 of 10
Upset Meter: 1 of 10
Nov. 17: USC at UCLA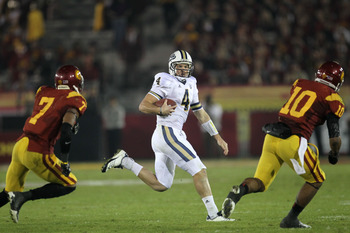 Stephen Dunn/Getty Images
Trojan Nation would not get any more upset than having their BCS title dreams smashed by their little brothers, known as the Bruins of UCLA. It has occurred before under Karl Dorrell back in 2006, but this would be an earth-shattering upset with a likely wider spread (UCLA was 11-point underdogs six years ago).
Chaos Meter: 9 of 10
Upset Meter: 1 of 10
Nov. 24: Florida at Florida State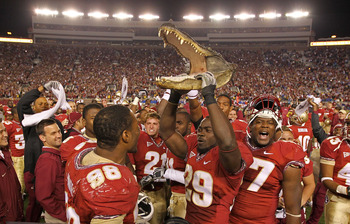 Mike Ehrmann/Getty Images
This Seminoles defense has its swagger back, and the hype will be right there with it. However, E.J. Manuel holds the keys for a BCS title push with a group of receivers that should be able to stretch the field with the best of them.
At home against the Gators could be one of the biggest games in Florida State history, if they were able to magically remain undefeated throughout the season.
Florida's defense isn't far behind the Seminoles, and the development of Jeff Driskel at quarterback may allow the Gators to come into Doak and end their current two-game losing streak in the rivalry.
Chaos Meter: 9 of 10
Upset Meter: 7.5 of 10
Nov. 24: Auburn at Alabama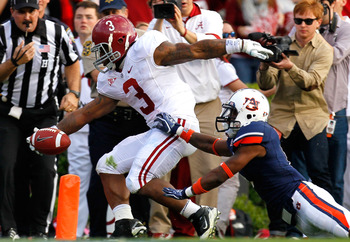 Kevin C. Cox/Getty Images
The Iron Bowl is always a joy to watch, especially since a BCS title game berth is likely on the line. Still, we can throw the record books out the door when these two teams meet.
Auburn has another brutal schedule in 2012, but it doesn't really get any tougher than having to go on the road to face Nick Saban.
Gene Chizik has worked miracles before, and this would have to rank high on the list despite it being a heated rivalry game.
In this matchup, the Tigers could very well be ranked, but an upset would be a bit shocking since the SEC West and more could be up for grabs once again in this Iron Bowl.
Chaos Meter: 9 of 10
Upset Meter: 3 of 10
Keep Reading