Tiger Woods' Story About Jack and Arnold at Augusta
April 3, 2012

David Cannon/Getty Images
Kathy Bissell
Hopefully when the official Tiger Woods biography is written, there will be stories like this in it.   Today in the press room at Augusta National, Tiger Woods talked about playing a practice round at the club with Jack Nicklaus and Arnold Palmer in 1995. Woods had won the US Amateur in 1994, the first of three consecutive titles of that event.
Tiger Woods:  "Arnold comes up to me and says, 'How about a little Skins Game today?'" 
"I said, 'Well, I don't have any cash.'" 
"He says, 'Don't worry about it.  Just play hard.'" 
"I said, all right, here we go."
Woods said they had a great time – who wouldn't, playing with those legends, once you got over your knees shaking on every shot.  They he went into some more detail.
Tiger Woods:  "I'm trying to gain as much intel as I possibly can, and I'm asking them on every hole, what do you do here, what do you do here, what do you do here, and I'm pretty sure they got sick and tired of me.
"We get to 18, and Arnold makes a nice putt for birdie on 18 for all the skins, basically.  And I could see Jack is over there, a little ticked about it.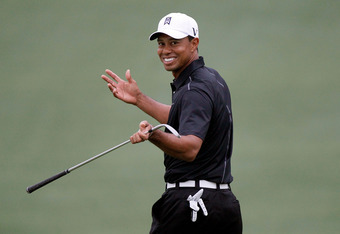 Streeter Lecka/Getty Images
"He says, 'Enough of this.  Why don't we go get him on the par 3 course?'"
" I said, 'Well, Jack, I don't have‑‑ my tee time is much later.'" 
"Jack said, 'Just come with me.'"
"I said, 'Yes, sir.  How are we going to get on there?'"
"He says, 'Don't worry about it.'"   
 They headed over to the par three which is down a steep hill and east of the back nine, between the tenth tee and Washington Road. 
 Tiger Woods:  "We walk over there, we are on deck, just out of the blue."
They just teed it up and went.
Tiger Woods: "Probably the most nervous I think I had ever been was the last hole on the par 3 course.  You think it's just a simple 9‑iron shot, no big deal.  Arnold almost holed it, Jack almost holed it, and now it's my turn.  I was just trying to go for dry land, and somehow I was able to hit on dry land and I was pretty stoked about it."
What happened during the practice round, though, was helpful for Woods.
Tiger Woods: "Jack, that year, told me some of the putts he's hit over the years, some of the things that has changed about the golf course and strategy on how to play certain flags.  I thought, you know, I never looked at it that way on some of the holes.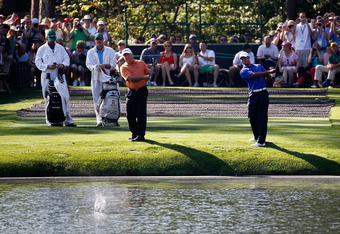 Streeter Lecka/Getty Images
"He says, 'With your length, just go ahead and just beat it down there.'  Because obviously at the time, there was no rough, and it was all about angles.  So you need that angle on nine, you need to get it down that side, you need to fire at the green.  Things like that.  We can't do that now because the golf course is so much longer.  But at the time, it was all about the different angles."
Now roles have changed and this week it was Woods who was giving advice to Sean O'Hair during a practice round.  And he sees that as part of the role of past champions, to convey the knowledge.
"It's not something that we hold and are going to keep sacred," Woods added. "We pass it on from one generation to the next.  That's what we do."
The information Woods has received from other players is one reason he has already won the tournament four times.  Obviously it is only during practice rounds, or just by watching how another player attacks the course during play when no advice can be given. 
"I've gotten just umpteen amounts of advice from guys who have played here way more than I have.  That's really helped," Woods said.  "Over the years of playing with Raymond and Freddie and Ollie and Nick Price, you name it, right on down the list, of just understanding how to play this golf course."
He said even though it has changed over the years, there are still some things that hold up.
"You still miss it in the same spots.  Just understanding how to do that has really helped me over the years, and I think that's one of the reasons why you see so many guys here,  the older players are in contention a lot, but they just know how to play it."