Tennessee Volunteers Football: 10 Best Quarterbacks in School History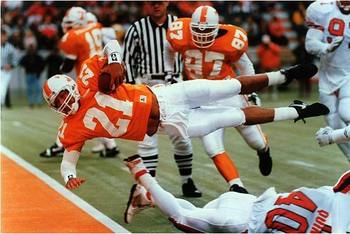 While the Tennessee Volunteers have yet to earn the title "Quarterback U," there have been some terrific signal-callers in the Big Orange's history.
No two quarterbacks have been the same, and though there may be a prototype for all Vol quarterbacks (I think you know who I'm talking about), each of these ten men have truly given their all for Tennessee.
When you look at the annals of Tennessee football, there is a relatively low number of quarterbacks who made a significant impact.
It's a tough position to man, especially in the SEC.
Here are ten that did it best.
Dewey Warren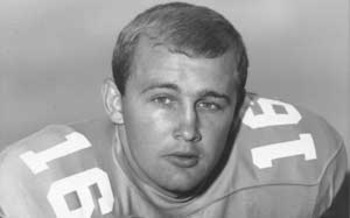 In his three years as a starting quarterback for the Tennessee Volunteers, Dewey Warren went 19-6, including two bowl victories.
From 1965 to 1967, "The Swamp Rat" ushered the Vols into a new era for the quarterback, as he was the first UT signal caller to throw for 1,000 yards in a season.
Warren has the 10th most wins in Vols quarterback history and may have gone down as the most famous No. 16 in Tennessee history, but some other kid showed up in 1996...
Bobby Scott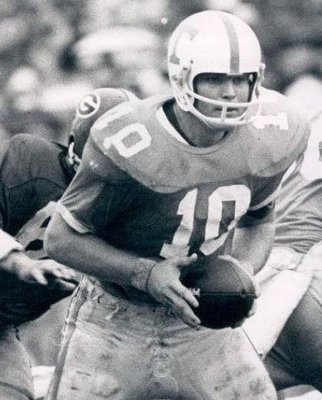 Bobby Scott raked in 20 wins in just two seasons as a quarterback with the Vols from 1969 to 1970, right after Dewey Warren.
He never lost a game at home as a starter, going a perfect 11-0.
Scott is one of the first players who defended Neyland Stadium so fiercely.
In his senior year, Scott pulled in a Sugar Bowl win over 11th-ranked Air Force.
Jeff Francis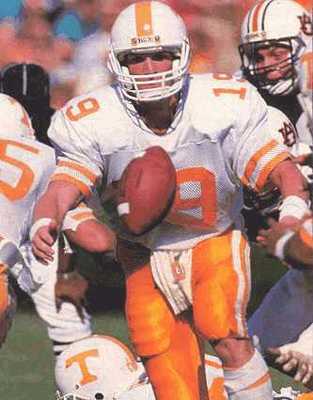 Jeff Francis was a three-year starter from 1986 to 1988, during an era in Tennessee football that was somewhat mediocre.
His 20-12-1 record was boosted by a perfect 3-0 record in bowl games.
Francis never had a season as a starter with less than 1,500 yards passing, and in his senior year he become just the third Volunteers quarterback to throw for over 2,000 yards.
Erik Ainge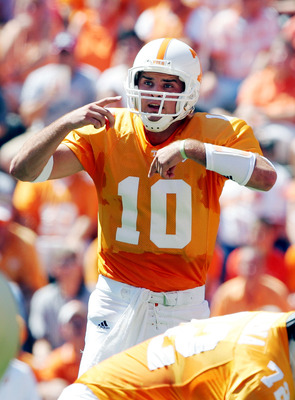 Elsa/Getty Images
Yes, I'm amazed as you are that Erik Ainge appears on this list, but after looking at the numbers, there's no way you can leave him off.
Ainge has the third most wins by a quarterback in school history (27).
He joined Peyton Manning as the only other quarterback to have a 3,000 passing yards season in 2007.
Ainge is third overall in career yards at Tennessee, but his time as a Volunteer was tainted due to lofty expectations, erratic play and only one bowl win.
Condredge Holloway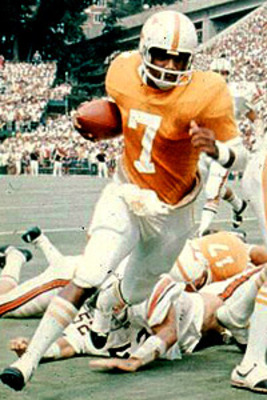 "The Artful Dodger", as John Ward so eloquently put it, comes in as the sixth best quarterback in Tennessee Volunteer history.
Condredge Holloway remains a fan favorite in Knoxville, even though his last game, a Liberty Bowl victory over Maryland, was more than 25 years ago.
Holloway electrified the SEC with shifty runs, brilliant passes and tremendous athleticism.
From 1972 to 1974, he won 23 games and two bowl games.
Casey Clausen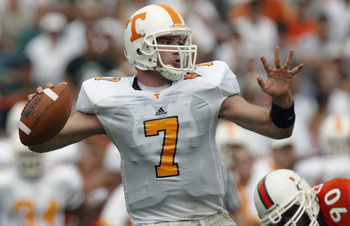 Eliot J. Schechter/Getty Images
If I wasn't so afraid of the backlash, I would've ranked Casey Clausen higher on this list.
He was a warrior, and I can't help but love that kind of fight.
Clausen holds the best road-winning percentage of any Tennessee quarterback, at 93 percent, with a 14-1 record.
He is one of only two Vol quarterbacks to win more than 30 games, and was a four-year starter for the Big Orange.
Where Clausen fell short was postseason performance.
In 2001, his team was an SEC Championship away from a BCS National Championship appearance, and he went just 1-3 in bowl games.
Maybe they should've played those games on the road.
Heath Shuler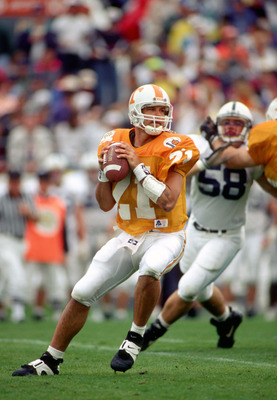 You don't become one of the biggest busts in NFL history without having a great college career!
That's exactly what Heath Shuler had as a Tennessee Volunteer from 1992 to 1993.
In two years, Shuler racked up over 4,000 yards passing, 19 wins and a bowl win.
He threw for over 2,000 in 1993 on just 331 plays—the second fewest number of plays needed to achieve the milestone at Tennessee.
Tee Martin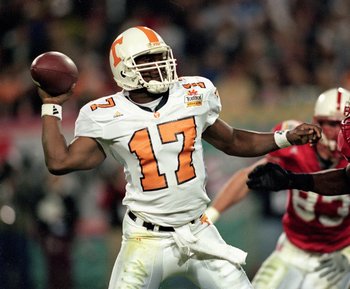 Tom Hauck/Getty Images
Tee Martin belongs on any and all lists about greatest quarterbacks in Tennessee history.
He was the leader of 1998 SEC Championship and BCS National Championship team that earned a perfect 13-0 record.
Martin threw for over 2,000 in both of his seasons as a starter.
Yes, "both." We forget that Martin played the season after the championship.
The Vols lost to Florida by two and Arkansas by four in the regular season, winning the rest of their games.
It was no championship season, but Martin made a significant impact in two years.
Andy Kelly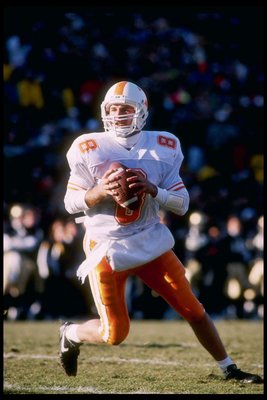 John Kuntz/Getty Images
When Andy Kelly left Tennessee, he held virtually every conceivable passing statistic.
He had the most wins, most career yards, most yards passing in a season and so on and so forth.
Kelly's reign as the starting quarterback from 1989 to 1991 yielded 24 wins, two bowl wins, a win over No. 5 Notre Dame and a nearly perfect 11-1 sophomore season.
If not for the next guy, Kelly would be the greatest quarterback in Volunteer history.
Peyton Manning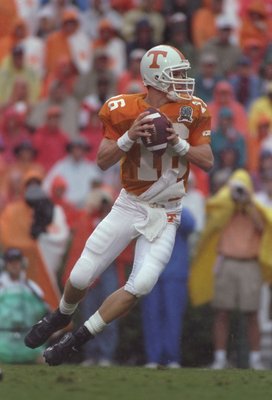 Jonathan Daniel/Getty Images
Who else?
Peyton Manning is the best quarterback in the history of the Tennessee Volunteers.
He holds the record for most wins, highest winning percentage and most career touchdowns.
He threw for over 3,000 yards in a season twice (it has only be done three times) and four of the top five most prolific games for a quarterback.
Manning won the 1997 SEC Championship and has been immortalized in nearly every conceivable way on Rocky Top.
The day he is unseated from this top spot is the day the Vols have won a second BCS title, led by a Heisman Trophy winner.
Keep Reading

Tennessee Volunteers Football: Like this team?