Manchester United's David De Gea the Most Improved Player in Europe This Season
April 3, 2012

Alex Livesey/Getty Images
David De Gea is the most improved player in Europe this season. And when I say this season, I mean exactly that.
For most keepers, making the transformation from Massimo Taibi's natural heir into the undisputed No. 1 for the best team in England would be a career-crowning achievement.
For David De Gea, the journey took less than a season.
Let's back up.
As 2011 closed, De Gea was treading lightly in front of Manchester United's goal. The year ended with United losing embarrassingly at home to lowly Blackburn Rovers—and with De Gea making a critical mistake ahead of the decisive goal.
It was hardly his first error, and for a short time, De Gea was looking more like the second coming of Massimo Taibi than an £18.3 million goalkeeper.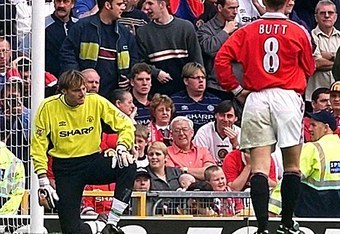 For some, Anders Lindegaard seemed a better option in the United goal, and the January announcement that De Gea might need eye surgery did little to quell the criticism.
And yet, when United took their revenge on Blackburn on Monday night, they owed a significant debt to De Gea's fine goalkeeping.
Twice in the closing seconds of the first half, De Gea made expert stops to deny Blackburn and keep the game scoreless.
First, the Spaniard flung himself at Marcus Olsson's volley, deflecting it out for a corner. Seconds later, he tipped over Grant Hanley's bullet header.
United won 2-0 and went five points clear at the top of the Premiership. De Gea, meanwhile, cemented his spot as the club's undisputed No. 1.
So what changed? "He stood up to the situation," United manager Sir Alex Ferguson said. "He knew it was a challenge and it took him time to adjust to the different ways of the English game as opposed to the Spanish game. He's showing that now."
Standing up to the situation sounds good, but it's just coach-speak. What Ferguson really meant is that De Gea found his confidence.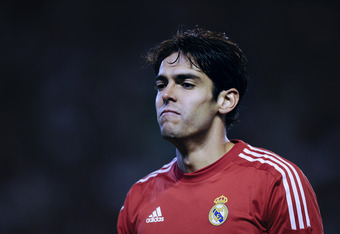 David Ramos/Getty Images
It's no different wherever you go in football. Over the course of Real Madrid's rampant season, Kaká has gone from outcast to difference-maker.
He's been the same player all along, but it wasn't until Kaká found his confidence that he started playing like Kaká again.
"For any player, in any position," wrote Greg Stobart for Goal.com, "confidence is the key."
For both De Gea and United, another key was the Chelsea match in February. Trailing 3-0 early in the second half, United fought back for a 3-3 draw that helped shape the title race into what it is now—United's to lose.
The draw wouldn't have happened without De Gea's big stop on Juan Mata's wicked injury-time free kick.
Without that draw, United might not be headed for yet another title. Since then, Ferguson's team has won seven straight while Manchester City have wilted.
Clearly, there has been more to United's run than their first-year keeper's turnaround. But no player improved quite as much as De Gea in such a short time this season.
Follow @MikeCummings37