Masters Live Streaming 2012: Internet Coverage Just What Golf Needs
April 4, 2012

Streeter Lecka/Getty Images
Golf has historically struggled to grab consistently high TV ratings, but this year has seen a bit of a jump. Rory McIlroy and Tiger Woods' clash at the upcoming Masters figures to boost ratings even more.
But additional measures are being taken to lift golf's popularity worldwide, in the form of live online streaming.
John Kent, sponsorship marketing technology manager for IBM, works with IBM to provide online video for the Masters.com website. Kent said the site racked up 3 million and 4 million views in the last two days of last year's tournament, despite TV coverage being available on regular TV broadcasts.
Kent said, via MobileSportsReport.com:
"The Masters is all about being more than a tournament, it's about being a service to the game of golf. The challenge is to preserve all the history and tradition, and balance it with technology."
Given the success last year, it's safe to say online streaming has drawn more viewers to the Masters, and to the sport in general. Traditionalists better get over technology emerging onto the links because, in the end, it's helping golf draw a larger audience and increasing the game's exposure.
One can only imagine what kind of viewership the Masters.com site will get this year with Woods back and McIlroy continuing his top-notch golf.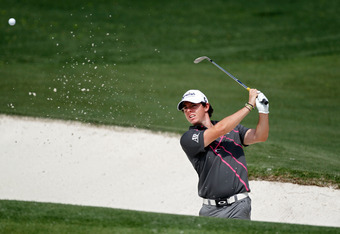 Streeter Lecka/Getty Images
Kent has attributed last year's jump in viewership in part to the plethora of handheld devices available now. The Saturday and Sunday online video totals for last year's tournament were reportedly 40 percent and 80 percent higher, respectively, than in 2010. That signifies yet another avenue for golf to explore, and potentially draw more young viewers, as well.
Augusta National Club has always been one of the most recognizable landmarks in sports. The difference now is, you can see it in HD.
The Masters.com Web site provides live streaming coverage beginning at 10:45 a.m. EST with Amen Corner coverage through 6 p.m. EST. Hole numbers 15 and 16 will be streamed from 11:45 a.m. to 7 p.m.
Follow me on Twitter. We can talk about technology and golf as one.