NHL Tuesday: Live Updates, Reaction and Analysis for All of Tonight's Hockey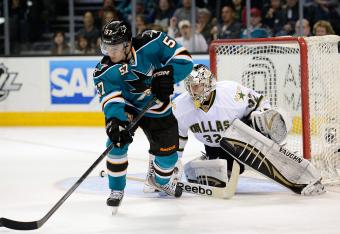 Thearon W. Henderson/Getty Images
A mere five days remain in the 2011-2012 NHL regular season, and Tuesday's slate of games will set the stage for almost all of the final week's drama.
With 10 games on the schedule, hockey fans across the country can't afford to miss out on a night of furious action, crucial showdowns and mammoth playoff implications.
From Phoenix to Buffalo to Florida to Philadelphia, playoff hopes will be on the line, seedings will be up in air and Cup contenders will battle for the upper hand in five-plus hours of on-ice action.
You can follow all of the chaos here, with live updates about all ongoing games as well as exclusive reactions and analysis to all of tonight's bedlam.
Carolina defeats Ottawa 2-1 despite Jason Spezza's late goal. San Jose leads in Dallas 3-2 at the second intermission and the Preds & Wild remain even at one with eight minutes to play in regulation. Watch for the Sharks to look to extend their lead in the third, because the Stars are going to be fighting furiously to tie it -- their postseason hopes are essentially riding on this on game.
Andrew Ladd scores!
The Jets win 5-4 in overtime and deny the Panthers from the Southeast Division crown. Great comeback by Winnipeg, who trailed 3-0 mid-way through this one. Ladd gets his second of the night on the winner.
Tomas Fleischmann was stopped on a breakaway in the closing seconds of regulation, so the Panthers and Jets are going to overtime tied at four each.
Lots of high-scoring games tonight. Four performances of five-plus goals have already been recorded, and every single one of them is worth a long highlight reel come tomorrow morning.
Pittsburgh now leads Boston 5-3 with nine minutes to play; Minnesota and Nashville are tied 1-1 at the second intermission; Winnipeg leads in Florida 4-3 with 5:37 left; Ottawa continues to trail Carolina 2-0 at home.
Derek Roy scores!
A down-low pass was broken up but skidded right into the slot where Roy's off-balance wrister found the far side to give Buffalo a thrilling 6-5 overtime victory.
The race for the No. 8 seed in the Eastern Conference just got a lot closer.
The Leafs have some good offensive zone time, but a counter-attack by Ennis eventually forces a delay of game penalty to be taken by Phaneuf. Buffalo has a two-minute powerplay coming up mid-way through overtime to complete the dramatic comeback. The hockey world is watching, Sabres.
An incredible glove save by Lundqvist on Simmonds with two seconds left. The Rangers are going to win this one, 5-3, after cruising for 40 minutes following their initial 4-0 edge.
Overtime coming up in the Toronto-Buffalo game. The First Niagara Center crowd is roaring as the Sabres continue to press for the game-winner. After trailing 3-0 at the first intermission and 5-3 with five minutes to play, Buffalo's comeback would be one for the ages if they win this game and eventually squeak into the playoffs.
20 seconds of a wrestling match in the goalie crease results in a goal for Buffalo. We're all tied at five apiece with under two minutes to play.
As for this goal, however, I've never seen an uglier one. The instant replay looked like it was slow motion...but it wasn't. All 10 players were lying within a five-foot radius when the puck was finally poked in.
Toronto committing a TON of turnovers down low and struggling to stop Buffalo's cycle game, but the clock is in their favor. 2:30 left in the third period and the Sabres are scrapping furiously to tie the game at five.
Bryan Little makes it 4-3 Winnipeg over Florida. What an utter disaster brewing for the Panthers here.
Sulzer's goal counts. 5-4 now, Toronto hanging on.
The final 4:57 of this one is sure to be intense.
Alexander Sulzer might have scored his second goal of the night for Buffalo.
Or maybe not.
A critical review coming up.
Andrew Ladd scored 53 seconds into the third period to tie the Winnipeg-Florida game at three. The Jets have rallied from a three goal deficit to tie.
If the Cats blow this one, they'll have lost their chance to clinch a playoff spot for the first time in 11 years. Would an inkling of doubt begin to seep into the fanbase?
We get our first final score of the night as the Devils officially defeat the Islanders by a score of 3-1.
Andreas Lilja, a defenseman who's gotten his fair share of hate in Philly this year, has pulled the Flyers within two at 5-3 in the third period. Perhaps we counted this game over to soon.
The Sabres are getting a powerplay chance to again stick right on the Leafs' tails. This might be the deciding point of the season for Buffalo, as they really need to convert on this man-advantage opportunity to stay alive in the game AND the playoff race.
Zach Parise gets a tap-in to the empty net to put the Devils up 3-1 in the closing minute on the Islanders. This one is over; New Jersey will continue their hot streak heading into the playoffs.
Jake Gardiner's sweet wrister past the glove of Miller has put Toronto back up by two goals. The Islanders have pulled their goalie, down 2-1, with one minute to play.
Two and a half minutes left in the Isles-Devils game and it has really slowed down. Islanders defenseman have gotten some decent point chances lately, however. A tense finish coming up.
The desperate and hungry Dallas Stars out-shot the visiting Sharks 12-6 in the opening 20 minutes and got a late strike from Brendan Morrow to even the game at one goal apiece heading into the second period. Arguably the game of the night, we'll be continously keeping an eye on this one as it moves along.
Forty-eight seconds after Neal's goal, Crosby gets his third point of the night and his second goal with an unassisted strike. The Penguins now lead 4-2 over the Bruins with a minute to play in the middle frame. Given that the Flyers are down big to the Rangers now, Pittsburgh looks poised to extend their lead on home-ice advantage and the fourth seed to three points tonight.
Sidney Crosby gets his second point of the night as James Neal puts the Penguins up 3-2 in Boston. That is Neal's 40th goal in a career season for him. His chemistry with Crosby, whom he's played very little with this year, appears to be developing nicely.
Tuomo Ruutu tips Jussi Jokinen's saucer pass into the top corner to put Carolina up 2-0 in Canada's Capital late in the second.
Goals by Evander Kane and Zach Bogosian in the final seven minutes of the second period have pulled Winnipeg within one goal of Florida.
In other news, Clarke MacArthur struck early in the 3rd for Toronto to put them back up two, but Derek Roy answered less than a minute later to cut the score to 4-3. The Sabres, who apparently know this is a certain must-win, are certainly sticking around. The final 17 minutes (and possibly overtime, as well) will be extremely exciting and important.
The NHL War Room in Toronto has been busy with the 'Canes-'Sens game, disallowing a goal for both sides -- Skinner for Carolina, Neil for Ottawa.
This article is
What is the duplicate article?
Why is this article offensive?
Where is this article plagiarized from?
Why is this article poorly edited?