New York Giants: Analyzing Nike's 2012 Uniforms
April 3, 2012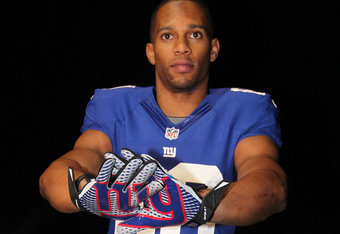 In an era epitomized by a desire for constant, drastic change and a never-ending pursuit of the vague notion of innovation, it appears that the most profitable sport in the country fell a bit behind the times.
On Tuesday, Nike unveiled their highly-anticipated NFL uniform line for the 2012 season. With the exception of a navy and neon clad Seattle Seahawks jersey, no major changes were seen.
Imagine that. America's apparel powerhouse has taken the reigns of professional football and most fans won't even know the difference.
True, the league has instilled a five-year waiting period for uniform changes, making teams like the Buffalo Bills and Detroit Lions unable to see any monumental differences.
However, in true 21st century fashion, the relative lack of substance was served through unbridled hype. Press members swarmed in to a glamorous Brooklyn studio, where stars from all 32 teams debuted the new unis.
Still, New York Giants faithful don't have much to complain about.
The G-Men seem to dress for the gridiron much like they conduct themselves as an organization: quietly, subtly and with the utmost respect for tradition. New York has been donning solid blue for decades now and there was seemingly no reason to change that this spring.
Riding the Super Bowl wave and flaunting emerging stars in Victor Cruz and Jason Pierre-Paul, the Giants will have no trouble selling jerseys in 2012, regardless of how sleek they look.
The most exciting change seen actually had nothing to do with the jerseys themselves, but with the team's accompanying gloves. Nike's league-wide initiative features gloves that, when put together, boasts a team's logo.
A slightly-tweaked V-neck, a slicker helmet and a small brand logo rounded out the remaining changes.
While this underwhelming uniform unveil may be disappointing to fans across the country, Giants fans should take solace in a franchise tradition seeing the honor it deserves.
With a hushed free agency period and a controversy-free offseason thus far, keeping their traditional, revered unis only furthers the idea of Big Blue doing all they can to focus on what matters most: football.