WWE: Frequently Asked Questions Part II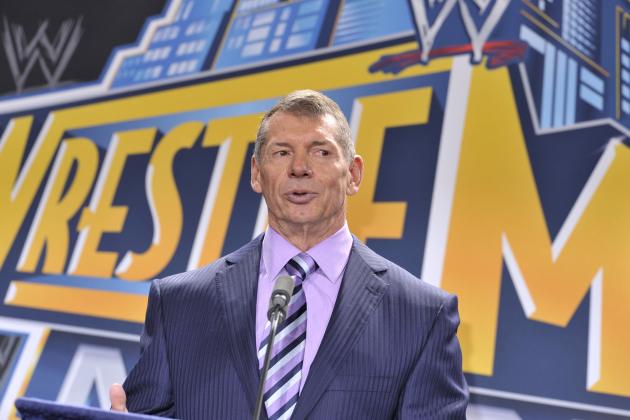 Michael N. Todaro/Getty Images

I wrote an article a couple of months titled "WWE: Frequently Asked Questions."
I've had the intention of doing another since then, and that time is now.
As with the first article, I've browsed through the Internet and have come up with another 20 questions I think are frequently asked.
If anybody's interested, this is the original.
Begin Slideshow

»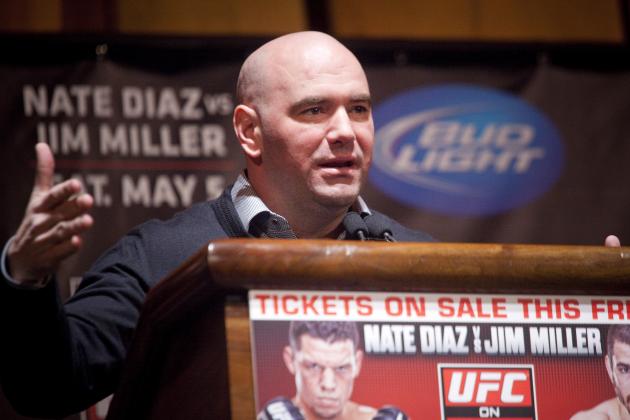 Michael Nagle/Getty Images

Obviously, we know Brock Lesnar can transition well between the two.
Any MMA fighter with a wrestling background would be given a fair shot in the WWE if they wanted one.
If I were to pick two, I'd say Chael Sonnen and Josh Koscheck, because they have very strong speaking skills. Sonnen is also a known fan of the WWE.
Quinton Jackson wanted to be a wrestler before he found his way into the world of MMA . Obviously, with his larger-than-life persona, he would do well.
Michael Bisping is another fighter would be able to transition well from the UFC to the WWE.
Basically, any MMA fighter with speaking skills.
Pretty much the same for the WWE, where anybody who was an amateur wrestler in high school or college like Dolph Ziggler, Jack Swagger, Cody Rhodes and Randy Orton could do well in mixed martial arts.
CM Punk and Daniel Bryan both have training in Muay Thai, which is an MMA discipline.
Santino Marella has a background in Judo, another common martial art.
Wade Barrett has a strong boxing base, which is another MMA discipline.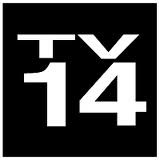 I think they will eventually, but they're not going to do it just because so many people hate the WWE at TV-PG.
Even if they go back to TV-14 again, they aren't going to pull off the same things they pulled during the Attitude Era. That was a successful time for the WWE, but the past should be kept in the past.
At the end of the day, the booking is the main thing holding the WWE back and it's been that way for five years now. A TV-14 rating isn't going to change that.
What some people don't realize is even though Raw and pay-per-views were TV-14 during the Attitude Era, SmackDown is and has always been TV-PG since it debuted in 1999.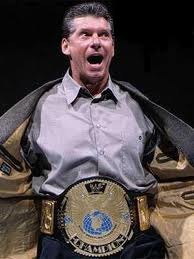 I can see them returning to glory.
The WWE's success has run in cycles. It was big in the 1980s and low in the early 1990s. It was big again in the late 1990s and has been low ever since.
Do they need to return to TV-14 to be that successful again?
Maybe, but then again they may not. The WWE was big in the 1980s when it was still TV-PG.
They just need one breakout superstar to set them on their way. Who will that be? Who knows?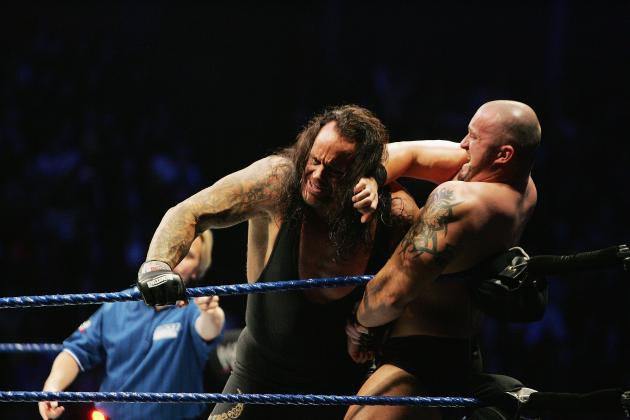 Gaye Gerard/Getty Images

There has been a few, especially in the early 1990s, but I'll go with the WrestleMania IX match with Giant Gonzalez.
For those of you who don't know, Giant Gonzalez was a seven-and-a-half-foot former basketball player from Argentina. He wrestled for WCW in the early 1990s and debuted in the WWE in 1993 to begin a storyline with The Undertaker.
He had no business in a wrestling ring and that was shown very early. Think of The Undertaker wrestling an even bigger, more immobile Great Khali.
The match was a mess and too long at seven minutes.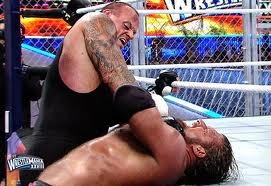 I don't see why not.
From what I've heard, he looked pretty good at WrestleMania. (I haven't seen WrestleMania XXVIII yet.)
The question is: Who?
Long gone are the days when the WWE could put The Undertaker in a WrestleMania match with Mark Henry. Every match The Undertaker has until he retires must be huge.
There were rumors of Brock Lesnar, but all the rumors seem to be pointing to a Lesnar-Rock match for the WWE Championship.
They can't possibly have a fourth Undertaker-Triple H match—well, they could, but that would be overkill.
CM Punk is an option, considering he is built up enough by then, but rumor has it he'll be facing Steve Austin at WrestleMania.
That leaves three people; John Cena, Chris Jericho and Randal Keith Orton.
I'd go with John Cena, as I think Orton will be in the world title hunt come WrestleMania and Jericho—if he's there—should be used to put a younger star over.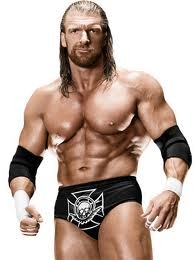 I would bet more on The Undertaker having one more WrestleMania match than Triple H. At this point in his career, there isn't much left for him to do.
He's feuded with every top guy on the roster and has won it all, so there really isn't any need for him to return as even a part-time wrestler.
Brock Lesnar left before he and Triple H got the chance to feud, so maybe that could be something for him to do later this year.
Maybe he could feud with a returning Batista for next year's WrestleMania, but a WrestleMania only needs three big matches, so they more than likely won't need that.
He could very well return as an authority figure, but I think his time as a full-time or part-time wrestler is more or less done, apart from a couple of matches.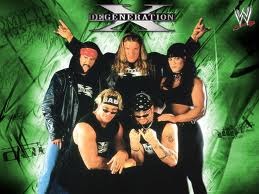 It really comes down to three, doesn't it?
The Four Horsemen, the nWo or D-Generation X.
For me, the Four Horsemen and the nWo had way too many members during their tenures, which lasted way too long anyway. That, and the fact that I never really watched WCW, means D-Generation X is the clear winner for me.
I know Shawn Michaels and Rick Rude were members of D-Generation X, but I will always remember DX as Triple H, X-Pac, Road Dogg, Billy Gunn and Chyna.
After Stone Cold Steve Austin and The Rock, they were the biggest stars of the Attitude Era.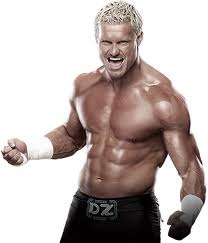 With people like The Rock, Chris Jericho and Brock Lesnar coming back to the company, it's going to be hard to create any new stars on the Raw brand.
The WWE Championship from now until WrestleMania looks pretty clear and I can't see anybody besides CM Punk, Chris Jericho, John Cena, Brock Lesnar and The Rock getting a run with the belt.
Dolph Ziggler looked to be the closest at the beginning of the year, but has had a rough couple of months where his main priority has been to put others over. He has kept himself relevant, however, because of his good mic skills and great in-ring skills.
A move to SmackDown would be the best move for Ziggler, where he can battle other rising stars like Sheamus, Daniel Bryan and Cody Rhodes.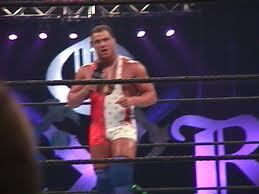 To measure this, you have to take everything into account—wrestling, pay-per-views, storylines, ratings, buyrates, wrestlers and so on.
The year that sticks out in my mind is 2000.
2000 was obviously in the Attitude Era and was definitely the best year during that period in terms of the best wrestling.
Not that there wasn't any good matches in 1998 or 1999, but it seemed that the focus was more on storylines. Good matches would only be seen on pay-per-view, while we would see good matches on both TV and pay-per-view in 2000.
They seemed to find a good blend between storylines and matches in 2000, something that was lacking during the Attitude Era despite the success.
Ratings obviously took a dip after the summer of 1999, but Raw was still regularly getting over a 6.0 rating every week and, on a couple of occasions, got over a 7.0 rating. SmackDown got over a 4.0 rating every week and occasionally got over a 5.0 rating. Heat even drew 3.0 ratings, something SmackDown would be lucky to get these days.
Pay-per-view buyrates were excellent in 2000. It was a year of great events.
Obviously 2000 still had the wrestlers that made the WWE millions in 1998 and 1999, along with the fresh Kurt Angle, Chris Jericho, Chris Benoit and Eddie Guerrero.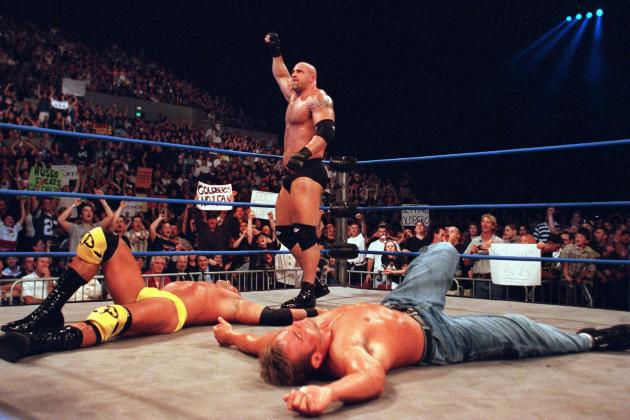 Scott Barbour/Getty Images

Goldberg.
I never really watched WCW, so I thought Goldberg was alright. However, he had the look and the hype that made you think he was the real deal.
Unfortunately, that's all he had.
The WWE invested so much in Goldberg, a guy who was going to come in and work very few dates at a time when The Rock, Steve Austin, Hulk Hogan and Roddy Piper were also working similar deals and were involved in major storylines.
It wasn't a smart business move, especially since ratings didn't move when he returned. He certainly turned me off Raw for most of 2003.
From the minute, he stepped in the door he was causing political problems backstage on a show where you also had the political powers of The Rock, Steve Austin, Triple H, Shawn Michaels and Kevin Nash.
He left the WWE with a cloud of negativity over his head and hasn't been seen or heard from since.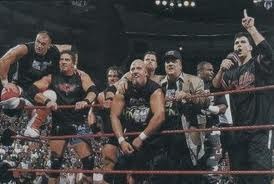 The Nexus storyline from two years ago is close, but it has to be the Invasion angle.
That angle had dollar signs written all over it and the WWE screwed it up from the get-go by making WCW and ECW so inferior to the WWE.
The only two WCW and ECW stars to come out of it looking good were Booker T and Rob Van Dam, and they still lost.
The WWE was still a very hot commodity in 2001 and Vince should have paid whatever it took to get at least four out of the following; Hulk Hogan, Kevin Nash, Scott Hall, Ric Flair, Scott Steiner, Jeff Jarrett, Goldberg, Rey Mysterio, Lex Luger, Sting, Eric Bischoff and Randy Savage.
I think most, if not all, of them were still under a very profitable AOL contract until at least early 2002, but they could have definitely got Mysterio, Flair, Bischoff and Steiner. Hogan, Jarrett and Savage weren't even under an AOL contract.
Bottom line, it would have helped to have some of WCW's stars from the Monday Night Wars.
To make things worse, Vince McMahon's children, Shane and Stephanie, were placed as the authority figures for WCW and ECW, respectively. Stone Cold Steve Austin and Kurt Angle become members of the Alliance.
Epic fail written all over it.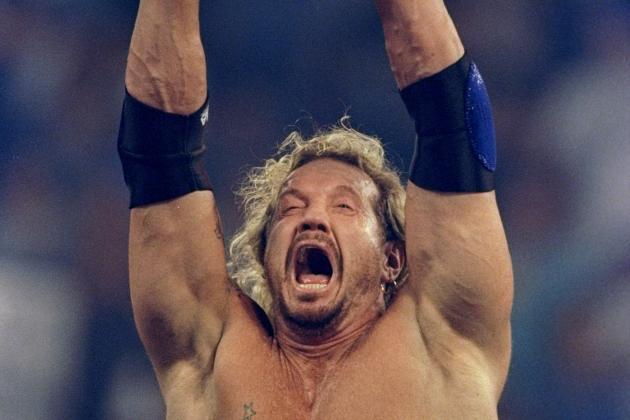 Elsa/Getty Images

Diamond Dallas Page is the first name that comes to mind. He was treated as a big deal when he arrived under a terrible gimmick even he didn't like.
Page was a good performer and although he was up there in age, he was still a rookie wrestling-wise and shouldn't have been jobbed out after the first match at InVasion.
Mike Awesome had history as a controversial guy to have on the roster, but he is also one of the best big men in wrestling history and a former ECW world champion. He should have been treated as a big deal and should have been in the match at InVasion.
If he had a successful run as a major part of the storyline and a successful career in the WWE after that, who knows?
Maybe he'd be alive today, although we can't blame the WWE for that.
Tazz, Raven, Justin Credible and Tommy Dreamer were also former ECW champions.
Although it would be hard to think of them on the same level as The Rock and The Undertaker, they could have at least built Raven and certainly Tazz up a bit to compete with them.
It would have been better than Shane McMahon.
It would have been great if Rob Van Dam and Booker T were treated like the stars they were, but at least they went on to have Hall of Fame careers in the WWE.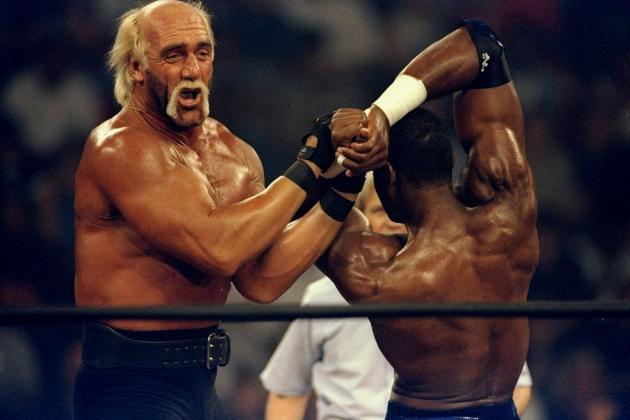 Elsa/Getty Images

If WCW and ECW were still around and were at the same level they were in 1997 to 1998, then yes. If WCW and ECW were at the level they were at in 2000 without the financial problems, they would have survived.
WCW and ECW made the WWE pull out all the stops in the late 1990s and would no doubt make them do it again in today's industry.
The WWE in the late 1990s was a mixture of WCW and ECW.
If another wrestling company really made a go at pushing the WWE, then the industry would be better as a whole.
People say TNA is the equivalent of WCW when TNA isn't even on ECW's level. Don't even get me started on ROH.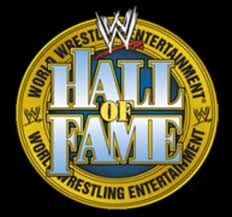 I think so. The only thing holding it back is an actual building.
People like to say that anybody can get in the Hall of Fame because celebrities like Drew Carey and Bob Uecker are in there.
They also use Koko B. Ware as an example.
You can't deny that about 95 percent of the people in the WWE Hall of Fame deserve to be in there. Look at the ones who just went in—all of them, in my opinion, including Mike Tyson, deserve to be in there.
No celebrity besides Mr. T has done more for the WWE than Mike Tyson.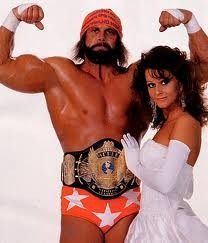 I think the class should include one headliner, one other big name, one non-WWE wrestler, one tag team, one woman and one celebrity.
I think the headliner should be Macho Man Randy Savage.
It's a shame he's not in it already and it's really sad that he won't be alive to accept it. It would nice for Miss Elizabeth to be inducted with him.
I think it would make sense for Hulk Hogan to induct him, but if he's still with TNA, then Vince McMahon should do it.
It would be nice to see Davey Boy Smith inducted into the Hall of Fame, but you don't want to have too many posthumous inductions. Jake Roberts would be a nice touch, as he was a huge star in the early 1990s and was one of the best who could transition from a face to a heel.
I wouldn't mind seeing Stone Cold Steve Austin induct Roberts. Roberts was Austin's first step to becoming the superstar he became.
Masahiro Chono was one of a number of Japanese wrestlers who wrestled for Jim Crockett Promotions and WCW. He also won the NWA World Heavyweight Championship and had a lengthly reign.
They could get Antonio Inoki to induct him, as he founded NJPW where Chono became a star. If that doesn't happen they could always use Dusty Rhodes, who's inducted about 10 people.
It would be great to see the Hart Foundation inducted as a team. After Ric Flair got inducted as a member of the Four Horsemen, I think they will consider more double inductions.
Shawn Michaels would be a great pick to induct them or one of the Hart children who got into the business.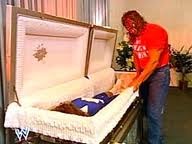 It is such a shame that Kane has been involved in so many terrible storylines, but this one was the worst.
When the World Heavyweight Championship was introduced in September 2002, there weren't many challengers for the title.
Rob Van Dam was the first to challenge Triple H in a losing effort.
Triple H then began a feud with Kane in October.
What followed was probably the worst storyline I ever witnessed and I'm sure it ranks up there in everyone else's list.
Katie Vick.
Triple H said that years earlier Kane had a crush on a woman called Katie Vick. He then claimed that after Vick was killed in a car crash, Kane who was the driver had sex with her. There was even a video of Triple H in a Kane mask having mock sex with a mannequin in a casket.
That was the storyline.
Who wants to promote necrophilia? Vince McMahon does, apparently.
Obviously the segment was badly received by fans.
The very next week, they had Kane's tag-team partner, The Hurricane, show a video of someone in a Triple H mask getting an enema. If you don't know what that means, look it up.
That segment was also badly received, which led to most of the build-up to their match at No Mercy being scrapped.
This is the promo from No Mercy where Triple H only mentions that Kane killed Katie Vick.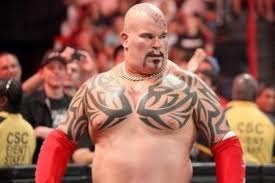 I'm not too sure about it yet.
I always liked A-Train in the WWE. He was a very effective big man and always seemed to hover around the upper mid-card.
He's been in Japan for the last eight years and obviously, as seen on Monday, he's improved in the ring.
I thought it was stupid to repackage him as Lord Tensai.
The A-Train character was a good part of SmackDown for two years—he was even one of The Undertaker's victims at WrestleMania.
I knew he'd get "A-Train" chants and "shave your back" chants.
It wasn't like it was Ron Killings re-debuting eight years later as R-Truth after being the low-card wrestler K-Kwik for less than a year.
I can't find any footage on YouTube, but as far as I can remember, Matt Bloom had very little promo skills.
It's OK in Japan where wrestling is the main focus but when you're rumored to be a top guy in the WWE, you need to be able to talk.
Besides the chants, the crowd was mostly dead for his match, which isn't a good sign.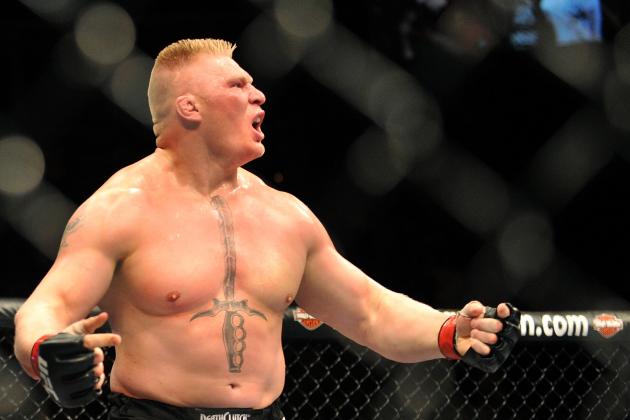 Jon Kopaloff/Getty Images

I loved it.
I didn't think it was going to happen this week, as Lord Tensai had already debuted.
I know people were saying they were chanting for Lesnar, so you knew it was coming, but how many times has a crowd chanted for Batista in the last two years?
It would have to be my own personal mark-out moment, as I was falling asleep, heard the music and literally fell off the couch.
The pop from the crowd was huge, which was a great sign.
The "holy s--t" chant from the crowd was a nice touch. It was hilarious when they cut to the crowd when he was doing his signature pose walking down the stage, just to see the men in the crowd doing.
Lesnar was always one of my favorites when he was in the WWE. He was a great wrestler and was good on the mic and due to all the demands of UFC press conferences and post-fight interviews over the years, he has surely improved on the mic.
He should be on Raw for most of the next year and there are a lot of big matches for him to take.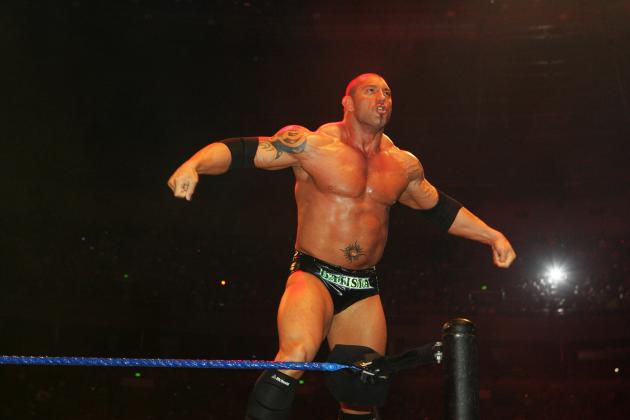 Gaye Gerard/Getty Images

It really hurt the WWE when, in the space of two years, they lost Jeff Hardy, Batista, Chris Jericho and Edge.
Obviously, they all left for different reasons with Edge retiring, Hardy's drug problems, Jericho wanting to pursue other things and Batista becoming disillusioned with the business.
That was a lot of star power to lose.
Batista left the WWE because of the direction the company was going in and lack of quality opponents on the roster. He also wanted to try his hand at an MMA career and began negotiating with Strikeforce, but when Zuffa purchased Strikeforce the deal fell through, evidently spelling the end of his MMA career before it began.
At 43 and with very little to do other than make mediocre movies, Batista should return to the WWE.
The WWE is after changing a lot since he left.
We have seen the rise of CM Punk as a top guy as well as the returns of Chris Jericho, Brock Lesnar and The Rock to add to the star power of John Cena and Randy Orton.
The WWE has also stepped away a bit from the PG direction Batista hated so much. He'll want one more big pay day before he gets too old.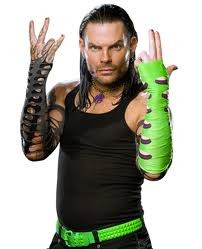 If they still have some relevance in the business and it makes sense.
The Rock and Brock Lesnar are prime examples of this.
Sure, they were brought back to provide a short-term boost in ratings, but a lot of long-term planning went into bringing both of them back.
They are also both young enough and fit enough to still fit in with the company.
A bad example would be Kevin Nash, who was never a top draw in wrestling or that great in the ring. His return was only bad for the company in the long run.
They never want to be in a situation similar to the summer of 2003 when Sable and Roddy Piper were both involved in top storylines despite being well past their prime.