NBA Draft 2012: 5 Teams That Might Tank for the Best Chance at No. 1 Pick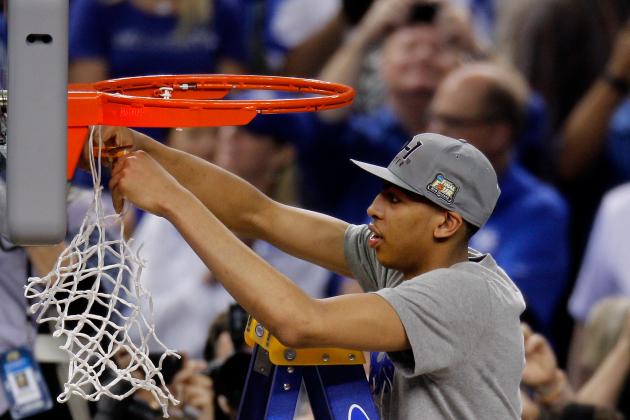 Chris Graythen/Getty Images
Which NBA team will have the greatest odds to land expected No. 1 overall pick Anthony Davis?
One popular notion during the NFL season was that teams could possibly "Suck for Luck" to get No. 1 prospect and Stanford QB Andrew Luck.
Could we see a similar dynamic in the NBA as the regular season draws toward a conclusion?
There is a consensus "can't miss" No. 1 overall pick. In fact, Anthony Davis seems like more of a certainty to go No. 1 than Andrew Luck does at this point.
All Davis has to do is announce that he's going to leave Kentucky to pursue a NBA career and his status as No. 1 pick will be nearly guaranteed.
Coming off a freshman season that saw Davis win Defensive Player of the Year, Freshman of the Year and the Naismith Player of the Year awards as well as a national title, Davis has created an NCAA legend in just one season.
His performance in the national title game on Monday night did nothing to dispel the notion that Davis is a player whose abilities extend far beyond just putting the ball in the basket.
How often does any player go 1-of-10 from the field and still manage to win a Most Outstanding Player award? It just doesn't happen—unless of course you're abysmal shooting is buttressed by 16 rebounds, five assists, three steals and six blocked shots.
Davis' performance will go down in history for both its dominance and the manner in which he dominated.
On May 30, the NBA's lottery teams will all gather at an as-of-now-undisclosed New York City location to see which lucky team wins the No. 1 overall pick. The lottery is weighted so that the worse a team performs during the regular season, the better chance they have of acquiring the first pick.
With a dominant big man in the draft and a decided lack of dominant big men in the current NBA landscape, can we expect to see teams "tanking" down the stretch?
Will already weak teams suddenly appear weaker in an effort to increase their likelihood of scoring that coveted No. 1 pick?
Which teams are most likely to fade down the stretch? Not only because of their already poorly constructed teams, but also because of their focus on landing Davis—even if it costs them a few wins in the current season.
Begin Slideshow

»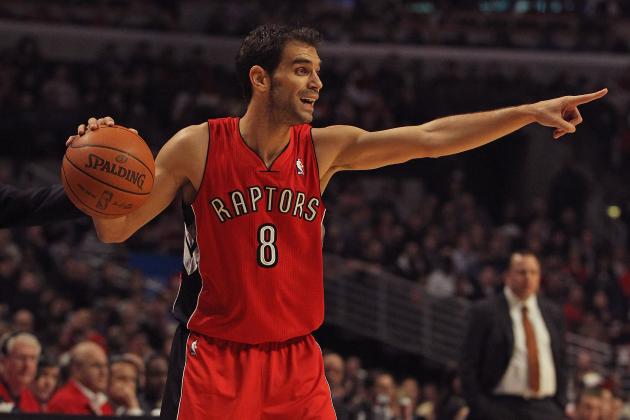 Jonathan Daniel/Getty Images
Jose Calderon is having a great season but his Raptors are awful once again.
Current Record: 18-35 (.340 Win-Loss Percentage)
Toronto has the fourth-worst record in the league. It's still a full 10 games back of Charlotte for the worst record, though.
Adding Davis would be a dream for Toronto since it would allow it to shop former No. 1 overall pick Andrea Bargnani, who is still a valuable asset.
Even if Toronto has little hope of that No. 1 pick, even moving up one or two spots could net the Raptors a player like Michael Kidd-Gilchrist. He could end up nearly as good a NBA player as his Kentucky teammate Davis.
Toronto will end up having a very bad season, but it stands little chance of being the league's worst team.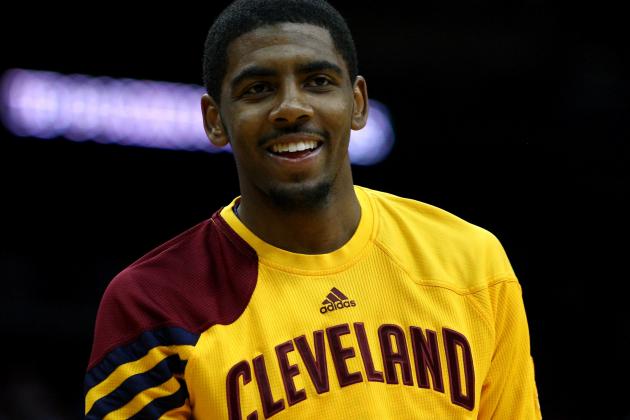 Chris Chambers/Getty Images
Cleveland selected Kyrie Irving with the No. 1 overall pick last season.
Current Record: 17-33 (.340 Win-Loss Percentage)
As bad as their record is, the 2011-2012 season has given Cavaliers fans reasons for optimism. The team and city have moved on from the devastation of losing LeBron James.
It's now the Kyrie Irving era. Irving has had a great rookie season in spite of his team's poor record.
Like Toronto, Cleveland stands little chance of losing enough games to have a legitimate shot at the worst record in the league. It's fewer than six games from the third-worst record in the league.
If you believe former Cavaliers coach John Lucas, then Cleveland does have a history of tanking in an effort to get a better draft pick. Per AOL's Chris Tomasson:
"They trade all our guys away and we go real young, and the goal was to get LeBron and also to sell the team,'' Lucas said in an interview with FanHouse. "I didn't have a chance. ... You can't fault the Cavaliers for wanting to get LeBron. It was hard to get free agents to come there.''

The team is not in a position to increase their shot at selecting Davis significantly, but every spot has an incrementally better chance at winning the lottery. The fifth spot has an 8.8 percent chance, but the third-worst record has a 15.6 percent chance. That's nearly double that of the fifth spot.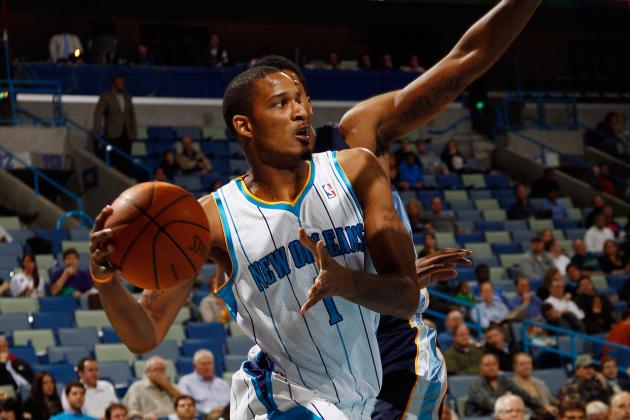 Chris Graythen/Getty Images
Trevor Ariza is one of several Hornets who is battling nagging injuries.
Current Record: 13-40 (.285 Win-Loss Percentage)
This is where it starts to get really interesting. The Hornets are not just bad; their team has been devastated by injuries and they're still owned by the league, who would love to see the team sold as soon as possible.
Would owning the No. 1 overall pick in the draft be a possible selling point for a prospective owner? Yes, it would.
Are the Hornets within striking distance of the worst record? Yes, they're four-and-a-half games better than league-worst Charlotte. They're also only one game better than the Washington Wizards.
The difference in odds between the second- and third-worst records is 4.3 percent. Not a huge difference—unless, of course, you end up winning the pick.
New Orleans is also missing numerous players to injury. Emeka Okafor and Eric Gordon are both out, and Trevor Ariza and Carl Landry have been battling nagging injuries as well.
Tanking implies they're not even giving it their all to win, but the Hornets might just be the worst team in the league as the season winds down. Even if they don't "tank," they could end up with the worst record.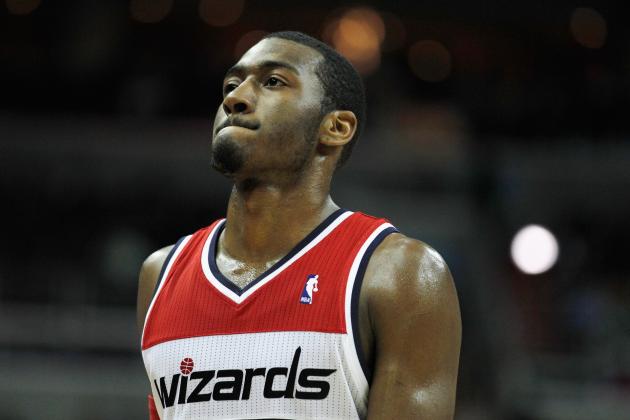 Rob Carr/Getty Images

Current Record: 12-41 (.229 Win-Loss Percentage)
This team just can't seem to get better. Even after dealing for Nene at the trade deadline and jettisoning two immature players in Nick Young and JaVale McGee, this team still stinks.
They're 2-9 since the trade and with Nene battling injuries, the team's prospects seem bleak. Then again, perhaps that's just how they planned it.
Maybe the Wizards think that they're one player away. They probably felt the same way back in 2010 when they selected John Wall with the No. 1 overall pick.
If you're the Wizards, maybe it's best to avoid the draft altogether.
They've selected stalwarts such as Kwame Brown, Jarred Jeffries, Juan Dixon, Devin Harris, Oleksiy Pecherov, Nick Young, JaVale McGee and Jan Vesely with their first-round picks since 2001.
Maybe the Wizards can tank their way to the No. 1 overall pick. Then again, maybe they're bad enough to get there the old-fashioned way—earning it.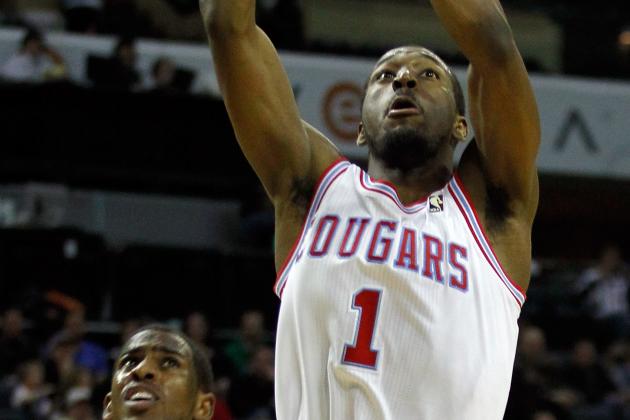 Streeter Lecka/Getty Images
Former UConn Star Kemba Walker has shown promise this season.
Current Record: 7-43 (.140 Win-Loss Percentage)
Michael Jordan might just be as bad at owning teams as he was good at playing for them. First, he threw the Wizards into disarray and now he's got the Bobcats headed into a downward spiral.
Anthony Davis just might be the antidote to that losing legacy, though.
Charlotte has the one thing that every team wants: It controls its own destiny. If the Bobcats keep losing, no one can catch them. Keep in mind that there's no guarantee that they get the No. 1 pick if or when they finish with the league's worst record.
If you're Charlotte there's not much of a reason to try to create a late-season rally. The Bobcats could have arguably the best interior defense of any team in the league if they were to add Davis.
Bismack Biyombo, who was the No. 7 pick in last year's draft, is only 19 years old and averaging 5.5 rebounds and 1.8 blocks in only 20 minutes per game.
Adding Davis to Biyombo would give Charlotte not one but two dominant low-post defensive presences. The team wouldn't be instantly great, but the defense alone would make it far better than it's been in recent history.
Charlotte has won only one of its last 10 games. The Bobcats are not tanking, though; they're legitimately awful.