WrestleMania 28 Results: Biggest Losers from WWE's Marquee Event
April 3, 2012

Michael N. Todaro/Getty Images
Now that everybody has had time to fully digest all of the WrestleMania outcomes, it's time to look back at the event to see which superstars suffered the most damage. There will certainly need to be some character rebuilding following some of the results.
Here are the three biggest losers from Sunday night and what the future may hold for each of these prominent WWE stars.
John Cena
It's been a long time since Cena looked as weak as he did against The Rock. The people's champion didn't show any signs of ring rust and was able to end the epic rivalry with a victory, leaving the Cenation leader to look like a beaten man on the ramp.
Cena followed it up with a lame promo on Raw about congratulating Rocky before Brock Lesnar came out to lay him out again. Either a tremendous character shift is on the horizon or Cena has become the most glorified jobber in WWE history.
Even though Cena has drawn heat from a lot of fans for his stale character, watching him become useless really hasn't helped the situation, either. Hopefully, all of this leads to something bigger or the one-year storyline was a waste.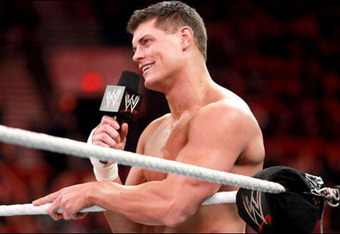 Cody Rhodes
Rhodes held the WWE Intercontinental Championship for more than 230 days leading into WrestleMania, so it didn't seem to make much sense for him to drop it against an established superstar like Big Show. Yet that's exactly what happened.
Instead of receiving the immediate boost that comes with a WrestleMania victory, Rhodes now finds himself without a general direction since the main event scene remains packed. His entire extended reign as a mid-card champion appears to have been wasted.
Given a chance at an instant bounce-back performance against Kofi Kingston on Raw, a Big Show distraction led to another loss. Things are suddenly looking bleak for one of the company's most talented young stars.
Beth Phoenix
If you needed any more proof that the WWE couldn't care less about the Divas division, Sunday was another perfect example. They allowed the title holder to get pinned by somebody who's not even an active wrestler.
There were hopes prior to the event that Kharma would return to feud with Phoenix, but that never materialized, which led to the celebrity match with Maria Menounos. Since Eve remains involved in a storyline with Zack Ryder, Phoenix took the fall.
Why they would let a Dancing with the Stars contestant look stronger than the Divas champion is beyond me, but nobody should be surprised. Unless Kharma and Phoenix eventually have their day in the spotlight, the division will remain a waste of time.