Nerlens Noel: Prep Star Must Avoid Kentucky and Anthony Davis Comparisons
April 3, 2012

Anthony Davis is a tough act to follow, and Nerlens Noel needs to completely steer clear of it.
The No. 1 ranked prep from the 2012 class by maxpreps.com has narrowed his choices down to Kentucky, Syracuse and Georgetown.
Don't pick Kentucky.
Assuming Davis is a one-and-doner (it would be the upset of the year if he isn't), Noel would have the opportunity to step on the Lexington campus and start right off the bat.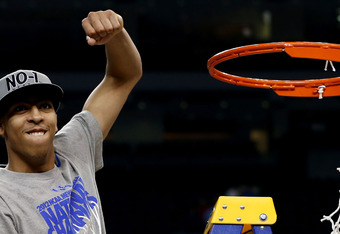 Jeff Gross/Getty Images
The comparisons between the two would begin from day one. Both are 6'10" with a rather skinny frame. Both are able to have a major impact on the defensive end of the floor because of their shot-blocking ability. The only difference is the lack of a unibrow.
Okay, not really. Noel is considered more of a true center that is more comfortable with the ball in his hands in the paint, while Davis' late growth spurt gave him stronger skills out on the perimeter.
Believe it or not, Noel is considered to be a stronger defender entering the college scene than Davis was a year ago. Considering Davis averaged a nation-best 4.5 blocks this past season, the expectations for Noel are ridiculously sky-high.
It's not worth it for Noel. An 18-year-old doesn't need the pressure of following up one of the most dominant players in the last decade. A National Player of the Year award and national championship would suffice. Anything less and he isn't as good as Davis.
With a plethora of scandals engulfing Syracuse, Noel doesn't want his college experience clouded by accusations and potential sanctions.
Georgetown is the best fit. They are a defensive-oriented team that would thrive with his shot-blocking abilities. With their disappointing finishes in the tournament of late, the pressure wouldn't be nearly as severe, and he would be playing for one of the premier coaches in John Thompson III.
Of course everybody wants to pick Kentucky now that they've won the title. But with the entire starting lineup likely to depart, and the enormous shoes of Davis to fill, the pressure is far too high for an 18-year-old to handle.