2012 NFL Draft: Best Players Who Won't Have Their Names Called
April 3, 2012

Mark A. Cunningham/Getty Images
Despite a prospect not getting selected in the NFL draft, that by no means negates any shot at getting an opportunity.
Current players like Doug Baldwin and David Hawthorne in Seattle both went undrafted and were arguably the best player for the Seahawks on each side of the ball. And let's not forget about Rod Smith who retired as the Denver Broncos all-time leading receiver.
So, although we can't expect the following players to get drafted, keep an eye on them throughout the summer and into training camp.
Lance Dunbar: RB, North Texas
Lance Dunbar comes in a bit undersized and also didn't play top-notch competition on a weekly basis. However, the man still displayed consistency throughout his career and has had a solid offseason as well.
Having gained over 4,200 rushing and over 1,000 receiving yards, including 49 total touchdowns for his career, Dunbar was the Mean Green's offense. He has good top speed, can sift through offensive lines well and simply gets the job done.
Regardless of the FBS competition, those kind of consistent numbers warrant NFL consideration.
Chandler Harnish: QB, Northern Illinois
One reasonable knock on Chandler Harnish is not having played in a true pro-style system at Northern Illinois. However, Harnish has decent size, an underrated arm, and great mobility. A dual-threat dynamic, Harnish threw over 8,900 yards and ran for almost 3,000 yards during his career.
Harnish also accounted for 92 total touchdowns (68 passing), threw just 26 interceptions and from 2009-2011 had a 63.5 completion percentage.
Now, he obviously must improve the accuracy, but the potential is there since he has good feet and sells the play-action quite well.
Matt Daniels: SS, Duke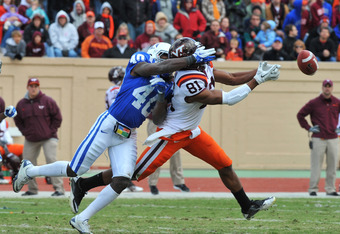 Al Messerschmidt/Getty Images
When you think of Duke, their football program isn't the first thing that comes to mind. Safety Matt Daniels, though, has the football IQ and size to develop into a great NFL player.
Between 2009 and 2011, Daniels recorded 302 tackles, defended 29 passes, and forced seven fumbles. More of a zone coverage roll-down safety to fill for a blitzing linebacker, Daniels does need to improve in man coverage.
However, with impressive top speed and sure tackling skills, Daniels also has good play recognition instincts and best works in a Cover 2 or Cover 3 safety. Rolling down would have to come in dime personnel situations.
Scott Solomon: DE, Rice
One of the most overlooked defenders in the draft, Scott Solomon was a consistent performer at Rice. There, Solomon recorded 22.5 sacks, 205 tackles, forced three fumbles and 43 career tackles for loss.
Solomon doesn't possess outlandish top speed to chase down backside or from behind, but his initial get-off at the snap is damn impressive. He also has the short area quickness to defeat single blocks and can be a constant menace in the backfield.
Already a solid sized defensive end, Solomon could be used as a defensive tackle in strict passing situations to get an interior rush. If anything, his tenacity and determination shines above all else.
John Rozum on Twitter.