MLB Draft 2012: Byron Buxton and Top High-Schoolers in This Year's Class
April 3, 2012

If you're a hardcore Major League Baseball fan, you're going to want to circle June 4th on your calendar. That will be the first day of MLB's First-Year Player Draft.
The MLB draft isn't quite on par with the NFL or NBA drafts yet, but it's at least on the right track. It found its way onto television for the first time ever in 2007, and it's been on TV ever since. 
The trouble is that the players who are going to be drafted are all shrouded in mystery, especially the prospects who are coming out of high school. College players hardly get any national coverage; high school players don't really get any national coverage.
So from now until the draft, it's a good idea for all of us to familiarize ourselves with the top high school prospects in line to be drafted in June. Going off lists put together by Jonathan Mayo of MLB.com and Keith Law of ESPN.com (Insider access required), it looks like there are 10 players more worth knowing than the rest.
Albert Almora, OF, Master Academy (Fla.)
Law isn't as high on Albert Almora as Mayo is, as Mayo has him as the sixth-best prospect in the draft.
However, you can see why Mayo likes him so much. Almora projects as an excellent center fielder, as well as a hitter with good power to all fields. He just needs to fill out a little bit.
Almora has plenty of experience playing against top competition, as he helped USA Baseball win the 18U/AAA Pan American Championships in November.
Almore is committed to Miami.
Byron Buxton, OF, Appling County HS (Ga.)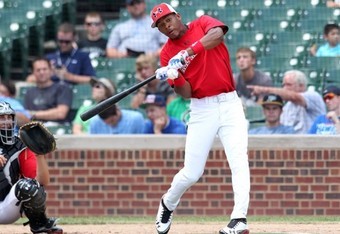 Byron Buxton is generally regarded as the top high school prospect in the country. Not surprisingly, this is because he projects as a true five-tool player. Mayo is of the mind that Buxton's best asset is his speed, though you'll see in the video below that he has a good arm and plenty of pop in his bat as well.
If he looks like he could be a long-lost Upton brother, just know that you're not alone in thinking so. Law thinks he looks like an Upton, too, which is high praise.
Buxton had a chance to go to the University of Georgia to play ball, but Jon Buzby of MaxPreps.com reported back in February that Buxton has his eyes on the pros.
Gavin Cecchini, IF, Barbe HS (La.)
Gavin Cecchini is the younger brother of Boston Red Sox prospect Garin Cecchini, but he's probably going to be a better player than his older brother someday.
Cecchini doesn't have a whole lot of pop in his bat, but he makes consistent contact and he has a knack for finding the gaps. If he fills out, the home run power will come later.
Cecchini doesn't have a set position, but he'll end up as either a shortstop or a second baseman down the road. Mayo says second base is the more likely landing spot for him.
Cecchini has committed to Ole Miss.
Carlos Correa, SS, Puerto Rican Baseball Academy
The one thing that's special about Carlos Correa now is his ability to play defense. He has excellent range and excellent hands, and he's got a gun for an arm.
At the moment, Correa is a solid hitter. But down the road, both Mayo and Law agree that Correa is only going to develop more and more power. 
Conceivably, Correa will be a power-hitting shortstop with Gold Glove ability in the field. There aren't many of those types walking around these days. 
Correa is presently committed to playing ball at Miami.
David Dahl, OF, Oak Mountain HS (Ala.)
David Dahl's draft stock slipped a little bit thanks to a recent bout with mono, but he's back on the right track now that he's healthy.
Dahl's best asset is his bat. He doesn't have great pop yet, but he puts the bat on the ball and has little trouble hitting it where they ain't. He reminds Mayo of Johnny Damon, which is a fine compliment.
Dahl also runs well, which helps him both on the basepaths and in the outfield, where he is better than average.
Dahl is committed to Auburn, which produced greats like Tim Hudson and Frank Thomas.
Joey Gallo, 1B/3B, Bishop Gorman HS (Nev.)
Joey Gallo is a highly-ranked corner infielder, so what do you think he does best?
Yup, he hits for power. Gallo shows tremendous raw power hitting from the left side of the plate, and he'll be able to hit the ball out to all fields as he progresses.
Gallo's long swing will need some work, as will his approach at the plate, but his power makes him worth the trouble.
Gallo is committed to LSU, a program that has turned out numerous big-league mainstays in recent years.
Lucas Giolito, RHP, Harvard-Westlake HS (Calif.)
Lucas Giolito is your typical outstanding right-handed pitching prospect, which is to say that he's big, he's strong, he has a great delivery and he throws the ball very hard.
Mayo says Giolito's fastball tops out at around 96 miles per hour, but what makes it a nasty pitch is its natural movement. He also throws a great curve and a nasty splitter, and he has great command.
The only trouble at this point is that Giolito came down with a season-ending elbow injury in early March, according to BaseballAmerica.com. However, surgery is not needed.
It's also worth noting that Giolito is committed to UCLA, the same program that turned Gerrit Cole and Trevor Bauer into top-three picks.
Max Fried, LHP, Harvard-Westlake HS (Calif.)
Yeah, Harvard-Westlake's pitching staff is loaded. Hard to ask for more than the best right-handed and the best left-handed pitching prospects in the country.
Fried's fastball will sit comfortably in the low 90s, maxing out at 93-94 miles per hour. He also throws a curve and a changeup, both of which are coming along nicely.
Like Giolito, Fried is also committed to UCLA. The two of them basically can't go wrong in deciding to play college ball or to head to the majors upon being drafted.
Matthew Smoral, LHP, Solon HS (Ohio)
Matthew Smoral is pretty big, as he stands tall at 6'8" and weighs in at over 220 pounds.
The book on Smoral is that his delivery could use some work, but the stuff is there. He throws his fastball consistently in the low 90s, with the ability to run it up to the plate in the mid 90s on occasion. Mayo likes his changeup, but he thinks Smoral's slider needs work.
Smoral is a true project player, but his ceiling is very high.
Smoral is committed to North Carolina, which is one of the best producers of major league talent in the country.
Walker Weickel, RHP, Olympia HS (Fla.)
Walter Weickel is tall and lanky, meaning he's one of those pitchers who should add velocity as he builds out his frame.
And that's a scary thought, as Weickel's fastball already tops out at 94 miles per hour with great movement. He also throws a 12-to-6 curve and a changeup that is better than most high school changeups.
Weickel is committed to Miami, which obviously has a pretty loaded recruiting class this year.