NFL Draft: 10 Greatest NFL Draft Picks in Tampa Bay Buccaneers History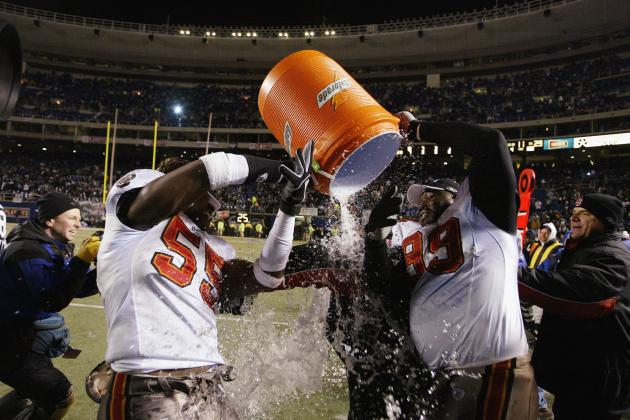 Al Bello/Getty Images

The Tampa Bay Buccaneers lost the first 26 games they ever played as an NFL franchise. They also battled though some lean years during the 1980s and 1990s.
With football being the ultimate team sport, it was tough to choose many of those players that made up those teams.
So, with respect to Hugh Green, Doug Williams and James Wilder, here are the top 10 draft picks in Tampa Bay Buccaneer history.
Begin Slideshow

»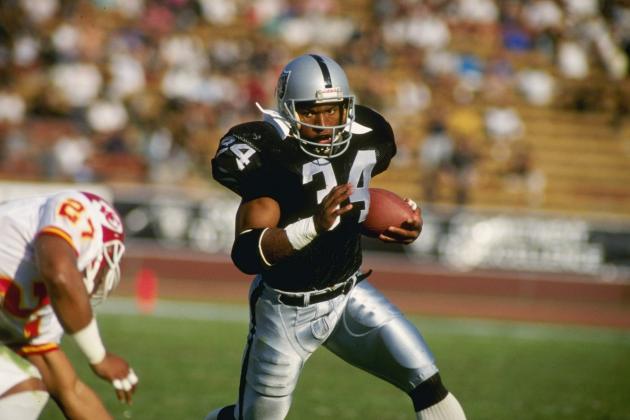 Stephen Wade/Getty Images

Despite the fact that he never played a down for the Buccaneers, Bo Jackson remains one of the most transcendent and feared players of any generation.
Jackson was originally drafted by Tampa Bay, but ownership did not want him to play two sports professionally.
A standout at Auburn University in both football and baseball, Jackson was given a choice: play for the Buccaneers or play baseball. He chose baseball at the time, and the rest is history.
Jackson re-entered the NFL draft the following year and signed with Oakland. He went on to became a mega-star for the Raiders and the Kansas City Royals. Jackson played in All-Star games, was featured in television commercials and even had his own video game.
It makes you wonder if the Buccaneers' fortunes could have changed if they had just let Bo be Bo.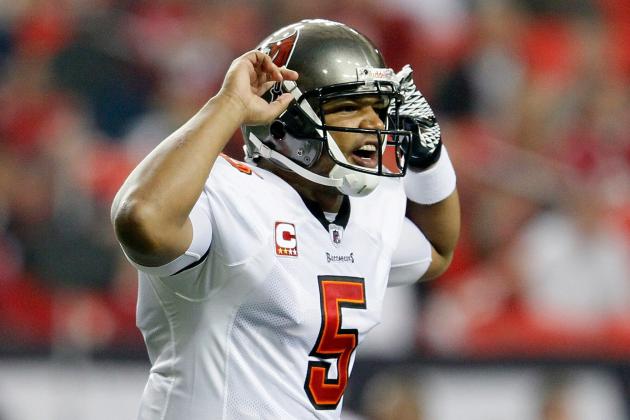 Kevin C. Cox/Getty Images

Yes, Josh Freeman is young. Very young. To have him on this list might be considered presumptuous, but Freeman is very gifted and surrounded by some quality offensive talent in Tampa Bay.
After posting a banner season in 2010, Freeman struggled mightily in 2011. He posted only 16 touchdowns and had a mediocre Quarterback rating of 74.6.
Even with his down year last season, the arrow is still pointing up for Freeman, and he should climb higher on this list very soon.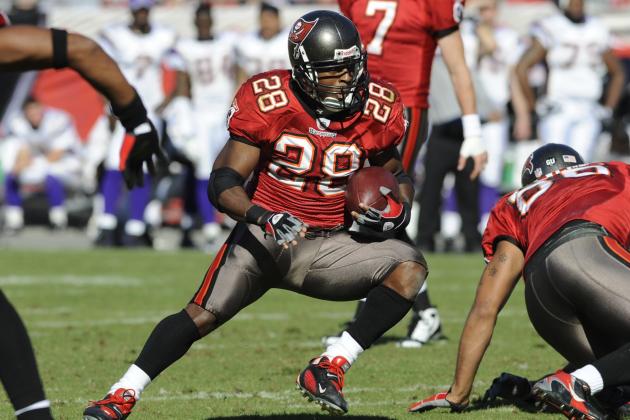 Al Messerschmidt/Getty Images

Two separate stints in Tampa Bay highlight the career of speedster Warrick Dunn. Dunn was drafted 12th overall in the 1997 draft and immediately made an impact for the Buccaneers.
Dunn was voted Rookie of the Year and rushed for 978 yards in his first season out of Florida State University. He also became a huge fan favorite during his tenure in Tampa Bay because of his work off the field.
Although Dunn only played six seasons for the Bucs, He is remembered very fondly in Tampa Bay and was a vital piece in their return to prominence.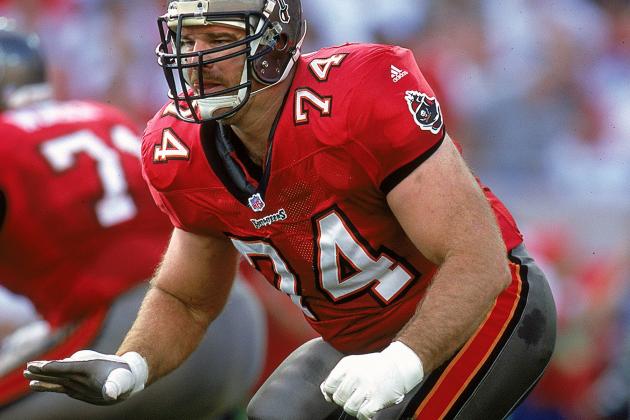 Andy Lyons/Getty Images

Paul Gruber locked down the left tackle position in Tampa Bay for 12 years, and the only blemish on an otherwise stellar career was the fact that he played on some terrible Buccaneer teams.
Gruber was drafted fourth overall in the 1988 draft. He didn't miss a start for his first five years and was an anchor on the offensive line.
Sadly, Gruber broke his leg in 1999, just as Tampa Bay was starting to become a contending team. Even though his injury cost him a chance to play in the NFC Championship game that season, he will be remembered as the best offensive player on the Bucs during the vast majority of his tenure.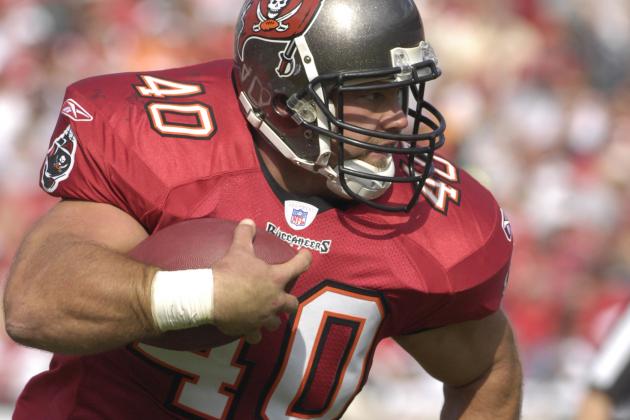 A. Messerschmidt/Getty Images

A rare blend of freakish blocking ability and a knack for running the football made Mike Alstott a six-time Pro Bowler for the Buccaneers during the late 90s.
A fan favorite due to his extremely physical style of play, Alstott was a vital cog in the team's first ever championship run and made the All-Pro team for four consecutive seasons from 1996 to 1999.
The former Purdue Boilermaker scored 10 touchdowns for the Bucs during their championship season, and number 40 will always be revered in Tampa Bay.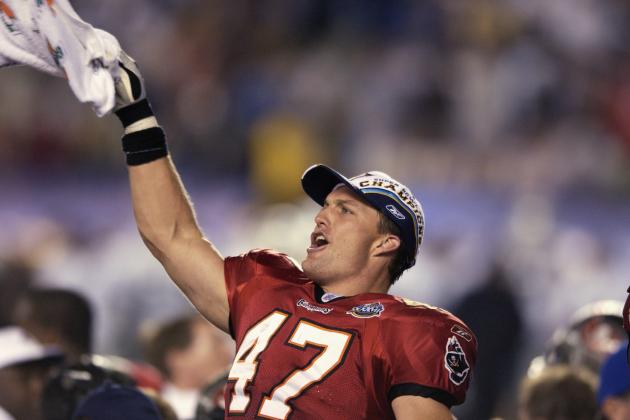 Ezra Shaw/Getty Images

A hard-hitting safety always seems to capture the imagination of a fanbase, and John Lynch was no different.
Lynch struck fear into the hearts of offensive players everywhere and was voted as one of the 10 most feared defenders in history, according to the NFL Network.
Lynch was selected in the third round of the 1993 draft after staring at Stanford. He was a key figure during his 10 years in Tampa Bay and an important member of the championship team that forced five interceptions in Super Bowl XXXVII.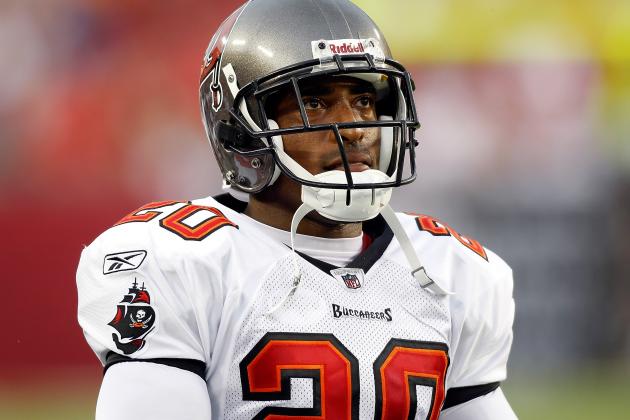 J. Meric/Getty Images

Another third-round pick that paid off for the Bucs, Ronde Barber has excelled at the cornerback spot for an astonishing 15 years.
He continues to play at a very high level, and his longevity is a rarity at his position.
Barber has collected 43 career interceptions and is currently the active leader in defensive touchdowns.
He is also the only cornerback in NFL history to collect 20 interceptions and 20 sacks, and Barber will most likely wear only a Buccaneer uniform for his entire career.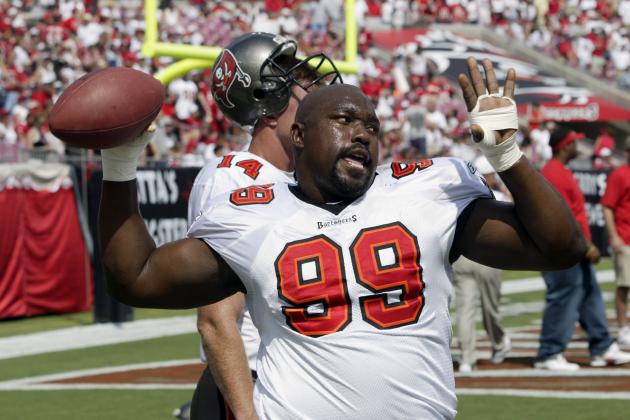 Craig Jones/Getty Images

An outspoken character and a menacing defender, Warren Sapp made headlines on and off the field during his entire career.
Sapp starred during the Buccaneer championship run while revolutionizing the defensive tackle position in the NFL with his combined size and quickness.
He was chosen with the 12th pick of the 1995 NFL draft along with linebacker Derrick Brooks, and the two defenders are credited with building a dominant defense in Tampa Bay and turning around the fortunes of the Buccaneers.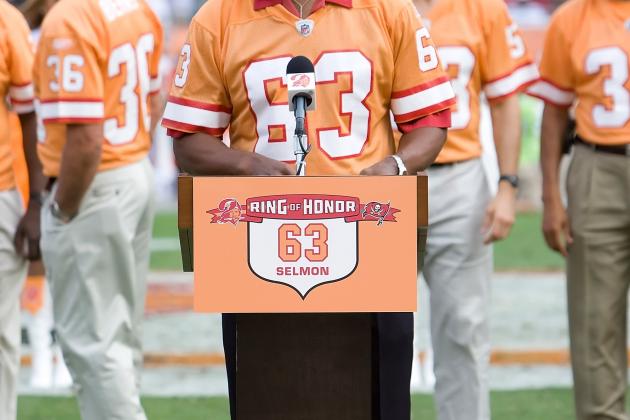 J. Meric/Getty Images

The first ever draft selection for the franchise certainly made a case for the top draft pick in Buccaneer history.
Lee Roy Selmon was chosen first in the 1976 NFL draft and become a feared defender and bright spot on an otherwise dismal expansion team.
Selmon gained the Defensive Player of the Year award for his efforts in 1979 and was the notable player on the Bucs along with quarterback Doug Williams when they finally started to right the ship in the early 1980s.
Selmon was also the first player to have his number retired for Tampa Bay, and his prowess at the defensive end spot gained him NFL Hall of Fame honors.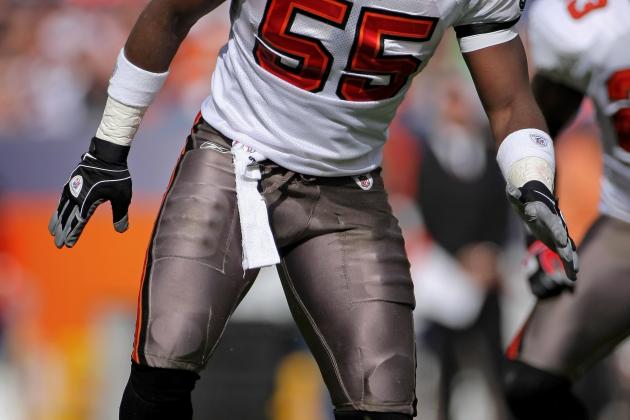 Doug Pensinger/Getty Images

One of the best linebackers in NFL history tops this list and edges out the most notable player in franchise history by a hair.
Derrick Brooks held down the linebacker position for all of his 14 years and helped build one of the most ferocious defenses in NFL history.
Brooks was an 11-time Pro Bowl selection and gained Player of the Year honors during the Bucs championship run in 2002. He also scored five touchdowns that season, an NFL record for a linebacker.
He started 221 of his 224 games and is synonymous with the change in culture that happened in Tampa Bay after years of futility.