Masters 2012 Tee Times: Notable Times for Golf's Biggest Stars
David Cannon/Getty Images
It's that time of the year again.
With the Masters just days away, people are ready for some exciting golf action.
Will Tiger Woods capture his first major since that infamous Thanksgiving night?
Can Rory McIlroy make amends for the 2011 collapse?
Does Phil Mickelson have what it takes to win a fourth Masters?
We do not know who will be in the final pairing on Sunday. Thankfully, Augusta National has gone ahead and given us some must-see pairings on Thursday and Friday.
With the biggest golf tournament in the world, finding attractive matches cannot be that challenging. Yet, the committee went above and beyond to provide pairings that will entertain, thrill and potentially disappoint.
Still, here is a look at the biggest names in golf and who they will be playing with in the opening round.
9:29 Trevor Immelman, Rickie Fowler and Justin Rose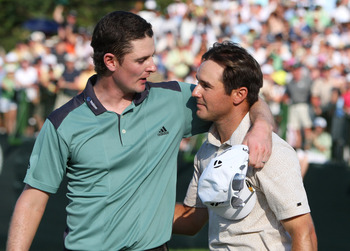 Ross Kinnaird/Getty Images
This group has a Masters champion, a young phenom and a former young phenom looking to validate the early hype.
Immelman has yet to keep the momentum going since his 2008 Masters victory, but he has consistently fared well at Augusta, finishing in the top 20 ever since.
Playing with Justin Rose should be a comfortable pairing for him. Rose has won two tournaments since last year's Masters where he picked up a tie for eleventh.
Rose started with a 73 last year and needed a 68 on Sunday for his strong finish in 2011.
Fowler though will be the biggest draw in this pairing.
The young star draws attention with his bright colors and flashy game, but the expectations are mounting. With the rise of Rory McIlroy, Fowler is seen as the young American rival to take McIlroy on for the next generation.
Fowler has the length and the putting prowess to make a run in 2012, but he has to avoid the big number. Playing with slightly more conservative players might help him stay calm and focused.
Their poise and can keep Fowler on plane and make the most of the early rounds.
1:20 Ryo Ishikawa, Darren Clarke, Fred Couples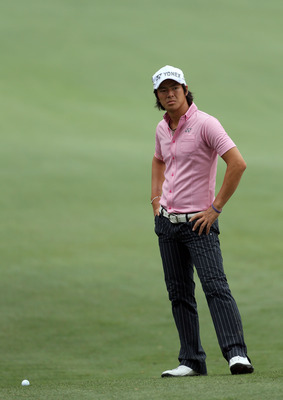 Andrew Redington/Getty Images
Although Ryo Ishikawa is just 21 years old, his pairings in the majors are hard for anyone to ignore.
He has played alongside Tiger Woods at the U.S. Open and Tom Watson at the British Open Championship. Now he gets two more experienced, great golfers that can give valuable advice for the young Japanese phenom.
Darren Clarke knows a thing or two about having the weight of an entire country on your back. It took him through some hard times but after the 2011 Open Championship crown, Clarke is footloose and fancy free entering Augusta.
He plays alongside Fred Couples, one of the most beloved figures in golf. The Masters is where Couples won his sole major and a spot that has been like the Fountain of Youth for the elder statesman.
If his back can stay healthy, Couples can probably put together a solid Masters once more.
Ishikawa though, has the best chance of all these players to make some noise. Even though his youth will stand out in the crowd, he is used to pressure and tough situations.
It should make for some entertaining drama.
10:46 Luke Donald, Francesco Molinari, Nick Watney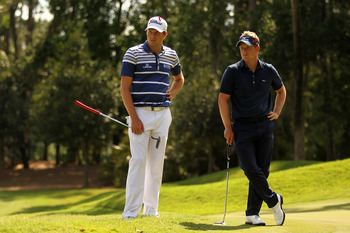 Mike Ehrmann/Getty Images
This pairing may not be flashy, but it could very well host the champion of this tournament.
Luke Donald has steadily been working his way to the top, achieving the No. 1 ranked golfer in the world status late in 2011.
Now with 12 professional wins to his credit, Donald appears on the verge of taking that next step.
With a fourth place finish last year at Augusta, Donald showed the promise that makes him a dangerous player this week. His experience with seven Masters appearances and his strong play with a victory already on the season could add up to a big weekend.
He plays alongside young Francesco Molinari who is a wildcard in majors.
Last year, Molinari struggled mightily by missing the cut in three of four majors. Yet still finished third at a WGC event and third in the "Race for Dubai" standings, the European equivalent of the FedEx Cup.
With better play to start out this year, Molinari could be a dark horse.
Nick Watney too often gets ignored, despite his strong play. With two seventh place finishes in majors in 2010, Watney has shown a way to sneak up on leader boards and proven he can seal the deal with four PGA tour wins.
While he may not be the headline-grabber of others, Watney has the length and control to keep the ball in the short grass and avoid big numbers.
12:58 Lee Westwood, Vijay Singh, Jim Furyk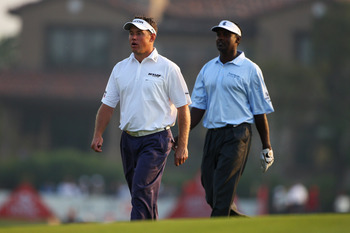 Andrew Redington/Getty Images
This is a veteran group.
In this pairing you have 45 combined Masters appearances and multiple wins from all across the globe.
Vijay Singh once dominated Augusta, winning the title in 2000 and then posting top tens through most of the decade. Yet Singh has fallen off the map and at age 49, may simply be done competing in PGA tour events.
The past two years he has missed the cut and things may not bode well this time around.
Perhaps his veteran playing partners can give him a boost. Jim Furyk looked to be well on his way after winning the 2003 U.S. Open but has simply not been able to put things together since in majors.
Furyk has only one top ten in this event since winning his first major and would love to make it a second time in 2012.
Lee Westwood is arguably the best player in golf without a major to his credit. As one of the top golfers in the world, Westwood has played so well only to fall short.
With six top tens in the last nine majors he has played, Westwood has consistently put himself in the hunt.
Still, at those critical moments a putt falls short or another player steps up with a big moment.
Phil Mickelson experienced similar heartbreak until his breakthrough win came in the 2004 Masters at age 33. Westwood is 38 and needs that hope.
Maybe he can find it in Singh and Furyk, two great golfers who clinched their first majors at 35 and 33 respectively.
1:42 Angel Cabrera, Rory McIlroy and Bubba Watson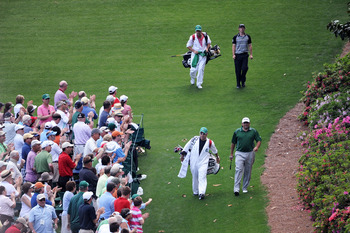 Harry How/Getty Images
Two Major champions and a man who lost the 2010 PGA Championship in a playoff represents another highlight pairing.
We all know the struggles Rory McIlroy had on the back nine Sunday at the 2011 Masters. Angel Cabrera used the struggles of Kenny Perry on the final round of the 2009 Masters tournament to pick up his second major.
Cabrera and McIlroy played in the final round last year, helping add fuel to the fire that must be burning in the 23-year-old phenom.
Given what happened last year, McIlroy knows he must get off to a good start to make amends. He has recreated much of 2011 in the opening pairing.
Now can he recreate his game?
Bubba Watson, on the other hand, believes he can steal headlines on his own. One of the best players to not have a major, Watson has proven he can withstand the pressure of the majors spotlight.
He has wilted in the past but finally shows promise. With three tour victories to his credit and a second earlier this year at a WGC event, he seems ready to make a big splash on the biggest stage.
Could this be his breakthrough?
10:35 Tiger Woods, Miguel Angel Jimenez and Sang Moon Bae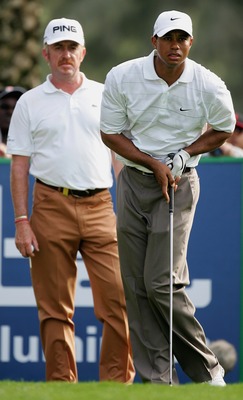 Ross Kinnaird/Getty Images
This pairing is interesting for several reasons.
Perhaps the best reason to watch this group is because you have two polar opposites in Tiger Woods and Miguel Angel Jimenez.
Woods is known as the greatest athlete in golf history. Jimenez's workout is legendary for other reasons.
Woods is known for his intensity and swagger while Jimenez is cool as the other side of the pillow. Fortunately for him, he should not be rattled by the spectacle of playing with Tiger.
Sang Moon Bae, on the other hand, will have a tall task in front of him. Not only is this his Masters debut but he has to do it in the most followed group on Thursday.
Bae has done well on the Asian tour but has made only one cut in a major in his career.
Still, Bae came close to winning earlier this year and can use that momentum to surprise people.
Woods has a comfortable pairing, one that could spring board him towards a great start.
1:53 Phil Mickelson, Hunter Mahan and Peter Hanson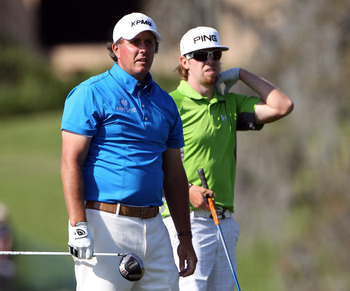 Sam Greenwood/Getty Images
As we saw in the past Ryder Cups, Phil Mickelson and Hunter Mahan are comfortable playing with each other.
Mickelson and Mahan are both playing well heading into the tournament. Mahan won last week at the Shell Houston Open and Mickelson was not far behind.
They both are known for their bold choices that are sometimes brave but often foolish as well.
With the two of them together, you can expect excitement and plenty of birdies. You should also expect the potential for some big numbers as well.
These two represent some of the best American golf around and although their star power overshadows Peter Hanson, he too will be a factor.
The Swede has only played the Masters once before and missed the cut. However, with two top tens on the tour already this year, Hanson can use his past failures as fuel for this time around.
This group may be playing the best of any group in the tournament.
Keep Reading