The Playboy Golf Finals Invasion: It's Sexy Time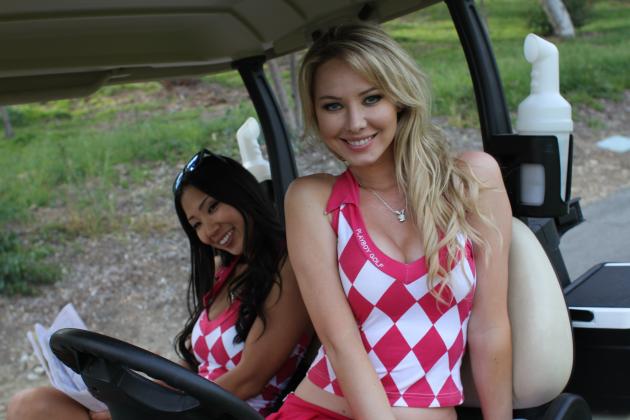 The Playboy Mansion...
Those three words appear on more guys' bucket lists than any, I imagine. Well I can scratch it off of mine now that Bleacher Report was invited back to the Playboy Golf Finals at Hef's house.
So jump in my golf cart as I give you a firsthand tour* of the mansion, the greens and the beautiful young ladies of Playboy Golf.
FORE!!!
*(Stay tuned for an actual mansion video tour led by one really hot Playmate, on B/R's Youtube Channel later this week!)
Begin Slideshow

»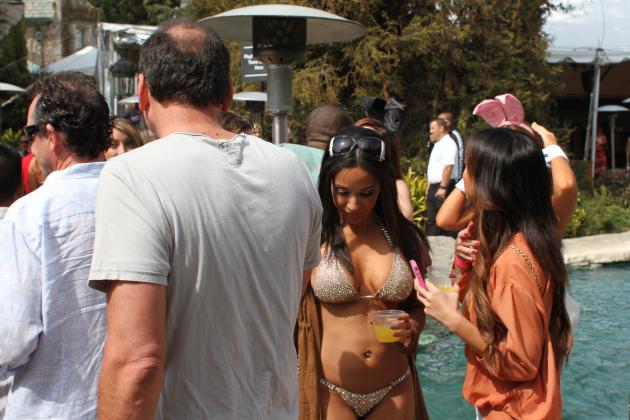 The Mansion wouldn't be the mansion if there weren't legendary parties.
But the beauty of the Playboy Golf Finals is that ordinary folks like me and the guys in this pic can mix with ladies who might be a bit extraordinary...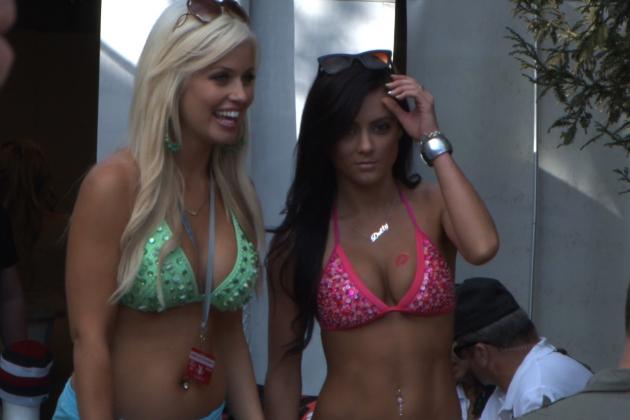 See what I did there in the title? These ladies are in the shade and they are hot, so in the title I wrote made... aw, just forget it.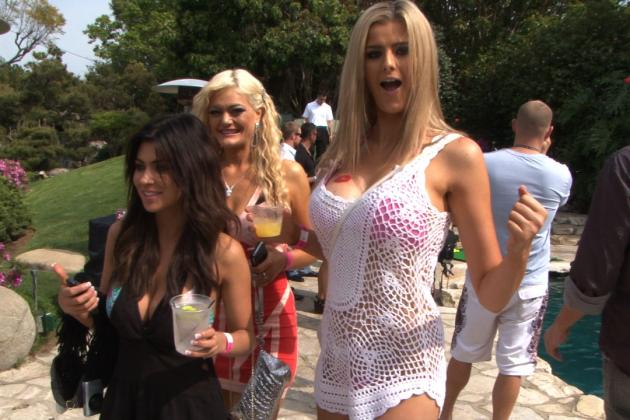 Not sure what this young lady is drinking, but she seems to be having a great time. Wonder what her handicap is.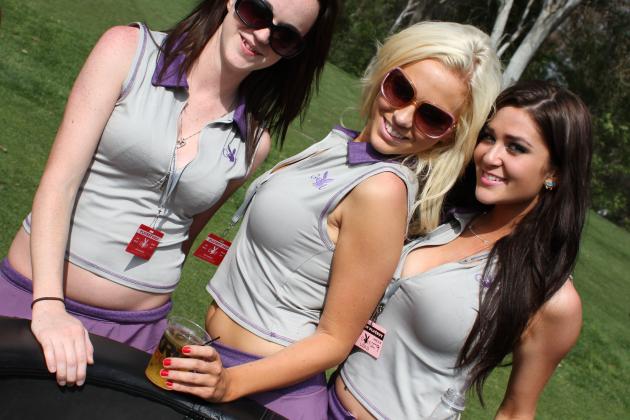 Ajay and his team had special "helpers" at each hole, just to make sure all of the *celebrity players were comfortable.
*For a list of winners and celebrity participants, check out B/R's Youtube Channel later this week.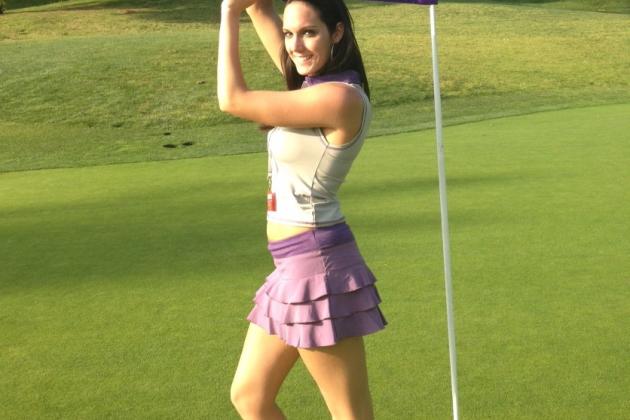 Meet Elli Spyros...
She's one of Ajay and Hef's helpers who came all the way from Berlin, CT to hold this flag just perfectly. Word is that ladies flew in from almost every state and continent to be there.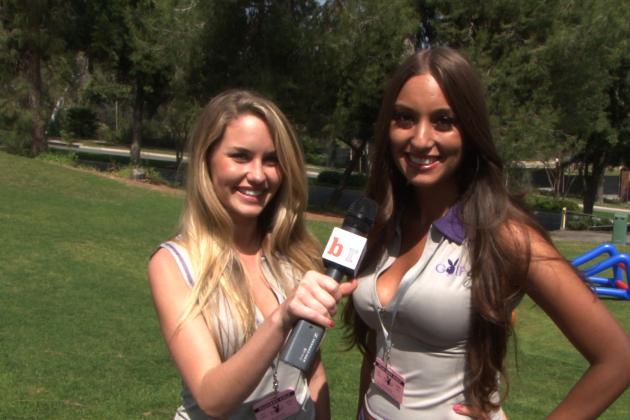 These young ladies seem to know how to handle a mic. I am all for opening a B/R office at the mansion. Hell, I'll even move over there and run it.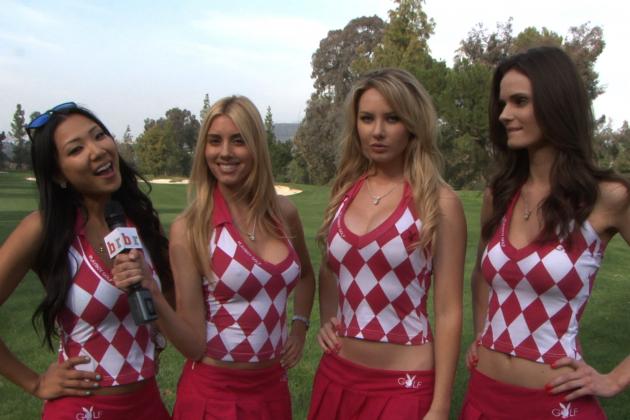 I say we have a show called Playmates on Sports. Who wouldn't watch that?
By the way, these lovely ladies are Hiromi Oshima, Tiffany Toth, Heather Rae Young, & Kassie Lyn Logsdon.
All Playmates.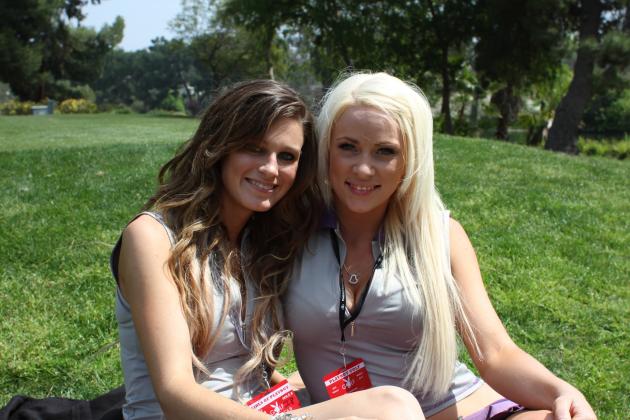 We found out that most of the young lady helpers are actually hoping to be in the magazine at some point. But the competition is fierce. Think about it, there are only twelve months in the year, right?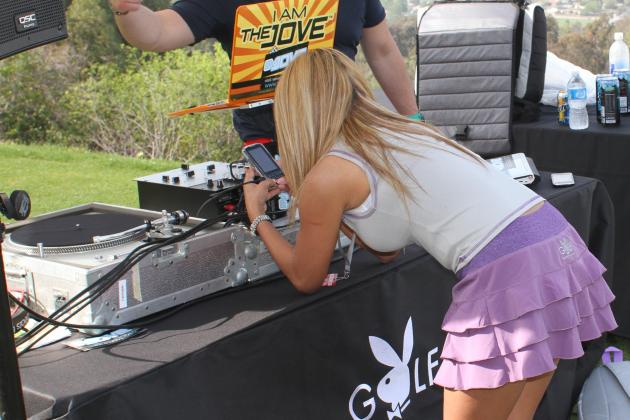 Just to make sure no one gets bored on the links, Brooklyn's own DJ Jove was spinning records between the holes.
Not sure what this young lady is doing but DJ Jove doesn't seem too happy that we caught him while he was busy.
All kidding aside the man threw down hot beats all weekend and kept his focus on the tunes... for the most part.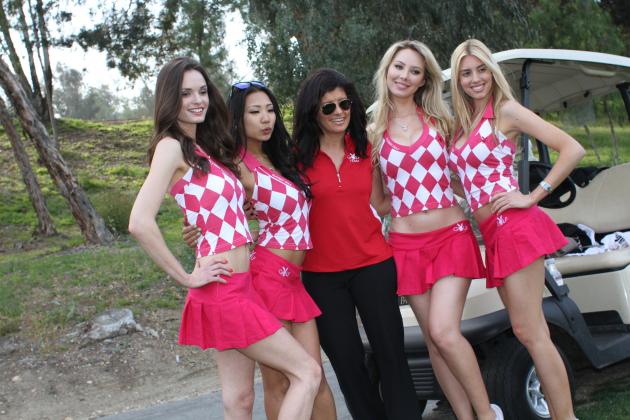 I'll let you avid PB readers name these former playmates and the month that each graced the bunnies pages. They are definitely pretty in pink.
Shouts out to my buddies, Daphne and Traci, the two busiest and hottest ladies all weekend.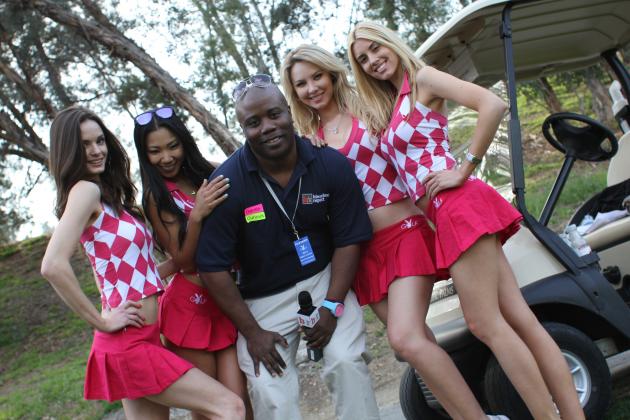 Sorry I ruined this picture.
I just couldn't resist.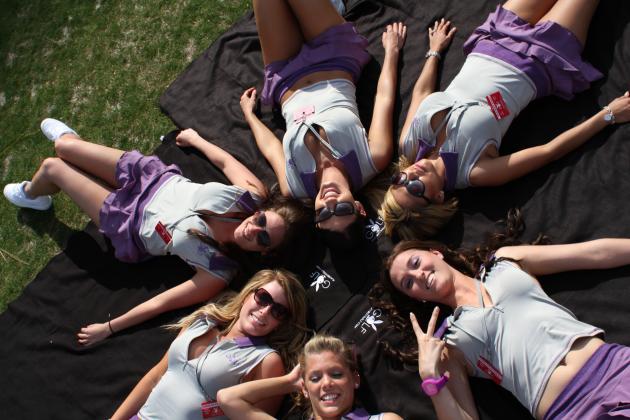 Even Hef's helpers need to take a break some time. But they look so cute doing it, don't they?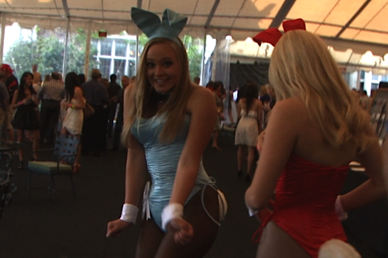 Just in case you forgot this was the Playboy Mansion, here are a couple pics of the ladies with the bunny outfits.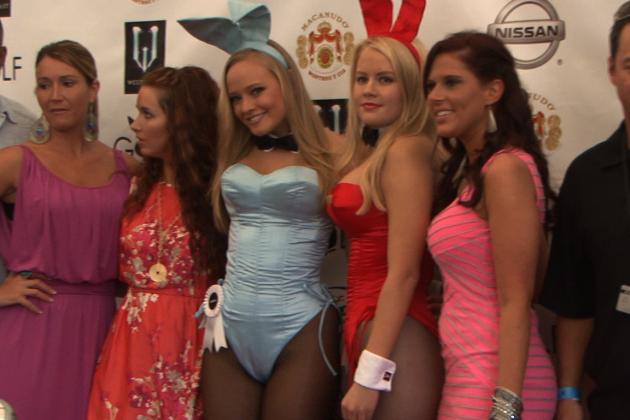 See, everyone likes taking pictures with the bunnies. Not just the dudes.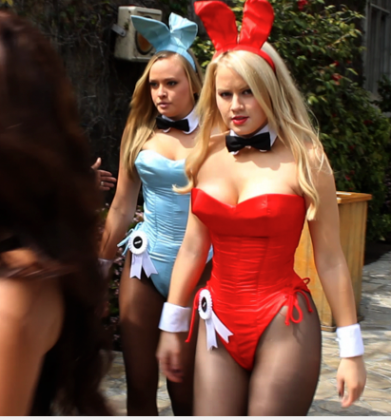 My buddy Weston Green took this picture. Not sure what he did to get the bunny mad, but I can assure you she wasn't bee-lining to come beat me up.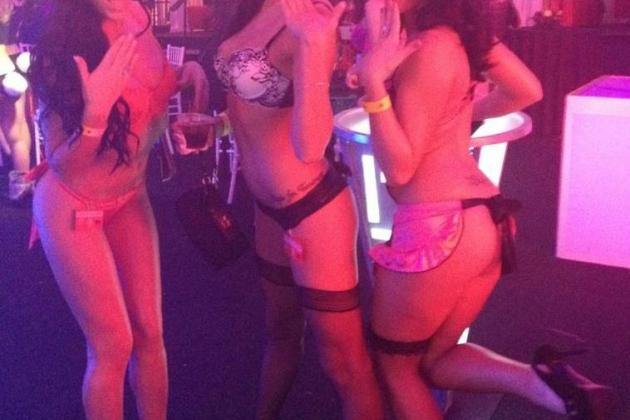 Most of what happened at the Playboy Pajama Party (pictured here) and 20's gangster themed party can't be shown on the site but here is Elli again and this time with her cousins, Jamie and Jackie Broccolo.
Not sure what they did but they sure look guilty.
Make sure to check our B/R's Youtube Channel for more pics and videos of this awesome event.
And if you subscribe and like us, maybe we'll put up some of the stuff we couldn't put up here.
I said maybe.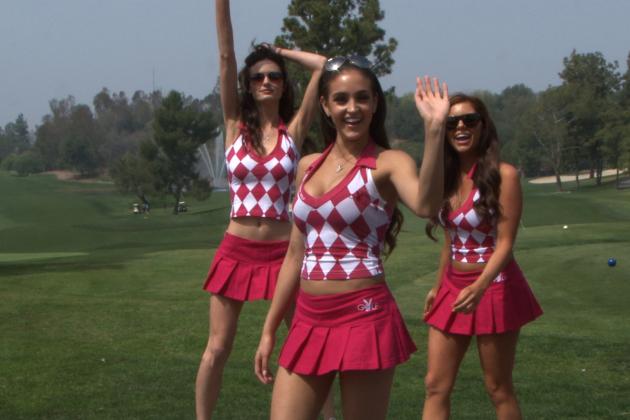 Unfortunately folks, we are coming up on the end soon. When I was there, I hated knowing the end was coming, so I feel your pain.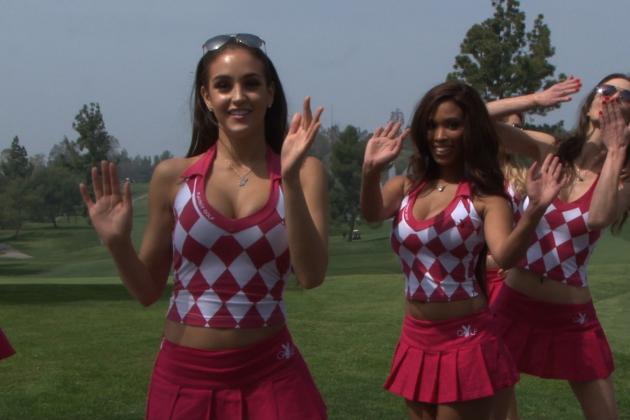 You might as well have it be some playmates, right?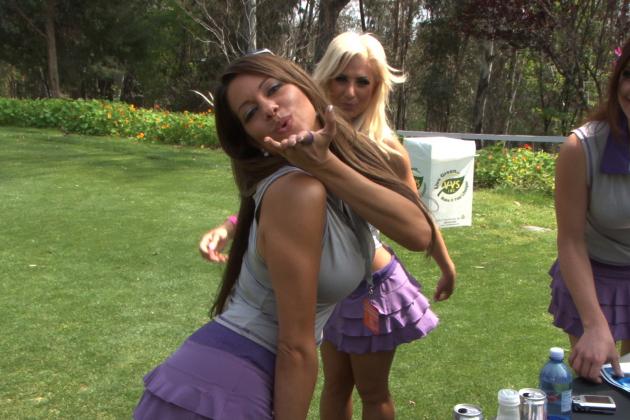 So I overheard this funny joke when I was there.
It had to do with Snow White and Pinocchio having a love affair or something. Remind me and I'll post it on our Youtube Channel. You can get away with a lot more over there.