Michigan Football: 10 Best Quarterbacks in School History
There have obviously been a countless number of great quarterbacks to play at Michigan, but which ones rank as the best?
Here's a list made up of the 10 best, based strictly on what they did at Michigan, and not what their pro careers were like.
As a side note, Denard Robinson is not on this list simply because his career is not finished yet.
10. Elvis Grbac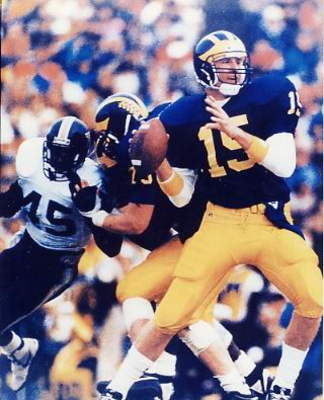 Elvis Grbac was a three-year starter for Michigan. In those three years, he led Michigan to two Big Ten titles, which both resulted in Rose Bowl appearances.
The Wolverines split the two appearances, both against Washington.
Grbac finished his career at Michigan as the school's all-time leader in pass attempts, completions, passing yards and touchdowns, but eventually had the records broken by John Navarre, and then eventually, Chad Henne.
Grbac is perhaps best known for his famous 4th-and-1 touchdown throw to Desmond Howard against Notre Dame in 1991.
9. Tom Brady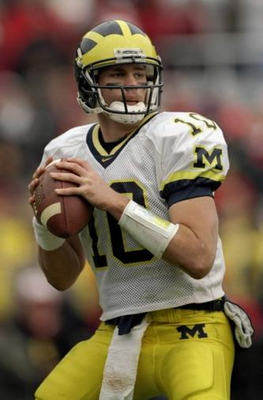 Brady was a backup in his first two seasons at Michigan, as Brian Griese narrowly beat him for the starting job in 1997.
Brady then battled Drew Henson for the job and won it, starting every game in 1998 and 1999.
In his first year as a starter in '98, Brady set Michigan records for most pass attempts and completions in a season. The Wolverines also shared the Big Ten title that year.
The 1998 season was capped with a Citrus Bowl win over Arkansas.
In Brady's last game, Michigan beat Alabama in the Orange Bowl in overtime as Brady threw for 369 yards and four touchdowns.
8. Robert Timberlake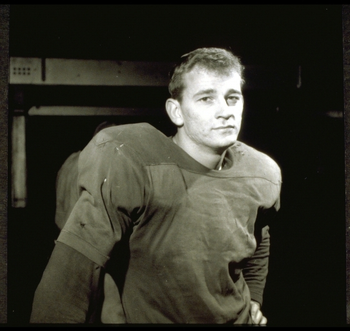 In 1964, Timberlake led Michigan to a Big Ten title, a Rose Bowl victory, earned first team All-American honors and finished fourth in Heisman voting.
The thing that made Timberlake so great was the fact that he could basically do everything.
Over his career at Michigan, he rushed for 315 yards, passed for 1,507, accounted for 19 touchdowns, kicked six field goals, 36 extra points and accounted for a total of 121 points scored.
7. John Navarre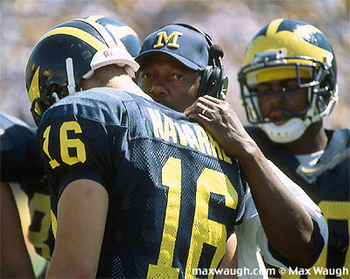 Navarre was a three-year starter for Michigan, starting from 2001-2003.
In 2003, he led Michigan to a Big Ten title and a Rose Bowl appearance against USC, arguably the best team in the country that year.
By the time his career was over, Navarre basically held most of Michigan's all-time passing records.
He still holds some of them, but Chad Henne broke a number of them a few years later.
One of the biggest highlights of Navarre's career was when he orchestrated the biggest comeback in Michigan history, erasing a 21-point deficit to beat Minnesota in 2003.
6. Chad Henne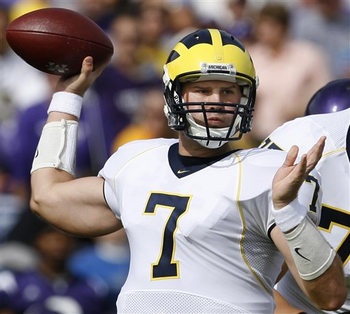 Henne was a four-year starter at Michigan, one of the amazing feats for a quarterback in Michigan history.
He holds Michigan passing records for all-time passing yards and touchdowns thrown.
In fact, his 87 career touchdown passes are second in Big Ten history.
Henne led Michigan to a Big Ten title and a Rose Bowl appearance as a true freshman.
Fair or not, Henne may be remembered for his failure to win big games, as he went 0-4 against Ohio and 1-3 in bowl games.
5. Dennis Franklin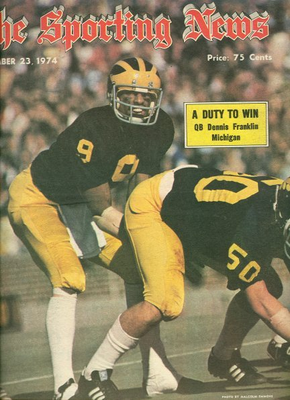 Franklin started at quarterback from 1972-1974, playing under Bo Schembechler.
As the starting quarterback, Franklin led Michigan to three straight Big Ten titles, a record of 30-2-1 and three top-10 finishes.
Franklin ran the option offense to perfection during his time at Michigan, and is said to have quarterbacked some of the best Michigan teams ever.
4. Harry Newman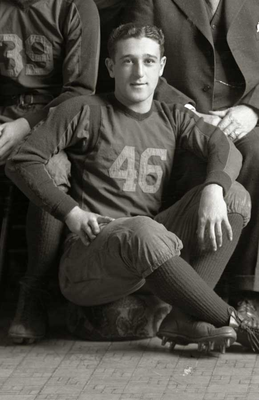 Newman started from 1930-1932 and led Michigan to a 24-1-2 record.
He led the 1932 team to a national title, earned unanimous first team All-American honors and won the Douglas Fairbanks Trophy, equivalent to today's Heisman Trophy.
Newman not only played quarterback for Michigan, but some halfback as well.
In fact, he played 437 of Michigan's 480 game minutes in 1932.
3. Jim Harbaugh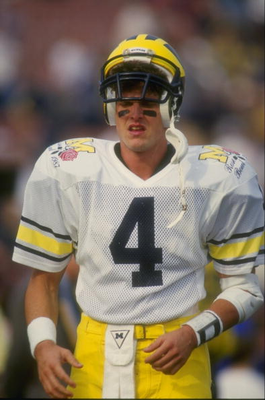 Harbaugh started at Michigan from 1984-1986 and was the first ever Michigan quarterback to throw for 300 yards in a game.
In his final year of 1986, Harbaugh earned All-American honors, finished third in Heisman voting and finished second in the country in passing efficiency.
Harbaugh threw for a total of 5,449, which ranks fifth on the Michigan all-time list. He also rushed for nearly 500 yards in his career and scored 12 touchdowns on the ground.
Perhaps he is best known for his guaranteed win over Ohio in 1986, in which he delivered.
2. Rick Leach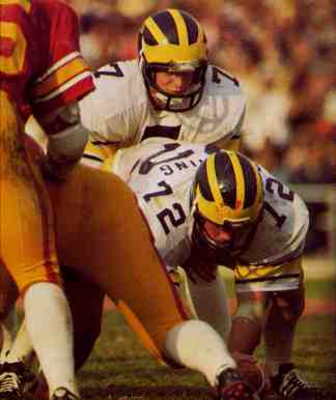 Leach started for four years at quarterback under Bo Schembechler.
He led Michigan to three straight Rose Bowls from 1977-1979.
Leach's combination of throwing and rushing statistics are amazing.
He threw for 4,284 yards in his career and rushed for 2,176 on the ground. Leach threw 48 touchdowns in his career and rushed for 34 more.
Bo Schembechler once stated that Leach was the greatest football player he had ever been associated with.
1. Benny Friedman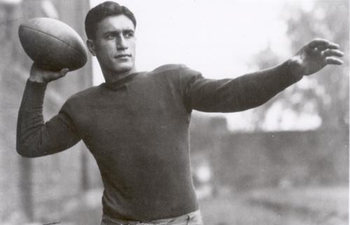 Friedman played at Michigan from 1924-1926 and is considered to be the best passer of his era. Fielding H. Yost came out of retirement just so he could coach him in 1925.
Amazingly, Friedman is the only Michigan quarterback to be a two-time All-American selection.
In the 1926 game against Ohio, Friedman not only threw two touchdown passes, but also kicked the game-winning field goal.
Keep Reading

Michigan Wolverines Football: Like this team?