New York Jets: Dissecting the Tim Tebow, Mark Sanchez and Rex Ryan Triangle
April 3, 2012

Mike Stobe/Getty Images
When recently queried about his brother Rob's new-look defense in Dallas with the Cowboys, Rex Ryan replied with the statement, "I'll be honest with you—they've got a chance to be second in the league in defense."
For Rex, and Rob as well, to be quite frank, that kind of brash confidence comes naturally. This is the same head coach who has guaranteed Super Bowl titles prior to each of the last three NFL seasons, personally called out Bill Belichick prior to a Patriots game and also said of former Miami Dolphins linebacker Channing Crowder that he had "walked over tougher guys going to a fight."
Ryan's confidence is infectious and, for the most part, has permeated through his players no matter where he has been during his career. During his time as part of the Baltimore Ravens defensive coaching staff, the Ravens ranked in the top 10 in points allowed 11 out of 13 seasons.
It is no surprise that Ryan excelled as a defensive coordinator to the point that he became a head coach in New York with the Jets. His father, Buddy Ryan, was a great defensive coach who created the greatest defense in the history of football with the 1985 Chicago Bears.
The Bears defense gave up only 10 points in three playoff games in 1985 on the road to being Super Bowl champions. Those 10 points came in the Super Bowl, when the Bears won 46-10 with Ryan's defense directly accounting for nine points with a returned interception and safety while also creating six turnovers.
At the time, Rex was a 22-year-old college student at Southwestern Oklahoma State playing defensive end. He likely already knew that his football career as a player was going to be curtailed by his graduation as he watched his father become the first ever coach who wasn't really a head coach being carried off the field as a Super Bowl champion.
Obviously, Buddy's success was a major aspect of Ryan's growth as a coach. Having a father as a professional coach gave Rex an idol and a mentor to follow. However, Ryan also gained his brash confidence through Buddy.
Buddy Ryan was such an outspoken and determined person that he once punched the offensive coordinator on his own team. Kevin Gilbride was that coordinator when the Houston Oilers were up 14-0 heading into halftime. Gilbride called a passing play which resulted in a fumble that incensed Ryan and led to the confrontation on the sideline.
Rex is that type of coach today.
The television series Hard Knocks prior to the 2010 season showed off just how volatile Ryan can be. His exhilarating speeches, full of expletives that led to criticism from Tony Dungy of all people, became a staple of the head coach's coaching style and also showed off his passion for the game along with his belief in himself.
While Rex has earned his reputation by working with hard-nosed, and hard-hitting, defensive dogs, his style of coaching has yet to truly succeed when working with the players on the other side of the ball.
Last season, the Jets were embroiled in controversy on the field when Santonio Holmes' attitude appeared to take a toll on the locker room. One unnamed player referred to Holmes as a poison while an anonymous player claimed Sanchez was lazy and looked for him to be replaced.
It's safe to say that the Jets' locker room wasn't completely united behind their young quarterback finishing last season despite Nick Mangold's declaration that he believed in Sanchez: "I've never seen anybody work as hard as Mark has and I support him fully and I think the locker room does as well."
There is no doubt that Sanchez is a determined quarterback with a passion for football; however, his style doesn't seem to fit with current head coach Rex Ryan.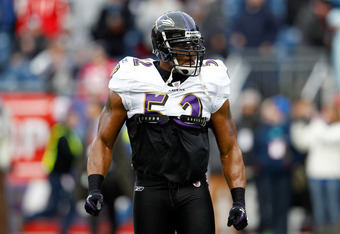 Rob Carr/Getty Images
Ryan is used to working with fiery characters like Ray Lewis, Terrell Suggs and Bart Scott from his time in Baltimore. Motivating and connecting with those characters is a completely different task than to trying to interact with Sanchez, a 25-year-old quarterback born and raised in Long Beach, California.
Sanchez may have passion, but his mindset is simply different than that of Ryan.
You don't have to be a volatile egomaniac to fit in with Rex Ryan, but you do need to have a level of confidence and belief in yourself. Ryan established that belief in himself through his father Buddy and his success with the Baltimore Ravens.
Sanchez is yet to completely assure himself of his own abilities and make himself secure on the field despite the monster contract he got in the offseason. Playing professional sports in New York is unlike playing anywhere else in the world. The level of scrutiny and pressure he faces every day is exasperated by the sheer quantity of the fanbase following each franchise as well as the inevitable media frenzy.
Trying to develop as a quarterback in that environment is not easy. It is especially difficult when you have only started 16 games in a college career at USC and play for a coach who is guaranteeing Super Bowls each season.
Regardless of what he proclaims in the media, it is only natural for Sanchez to be affected by the attention he receives in New York, not least the expectations. Sanchez is the type of quarterback who would have benefited greatly from playing in a smaller market, with an offensive head coach who would allow him the time to develop.
While the Jets haven't forced his development, they haven't completely aided it in recent years as they attempted to build around him.
As a defensively inclined team, the Jets gave Sanchez enough weapons to succeed on offense only once during his career, during his second season. As a second-year quarterback Sanchez was still learning to play the position. Most quarterbacks take three years to fully develop despite the recent play of Cam Newton, Andy Dalton and Sam Bradford.
Last year the offense was badly designed and lacked talent around the young quarterback.
While he is not a star, Sanchez can be a more than capable quarterback when playing with confidence. Confidence is the key. Sanchez is the type of player who can walk onto the field and you can tell by his body language whether he is going to have a good or bad day. Unfortunately for the Jets, that confidence appears to elude him more than ignite inside of him.
That is likely the reason why the Jets were so attracted to Tim Tebow.
While Tebow does make a lot of sense on the field as a wildcat quarterback to improve the team's rushing attack, the Jets likely sought him out for his character more than anything. They could have brought in a better runner and passer for nothing in the form of Dennis Dixon if they were simply looking to revitalize their wildcat with Tony Sparano.
Instead, Rex Ryan saw himself in Tim Tebow. No, not the swearing and shouting; Ryan saw the confidence, desire and leadership which allowed Tebow to unite the Denver Broncos' roster last season on their way to the playoffs.
Mentally, Tim Tebow is Rex Ryan's perfect quarterback. Even though Tebow is completely enveloped in his religious beliefs and Ryan couldn't express himself any more differently to that, their ability to lead others and inspire their teammates to better things is a common trait.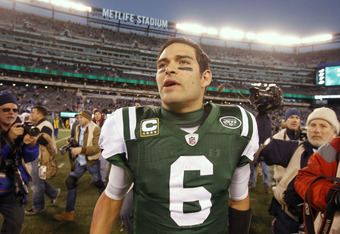 Rich Schultz/Getty Images
There is only one problem.
Mark Sanchez is the better quarterback. In the perfect world, Ryan would be able to move Tebow's mentality into Sanchez' body and create the best of both worlds. In reality however, the acquisition of Tim Tebow will just further undermine Mark Sanchez' confidence and belief in himself while exaggerating the scrutiny and pressure on him.
Tebow cannot lead or unite the Jets' offensive personnel as the backup quarterback. When he was the backup in Denver, the whole franchise was nearly torn apart. Kyle Orton was eventually run out of town after a few losses, so why shouldn't Mark Sanchez be scared of the same happening to him?
The NFL is a quarterback-driven league: you either have one, you have one for the future, or you have none. Right now, the Jets appear to be unsure about what they have. At the very least, Tim Tebow wasn't signed to simply be a backup, because Drew Stanton could have done that.
Tweeting @Cianaf