Masters 2012: Why Phil Mickelson is Guaranteed to Stumble at High-Profile Event
April 3, 2012

Matt Sullivan/Getty Images
Phil Mickelson is fresh off of a solid fourth-place finish at the Shell Houston Open where he shot 12-under.
To some, this may seem as a good indicator going into this weeks Master's Tournament, but rest assured, it's not. 
Mickelson hasn't done much of anything this year, picking up only one win at the AT&T Pebble Beach Pro-Am and second-place finish at the Northern Trust Open. These, coupled with his most recent finish, are where the highlights stop.
Despite these glimpses of former prowess, Mickelson has all but stunk up every tournament he's played in this year.
With finishes like tied for 49th at the Humana Challenge, a shared 43rd place at the WGC-Cadillac Championships, and being cut from the Farmer's Insurance Open after shooting a one-over, a fourth Green Jacket does not seem to be on the cards. 
To make matters worse, Mickelson ranks in the top ten in only two of the PGA Tour Rankings major statistics. He's third on the Money List and tenth in birides.
Setting birdies and money aside, Mickelson comes in at 89th for greens in regulation (GIR), 150th in drive accuracy, and 24th in putting. To top it all off, he's averaging a 69.8 per round.
Aside from his game, Mickelson has been having difficulties with his arthritis condition to the point where he can't get out of bed on some occasions. His worsening health could be the cause of his questionable stamina this year.
That or maybe he's aging a little faster than he would like and his 39 years are catching up to him.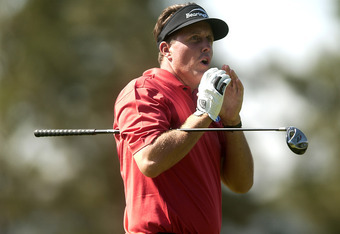 Steve Grayson/Getty Images
Looking away from Mickelson, one will find a star-studded field of golfers looking for a Green Jacket of their own. World No. 1, Luke Donald, redemption hopeful Rory McIlroy, and Tiger Woods, who is fresh off his first win in over two seasons.
These will be just a few of the stars looking block Mickelson's shine at this year's Master's. 
The mention of Tiger Woods brings up the fact that Mickelson has only won four majors since turning pro in 1992. Granted, three of those majors came at previous Masters tournaments, but the fact remains that Mickelson can't close on big time events.
He may have won 40 events in his time, but only 10 percent or these being majors is definitely a factor one will have to take into account while assessing Mickelson's quest for another Jacket.
With several late-round chokes to his name, many to golfers who he will be competing against this week, it goes without saying that Mickelson will be under a lot of pressure to close up another major and end his two year drought. Pressure like this could prove disastrous, though, and could possibly lead to just another smudge on what is quickly becoming a down year for Phil Mickelson.
A great deal of opposing determination will also be set against Mickelson as he enters Augusta National this year.  
Tiger Woods will be looking to stage a complete comeback and hunt down Jack Nicklaus' record, Rory McIlroy will be looking to make up for what was one of the biggest chokes in golfing history at last year's tournament, and defending champion Charl Schwartzel will be looking to prove to all his doubters that it wasn't a fluke that brought him a victory last year.
But what does Mickelson have to prove or work for? Sure, you could say that he wants another Jacket to earn a fifth major, but nothing really stands out to drive Mickelson to overcome the obstacles that currently lay in between him and victory.
He's not riding on some unprecedented streak of victories or coming back from any sort of injury or time away from the game. He's bringing in a small amount of momentum at best but for the most part, he's just Phil.  
Mickelson is definitely one to be watched this week, but take into consideration all he has, or hasn't got going for him and it will be painfully obvious that he will be wearing a nylon pull over, not a Green Jacket come the end of the week.