2012 NFL Mock Draft: Quinton Coples and the Most Overrated Players
April 3, 2012

Joe Robbins/Getty Images
There is a big difference between being overrated and overvalued. In the 2012 NFL draft class, being overvalued isn't necessarily a bad thing.
Overrated, on the other hand, means trouble down the line.
NFL teams know this better than anyone, but sometimes fall prey to the charm and potential of certain questionable prospects.
Who are those prospects in this year's class? Let's take a look. 
1. Indianapolis Colts (2-14): Andrew Luck, QB, Stanford
There is nothing overrated about Andrew Luck. If anything, he's being undervalued right now.
2. *Washington Redskins (5-11): Robert Griffin III, QB, Baylor
The Heisman Trophy winner isn't the No. 2 player on my board, but he deserves to go at No. 2 overall.
3. Minnesota Vikings (3-13): Matt Kalil, OT, USC
Kalil is not elite, but he'll be a very good player for a very long time.
4. Cleveland Browns (4-12): Trent Richardson, RB, Alabama
The Crimson Tide running back could very well be the best player in the draft behind Luck.
5. Tampa Bay Buccaneers (4-12): Morris Claiborne, CB, LSU
Don't let the leaked Wonderlic score smudge your feelings on Claiborne; he's an elite prospect.
6. *St. Louis Rams (2-14): Justin Blackmon, WR, Oklahoma State
Blackmon borders on overrated because taking a receiver in the top six is reserved for "elite" WR prospects and Blackmon isn't one. He will be very good, though.
7. Jacksonville Jaguars (5-11): Quinton Coples, DE, UNC
Once considered a potential No. 1 overall pick, Quinton Coples has fallen down the board a bit but is still overrated.
The UNC prospect is not an elite athlete and struggled to perform consistently this season when his team needed him.
He is far from a sure thing and will have to work to get better.
8. Miami Dolphins (6-10): Ryan Tannehill, QB, Texas A&M
The Aggies QB is close to being overrated, but he falls into the overvalued category because there is a ton of potential there. His "rise" up draft boards isn't nearly as meteoric as some would think—he's been a potential top-10 pick for quite some time now.
9. Carolina Panthers (6-10): Dontari Poe, DT, Memphis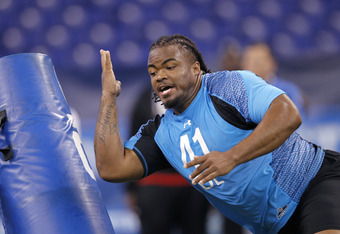 Joe Robbins/Getty Images
Poe's dominant performance at the NFL Scouting Combine elevated him into the top half of the draft. The Memphis big man has a unique combination of size and athleticism that few players possess.
But there is no telling what his impact will be in the NFL.
We've seen far too many superior athletes fail on Sundays, and Poe doesn't have the best body of work behind him. 
10. Buffalo Bills (6-10): Riley Reiff, OT, Iowa
A solid technician with good upside, Reiff will be a solid player for a long time.
11. Kansas City Chiefs (7-9): David DeCastro, OG, Stanford
The Cardinal interior lineman is the draft's best one and will immediately help this team re-establish its run game.
12. Seattle Seahawks (7-9): Melvin Ingram, DE, South Carolina
Bordering on overrated, Ingram's rapid rise up the board this year leaves him as a questionable pick.
13. Arizona Cardinals (8-8): Luke Kuechly, LB, Boston College
This linebacker is far from overrated—he's a sure thing.
14. Dallas Cowboys (8-7): Mark Barron, S, Alabama
The Crimson Tide safety will never be an elite player, but he'll start for quite a long time.
15. Philadelphia Eagles (8-8): Michael Floyd, WR, Notre Dame
The star receiver will instantly make an impact in the NFL and is not overrated.
16. New York Jets (8-8): Courtney Upshaw, DE/OLB, Alabama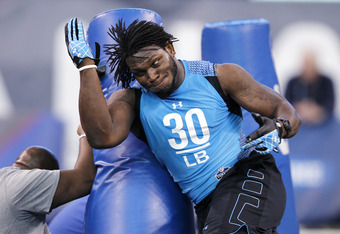 Joe Robbins/Getty Images
Another player bordering on the fringe of overrated, Upshaw won't last beyond the Jets and Rex Ryan's need for a pass-rusher.
17. Cincinnati Bengals (via OAK 8-8): Dre Kirkpatrick, CB, Alabama
The rangy corner needs to fill out, but he has a ton of potential.
18. San Diego Chargers (8-8): Nick Perry, DE, USC
A pass-rusher with his speed and strength could flourish in the right system.
19. Chicago Bears (8-8): Cordy Glenn, OG, Georgia
Super versatile O-linemen with his size and athleticism aren't all that common.
20. Tennessee Titans (9-7): Fletcher Cox, DT, Mississippi State
And on the flip side, super versatile D-linemen with Cox' size and athleticism are always needed.
21. Cincinnati Bengals (9-7): Kendall Wright, WR, Baylor
Wright is a deep threat with a ton of potential. He's not a sure-fire bet to produce at the next level though.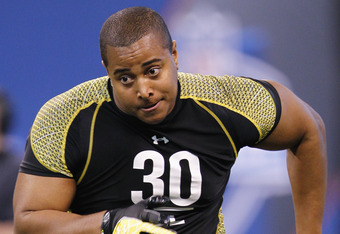 Joe Robbins/Getty Images
22. Cleveland Browns (via ATL 10-6): Jonathan Martin, OT, Stanford
Once considered a potential top-10 pick, Martin needs to get stronger or he'll struggle mightily in the NFL.
23. Detroit Lions (10-6): Stephon Gilmore, CB, South Carolina
The Gamecock defender continues to rise up draft boards and for good reason.
24. Pittsburgh Steelers (12-4): Dont'a Hightower, ILB, Alabama
The downhill bruiser from Tuscaloosa is going to fit into an NFL defense and make an immediate impact.
25. Denver Broncos (8-8): Devon Still, DT, Penn State
Still has fallen down the board since season's end and belongs where he is now.
26. Houston Texans (10-6): Alshon Jeffery, WR, South Carolina
The star Gamecocks wide receiver is highly overrated and doesn't carry a first-round grade.
He has elite potential, but there is no telling how he'll handle himself in the NFL and he doesn't dominate the way a player of his size and talent should.
27. New England Patriots (via NO 13-3): Michael Brockers, DT, LSU
This is a little low for Brockers but he's a potential need-based pick. He'll likely be overdrafted, but he could be great.
28. Green Bay Packers (15-1): Andre Branch, DE, Clemson
This is a bit high for Branch, but late first-round picks are a time when good teams to take a chance when they want to.
29. Baltimore Ravens (12-4): Janoris Jenkins, CB, North Alabama
The former Florida corner isn't overrated but he is a risk in the first round.
30. San Francisco 49ers (13-3): Stephen Hill, WR, Georgia Tech
Hill's combine elevated him into first-round contention and he's on the fringe of being overrated and overdrafted.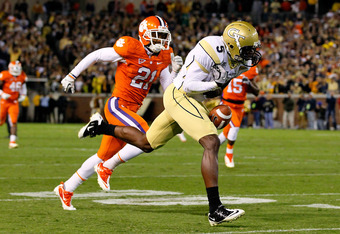 Kevin C. Cox/Getty Images
He still has a lot to learn about playing wide receiver and will need to be coached up to make it work with any team.
31. New England Patriots (13-3): Kendall Reyes, DT, Connecticut
This quietly rising prospect out of the Big East will be a solid fit for a team in desperate need of help.
32. New York Giants (9-7): Coby Fleener, TE, Stanford
The Giants will always draft for value.
*Rams trade No. 2 overall pick to Redskins for 2012, 2013, 2014 first-round picks and 2012 second-round pick.