2012 NFL Draft: Who Is the Right Defensive Lineman for the Carolina Panthers?
April 3, 2012

Joe Robbins/Getty Images
While in possession of the ninth overall selection, it's nearly a given that the Carolina Panthers will explore a number of options leading up to the 2012 NFL draft.
Since their season concluded up until this very moment, we've heard a rather considerable amount of names thrust into the realm of possibility on draft day. Some of those names include Boston College's Luke Kuechly, Notre Dame's Michael Floyd, Iowa's Riley Reiff and even Stanford's David DeCastro.
The more popular names, however, have come from the class' defensive line group. With the Panthers boasting a glaring need in the middle of their defensive line, many believe its almost a certainty the front office will spend its first-rounder on the spot. 
The four big names to look into come April 26 are LSU's Michael Brockers, Memphis' Dontari Poe, Mississippi State's Fletcher Cox and North Carolina's Quinton Coples.
But as the franchise is hit with all of these possibilities, who in fact is the right choice? Of Brockers, Poe, Cox and Coples, which prospect will make the ninth overall pick worthwhile for the Carolina Panthers?
Join me as I weight the numerous pros and cons of each prospect in ultimately deciding which of these four defensive lineman is right for the Panthers.
Michael Brockers, DT, LSU
As a major force in the middle of LSU's daunting 2011 defense, Michael Brockers certainly made his presence known on the line. The Tiger racked up some disruptive numbers this past season, totaling 54 tackles, 10 tackles for a loss, two sacks, two forced fumbles and a blocked kick.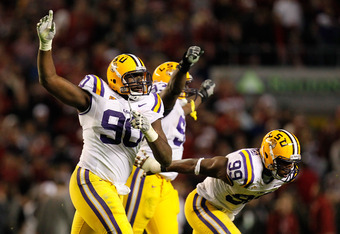 Kevin C. Cox/Getty Images
Although those numbers are quite impressive, the more appealing aspect of Brockers' stock his is tremendous upside. Yes, those ever so famous words—tremendous upside.
The 6'5", 322-pound defensive tackle has both the physical attributes and the skill set to effectively transfer his game to the next level. In addition to his ideal size and length, Brockers also exhibits some promising ability in his strength, his burst and his lateral agility, according to NFL Draft expert Matt Miller.
But with potential, of course, comes some doubt. It is well documented that the greatest number of first-round busts come from the defensive tackle position. Some names that come to mind when "defensive tackle" and "bust" are used in the same sentence include Darrell Russell, Dewayne Robertson, Glenn Dorsey and Ryan Sims.
And especially as he's coming off a one-year wonder type of campaign in 2011, the red-shirt sophomore will be at risk of becoming one of those ill-fated prospects. His underwhelming combine showing didn't exactly help his stock either. Brockers lifted just 19 reps on the bench, a very curious number for a man of his size.
If the Carolina front office wants Brockers, it'll be more for a presence against the run than against the pass. Sure, Brockers has displayed his skills in the pass rush. He pressured and hurried opposing quarterbacks a great deal in LSU.
Brockers is much too raw, however, to instantly put up an overwhelming sack total early in his career. What is more developed is his defense against the rush. He uses his lengthy arms and very solid pursuit skills to plug the middle and hit opposing runners in the backfield.
And with the Panthers ranking a lowly 25th against the run in 2011, Brockers could be exactly what this rising team needs to hit postseason contention.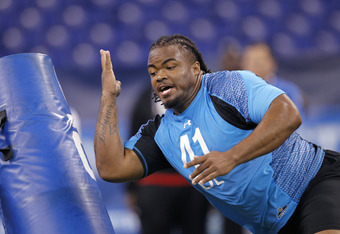 Joe Robbins/Getty Images
I see Brockers as the second-best option of this group of linemen. Putting aside his 19 reps and potential bust factor, Brockers' pure skill and upside would give Ron Rivera a nice presence on the line for many years to come.
Dontari Poe, DT, Memphis
Before the 2012 NFL combine, Dontari Poe was projected as a late first-round, possibly early second-round selection. But after the combine, Poe should've might as well have slated his name amongst the top-15 picks on April 26.
Although Robert Griffin III received a lot of buzz for his performance, the true winner of the combine was Poe. Regardless of what Griffin did, he was still going with the second overall selection.
Poe's performance, on the other hand, shot up straight up from the bottom of the first round into perhaps the top 10. Why? Well, if you haven't seen the defensive tackle's startling combine numbers, you might not realize how physically gifted this man is.
The 6'4", 346-pounder put up 44 reps, the most of the event, and ran the 40 in a ridiculous 4.98 seconds. This catapulted him up every team's draft board and solidified his freakish ability.
What is unsettling, however, about this workout freak was his alarming lack of production in collegiate ball. In 2011, Poe recorded just 22 tackles and one sack along with zero forced fumbles. His numbers aren't exactly great and are even worse when you consider he played in Conference USA.
For that, I consider Poe the worst option of the four. Sure, the size and physicality is there. The guy is even drawing comparisons to Haloti Ngata of Baltimore, one of the best lineman in the game.
But based mostly on his unproductive numbers at Memphis in C-USA, I cannot place him on the top of this list.
Fletcher Cox, DT, Mississippi State
Cox is one of the hotter names for Carolina of late. I'm not sure if mockers are tired of sending Brockers and Poe to the Panthers, but the Mississippi State product has been showing up a lot more.
And why not? Cox put up the numbers as well as the evidence on tape in the nation's top conference, the SEC. The 6'4'", 298-pound tackle racked up 56 tackles, 14.5 tackles for a loss, five sacks and a forced fumble.
Cox has solid speed, great strength and often displays big playmaking ability. He ran an impressive 4.79 in his 40-yard dash and pushed out 30 reps at the combine.
Although I would rank him as the third best option of the group, Cox is extremely close to Brockers for the No. 2 spot. The major factor holding him back from that is Brockers' superior upside. 
Cox is more fine tuned at the moment. He is currently giving teams a better picture of what player he will be than Brockers is.
If Carolina goes on Cox, they'll be getting a very solid pass-rusher and a very good backfield predator. Out of Brockers, Poe and himself, Cox is easily the safest selection.
Quinton Coples, DE/DT, North Carolina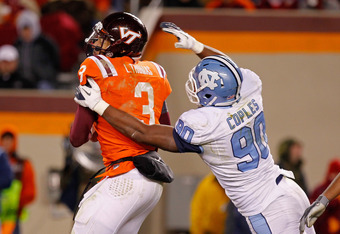 Geoff Burke/Getty Images
After engaging in months of rigorous draft research, I have found that you're either on Quinton Coples' bandwagon or you're trying to shoot it down.
Those who are in favor of going with Coples love to compare him with fellow Tar Heel and former Carolina Panther Julius Peppers. Those who aren't taking a liking to the defensive end think his lack of effort should make him a mid-to-late first-rounder.
But whether you're pro-Coples or anti-Coples, you cannot deny his production while playing for North Carolina. In his junior season in 2010, Coples racked up 10.0 sacks as a defensive tackle. And after moving to the end in 2011, he chalked up 7.5 sacks.
Sure, the Panthers need a tackle much more than an end on their defensive line. But the appealing aspect of Coples' game is that he did play both spots in college. And what's even better was that he still produced at both spots.
With Carolina reeling to stop the run and ground opposing quarterbacks, Coples may be the best option in this entire draft.
What makes Coples the best option in this group is his versatility. As I stated, Coples saw major production at both the tackle and end position. I'm sure Rivera can chalk up a number of interesting sets where Coples can lineup in a few different spots.