Nick Schultz: Edmonton Oilers Defender Heading in the Right Direction
April 3, 2012
Nick Schultz, one of hockey's most reliable defenceman, was quite familiar with what the Edmonton Oilers were all about long before being traded to the squad at this year's trade deadline.  
For just over 740 games of his 760-game NHL career, Schultz, who was dealt to the Oilers for fellow defenceman Tom Gilbert on February 27, patrolled the blueline for the Minnesota Wild.
But he knew the Oilers and their players well, having played against them several times, including his first NHL game in 2001-02, as a 19-year-old rookie.
"The one thing that really stands out, especially over the last few years, is the speed they possessed," said Schultz, the 33rd overall selection of the Wild in the 2000 NHL Entry Draft. "As a defenceman, it was always a challenge to find the best way to shut them down or slow them down."
Now, the native of Strasbourg, Saskatchewan, is getting a first-hand look at Edmonton's built-for-speed lineup, a group that boasts some of hockey's top young talent.
It is, Schultz admits, much more relaxing to be playing with his new teammates rather than against his old rivals.
"You look at the roster and see the young corps of guys and just how good they are," said Schultz, who played three seasons with the Prince Albert Raiders of the Western Hockey League from 1998-2001, serving as team captain in 2000-01, recording 47 points in 59 games during his final season of junior.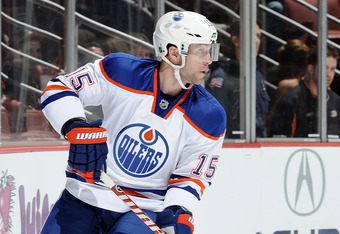 Harry How/Getty Images
"What you see is a team that has the ability to be a consistent contender for years to come. It's a very good group of guys, from the veterans to the younger players, who really want to win."
The Oilers will miss out the Stanley Cup playoffs for the sixth straight season. Yet, Schultz, who skated in the 2002-03 NHL Young Stars Game, believes success will come sooner rather than later for the franchise that has five championship titles.
"You hate to miss out on the playoffs, but when you look at the players and the way the team has played down the stretch, there's plenty of reason to be optimistic about where we're heading," said the 29-year-old, who is currently the all-time games played leader for the Wild with 743 games.
"I had heard from other players around the league what a solid group of people they had here and that was obvious from when I first got here myself. Everyone was upbeat, everyone was very welcoming. That gives you a good feeling."
Schultz, who'll turn 30 in August, is hardly near the end of his big-league career. But seeing the age of some of his teammates does leave him shaking his head sometimes.
"I started out playing in the NHL at a young age, so I haven't forgotten that," laughed Schultz, who has 24 games of playoff experience, but none in the past four campaigns. "When you look around and see guys 18, 19 and 20, you definitely realize that you are a veteran. That said, it's great to see their enthusiasm and professionalism. They have that same desire to want to make a difference and to win."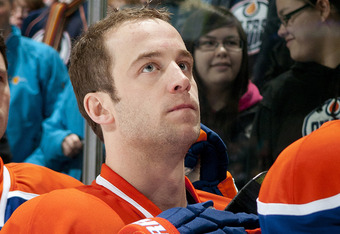 Schultz wasn't quite sure what he expected, in terms of longevity, when he first broke into the league. Did he want to play 100 games? 1,000?
"Back then, you really have no idea of what it will be," he said. "You really can't look at things from that perspective. Obviously, you want to play as long as you can, but when you start out, you want to make the team and earn a full-time spot. As time goes on, you see it differently."
Now, the two-time gold medal winner (the 2004 and 2007 World Championships) with Team Canada is simply looking to make an impact with the Oilers.
"I still have lots of hockey left in me, so hopefully, we can do something special here," offered the defenceman, who also won bronze and silver with Canada at the 2001 and 2002 World Junior Championships, respectively. "I'm looking forward to that opportunity with Edmonton."
A team Schultz continues to become even more familiar with day after day, but in a much different manner.
All quotes were obtained via first-hand interview.
Related Content
Combining Skills and Smarts
Jordan Eberle Shows No Signs of A Slowdown