A Quick Look at What Is Going on Around San Francisco 49ers Land
April 3, 2012

Justin K. Aller/Getty Images
We have now hit that loll between the start of free agency and the NFL Draft. Most teams have made their primary signings while only a few real big-name free agents remain on the market. It is the part of the offseason where the league and its fans make the transition to the draft. 
We have already started hearing about scheduled prospect visits to Santa Clara and mock drafts seem to be taking center stage. 
I thought it made sense to take a quick look at what is going on surrounding the San Francisco 49ers in these seemingly quiet times. 
New Stadium on the Horizon
Matt Maiocco first reported on Monday that groundbreaking for the 49ers' new Santa Clara stadium is set to begin April 19th barring and unforeseen setbacks. This is the first time that concrete (pun intended) plans have been put forth about the new stadium.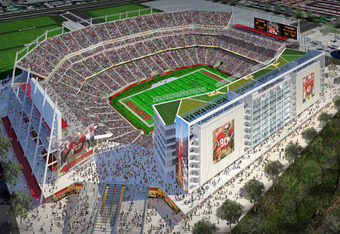 It has passed every single new hurdle and appears to be a reality at this point. Team President Jed York seems to have indicated that 2014 is now a strong possibility for the grand opening of the $850 million stadium. 
In related news, the new stadium also appears to be one of the front-runners to host Super Bowl L in 2016. What a drastic turn of events in regards to the 49ers and their stadium issue over the course of the last calendar year. Huh?
49ers Set to Host Two Running Back Prospects
Despite already adding Brandon Jacobs to a crowded backfield last week, San Francisco appears set to work out two prospects from a deep running back class.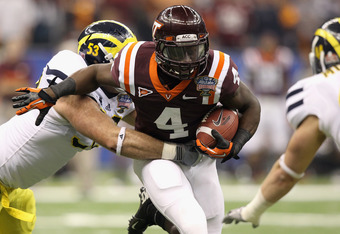 Matthew Stockman/Getty Images
David Wilson, who many have as a possible second-round pick later this month, was the first prospect to visit the 49ers headquarters in Santa Clara. The Virginia Tech prospect is seen as incredibly raw, but also possess the capability to be an every down back at the next level. 
Robert Turbin, one of my favorite backs in the draft, is also scheduled to visit with the San Francisco brass immediately prior to the start of the 2012 NFL Draft. He too has the ability to be an every down back at the next level, which is something the 49ers will take into account in the evaluation process considering the age of Frank Gore. 
Jason Brown Becomes Another Guard Possibility in San Francisco
The 49ers are really playing it slow in regards to acquiring a veteran interior linemen. They have already visited with two marginal players in Deuce Latui and Leonard Davis. Neither one of them encourages the idea that they will be upgrades from Adam Snyder. 
Now it is being reported that Jason Brown, who played center over the course of the last few seasons with the St. Louis Rams, is scheduled to visit this weekend. He has experience playing guard and would fit that versatile veteran presence to a tee. Out of the three linemen the 49ers have had in for visits, he seems to make the most sense. 
Alex Smith Shows That he is a Really Good Guy
What do most NFL stars do in the offseason? A quick vacation to Hawaii and follow-up trip to Vegas probably seems to be the most likely routine for the million dollar athletes. However, Smith doesn't seem to fit that pattern all too well.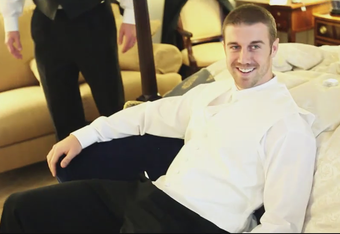 The veteran quarterback is proving once again why he is one of the good guys of the National Football League. Sierra LaMar, a 15-year-old girl from Morgan Hill in California, has been missing for two weeks. Smith joined a convoy of over 500 people to help search for the young teen. 
Mark Klaas, who some of you may remember from the 1990s when his daughter Polly went missing in Northern California, heads up a missing children's foundation and had the following to say about Smith's involvement in the search. "He wasn't there for attention. He was there to search." 
A feel good story at a time when all we hear about is arrests and other criminal activity from football players in the offseason. Hopefully there is a happy ending to this story for Sierra and her family. 
ESPN Grades NFC West Free Agency Thus Far
It shouldn't come as much of a surprise, but ESPN believes that your San Francisco 49ers have aced the free agency period as of now. They give the 49ers one of the best grades in the league, so let us take a quick look. 
San Francisco 49ers: A
St. Louis Rams: A
Mock Draft Bonanza
I recently conducted a full four-round mock draft for Bleacher Report. While some of you might not agree with the final 49ers results of the mock, I thought it would be appropriate to post them here. You can follow this link for an explanation of each pick. 
1. Coby Fleener, Tight End, Stanford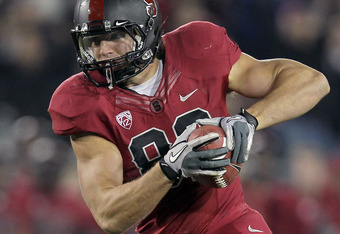 Ezra Shaw/Getty Images
2. Kevin Zeitler, Guard, Wisconsin
3. Jared Crick, Defensive Line, Nebraska
4. Vontaze Burfict, Linebacker, Arizona State
Follow me on Twitter @VincentFrankNFL