WrestleMania 28 Review: Brock Lesnar's Return Explains John Cena's Loss
April 3, 2012

Jon Kopaloff/Getty Images
While the WWE calling for John Cena to lose to The Rock at WrestleMania 28 was still the wrong move, at least there is a legitimate reason behind the move.
That reason is Brock Lesnar.
After the stunning main-event loss, The Rock and Cena have ended their feud, but the storyline of rebirth for the CeNation leader has begun. Lesnar will help usher Cena's change in by beating him down.
I fully expect Cena to lose to Brock Lesnar when this new feud ultimately culminates in a match at SummerSlam, but it will be what happens after that which will shape the landscape of the WWE.
NoDQ.com is reporting on the possible future of the WWE title and the rumors around Lesnar and The Rock:
As seen on RAW, The Rock teased a run with the WWE Title. Speculation is that Lesnar will eventually challenge The Rock for the WWE Title at WrestleMania 29.
With the WWE's desire to get all the rub that The Rock can provide and the success of his last run with Cena over the last year, the WWE brass wants to go all in for what will be Rock's final WrestleMania.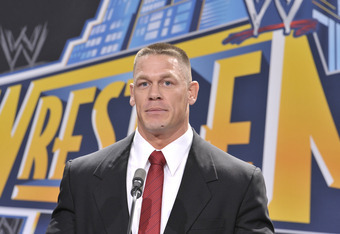 Michael N. Todaro/Getty Images
Lesnar will work with Cena to return to ring shape and give the WWE a boost while Dwayne Johnson is off making movies, but as WrestleMania 29 approaches, Lesnar will turn his attention to The Rock.
Add in the WWE title somewhere along the line and you could have the biggest main event in WWE history.
John Cena fans will feel that this is all about their star being cast aside for the older stars, but the string of losses will be good for his character in the long run. As the years go on, younger stars will be putting Cena over because he is doing it for the older stars now.
Check back for more on the World Wrestling Entertainment as it comes, and visit Bleacher Report's Wrestling Page to get your fill of WWE/TNA. For more Wrestling talk, listen to Ring Rust Radio for all of the hot topics you just can't miss (some language NSFW).