Nike Scores Another Touchdown with Seattle Seahawks' Latest Design
April 3, 2012
Nike gave fans of 31 NFL teams a welcome present on April Fool's Day, unveiling an attractive new line of shirts and shorts. As for Seattle Seahawks fans...they had to wait two more days, but the bold new look was certainly worth the wait.
While most teams will be incorporating their prior logos and colors with a fresher Nike uniform, the team closest to Nike's Portland, Oregon headquarters got a whole new look.
The Seahawks bold new style is shown on Seahawks.com. It will certainly make critics forget about the day-glow green the Seahawks sported in a 2009 game against the Chicago Bears. Well, perhaps they won't be forgotten, but Nike has certainly given fans and critics something new to talk about.
Still, the green jerseys were a hit with a lot of fans, particularly the females. It just wasn't a color one wants to see on 275 pound defensive ends.
Seattle has stayed with the dark blue from their 2002 re-design and still features a monochromatic look. But they will also mix and match a lighter colored pant with the blue jerseys, bringing back a hint of silver that was incorporated in their uniforms over the franchise's first 25 years.
Not everyone is happy with the new look. Paul Lukas and his @uniwatch claimed "They just showed a little video with a glimpse of the new Seahawks uni... It is SERIOUSLY ugly..."
However, Pro Bowl strong safety Kam Chancellor proclaimed "Nike Launch will Begin in less than 10mins.... Seahawks have the best Uniforms #12thMan."
Green Bay Packer tight end Jermichael Finley agreed, stating "Seahawks has the best looking Jerseys. THEY ARE SICK!"
Nike has to walk a tightrope between designs the players will like and that fans will want to purchase. Chancellor and Finley show that Nike is clearly wired into what the players like, and Nike is known as a progressive brand that sets the standard in athletic wear.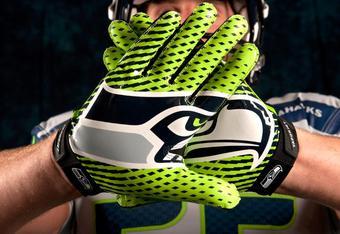 As for the fan-base…they will come around. If the blue look is too bold for them now, the road whites are crisp and classic. What else would we expect from Nike but a little something for everyone?